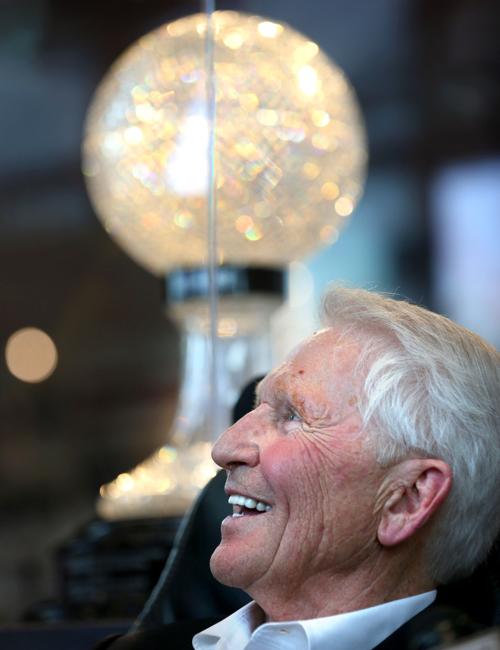 How do you say adios to a legend?
How do you say goodbye to a monument like Lute Olson?
The grandest sports personality in Tucson history, the man who brought a national basketball championship to the University of Arizona, died Aug. 27 about a month shy of his 86th birthday.
Don't tell anyone, but we called him "Frosty" on press row.
OK, it was in the good-natured sense — he was frosted with a pristine head of silver hair, like snow glistening atop Mount Lemmon.
And besides, he remarked once when asked about that nickname, "I've been called worse … and nobody's ever called me 'Corky.' "
Mount Olson was famously — and purposely — disheveled on the basketball court at the hands of an overjoyed Bennett Davison after he and his University of Arizona teammates won the NCAA title on March 31, 1997, in Indianapolis.
Like all coaches, Lute could be the other kind of "frosty" after a loss.
Not at home, though. Not for long.
"We have one rule," his wife of 47 years, Bobbi, said once. "When the Wildcats lose, I tell Lute, 'OK, you've got one hour to get over it. Then we're putting it behind us.' "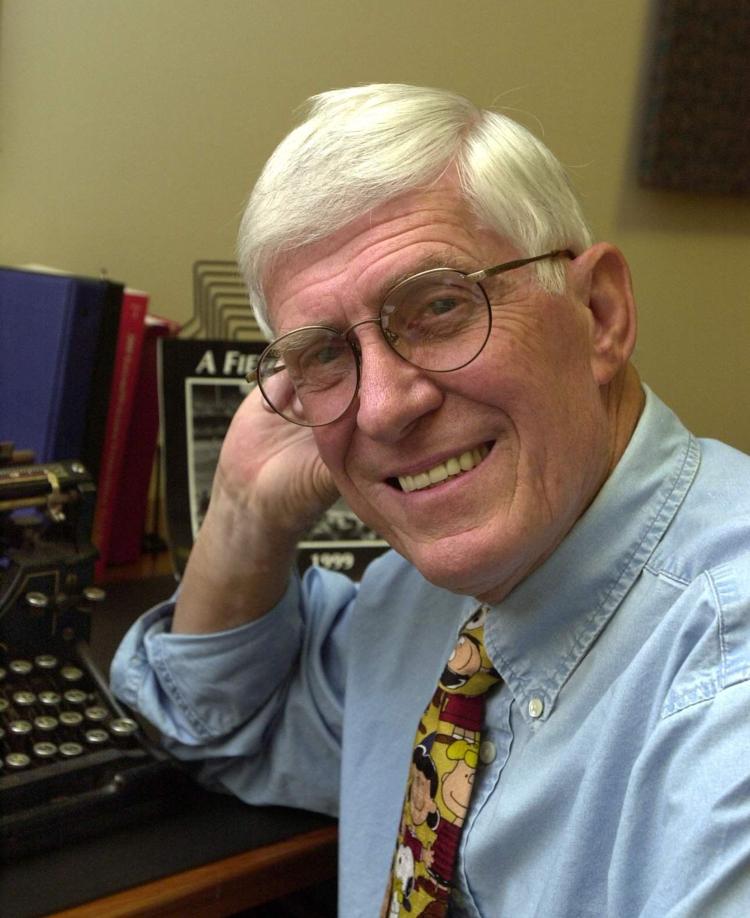 Lute put it all behind him 10 days ago. He had been in failing health for years.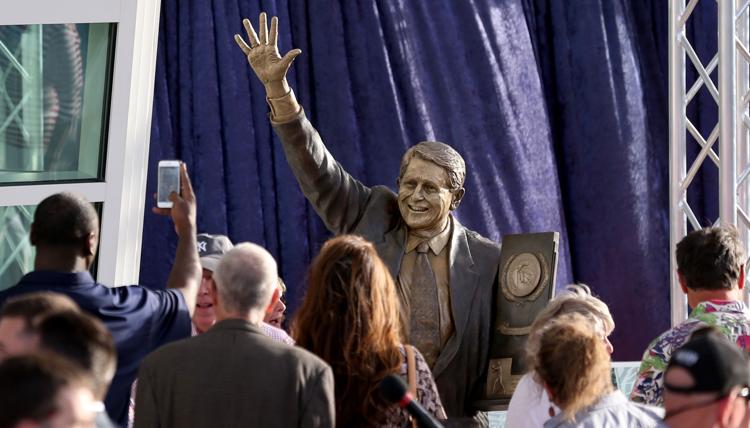 To walk on water where there is none — or very little, such as in Tucson — takes someone very special. Saintly, even, and that was another of Lute's press-room nicknames: Saint Lute.
Olson came from the faraway land of North Dakota, a country of farms and ranches, a magnificent vacant lot as viewed from 30,000 feet in an airplane.
He was born on a farm not far from the town of Mayville, south of Grand Forks. Or east of Finley, if that helps.
Lute's father died of a stroke when the lad was 5. His brother, Amos, had to drop out of college to come home and run the farm. Less than a year later, Amos died tragically, pinned beneath an overturned tractor.
Lute's mother, Alinda, got a job as a cook and moved the kids into town.
Little Lute developed into a fine athlete in Mayville, especially in basketball. When Alinda found a better job in Grand Forks, not-so-little Lute led Central High School to the state championship.
Then he went to Augsburg College, where, on his recruitment visit, he met coach Ernie Anderson, who was on his hands and knees scrubbing the floor of the locker room. Lute never forgot that scene, and in his own career as a coach he made it a crusade that he would never be outworked.
Lute and the lovely Roberta Russell, a singing companion in the Sharon Lutheran Church choir in Grand Forks, were married in that place of worship on Thanksgiving Day of his sophomore year at Augsburg.
Lute had it so cushy as a college basketball player he only needed three jobs to make ends meet — he was a janitor, drove a truck and worked construction. Bobbi worked, too, helping put him through college.
Did I mention Lute found time to letter in three sports? Basketball, football and baseball.
The marriage lasted 47 years. Bobbi died on New Year's Day 2001.
A few months later, after taking time off to recuperate from the loss of Bobbi, Lute led the Wildcats to the championship game of the NCAA Tournament in, of all places, Minneapolis.
It would have been the storybook ending of all time had Duke, which has messed up a lot of dreams, not defeated the Wildcats in the championship game.
Lute would marry twice more after Bobbi died, to Christine in 2003 and, after their divorce, to Kelly in 2010. Kelly was with him at the end.
Lute fit the role of superstar perfectly.
He was tall and he had an engaging personality, loved a good joke and created more than his share of laughs.
He had hands the size of a shovel and a smile that would light up McKale Center, and did, many times.
It should be said, too, that Olson had the perfect foil — the anti-Lute — in Bill Frieder, who coached the arch-enemy Arizona State Sun Devils.
They were friends off the court and business partners in a series of unforgettable TV commercials, Frieder the gifted, hilarious clown and Lute the straight man.
"He didn't mind me being the funny man," Frieder told Kent Somers of The Arizona Republic the other day. "It was more my style. The commercials are legendary, people still talk about them, and we had a lot of fun doing them."
Olson and Frieder could have made it on Broadway.
Instead, they made it on Enke Drive, the address of McKale Center.
That two coaches whose teams tore into each other with such ferocity as the Wildcats and Sun Devils could actually be friends, is a testament to the goodness of both Lute Olson and Bill Frieder.
"Frosty" was that way with a lot of people, including some of us in the media.
Corky Simpson worked at the Tucson Citizen from 1974-2006, part of a journalism career that lasted nearly 49 years.
Be the first to know
Get local news delivered to your inbox!