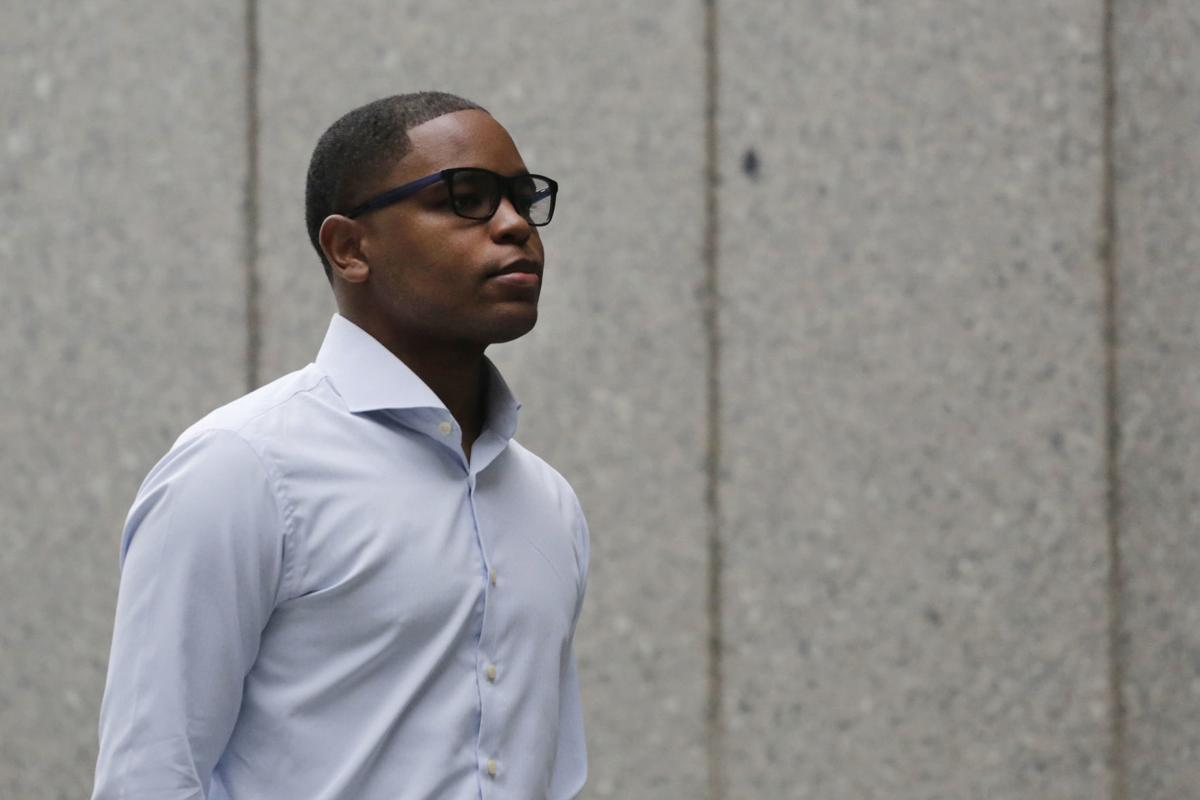 NEW YORK — Three men at the center of an ongoing federal investigation into college basketball corruption have been found guilty of multiple felonies.
A jury decided Wednesday that former Adidas consultant Merl Code, Adidas executive Jim Gatto and would-be sports agent Christian Dawkins committed wire fraud and conspiracy to commit wire fraud by paying families of coveted basketball prospects to get them to commit to programs sponsored by the shoe company. The 48-year-old Gatto was found guilty on all three of his counts, and Dawkins, 25, and Code, 44, were found guilty on both of theirs. There was stunned silence in the court room after the jury foreperson read the verdicts.
Sentencing is scheduled for March 5. Each federal charge carries a maximum sentence of 20 years in prison, though the men are likely to serve between two and four years.
"Today's convictions expose an underground culture of illicit payments, deception and corruption in the world of college basketball," said Robert S. Khuzami, a deputy U.S. attorney based in New York. "These defendants now stand convicted of not simply flouting the rules but breaking the law for their own personal gain. As a jury has now found, the defendants not only deceived universities into issuing scholarships under false pretenses, they deprived the universities of their economic rights and tarnished an ideal which makes college sports a beloved tradition by so many fans all over the world."
Gatto's attorney, Michael Schachter, said he plans to appeal. "Of course," he said.
Dawkins' father, Lou, cried after the verdict was read. The would-be agent's mother, Latricia, said her son wouldn't be commenting.
"You don't want his comment," she said. "Just read between the lines. That's how we feel about it."
Several jurors also declined comment.
Dawkins, Code and Gatto were arrested on Sept. 26, 2017 along with a handful of college assistant coaches, fixers, shoe company employees and one financial planner. Arizona's Book Richardson was among the coaches arrested; he is scheduled to go on trial in April.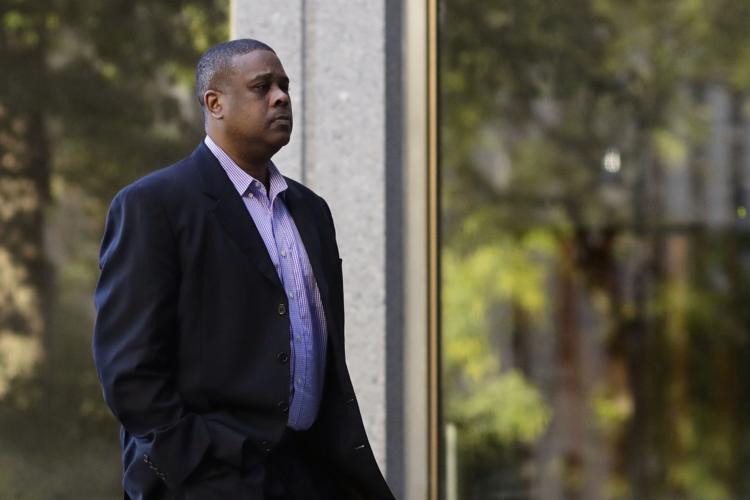 The prosecution said N.C. State, Louisville, Kansas and Miami, all Adidas schools, were victims of the conspiracy, though references to Miami were eventually redacted from the indictment. Defendants defrauded the universities by tricking them into passing out scholarships to players who should have been ineligible, the prosecution said. 
Testimony early in the case focused on recruit Brian Bowen, whose family, prosecutors said, was promised $100,000 in exchange for a commitment to Louisville. Bowen's father testified that his son was set on attending Arizona before Rawle Alkins and Allonzo Trier decided to return to school. He said Dawkins, a longtime friend from Saginaw, Michigan, told him the UA was prepared to offer "50 grand" via former assistant coach Joe Pasternack for a commitment. Bowen's father said he was also told of offers from Texas, Creighton and Oklahoma State, among others. Bowen ultimately committed to Louisville, but was ruled ineligible in the wake of the federal sting.
In closing arguments, prosecutor Noah Solowiejczyk recounted testimony from cooperators and wiretap evidence about how the defendants took steps to create false invoices to Adidas, route funds through various bank accounts and convert it to cash for the families.
The behavior "tells you an awful lot about the defendants," the prosecutor said. "It tells you that what they were doing was wrong."
Attorneys for the defendants said their clients broke NCAA rules but no laws.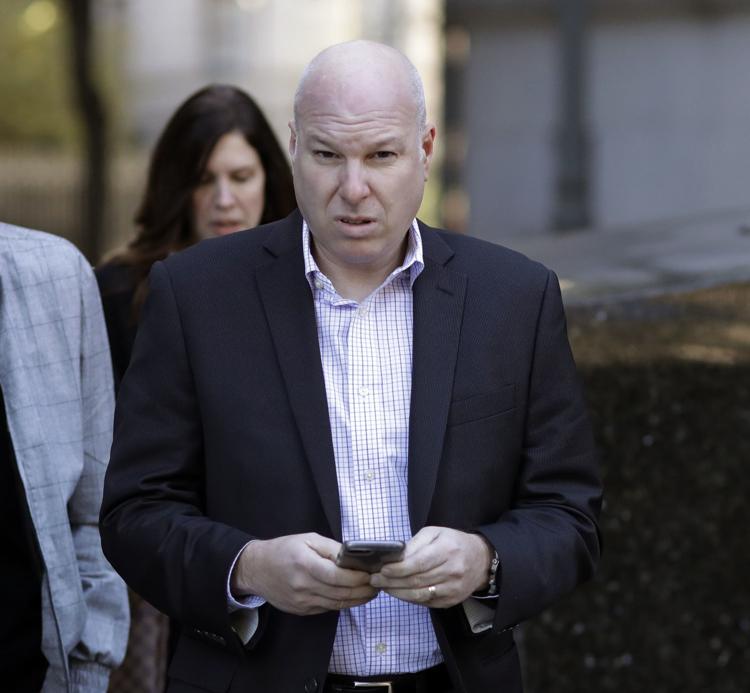 Adidas issued a statement Wednesday that read: "We cooperated fully with the authorities during the course of the investigation and respect the jury's verdict. We look forward to continuing to work with the NCAA and other stakeholders in a collaborative and constructive manner to improve the environment around college basketball. We have strengthened our internal processes and controls and remain committed to ethical and fair business practices."
The case primarily focused on Kansas and Louisville, two of Adidas' premier programs.
Kansas forward Silvio De Sousa, whose name surfaced in the trial, will be benched pending a review of his eligibility. During the trial, ex-AAU coach T.J. Gassnola testified that he facilitated payments to De Sousa's guardian in an attempt to steer him toward Kansas. Gassnola denied that the Jayhawks' coaching staff knew about the payments. 
"Information was presented during the current trial in New York — some of which we knew, some of which we didn't," Kansas coach Bill Self said in a statement released Wednesday. "We have decided to withhold Silvio from competition until we can evaluate and understand the new information. We have already discussed trial developments with the NCAA and will continue to work with NCAA staff moving forward."
Kansas chancellor Douglas Girod and athletic director Jeff Long issued a joint statement Wednesday saying they "remain unable to fully comment on the issues before us" because of the trials scheduled for April. They said KU has made no decision regarding a long-term extension with Adidas, and "we continue to evaluate our options."
At Louisville, the scandal resulted in the firing of coach Rick Pitino — who had been hurt by previous controversies — and forced Bowen to leave the university and college basketball entirely without ever playing a game. He is pursuing a professional career in Australia.
The trial's most emotional moment came when a prosecutor first began questioning the elder Bowen about his son, who goes by the nickname "Tugs."
"Is Tugs in college?" asked prosecutor Edward Diskant.
"No, he's not," Bowen responded.
When the prosecutor asked why not, Bowen dropped his head into his hands and wept.
A handful of Arizona Wildcats recruiting targets, players and coaches were also mentioned during the two-week trial. Among them: Deandre Ayton, the No. 1 pick of the Phoenix Suns. Gassnola, a self-described "shoe consultant," said he paid Ayton's mother $15,000 through a family friend and was heartbroken when Ayton chose Arizona, a Nike school, over Kansas. Ayton signed a lucrative shoe deal with Puma after he turned pro.
Then there's Richardson, whose legal strategy is certain to be impacted by Wednesday's verdict. A federal complaint says Dawkins and financial planner Munish Sood paid the former UA assistant $20,000 in bribes, "some of which Richardson appears to have kept for himself and some of which he appears to have provided to at least one prospective high school basketball player" in order to recruit the player to UA. In exchange for the money, Richardson agreed "to use his influence over the student-athletes he coached to pressure them" to hire Dawkins as manager and Sood as financial adviser, according to the complaint.
Richardson has not commented publicly since his arrest. His wife, Erin, told the sports network Stadium last month that she didn't understand why Richardson was facing federal charges. She was also critical of the way the UA handled Richardson's dismissal. 
"He feels like he was deemed guilty and just thrown out with the trash before he was indicted," Erin told Stadium. "He feels like they just wanted to wash their hands of him, 'Just get rid of that and go about business,' and he knows at the end of the day this is business. But it still would be nice if maybe a card was mailed like they were thinking of you, but it's no one."
Includes information from The Associated Press.