It was raining 3s for Helena Pueyo and the No. 12 Arizona Wildcats on Friday night at McKale Center.
Pueyo was hitting from the right, from the left — it just didn't matter where she caught the ball from beyond the arc. It was going down.
When she's in the zone there's no stopping her — as Washington found out.
Pueyo scored 14 points and hit 4 of 6 from 3-point range as the Wildcats defeated the Huskies 64-53 in front of 6,381 fans.
Arizona improves to 20-4 overall and 9-4 in Pac-12 play while Washington drops to 11-12, 3-9.
UA has now won 20 games in the regular season for the first time since 2003-04, and it has swept the Huskies for first time since 2011.
Pueyo hit all of her 3s in the first half, with the first miss not coming until 4:13 left before halftime.
It was a great way to celebrate her 19th birthday, which was Thursday. Aari McDonald said that Pueyo "wasn't hesitating today."
The last time she got in a groove like this was when she made three against USC in early January — before she went down with her ankle injury. She's hit only hit three since then.
"Helena was awesome; Helena is back. She was on vacation — fiesta for a little while, but she came back," Arizona coach Adia Barnes joked. "That's the way she can play all the time. She's a phenomenal shooter. She's so smooth; she's so unselfish. That's the way I expected to play every game. I thought she was incredible … she came in focused and loose today."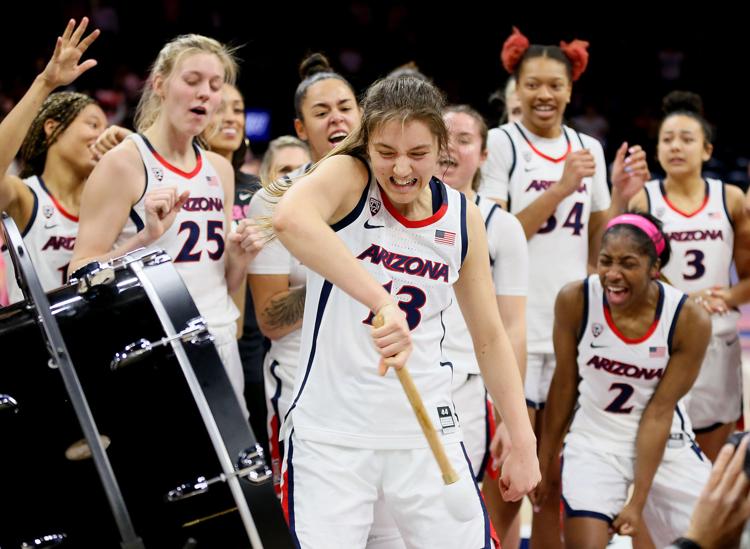 She wasn't the only one lighting it up as UA hit 50% (9 of 18) in the win.
Aari McDonald scored 19 points, grabbed three rebounds and dished three assists. Her streak is now at 61 consecutive games scoring in double figures — the longest active run in the nation.
Amari Carter scored 10 points (2 of 3 from beyond the 3-point line) and had two steals. Cate Reese scored 13 points and had seven rebounds.
It didn't start out so easy as the Huskies were shooting at a 62.5% rate in the second quarter. They were hitting tough shots, but it wasn't anywhere near where the Wildcats usually hold their opponents at – averaging 35.7%.
"We don't really like when our opponent shooting the high of a percentage," McDonald said. "We just had to adjust. We had to play that stingy defense that we play. We just had to really buckle down and we know that it starts with defense. Once our defense kicked up, you know, everything fell into place."
Arizona held a narrow six-point lead at the half, 32-26.
In the first three minutes of the third quarter, the Wildcats extended their lead to 11 with a run that included a corner 3 from Carter, a put-back from Reese and a steal and a layup from McDonald.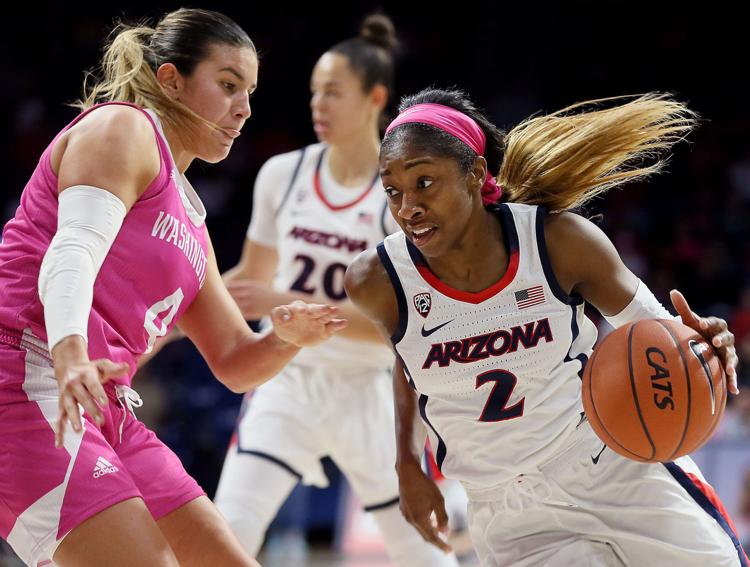 That forced Washington to call a timeout. However, the Huskies had no answer for the Wildcats the rest of the way.
UA's swarming, stingy defense took over — forcing passes out of bounds, altering shots and getting tips and steals.
And then there is Sam Thomas, who had six blocks — four in the first half — and four steals.
"There was at least 12 points in transition that Sam saved — whether it's getting deflections or blocking shots," Barnes said. "She's a phenomenal defender. I feel like now she's more confident and swatting more shots. Sam is 5-11, she's not like 6-3 — she is a phenomenal defender. I hope she's up for defensive player of the year. There is no doubt in my mind that she's all-defensive team."
Dominique McBryde seemed to always have a hand on the ball on the defensive end. She ended up with four steals and numerous deflections.
By holding UW to 53 points, UA extended its streak of holding all Pac-12 opponents under their scoring average. The Huskies' average coming in was 67 points per game.
UA held UW to 38.8% shooting, while they hit 49% of their shots.
Arizona's biggest lead was 19 points with 3:37 left in the game.