The Arizona Wildcats' run to the WNIT championship game has captured the hearts of Tucson sports fans. More than 10,000 packed McKale Center on Wednesday night, and even more are expected for Saturday's final.
Here's a look at the UA's postseason run: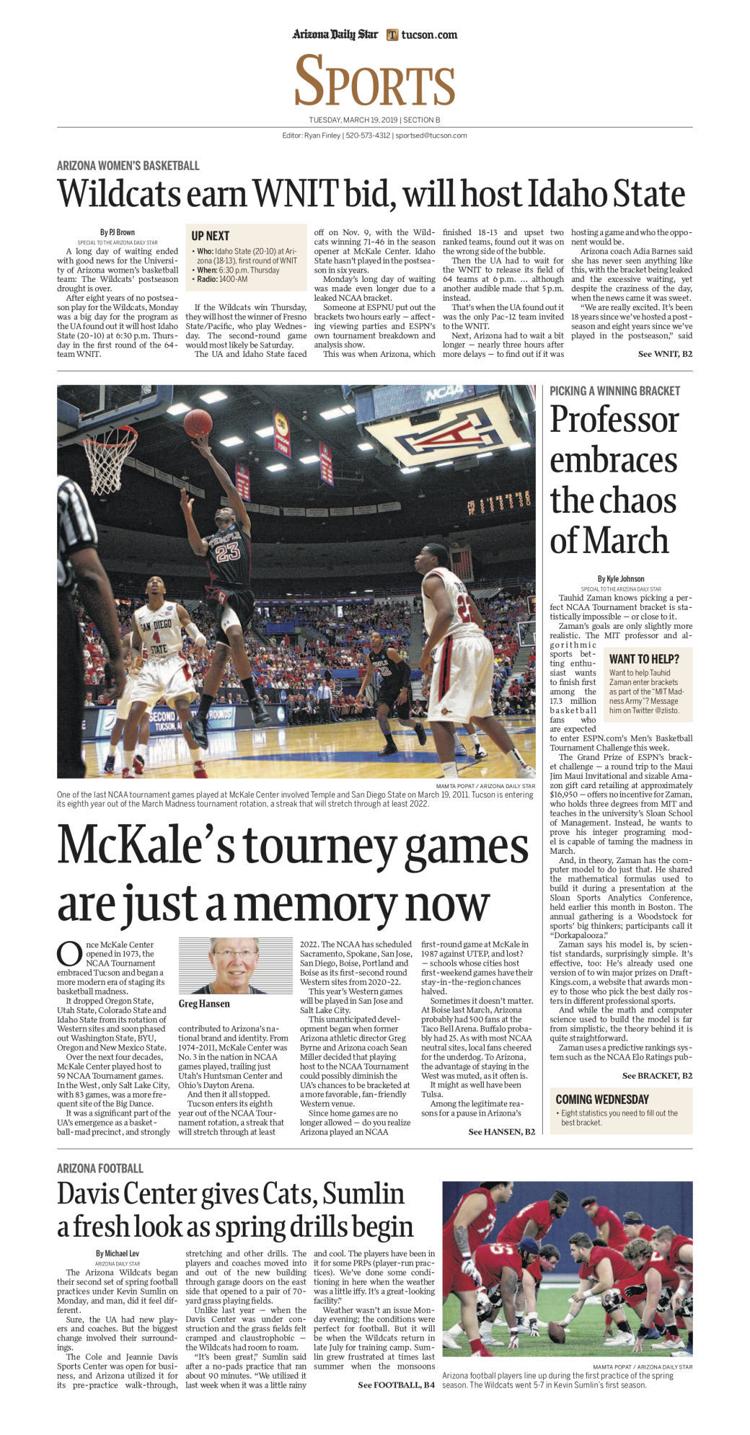 March 18: Arizona is selected as one of the WNIT's 64 teams. The Wildcats draw Idaho State in the first round; by virtue of having the highest bid, the UA is selected to host.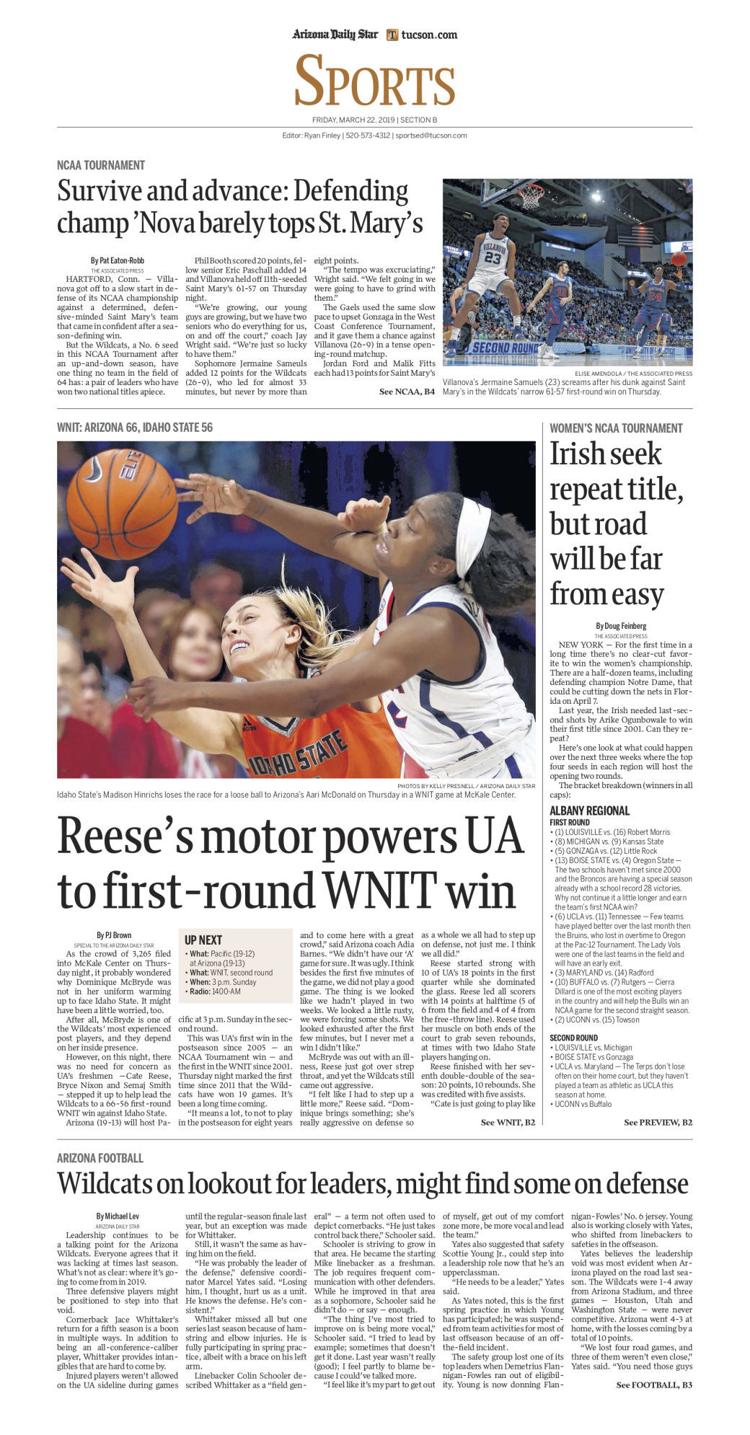 March 21: Freshman Cate Reese scores 20 points, grabs 10 rebounds and dishes five assists as the Wildcats beat ISU 66-56 in McKale Center. The win is Arizona's first postseason victory since 2005, and comes in front of 3,265 fans.
Arizona advances to play Pacific in the second round. The Wildcats will host, again.
"It means a lot, to not to play in the postseason for eight years and to come here with a great crowd," UA coach Adia Barnes says. "We didn't have our 'A' game for sure. It was ugly. I think besides the first five minutes of the game, we did not play a good game. The thing is we looked like we hadn't played in two weeks. We looked a little rusty, we were forcing some shots. We looked exhausted after the first few minutes, but I never met a win I didn't like."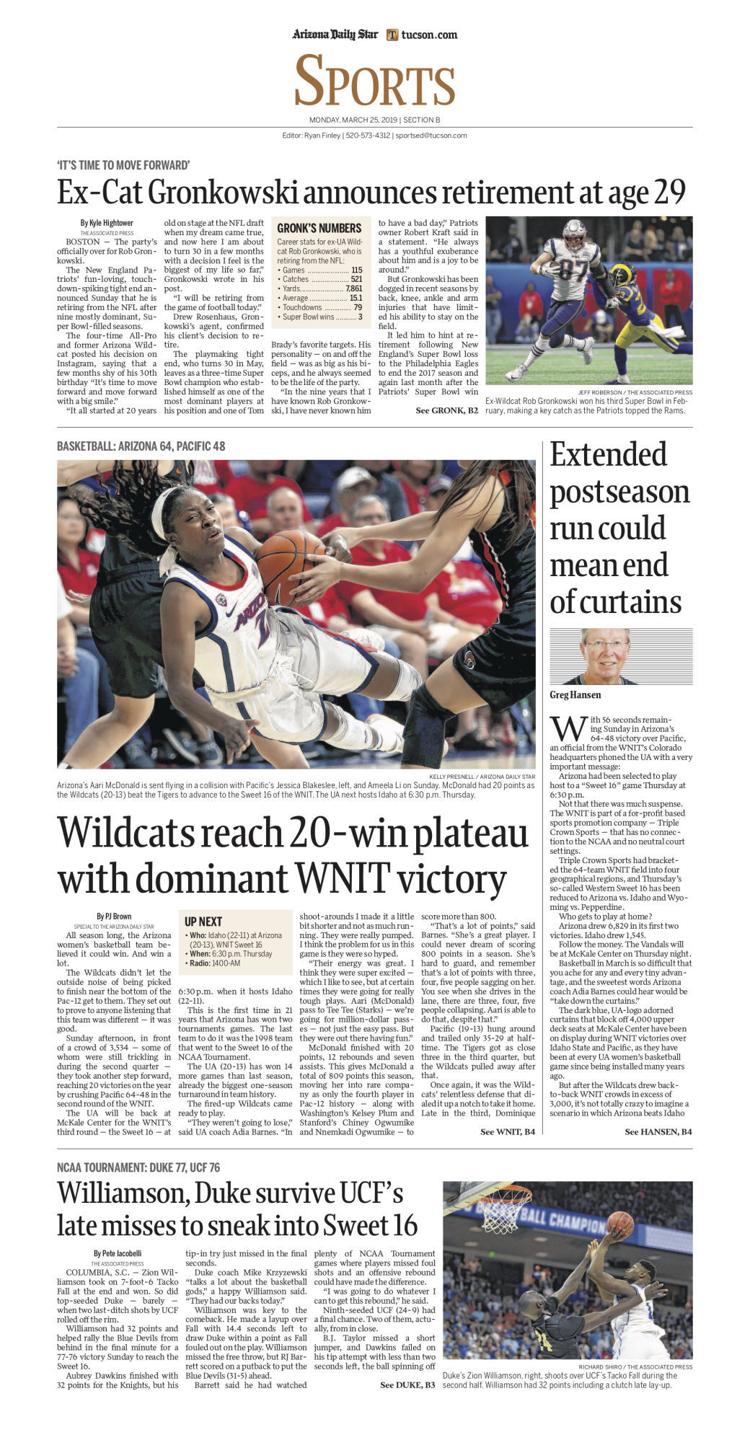 March 24: Aari McDonald scores 20 points, grabs 12 rebounds and dishes seven assists as the Wildcats pound Pacific, 64-48. The guard's big night moves her into rare company: She becomes the fourth player in Pac-12 history — along with Washington's Kelsey Plum and Stanford's Chiney Ogwumike and Nnemkadi Ogwumike — to score more than 800 points in a season.
Barnes calls McDonald "a great player."
"I could never dream of scoring 800 points in a season," Barnes says. "She's hard to guard, and remember that's a lot of points with three, four, five people sagging on her. You see when she drives in the lane, there are three, four, five people collapsing. Aari is able to do that, despite that."
The Wildcats play in front of 3,534 fans. Their loyalty is rewarded: Arizona is picked to host a third-round game against Idaho.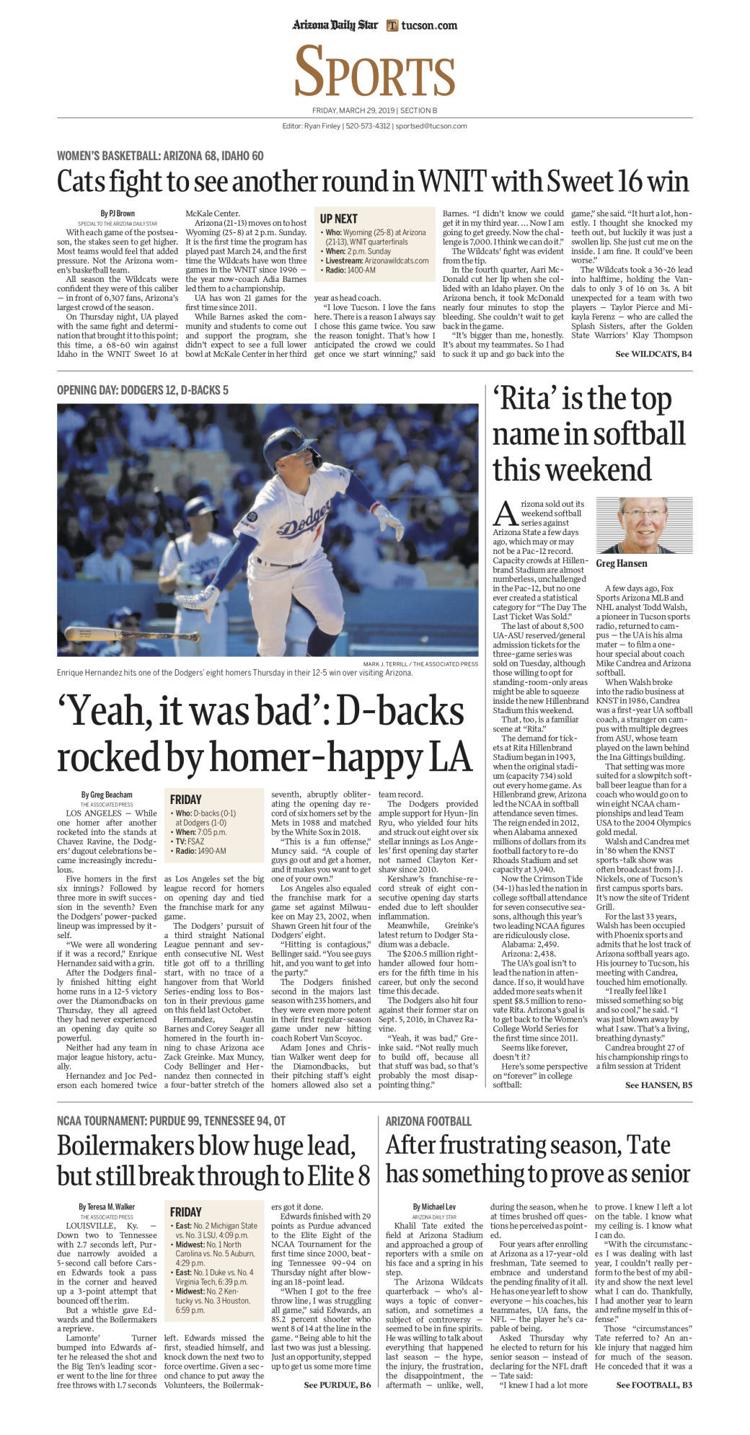 March 28: McDonald scores 18 points and dishes 11 assists, the most by a Wildcat since 2013, and the UA grinds out a 68-60 win over Idaho. McDonald does it all while battling a busted lip suffered when she runs into an Idaho player in the fourth quarter; the injury causes her to miss nearly four minutes of play.
"I thought she knocked my teeth out, but luckily it was just a swollen lip," McDonald says. "She just cut me on the inside. I am fine. It could've been worse."
Wildcats fans continue to fill McKale. The game draws 6,307 fans, a main reason why the UA is allowed to host the WNIT quarterfinal game against Wyoming.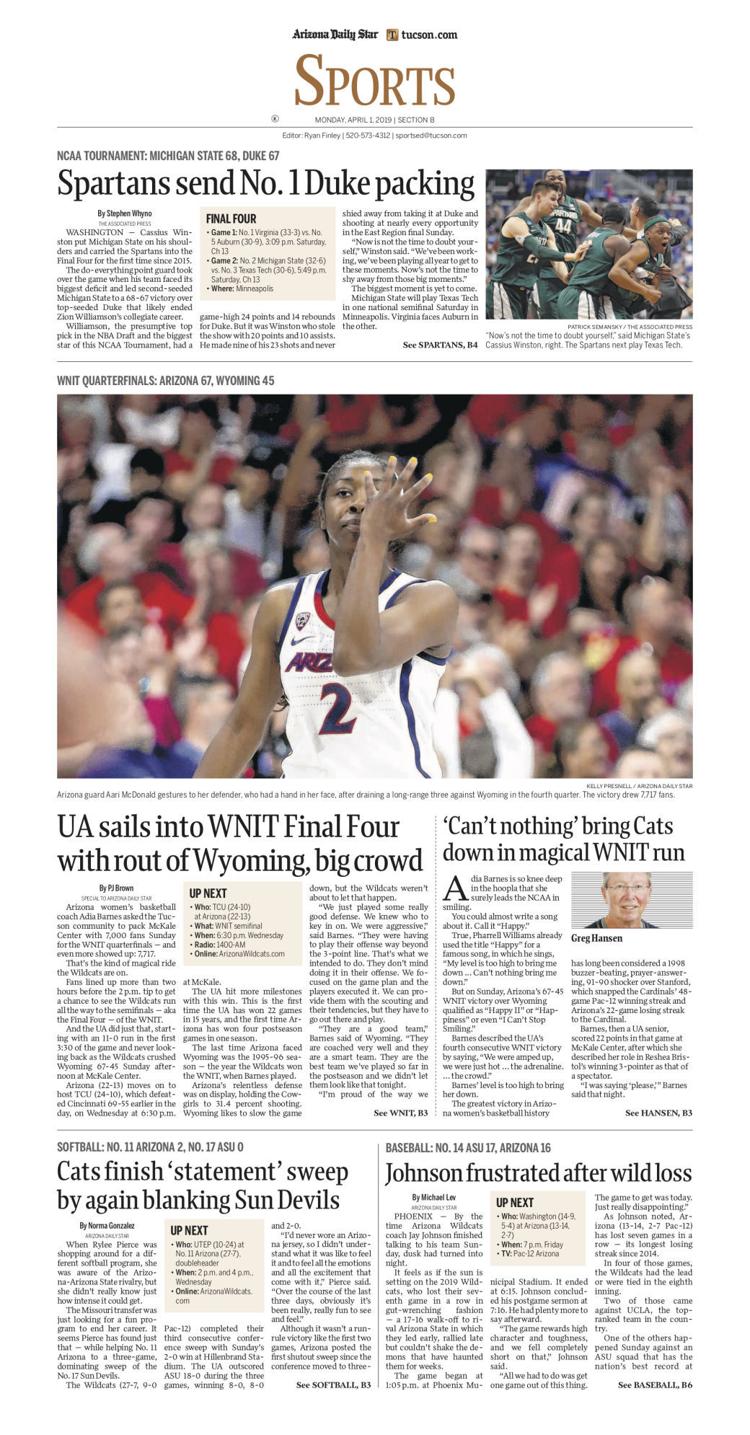 Sunday: Arizona scores the game's first 11 points and rolls to a 67-45 win over Wyoming, putting the Wildcats in the WNIT's Final Four. The UA dominates in nearly every category, scoring 17 points off 11 Cowgirls turnovers and scoring 15 points on fast breaks. McDonald leads the way with 25 points, six rebounds, four assists and one steal; Sam Thomas adds seven points, three assists, three blocks and one steal.
"We're hungry. We look like we have a 'we're not going to lose mentality,'" Barnes says. "We're playing some good basketball. Earlier in the year, we couldn't play without Aari on the floor. So now different people are stepping up and we're playing so much better as a team. And that's what I'm proud of. … It's all coming together at the right time."
Arizona draws 7,717 fans; athletic director Dave Heeke's bid ensures another home game, this one against TCU.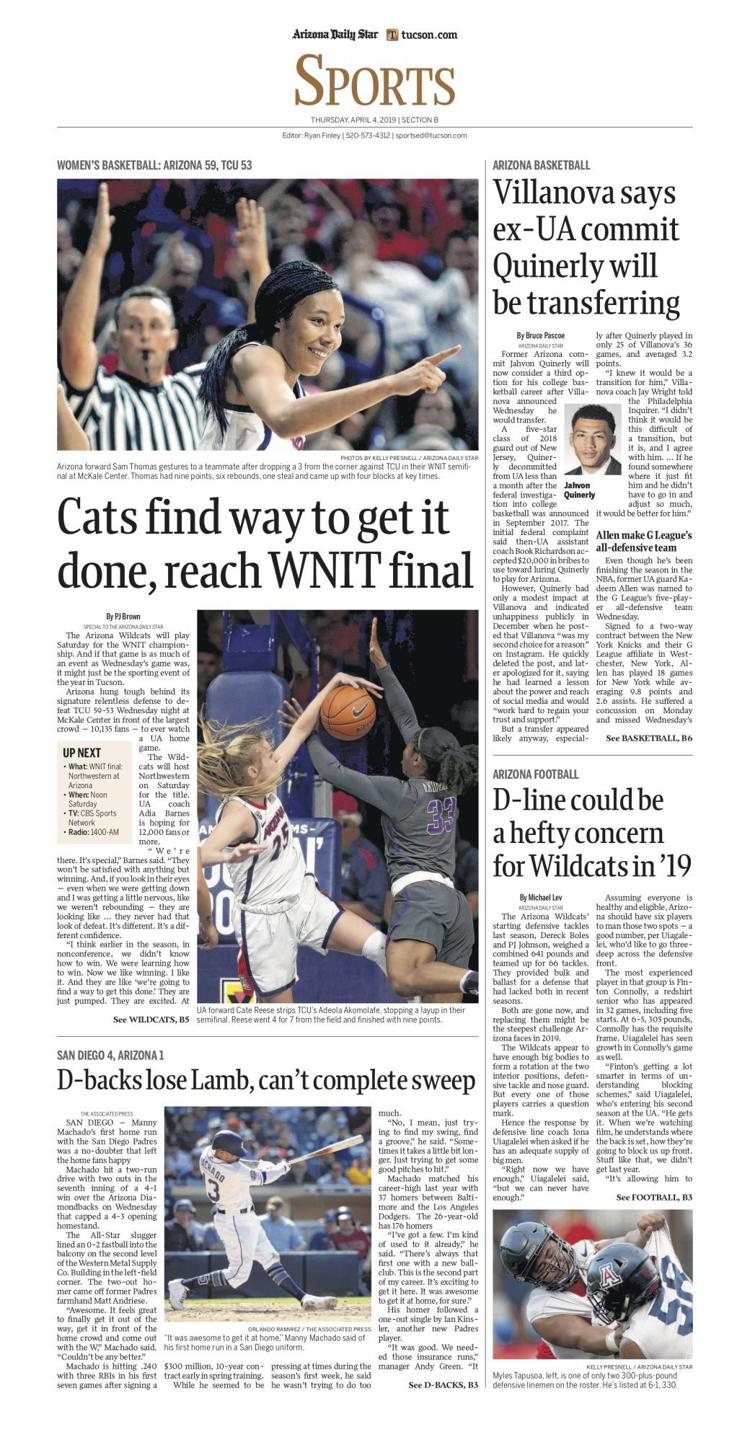 Wednesday: Arizona grinds out a 59-53 win over TCU in front of the largest home crowd — 10,135 fans — in program history, earning a spot in the WNIT's championship game.
Thomas scores nine points, grabs six rebounds and blocks four Horned Frogs shots in the Wildcats' 23rd win of the season. The Wildcats hold TCU to just 26.9 percent shooting from the field.
Following the win, Arizona announces that it will host Saturday's WNIT final against Northwestern. Barnes says the goal is clear.
"They won't be satisfied with anything but winning," Barnes says.