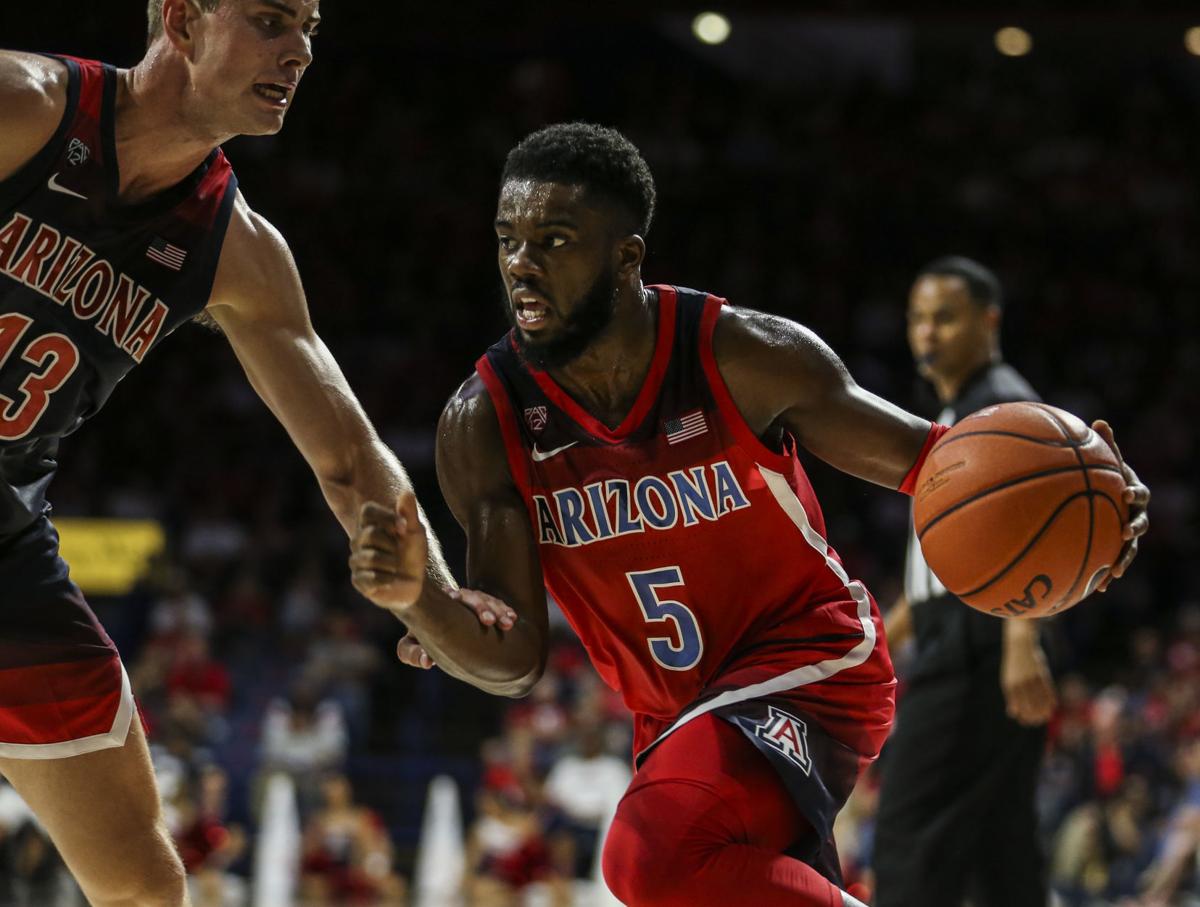 Moving the 3-point line back nearly 17 inches in college basketball will force most shooters, defenders and coaches to adjust this season.
Except Arizona's Max Hazzard may not even blink.
When playing for UC Irvine at Anaheim's Honda Center or other neutral site arenas that also had the more distant NBA 3-point arc painted on the court, Hazzard said he let it go beyond the longer line a "majority" of the time without even thinking about it.
"I shoot too far away anyhow," Hazzard said. "It doesn't matter."
Hazzard wound up shooting 38.8% from 3-point range last season, the third-highest mark in the Big West Conference, and his efficiency from a variety of distances is one of the few things that likely won't change when the college arc moves from 20 feet 9 inches to the international length of 22-1¾.
But many other things could. Here's what those in and around the game expect to happen:
1. It won't be a hazard for prolific shooters.
Hazzard took 62% of his shots from beyond whatever arc he felt like last season, and his attempts — and percentage of shots made — aren't likely to decrease much if at all for shooters like him.
"If they didn't tell me that they were moving it back, I wouldn't have even noticed," Hazzard said. "I feel like it's gonna affect the women more than the guys, just having that second line on the floor. They gotta know which one it is."
Ken Pomeroy, the Utah-based college basketball statistical guru, says Hazzard won't be the only one to notice little difference.
"The guards who shoot seven 3s a game are not really going to be affected that much," Pomeroy said. "You're not really moving back a whole lot and the guys have had months to practice."
But big guys and others who occasionally shoot 3s will feel the difference.
Almost every team in college basketball now has a "stretch four" shooter or other big man who will roam outside to take a 3, such as Arizona's Ryan Luther last season and Stone Gettings this season. But they will have to work considerably harder to do so now.
"I think the biggest difference is the occasional 3-point shooter who can keep you honest from behind the old 3-point line, it's way more challenging for them take that big step back," Arizona coach Sean Miller said. "Maybe the elite shooters will still shoot a very good percentage, but I do think it will affect both the defense and the offense."
USC coach Andy Enfield also said the dip in overall percentages will disproportionately show up among the bigs.
"I personally believe that the great shooters will shoot about the same percentage, but the marginal shooters and some of the forwards and the big men that shouldn't be shooting a lot of 3s — I think their percentages will go down because it is a significant difference," Enfield said. "It'll be very interesting to see if you can differentiate from guards versus the forwards and big men who think they're good shooters."
At least temporarily, Stanford coach Jerod Haase says, post players could also run into issues trying to step out for corner shots, which will be relegated to a 3-foot zone as the arc approaches the baseline.
The percentages will "probably both go down a little bit," Haase said. "I think the biggest impact is when guys are going to shoot in the corner, they step out of bounds as they get used to the spacing and things."
Colorado coach Tad Boyle, chairman of the NCAA rules committee that recommended the change last spring, said reducing congestion around the basket and preserving freedom of movement was a major motivation.
With more defensive resources being pulled farther away from the basket, the new arc could help big men operate around the basket as well as perimeter players who are driving.
"It's not necessarily about my shot, but just spreading the floor for the whole team," said Arizona guard Dylan Smith, who took 60% of his shots from 3-point range last season and hit them at a 35.1% rate. "It's going to make a lot of guys better. I think it's a great addition for college basketball."
Pomeroy said the extra spacing and room it creates could result in an increase in overall offensive efficiency, even if the 3-point shooting itself goes down — as long as the offensive team has some versatility.
"Teams that have multiple threats on the perimeter can drive off the dribble, they can take advantage of the pick-and-roll," Pomeroy said. "If you have guys out there who can shoot it, and (the opposing team) is playing help defense, they don't have good choices there. You're either going to leave a shooter open to stop a drive or you're going to stay on the shooter and leave the person driving to the hoop."
Arizona State coach Bobby Hurley said he won't put a guard in the game who can't hit shots from beyond the new arc and that "hopefully it opens the floor, and my guards can get in the paint more effectively."
Utah coach Larry Krystkowiak, meanwhile, is turning inside. Krystkowiak says he's putting a bigger emphasis on throwing the ball inside more this season than in past seasons, figuring his post players will have more chance of success.
"If you think about it, everything's gotta move out," Krystkowiak said. "Even though it's only a foot and a half on the line, I think the floor gets spaced a little bit more and will kind of separates the men from the boys in terms of who can really shoot.
"Where guys were standing on the 3-point line before, you couldn't hardly throw it into the post. So if you extend it a little bit, I'd like to think you can utilize your big men a little bit more."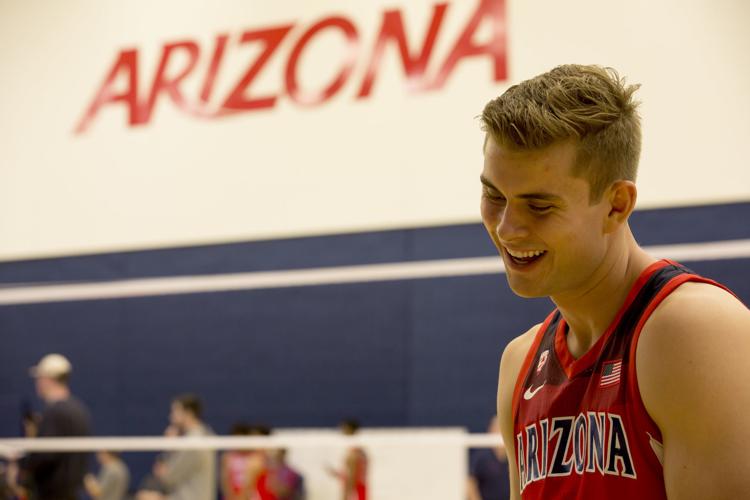 3. Defenses will have to adjust somehow.
Boyle says the new line will result in more zone defense being played this season, so he's been emphasizing long-range shooting during and after practices.
For the Wildcats, whose offense has frequently attracted zones in recent seasons, maybe that's not a big difference.
"Honestly, with the length of the zones in the Pac, you have to shoot that far because everybody's so big, with the length," Smith says. "With Washington (last season), you had Matissee Thybulle, and if you didn't move back he's going to block it. So it's not that big of a change."
Enfield said he doesn't necessarily think that will be more zone played and, maybe, UA's pack-line strategy — where defenders except those guarding the ballhandler stay back slightly to prevent penetration — may hold up with the new distance.
"I would generally think his defenses are better equipped to handle this," Pomeroy said of Miller. "His elite defenses were pretty good at defending the 3-point line and if you have good length on the perimeter, you can do a little more in terms of leaving your man and then recovering and being able to challenge shots.
"There's going to be teams further down the food chain that don't have that kind of quickness in the back corner who are going to really struggle on those kinds of concepts."
Percentages may dip, but attempts might not.
After the 3-point line moved from 19-9 to 20-9 in 2008-09, the biggest dip wasn't in the percentages made — but in the attempts of 3s taken in the first place.
The completion rate of 35.1% in 2007-08 dipped only into the 34% range for most of the next decade, while the attempts dropped from 34.5% in 2007-80 to around 32%-33% for the next six seasons.
But, Pomeroy said, the mentality of today's players likely means the long bombs will keep going on, no matter where the line in the sand is drawn.
"I just feel like now we're in kind of a 'Steph generation' where everybody knows he can shoot it," Pomeroy said, referring to Golden State shooting star Stephen Curry. "And we see so many examples of guys going to the NBA and kind of developing a 3-point shot with a longer line. Everybody just realized that, with a little practice, everyone can shoot it. So I feel like it's kind of a different era and we just won't see the kind of real profound change that we saw last time."
Be the first to know
Get local news delivered to your inbox!