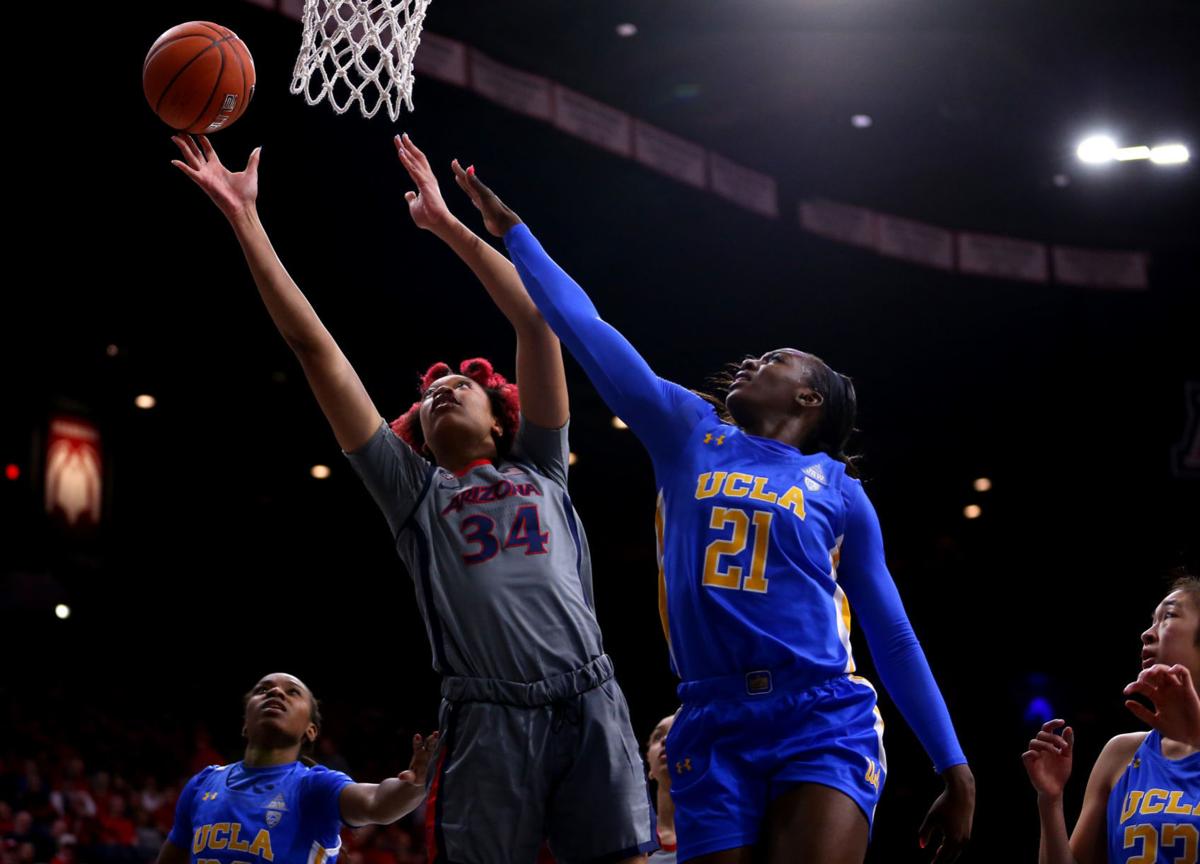 When you're a foot taller than the best player on your team, you get noticed.
And when you have dyed bright red hair and an infectious personality, well, you become the center of attention.
Still, Semaj Smith says there's one time when she feels nearly invisible — when she's in the post, tangling with opponents in the paint. The 6-foot-6-inch Smith says the officials often don't see her getting fouled but seem to notice what she does in return.
Take Sunday: Smith said Oregon State's Taylor Jones elbowed her repeatedly in the throat. When Smith tried to move the 6-4 Jones' arm, she was called for a foul. The official told Smith that she can't move her opponent's arm, ever, no matter where it is.
That puts Smith in a tough spot. Arizona coach Adia Barnes has a solution.
"Coach Adia tells us if that happens, to go under and like 'swim' under and get in front of them — but it's hard because I'm taller," Smith said. "But at the same time, I feel like each game makes you better for the next game. So even though it's difficult, it'll be better the next game."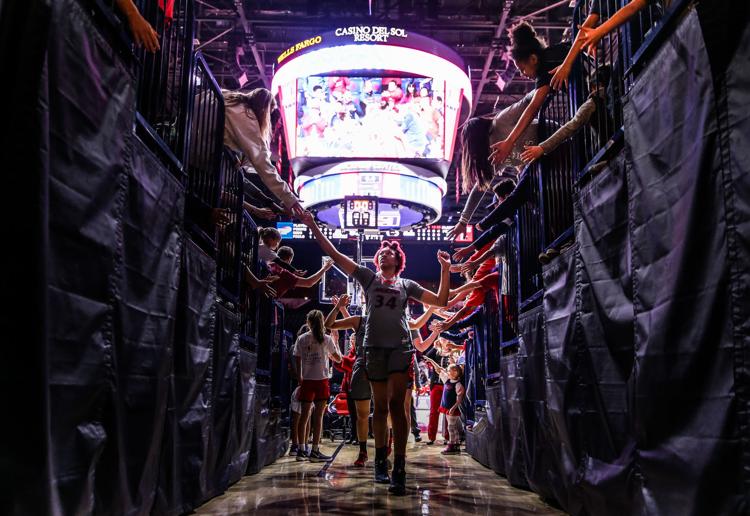 Smith and the Wildcats will host Washington (11-12, 3-9) Friday night looking for their 20th win of the regular season — something they haven't done in 17 years. The 12th-ranked UA enters the game 19-4 overall and 8-4 in Pac-12 play.
Of course, being 6-6 has its advantages. When you improve, everybody notices. And Smith seems to be getting better by the game. She's more comfortable with her shot and has better positioning on rebounds. Smith beams when she talks about her newfound awareness on the court. Every day in practice, Smith takes hard, quick passes from the practice players, team managers and even Barnes. The work prepares her for games and the rockets that point guard Aari McDonald fires at her.
"After the games when it happens, I'll be like 'Did you see that?' It's when I get those quick passes from Aari and I catch them, because last year I wasn't able to catch them or even know they were coming," she said.
While Smith is progressing along at a fast pace, she has to contend with another twist. The role of a traditional center has evolved. While Smith is considered a prototypical center, many of her opponents are quicker, more versatile and often more mobile.
Smith is taller than most of her opponents by an inch or two. Cal's Chen Yue, at 6-7, is the only player who is taller. Smith works to stay disciplined while guarding on the perimeter.
Smith is averaging 3.8 points and 4.3 rebounds per game. Arizona will need Smith to continue improving as it makes its postseason push. UA forward Dominique McBryde calls Smith "vital to our team."
Barnes says Smith, a sophomore, "plays a really important role in what we do."
"Semaj, we don't need to change who she is — but we need to keep working on her bright spots (and) also improve on things," she said. "By the end of her career, she'll be able to catch the ball in the paint finish left or right with defense behind her. She'll grab the balls better and she'll be able to shoot the trail 3 — that's what she'll do by the time she graduates."
Rim shots
Sophomore forward Cate Reese was a named one of 10 finalists for the Katrina McClain Award, given annually to the nation's top power forward. The only other Pac-12 player to make the list is Oregon's Ruthy Hebard. Reese is averaging 14.3 points and 7.9 rebounds per game.
Arizona has beaten two top-10 teams for the first time since the 2002-03 season.
The Women's Basketball Hall of Fame inductees were announced Monday and included a few of Barnes' friends — Tamika Catchings, Swin Cash and former Seattle Storm teammate Lauren Jackson.
Barnes said she "always" talks to her UA players about Jackson, a three-time WNBA MVP who was in her wedding.
"She was one of the best players I have ever seen in my life — and I played with some of the best," Barnes said. "She was so dominant. She was a 6-5 player that could score on the block against anybody and could shoot the three at over 50%.
"I remember specific games, she would have 42 points, and she was the first person in the gym (the next day). That's the mentality. If you talked to her it's that same mentality of just your expectations are so high you demand the greatest, but that's how she is at everything. …
"You don't find Lauren Jacksons, and if you see one, please tell me about her, because I'll be recruiting her. She's one in a million."
NOTE: Friday's game between Arizona and Washington will be shown only on Pac-12 Washington and on Pac12.com.
Be the first to know
Get local news delivered to your inbox!