With one year left on his contract, Sean Miller was relieved of his head coaching duties on Wednesday after leading the Arizona Wildcats basketball program for 12 seasons. 
Arizona athletic director Dave Heeke said the school will honor Miller's final season under contract and compensate the former UA coach 50% of what he is expected to make in the 2021-22 season. 
Between 2009-21, Miller went 302-109 (.734) and took Arizona to the NCAA Tournament eight times, including three Elite Eight appearances. Miller's 300-plus were the third-most in program history behind Hall of Famer Lute Olson and Fred Enke.
Out of all the Miller-era wins, which games reign supreme? Here are the 10 best triumphs of Miller's time at Arizona: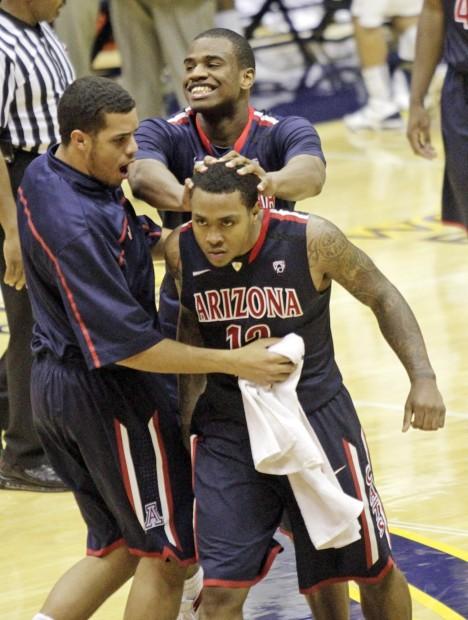 10. Wildcats hold off Cal in triple overtime
Where: Haas Pavilion, Berkeley, California 
What went down: Arizona was doomed to lose against Cal, especially after star forward Derrick Williams fouled out with 21.9 seconds left in regulation. Momo Jones' sent the game into overtime with a tying three-point play at the end of regulation, then hit a tying 3-pointer with five seconds remaining in the second overtime and nailed the with a go-ahead layup in triple overtime. Jones' career-high 27 points lifted the Wildcats over the defending Pac-10 champions.
He said it: "I've played like this my whole life. To other people it might be something new, but to me it's just another day in the life of Momo Jones." — Jones
9. Kadeem kills Sparty in Armed Forces Classic
Where: Stan Sheriff Center, Honolulu
What went down: With Allonzo Trier sidelined (for reasons we'll discuss in a moment), the 10th-ranked Wildcats faced a tall task against Michigan State and star freshman Miles Bridges. Arizona fell behind by double digits early, but McDonald's All-American Kobi Simmons provided much-needed boost. The  Wildcats went on a 17-0 run to pull back into the game. Simmons finished the game with 18 points. With the game tied at 63, Kadeem Allen dashed the length of the court and scored the game-winning lay-in with just over a second left on the clock.
He said it: "This game reminded me a lot of the last game we had here. Nick (Johnson) had an epic blocked shot against a great team. We won the championship on Christmas Day, a thrilling last-second win. It felt the same way tonight except we made a shot instead of a block." — Miller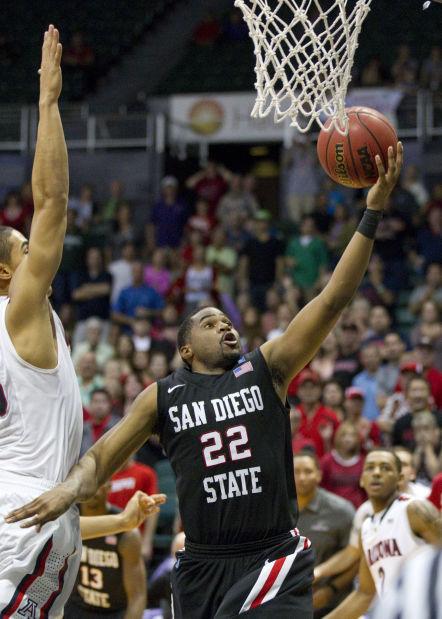 8. Johnson's defensive heroics delivers Christmas present for Cats in paradise
Where: Stan Sheriff Center, Honolulu
Opponent: San Diego State
What went down: San Diego State guard Chase Tapley thought his potential game-winning drive to the basket would hand the third-ranked Wildcats their first loss of the season, but Johnson — nicknamed "Bunnies" for his vertical talent — went around a screen, soared to the backboard and blocked the shot with his right hand to secure the Diamond Head Classic Championship. In a game where Arizona only shot 37% from the field, defense and free throws proved to be the deciding factor. Solomon Hill was named the Diamond Head Classic MVP.
He said it: "(Johnson) made one hell of a play. I just have to tip my hat off to him. I didn't even know he was around. He just came out of nowhere. I'm thinking the game is over. The next thing you know, the ball is going off the backboard." — Tapley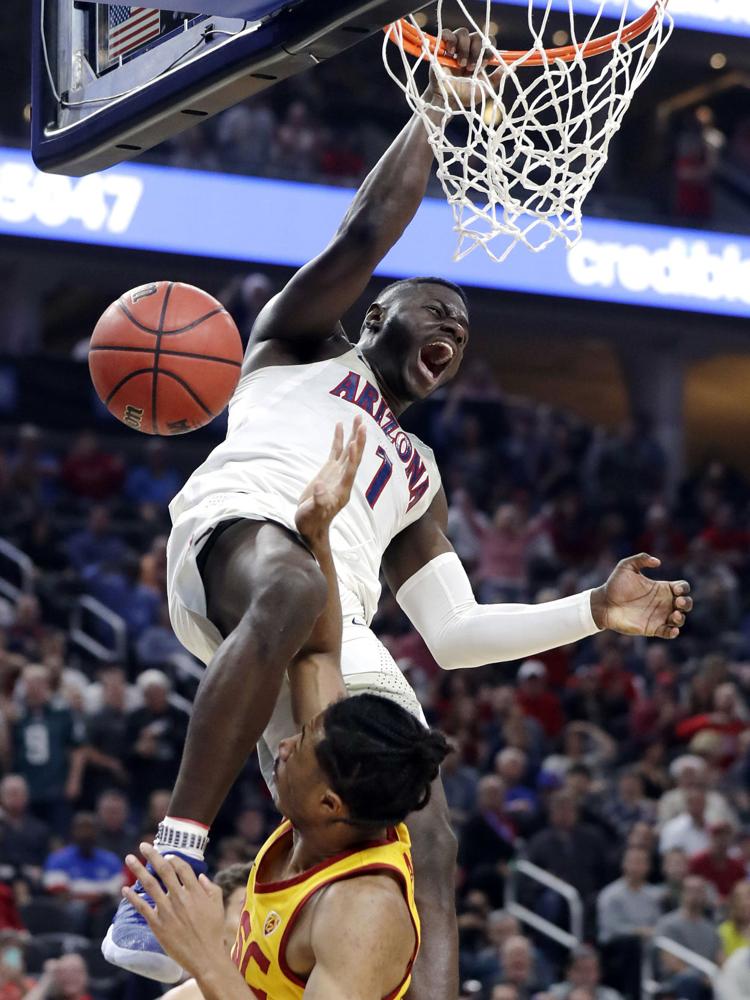 7. UA throttles Trojans to win Pac-12 Tournament
Where: T-Mobile Arena, Las Vegas
What went down: Freshman Deandre Ayton recorded a monstrous 32 points on 14 for 20 shooting and grabbed 18 rebounds as the Wildcats won the Pac-12 Tournament title game in front of nearly 17,000 fans at "McKale North" in Las Vegas. Ayton's most memorable play against the Trojans didn't include him scoring: UA's big man drew a double-team of Nick Rakocevic and Jordan Usher on the baseline, then passed to a cutting Rawle Alkins for a poster dunk over USC guard Elijah Stewart. Arizona won its second straight Pac-12 Tournament title, the third one of the Miller era.
He said it: "Deandre was a one-man wrecking crew these past two days." — Miller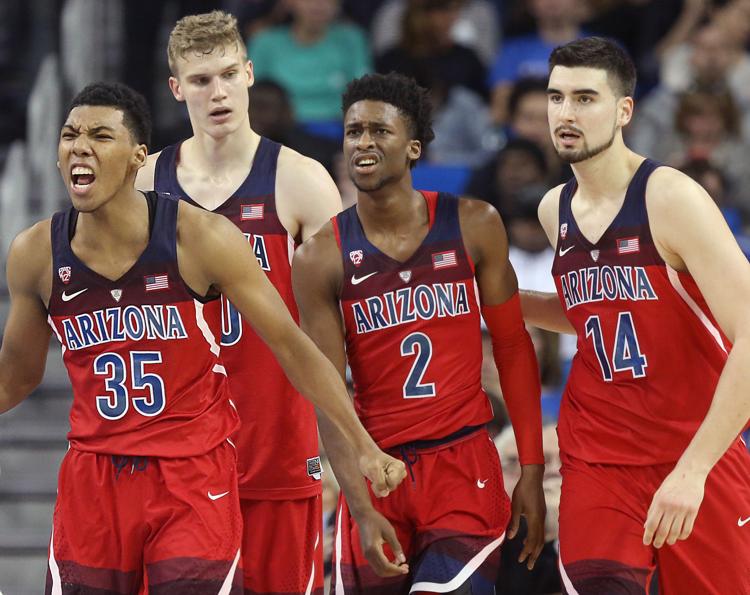 6. 'The Allonzo Trier game'
Where: Pauley Pavilion, Westwood, California
What went down: Trier was held out of the first 19 games of the 2016-17 season after testing positive for performance-enhancing drugs. The substance that took away the first half of Trier's season: Ostarine, the PED that also led to the shooting guard's two-game suspension in 2018. Trier was reinstated the night before Arizona's showdown with No. 3 UCLA, a team that included Lonzo Ball, former UA commit TJ Leaf, Isaac Hamilton and Aaron Holiday. In 27 minutes off the bench, Trier tabbed a near double-double with 12 points and seven rebounds. Six Wildcats scored in double figures: Simmons (20), Lauri Markkanen (18), Trier (12), Dusan Ristic (11), Alkins (10) and Chance Comanche (10).
He said it: "Would we have won the game if Allonzo hadn't played? I don't know if we would have. He made a big difference. We have worn down in the second half in a lot of games. Today we didn't wear down because we had an extra player. So just that alone really makes us better." — Miller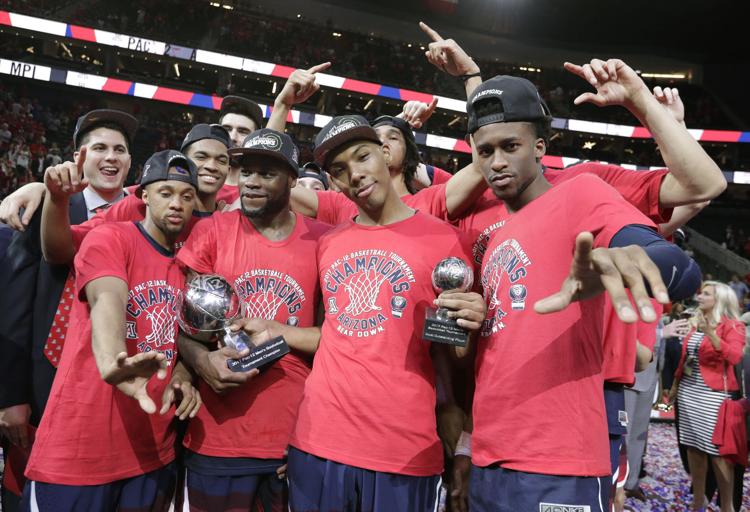 5. Arizona avenges early loss to Ducks, wins Pac-12 Tournament
Where: T-Mobile Arena, Las Vegas
What went down: Arizona and Oregon shared the Pac-12 regular season championship, so when both teams met in the conference tournament's title game, it was for the outright crown. The fifth-ranked Ducks, led by Pac-12 Player of the Year Dillon Brooks, went 6 for 22 from 3-point range, though Brooks and guard Tyler Dorsey combined for 48 points. Arizona's Trier made four critical free throws in the final 17 seconds to give the Wildcats an edge; he was named the Pac-12 Tournament's Most Outstanding Player.
He said it: "It's a great feeling for me. I don't think you had the picture painted like this when everything was so down. I'm extremely lucky to do something I love. Just a great feeling." — Trier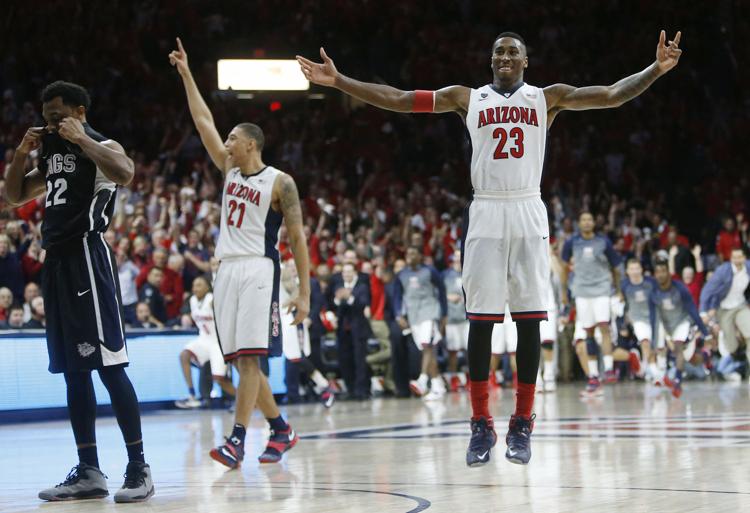 4. Wildcats outlast Zags in overtime
What went down: If there was anything to ease the pain of Arizona fans who experienced the UA football team's blowout loss to Oregon in the Pac-12 Championship the night before, it was a nail-biting win over ninth-ranked Gonzaga in Tucson. Arizona forward Brandon Ashley registered 14 points, including the game-tying jumpshot with just over a minute left in regulation. Point guard T.J. McConnell scored six of his 12 points in overtime. Zags guard Byron Wesley could've sent the game into a second overtime period, but missed three free throws with 3.3 seconds left.
He said it: "It was a mindset of kind of taking it personally: What about Arizona, why not us?" — McConnell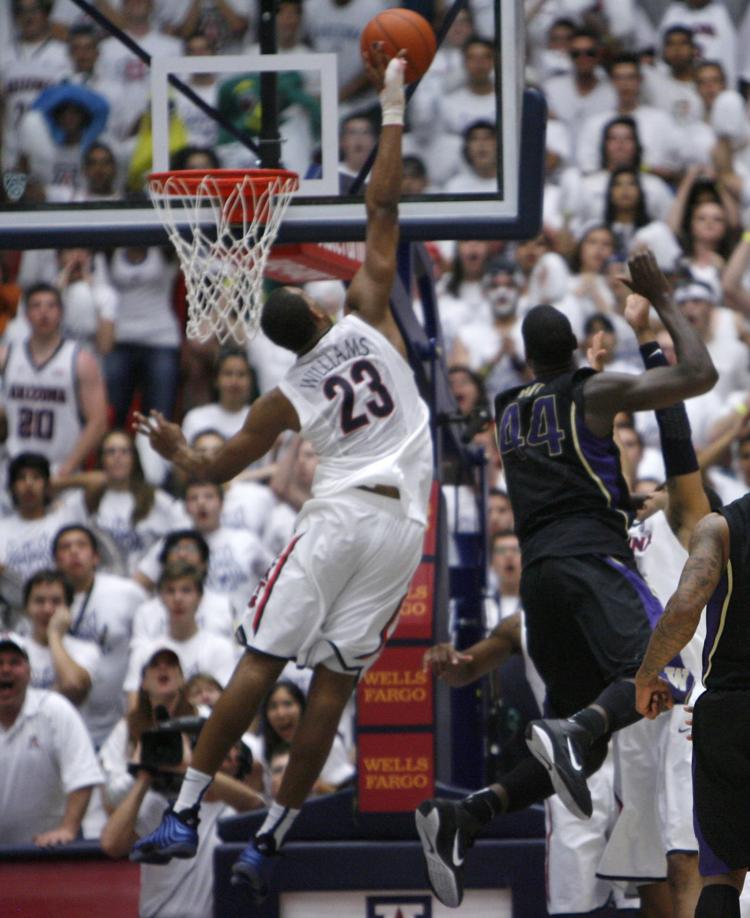 3. D-Will's block in 'white-out' thriller
What went down: Derrick Williams delivered arguably the most iconic moment of the Miller era in the Wildcats' "white-out" win over Washington. Hill's putback with 24 seconds left gave Arizona an 87-86 lead. With the shot clock turned off, the UA needed a defensive stop — and it got one. With 2.2 seconds left to play, Washington's Darnell Gant received the inbounds pass and attempted a layup, but Williams swatted the shot into the Zona Zoo with 0.2 left on the clock. Williams finished the game with 26 points, 11 rebounds, seven turnovers and two blocks. The second one is one of the most celebrated defensive plays in program history.
He said it: "When I was going up, that was when he first released the ball. I timed it perfectly. Luckily, they didn't call the goaltending. I believe if we were at Washington, they might have called that." — Williams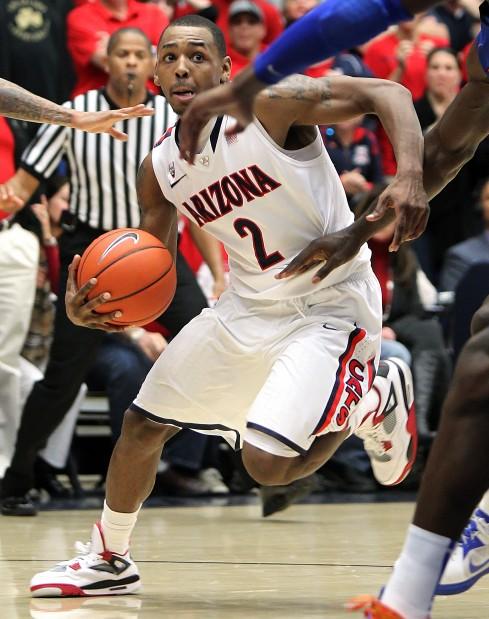 2. Lyons caps historic day with game-winner
What went down: The code to making an Arizona fan happy: 12-15-12. Heck, the UA even made t-shirts commemorating that special December 2012 day in Arizona athletics history. The UA football team started the day by rallying from a 20-point deficit to beat Nevada in the New Mexico Bowl. The UA basketball team followed with a come-from-behind win over No. 5 Florida. Mark Lyons' game-winning floater off the glass with 7.1 seconds left helped the Wildcats overcome a six-point deficit in the final minute. On a day filled of comebacks, Lyons joined Arizona lore.
He said it: "You can point to every player on our team, and they made a positive impact. Obviously there were those big plays when a guy needs to make a big shot. Mark Lyons' shot was one of the biggest shots I've seen. There was no doubt in my mind that it was going in." — Miller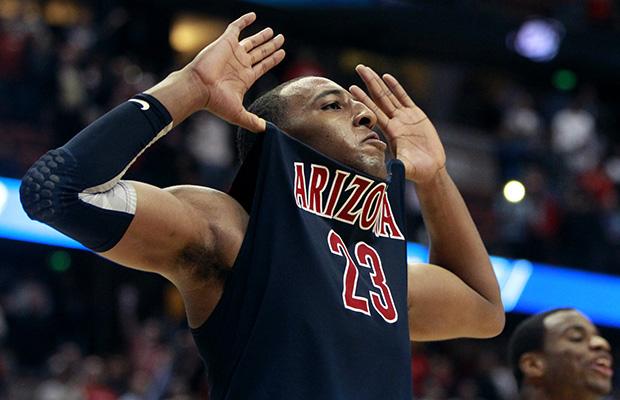 1. Wildcats thrash Duke in Sweet 16
Where: Honda Center, Anaheim, Calif.
What went down: The Wildcats clawed their way to a close win over Texas in the second round of the '11 NCAA Tournament, but their postseason magic appeared by running out in the Sweet 16. The Wildcats trailed Duke by 11 points in the first half when Wiliams went to work. He drained a beyond-NBA-range 3-pointer to bring the UA within six to end the first half. Williams scored 25 of his 32 points in the second half. Arizona outscored Duke 55-33 in the second half and won by 16 in the Sweet 16.
He said it: "The second half was just complete nastiness, as coach would say." — UA forward Kevin Parrom
Contact sports content producer Justin Spears at 573-4312 or jspears@tucson.com. On Twitter @justinesports