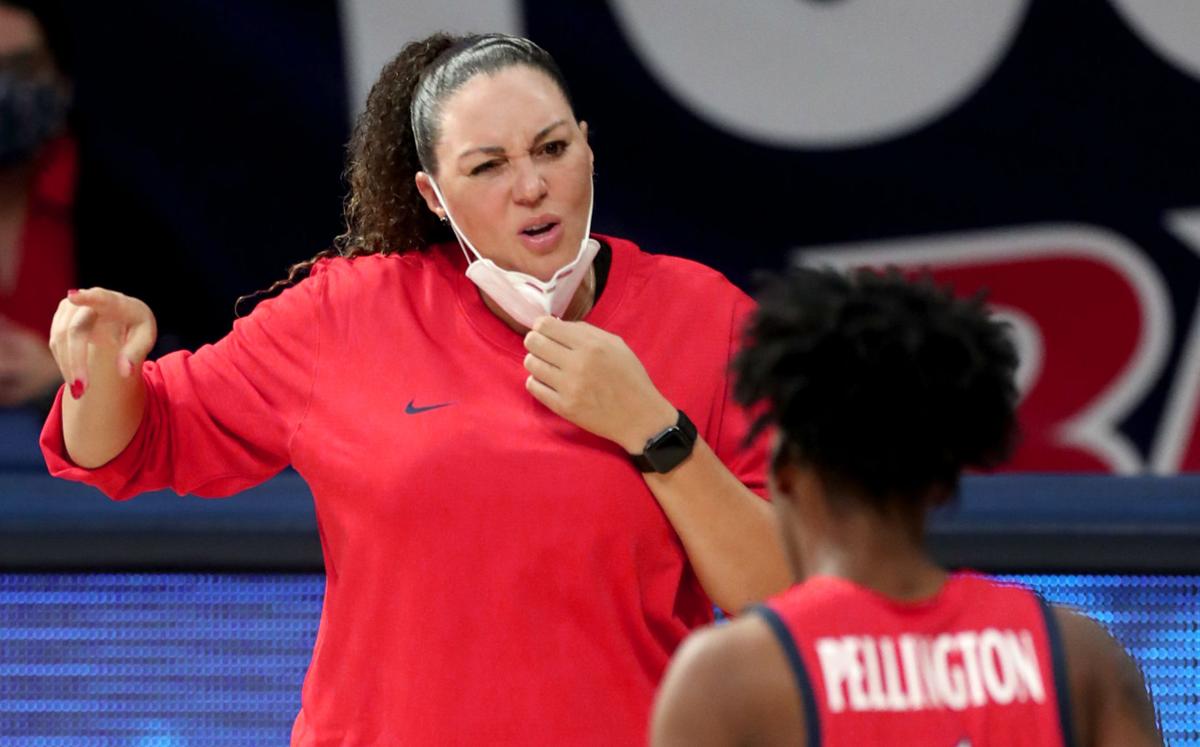 Kailyn Gilbert knows Arizona is the right school for her.
She's watched the No. 7-ranked Wildcats' games this season — and some from last year — and said she likes their style of play. She's seen videos of Tucson and the UA's campus, and thinks it's beautiful.
And she knows UA coach Adia Barnes will help her reach her goal of playing in the pros once her college career is over.
All of these reasons helps explain why Gilbert, one of the nation's most sought-after players, verbally committed to the UA earlier this week.
The 5-foot-8-inch Gilbert is a native of Tampa, Florida, who is rated by ESPN as the sixth-best point guard and the No. 18 overall player in the class of 2022. Last year, she averaged 31 points per game and was named the Dairy Farmers Class 3A Player of the Year in Florida. This year, she transferred from Tampa Prep to Seffner Christian High School and has continued to score at a high rate. She opened her season with a 47-point explosion and put up a 42-point game on Dec. 29.
Gilbert initially held scholarship offers from 42 programs. At the end of November, she narrowed that number down to eight schools — including powers Louisville, Mississippi State, Vanderbilt and Virginia. Not too long after that, she chose Arizona.
"I've known for about a month now," Gilbert said. "I think my parents (David and Chantha) do a really good job of helping me make decisions not based off just emotion … what I'm feeling at the moment. They were like, 'OK, Kailyn, just relax.' I waited some time, I still wanted to commit. They were like, 'OK, we support you.'
"They wanted me to visit Tucson before I committed, but there's a lot going on right now (in terms of the pandemic) and I don't know when I'll be able to visit. We just looked at a lot of videos together and I was like, 'This is where I want to be.'"
Gilbert started playing basketball after tagging along with her dad when he played in the park. The sport has become her sole focus — if she's not in school or playing a game, Gilbert can be found in the gym.
"Every time I pick up a basketball, it's just like I forget anything else that's going on in my life. It's like therapy to me," Gilbert said.
Arizona has been on Gilbert's radar for a while, as she lists Wildcats guard Aari McDonald as one of her favorite players. Gilbert remembers McDonald's 44-point performance at Texas from November 2019.
"She's just a dog — in one possession, she was just everywhere defensively," Gilbert said. "I like that because it motivates me to play defense, which I struggle with sometimes. She can really score, she can play defense and she can get her teammates involved — she can do everything."
McDonald shared some tips with Gilbert during her recruitment. Among them: keep working hard and do "what you have to do to separate yourself from other players to get playing time." McDonald also told Gilbert about the struggles of transitioning from high school to college.
Gilbert's other connection to Arizona is Wildcats forward Trinity Baptiste, another Tampa native. The two met this summer on the basketball court. Baptiste guarded Gilbert, and the newest Wildcat came away with one thought.
"She's really strong," Gilbert said. "Like, really strong."
Gilbert has 18 months to get stronger and prepare for Pac-12 play. In the meantime, she shared one more reason she is excited about heading to Tucson — a place she's never been.
"I want to win the national championship," she said. "That's the goal."