NASSAU, Bahamas — A plumber in the working-class Nassau neighborhood of Pinewood Gardens, Alvin Ayton struck a deal with his kids every summer sometime after they turned 11.
They'd go to work with him five days a week, and he'd pay them $20 a day. They'd learn a trade, stay busy and earn a little cash.
That worked out pretty well until Deandre Ayton reported for duty one summer.
"I took him out the first week and I pay him $100," Alvin said. "On Monday, I say, 'Are we ready to go back to work?' He said, 'I'm not going back. I gotta use this $100 to go to the Jeff Rodgers (basketball) camp.' "
It was one of two Bahamian moments that defined the 7-foot-1-inch Arizona freshman's basketball career so far. The first was his eye-opening performance as a 12-year-old that summer at the Rodgers camp, a longtime basketball event in Nassau that annually attracts professional hosts and scouts alike.
Proof of the second moment still lingers on YouTube today: Deandre collected 18 points and 17 rebounds in an August 2014 exhibition against North Carolina in Nassau, just after completing his freshman year in high school.
A third moment could happen this week, when the Arizona Wildcats play in the Battle 4 Atlantis tournament, just over the bridge from Nassau and New Providence island.
Alvin had to know the first moment was coming. Deandre said he grew up doing simply "what all these primary kids do" while speaking to the Star after he addressed a group of students at Nassau's Mt. Carmel Preparatory Academy on Tuesday.
Alvin, too, said Deandre was normal, very much a "typical Bahamian kid" with decent basketball talent but perhaps more passion for playing drums. But he and wife Andrea noticed something else happened right around the time he asked out of that plumbing work.
"One summer, when Deandre was 11 or 12 years old, we started to look up at him," Alvin said. "We were like, 'What happened here? How did he get so big overnight?'"
So when the Rodgers camp lured him away, Alvin knew to let him go.
"It wasn't like me or anybody said, 'Oh, you've gotta go to the camp,'" Alvin said. "I said, 'If you want to go to the camp, go to the camp.' He could choose his own destiny. It wasn't me or his mom."
Ayton's then-6-8 frame screamed potential that week, and doors opened up everywhere he turned.
The first move was to San Diego, where as a seventh-grader Ayton joined a new basketball program at Balboa City School. The opportunity was all about basketball, but Ayton said he didn't see it that way.
"Basketball wasn't really the focus," Deandre said. "I was just looking for a free education and that was an opportunity my mom got. I grew rapidly tall and people saw potential in me and they invested their time, getting me to play basketball."
It went well for a few years. Deandre lived with a coach, then a host family and finally the school director but eventually Deandre found there was "a lot of controversy."
Alvin said Andrea eventually became frustrated on her end, too.
"My wife is connected to all our children," Alvin said. "While he was in San Diego, she wanted to talk to him every day. She liked to know if he was brushing his teeth and all that. Yet they tried to separate her. They take away phones, so we can't call. There was a bunch of stuff she didn't like. She said, 'You know what? I can go where my child is.'"
So she did. Only it wasn't to San Diego. It was to Phoenix, where Andrea moved in with Deandre while he spent his final two years of high school playing for Hillcrest Prep.
"It's just him and his mom," then-Hillcrest coach Kyle Weaver told the Star in September 2016. "No snakes. No vultures."
Deandre was happy, Andrea was happy and Arizona, all of a sudden, had an opportunity it could run with.
UA coach Sean Miller and his staff knew all about the marvelously skilled big man from Nassau, but their competition was stiff — especially after Ayton opened eyes against North Carolina in that August 2014 exhibition game.
The Tar Heels had visited that summer for the same reasons a lot of college teams do, because Nassau's proximity and the vacation-like environment at Atlantis are attractive to teams looking to take easy advantage of the foreign exhibition tours. NCAA allows teams to travel once every four years.
But finding good local competition can be tough. Arizona came to Nassau for an exhibition tour in 2012, and won games by 60 and 42 points.
North Carolina didn't have it so easy. It agreed to play the Providence Storm, a club team run by local high school coach Kevin Johnson. Johnson had a certain 16-year-old who was far readier for prime time than anyone may have realized.
"There were a couple of summers he came back and I was thinking, 'God, this kid is talented,'" said Johnson, who has worked out Ayton over several offseasons. "But I was just thinking maybe Division I. Maybe he could get the grades and get qualified."
So why not test Ayton against the Tar Heels, even if he still had three years to go before college?
He asked. Ayton accepted, eagerly.
"I was like, 'I have a game tonight. Want to play?'" Johnson said. "I was just thinking, you know, 'I'll just put him in for a few minutes. He's young, even though he's tall.'
Then Ayton posted 18 points and 17 rebounds.
"Man, he just played extremely well," Johnson said. "He rebounded the ball well and we beat them by two points. That's really what blew him up. After that, everybody started noticing that 16-year-old kid."
That wasn't a good thing for Arizona. The Wildcats were on Ayton early in his Balboa City days, but their traction in the recruitment appeared to slip as Ayton played into the middle of his high school career.
The move to Phoenix changed everything. Not only did it shift more of the recruitment into Andrea's hands, but it also happened that she liked living in Arizona.
But at the same time, there was speculation that Ayton wouldn't play at any college. Because Balboa hadn't operated a basketball program before Ayton arrived, it hadn't sought NCAA certification for its courses, meaning Ayton needed to make up credits in order to qualify.
In July 2016, UA signee Terrance Ferguson opted to sign with an Australian professional team while in eligibility limbo, and Ayton could have followed the same path: Go pro somewhere else, make mid- to high-six figures by signing a pro deal and endorsement contract and wait for the 2018 NBA Draft.
Ayton didn't like that plan. So by September 2016, he went on ESPN to announce he would play a season for the Wildcats in 2017-18, allowing Andrea to remain in Phoenix, before turning pro.
"I made Arizona my home," he told the Star later that week. "I'm really comfortable in Arizona."
Through three games, it's clear Ayton is comfortable on the court. He has posted double-doubles in his first three games as a Wildcat, scoring with ferocity around the basket and finesse away from it.
Miller said he's comfortable off the court, too.
"He's very much a regular kid, enjoys his teammates and I think he's really enjoying the University of Arizona," Miller said. "Not just the basketball part of it. I think he enjoys being a student. He's done a great job as a student and we're thrilled to have him."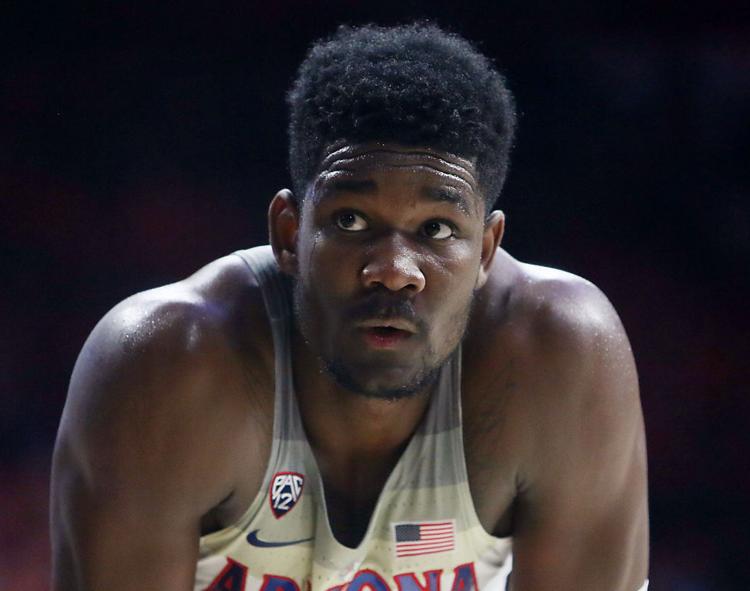 At the same time, Ayton is never more comfortable than he is in his native country. Already with plans to someday buy a vacation home in Nassau, Ayton said he enjoyed returning to put on a show for the Mt. Carmel students on Tuesday, hitting 3-pointers and dunks alike while finishing the show by standing in the center of a group photo, arms raised and grin flashing.
After that, he sat down for a sometimes rapid-fire Q&A with a group of older students.
"Guess … Who said 18? It's 18."
How much do you practice?
"Go from about 2 to 5 o'clock and then you want to work at the end of the night."
How long is your wingspan?
A school staffer asked Ayton the final question: How does it feel, at age 19, to come home and sit in the chair you are sitting in, answering questions in front of all those students.
That was the one moment Ayton did not appear completely comfortable in his homeland.
Because he was one of them. He was a drummer. A student. A sort-of plumber.
And it all wasn't that long ago.
"This is … sometimes it doesn't feel real," Ayton answered. "I was in this seat listening to someone else. I'm sitting here now. It's really crazy. I still don't believe it.
"I would say it's just a sacrifice and to always put God first. That's about it. You know what I mean?"
With that, the students broke into loud applause. Ayton rose up and ducked out of the door.
As he then walked slowly to the parking lot to join his teammates on the bus back to the Atlantis, Ayton quietly noted that he'd once listened to Klay Thompson speak at the Jeff Rodgers camp.
Already, Ayton could see a full circle around his young and promising basketball career.
"Players would come and spend time with us," Ayton said. "That's why I said it feels like a dream. It feels like a dream. It's crazy."