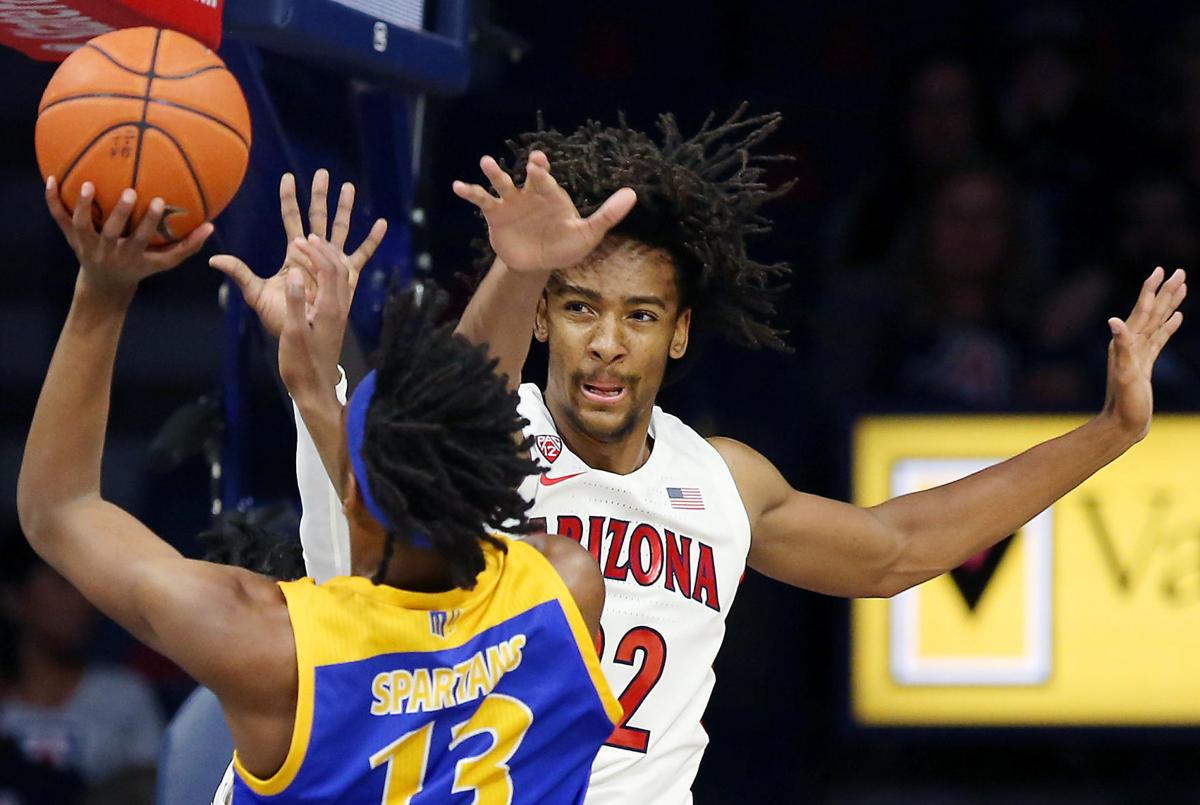 Thinking that even a top-30 ranking might be underestimating fast-rising Minnesota prospect Zeke Nnaji last June, Rivals.com analyst Eric Bossi flew to USA Basketball headquarters in Colorado to check him out one last time.
"I was immediately blown away," Bossi said. "Like, 'Wow, my gut instinct was right on this dude.' Clearly, he was a five-star player."
Nnaji didn't make USA's U19 World Cup team, in part because of what observers said was a mixture of minor injuries and politics, but Bossi moved Nnaji up to No. 22 — five-star territory — in Rivals.com's final rankings of 2019 prospects.
Rivals.com was late, yes, but nobody else rated him as a five-star player, ever.
So while the freshman forward has been storming through his first four collegiate games for Arizona, averaging 21 points per game while shooting over 84% both from the field and free-throw line, regrets are already popping up.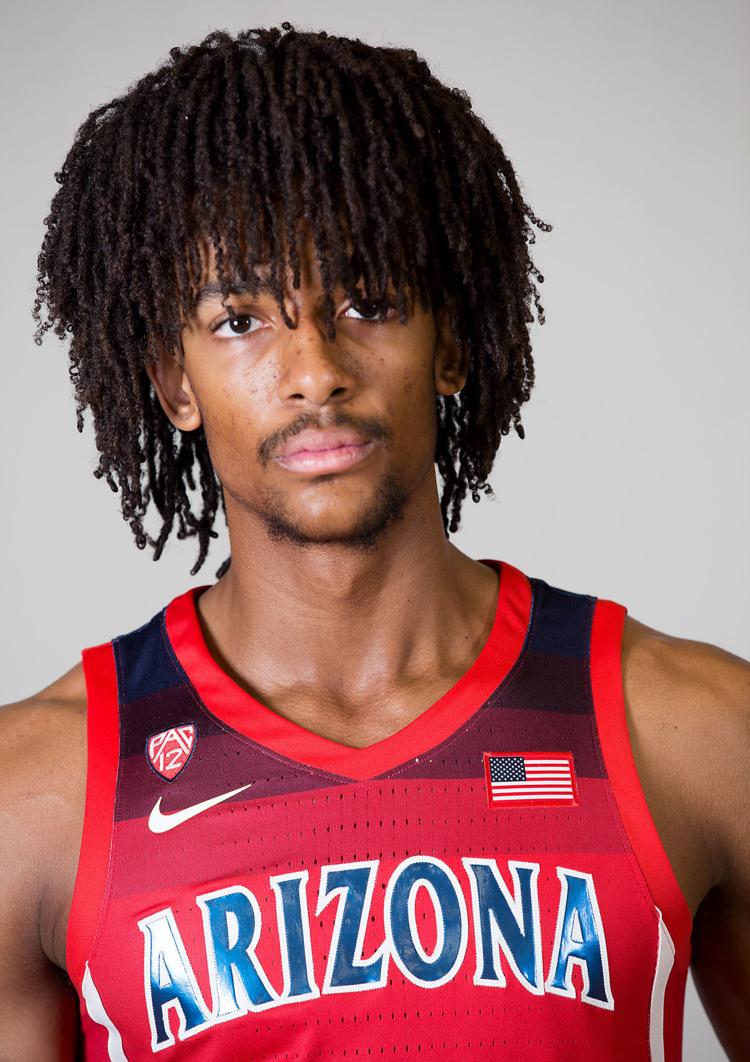 Recruiting analyst Josh Gershon of 247Sports.com says his site should have placed Nnaji higher than 40. ESPN actually rated Nnaji lower as his high school career went on, giving him a final rank of 49.
Nnaji also was practically nowhere to be found on NBA mock drafts and prospect lists until this week.
When Nnaji had 19 points on 7-for-7 field goal shooting and 5-for-5 free-throw shooting against New Mexico State last Sunday, ESPN moved him to No. 25 on its draft board.
A week earlier, it should also be noted, Nnaji had 19 points on 9-for-12 shooting against Illinois and gigantic NBA prospect Kofi Cockburn in front of 33 NBA scouts at McKale Center.
"He's made a lot of people that have questioned him look bad," Gershon said. "But also I think it's hard sometimes to catch up to a kid that's on such an extreme trajectory."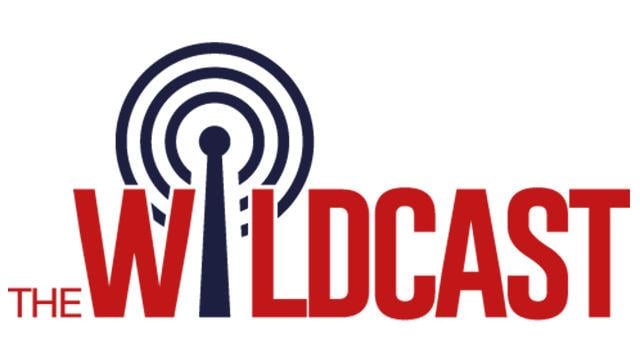 UA coach Sean Miller was also in Colorado as a member of the USA Basketball's Junior National Team committee, so Bossi and the UA coach had a little more reason to see this coming.
"I would imagine Sean Miller had about the same reaction I did at USA Basketball, like 'Holy crap, this guy is a lot better than we thought he was,' " Bossi said.
Asked this week if Nnaji has played better than he thought Nnaji would, Miller said "yeah," and then transitioned into how his staff had tried to advise people that were in charge of "certain (all-star) games" that Nnaji was "a very good player and a great kid, that he had a fantastic senior year in the state of Minnesota."
Nnaji was invited to the Iverson Classic game but not the more prestigious McDonald's All-American Game nor the Hoop Summit, two events that fellow UA recruits Nico Mannion and Josh Green were a part of.
Green and Mannion played with the Hoop Summit's World Team because of their international backgrounds.
"Sometimes not getting all of those accolades, or getting invited to some of the all-star games, can be a motivating force," Miller said.
"I know when I was in college, guys would be wearing their McDonald's All-American sweatsuit, and they were seniors in college.
"It was like 'That day is over.' Now it's about how good of a basketball player you are at the university you're at — and Zeke is one of those players that you pull for because he really didn't get a whole lot of respect in high school. Certainly not as much as he deserved, in my opinion."
So why didn't he? Here's a deeper look at what really happened: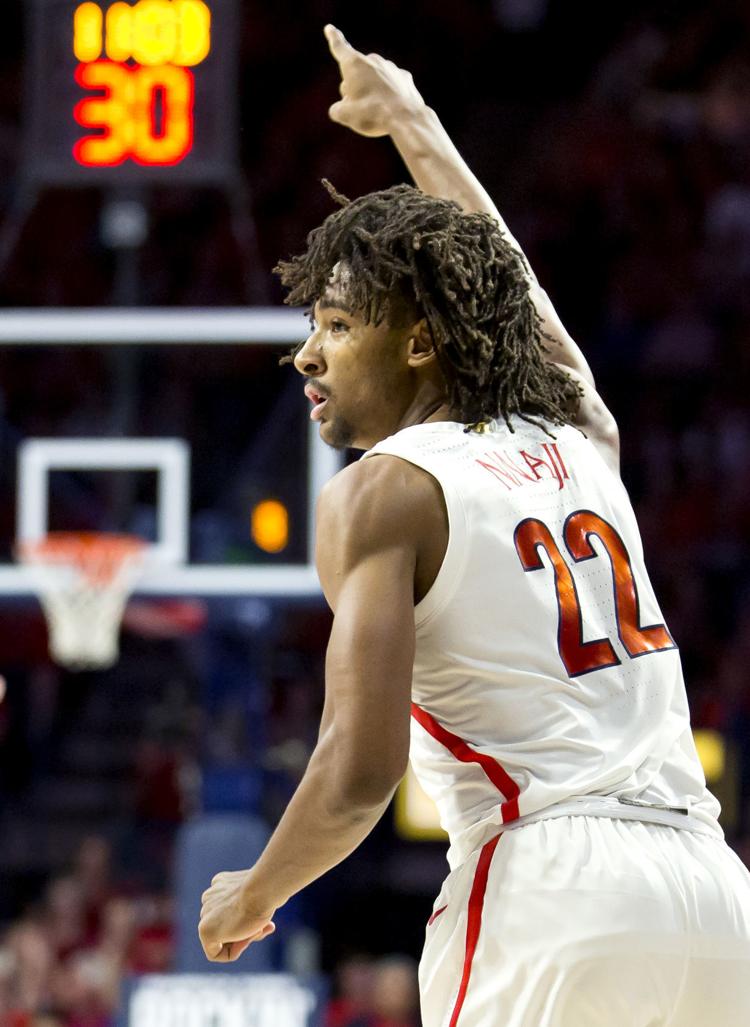 1. He was a late bloomer, literally. Nnaji was hovering over 200 in composite recruiting rankings through the end of his junior season at Hopkins High School, when Bossi checked back in after seeing Nnaji as a rather unremarkable freshman and sophomore.
Bossi was stunned at the difference.
"He had gone from a 6-6, 6-7-ish face-up four man who wanted to shoot jump shots to a 6-foot-10-ish big man who could play the four or the five," Bossi said. "So automatically, you're dealing with a different-level dude."
Before he turned 18 last January as a senior at Hopkins High School, Nnaji was adding to that bigger frame by adopting a UA-prescribed strength program. UA now lists Nnaji at 6-foot-11 and 240 pounds.
"As a senior in high school and through the summer months, his body really changed," Miller said. "Part of what helped his body change isn't just the regimen he was on and how hard he worked, but (that) he's young.
"He's one of the youngest players on our team. His maturity has really helped him just be different now than he was two years ago."
2. He wasn't the centerpiece of his club program. After struggling to get time and attention on the loaded Howard Pulley Nike EYBL club in the summer of 2017, Nnaji switched the Adidas-sponsored D1 Minnesota club. That club was also loaded with elite prospects, none more so than a Rochester big man named Matthew Hurt.
The club was known to feature Hurt more than anyone in 2018. That made sense, after all, since, Hurt also played for USA Basketball's U18 team and was an eventual Duke commit.
Hurt's presence put Nnaji in the back seat.
"If D1 Minnesota doesn't have Matthew Hurt, then Nnaji probably averages a whole lot more," said Jerry Meyer, a 247Sports.com recruiting analyst.
"He was in a situation where he was the secondary scorer. Obviously at Arizona, he's the primary scorer."
However, the what-ifs involved with Nnaji's development are hard to project, with D1 Minnesota and elsewhere.
"There's a lot of nature-vs.-nurture argument to be made here both ways," Gershon said. "Like, what if he was on an AAU team where he was the featured post, and not just kind of like the late-blooming backup guy that wasn't taken as seriously? Would he have gotten better quicker, or maybe that helped put a chip on his shoulder that wasn't there otherwise?
"It's hard to know. And if he had gone to a different college, maybe he would have been somebody's backup. But he's in a really good situation, they've done a great job with him and he's taken advantage of it."
Gershon said Nnaji's secondary status on the D1 Minnesota squad also actually helped Arizona land him, since the Wildcats were one of the few high-major schools who were prioritizing him instead of Hurt — something Nnaji and his family were acutely aware of.
But Nnaji's role also dented his reputation a bit.
"He was not an assertive scorer," Meyer said. "He wasn't looking for the ball, going out of his way to get it and looking to make something happen.
"A lot of times players like that are called 'floaters' because they're not making direct cuts and demanding the ball."
3. His senior year went largely under the radar. Nnaji led Hopkins High School to the Minnesota 4A title as a senior last season, scoring 14 points and grabbing 12 rebounds in the championship game despite constant double-teams, but national observers didn't pay as much attention as opposing defenses did.
Recruiting services often evaluate players more heavily earlier in their high school careers since scholarship offers and commitments tend to happen well before a player's senior season.
Gershon expressed some regret that 247Sports.com didn't stay heavily on him as a senior after identifying him as "a no-brainer high-major post" during the preceding summer.
"That three-month (summer) stretch, I really watched him, and then word came out during the senior year that he'd been getting better and better," Gershon said. "I think the biggest mistake that we probably made was not going out and seeing him, or tracking down tape of when he was a senior to see if he had made that big jump that we were told that he had made."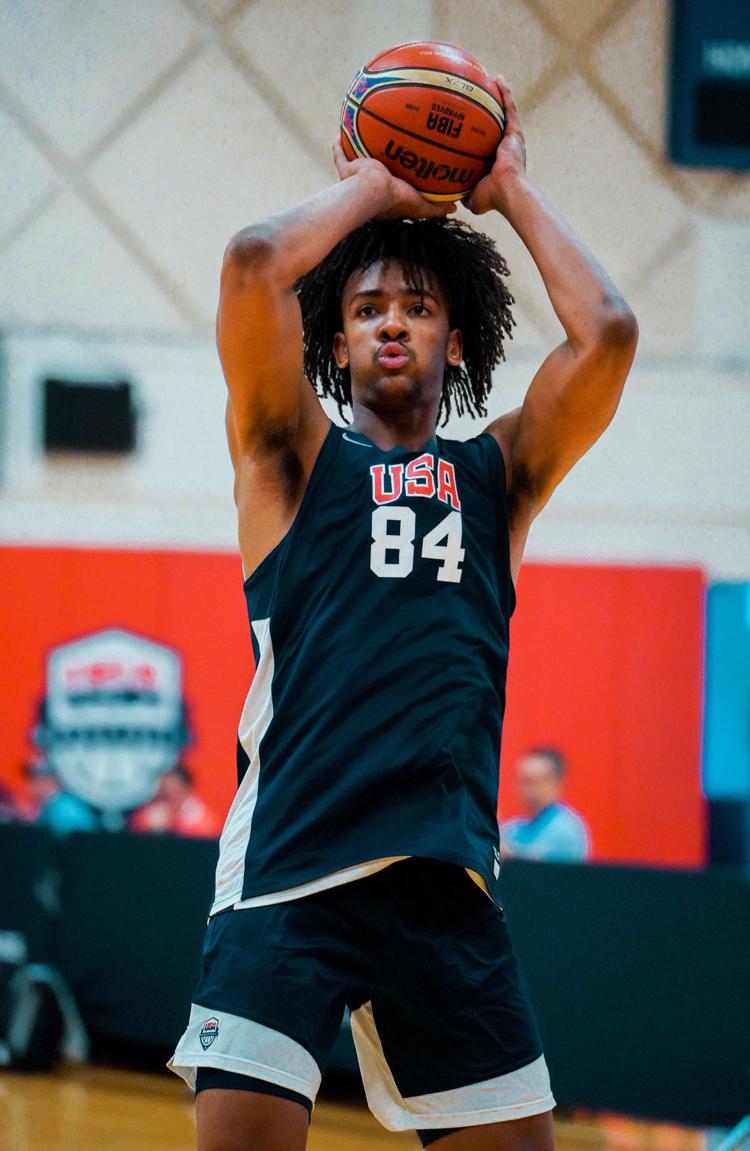 4. He was bumped out of USA Basketball. Nnaji had a final chance to show himself off as a pre-collegian when he was invited to USA Basketball's U19 tryouts. He did just that for the first two days, making the first cut and opening eyes with physical and skilled play inside. But observers said minor injuries limited Nnaji somewhat afterward — casting doubt on how effective he might be during the tournament — and USA opted to keep other backup post players such as Purdue sophomore Trevion Williams and USC commit Evan Mobley.
Miller said Nnaji was one of the final cuts — a good thing for the Wildcats, in a sense, since he reported to Tucson earlier and began practicing with them — while Bossi said he was shocked that Nnaji was cut.
Nnaji was moved up in Rivals.com's rankings anyway, having answered one of the bigger questions about his game during the tryouts.
"It was pretty eye-opening to me just how much more aggressive and physical he was," Bossi said. "The knock on him was that he wasn't the most physical guy. That's what's so impressive right now — he's not backing down from anyone. He's kind of overwhelming people, and that's not how he shot up the charts. He shot up the charts as kind of more of a finesse guy."
5. Nobody stands in his way at Arizona. Nnaji arrived in Tucson this summer, and it wasn't long before he bench-pressed 185 pounds 19 times — equaling what Deandre Ayton did before his one-and-done freshman season two years earlier. Nnaji then won the gold practice jersey three times for overall production.
In games, Nnaji quickly became the Wildcats' featured post guy.
"Opportunity is there for him," 247Sports.com's Meyer said. "They don't really have a lot of inside scoring punch. He has the size and athleticism" for it.
So Nnaji took off. Over four games with the Wildcats, Nnaji is shooting 84.6% from the field. He's made 17 straight field goals and 13 straight free throws while also more than holding his own on the defensive end of the court.
In short, Nnaji is putting up maybe even more of the production Miller hinted at during the UA's preseason media day in September, when outsiders were still commonly calling Mannion and Green the keys to the UA's strong 2019 recruiting class.
"We're excited about his starting point," Miller said of Nnaji back in that September interview. "I think you'll see talent this year as a freshman that maybe is somewhat underrated."
Be the first to know
Get local news delivered to your inbox!