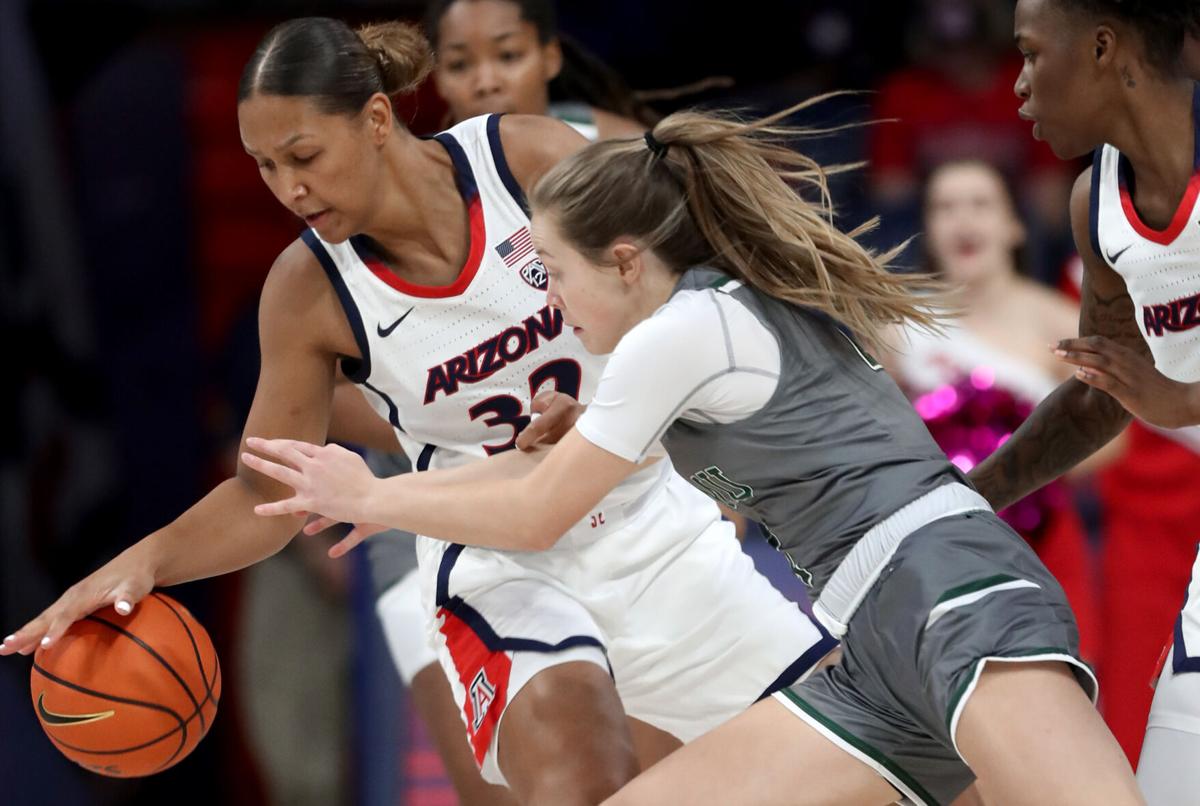 Welcome back, Shaina Pellington. The Arizona guard drained a pull up jumper with 0.5 seconds left against Oregon State to lead the seventh-ranked Wildcats to a thrilling 55-53 win.
Here's a look at the numbers behind the Cats avoiding the upset in Corvallis.
12
Pellington, UA's point guard, returned to the starting lineup Thursday night after a two-game absence and provided the spark in the victory.
Though the senior didn't score in the first half with the Wildcats trailing 27-25 at the break, she returned to form in the second half scoring 12 points on 4-of-6 shooting and 4 of 6 from the free throw line.
She also scored four of Arizona's final six points to end the game, including the go-ahead jumper in the final seconds.
6
The Wildcats ended the game on a 6-0 run to escape with the win. Down 53-49 with 2:57 to go, Arizona rallied with two free throws from Pellington, a driving layup from Bendu Yeaney to tie it with 1:15 left and finally Pellington's dagger for the lead.
3
A big reason why Arizona was able to mount the late-game rally was because of its defense. The Cats forced three turnovers in the final three minutes of action while also keeping the Beavers scoreless.
With the game tied 53-53 and under a minute to play, Arizona forced the Beavers into a shot clock violation, giving the Cats the ball back for the final possession.
15
Yeaney scored a team-high 15 points, the most she's had in a game at Arizona since joining the program in 2020. The senior guard made 5 of 8 field goals, including a 3-pointer, and tied for the team-high in assists with two.
4
After nine turnovers in the first half, the Wildcats did a better job taking care of the ball in the second half with just four turnovers. Oregon State had seven turnovers in the second half and 17 for the game.
20-6
Arizona outscored Oregon State 20-6 in the paint in the second half.
26
Though she managed just two points, sophomore forward Lauren Ware returned from a knee injury that kept her out the last five games.
Barnes indicated prior to the game that Ware would not be available against the Beavers but she turned out to be a game-time addition to the lineup.
Ware played an impressive 26 minutes — fourth-most on the team — in her first game since Dec. 9.
2
Pellington now has two game-winning shots on her resume this year, with the other coming on Thanksgiving day against Vanderbilt in the Paradise Jam Tournament. 
Contact sports producer Alec White at 573-4161 or awhite1@tucson.com.
On Twitter: @alecwhite_UA