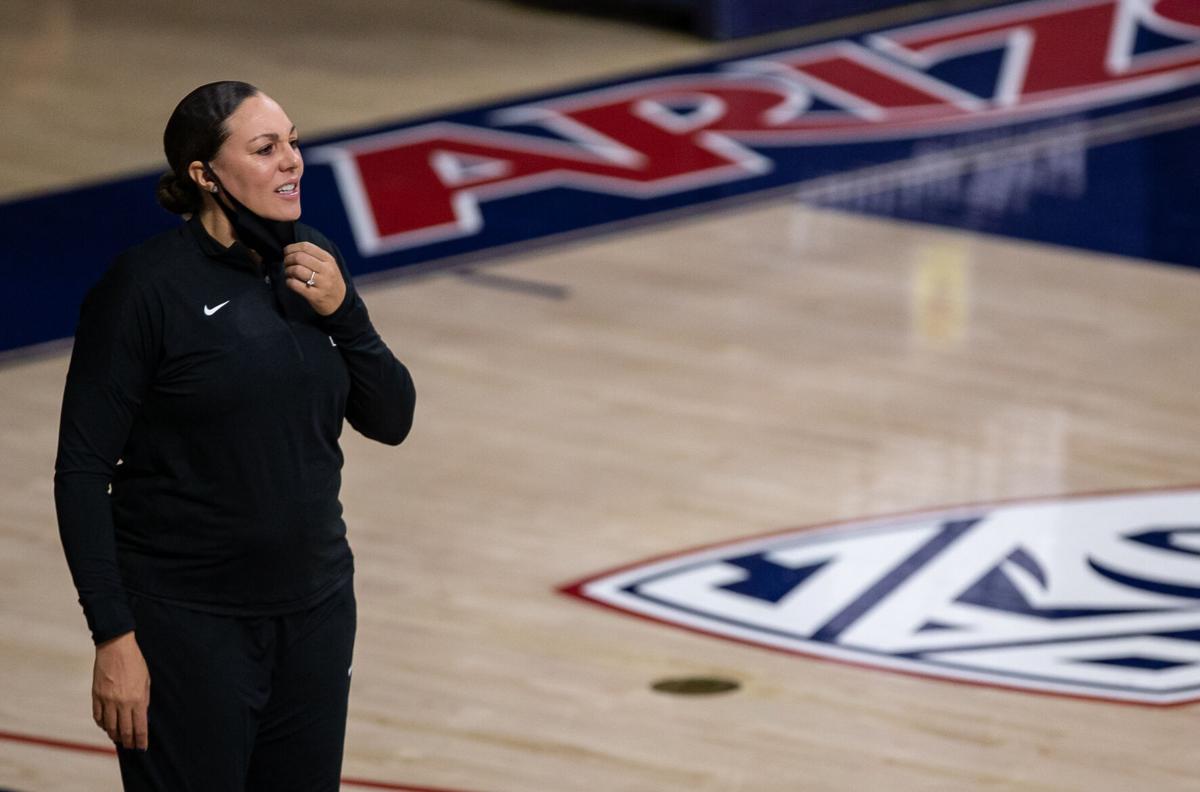 Adia Barnes' phone lit up, and it was a familiar number.
It was Carol Callan, USA Basketball's Women's Team National Director. Callan was calling to talk to Barnes about joining Team USA's coaching staff for this summer's FIBA Women's AmeriCup tournament.
"I remember automatically thinking she was calling me about Aari (McDonald) or Lauren (Ware), because I had talked to her before about Aari and Lauren," Barnes said. "It was kind of funny. I don't remember if I said that or thought, 'Oh.' I didn't expect it.
"I never really thought about it. I think my focus was so narrow — I want to be the best college coach."
The conversation took place in November — before the UA's run to its first-ever Final Four and an appearance in the national championship game. Before McDonald became a household name, and before Barnes became a national media darling.
Barnes calls the opportunity to represent her country a highlight of her young coaching career.
The AmeriCup event starts Saturday in San Juan, Puerto Rico, and runs through June 19. Team USA will take on the Dominican Republic at 3:10 p.m. in a game that will be streamed on ESPN+. Ten nations from the Americas and the Caribbean will compete, with the top four advancing to the FIBA World Cup Qualifying Tournaments to earn a sport in the 2022 World Cup.
"I'm honored," Barnes said. "I don't take this lightly. I understand what we represent as a country. I understand that the standard and the expectation is to go win gold. That comes with pressure, but I understand that. I want to be a part of that. I'm going do the best I can to help bring success … in whatever little way I can."
Barnes and former George Washington coach Jen Rizzotti will assist South Carolina coach Dawn Staley, who is leading both the AmeriCup and Olympic teams this year. Staley called Barnes the right fit for her staff, noting that the UA coach played the game at a high level, can handle tough situations — including the uncertainties of COVID-19 this year — and is on an upward trajectory.
"She's not afraid to do something different or use her voice on what should be happening," Staley said. "A lot of coaches would stand back, but she's not afraid. Sometimes I'm observant and won't say something two see how (assistants) will react and find their way. She did her part. She knew the court, knew the plays and I didn't send her the plays (ahead of time). We'd break out the teams with Adia and one end and (assistant) Jen (Rizzotti) at the other, and she knew what to do. Everyone can't handle these positions. She could be in my position — be the head of the Olympic team.
"We told her to ride a bike without the training wheels and she did it on her first ride. It was pretty cool to see."
Team USA arrived in South Carolina on May 31 for a final preparation and to solidify the roster. The team went through two-a-days, scrimmages and intrasquad games. They arrived in Puerto Rico on Tuesday.
Team USA's AmeriCup roster includes college stars Aliyah Boston (South Carolina), Elissa Cunane (North Carolina State), Rhyne Howard (Kentucky), Haley Jones (Stanford), Ashley Owusu (Maryland), among others.
"The team looks good," Barnes said. "We have so much depth and young talent. I'm excited to see us play. I think that one of the challenging things is we're going to play against senior competition. While we have younger players — they are 19- to 22-year-olds — we're going to play against some longtime professional and Olympians. That's going to be a good challenge, but one that everyone is extremely excited about."
Staley and Barnes, of course, made history during the NCAA Tournament. It marked the first time two Black female coaches brought their teams to the Final Four. Staley said it "meant a great deal."
"Young people want to go certain places and do certain things and they need to see it," she said. "Little did I know that Adia and I would share the same stage at the pinnacle of college basketball. I think it's cool — and I think there is something divine about it, too."
This summer, they're making history again. This time, it's the first time there have been two Black coaches on a Team USA staff, with one being the head coach
As Barnes heads into her first game as a Team USA assistant, the goosebumps are starting to rise.
"To represent your country is just extremely meaningful because it's an honor and a privilege," Barnes said. "And not everybody gets to do. I think you have a privilege and you have a sense of belonging. Like at a university, you represent Arizona … I think it's another level when you represent your country. In college, you compete for a national championship, but I think it's different when you compete for a gold medal. And not a lot of people in their lifetime will compete for a gold medal."