In many ways, the Phoenix Suns' selection of Deandre Ayton as the top NBA Draft pick appears enveloped in serendipity.
The uniquely skilled Bahamian big man spent his final years of high school in Phoenix, where his mother rejoined him and moved her other siblings. He went to college two hours away at Arizona. Then came back "home" on Thursday as the No. 1 pick overall in the NBA Draft.
Who gets to do that in pro sports?
"We talk about that around the table," said Ayton's mother, Andrea. "We say, 'Oh, my God, Deandre spent two years in high school, went to Arizona and now (the Suns)?' That's a blessing. That's God's blessing.
"I don't think nobody has it like that."
Well, there was that little matter of the Suns getting the No. 1 pick in the first place. They first maximized their chances for the top selection by finishing just 21-61 last season, and then the lottery ping-pong balls lined up in the franchise's favor.
But almost everything else about Ayton's landing with the Suns didn't have to do with luck. It was his skill, his work, and his focus.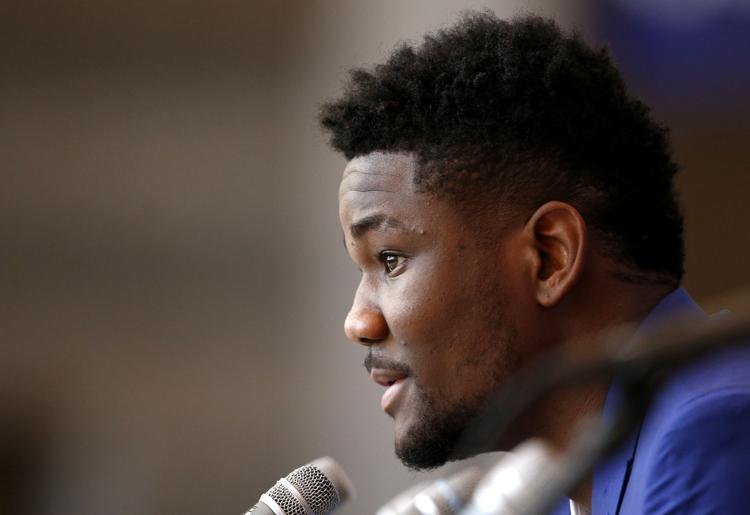 At age 12, Ayton bailed after a week of helping his stepfather's plumbing business for $20 a day, but already did so with a goal in mind.
"He said, 'I'm not going back. I gotta use this $100 to go to the Jeff Rodgers (basketball) camp,'" said Alvin Ayton, Deandre's Bahamian stepfather.
Ayton played so well at the high-profile Bahamas camp that he immediately drew interest and before long left his family to play for a prep school in San Diego.
"The first time I land in America, it was great," Ayton said on the eve of the draft. "Then basketball became a job. (I knew) this was something I can really help my family with and really be successful."
He did, on a monumental scale. Ayton kept working his way up in San Diego under several mentors, then transferred to Phoenix Hillcrest Prep in part so Andrea could live with him again and keep a closer eye on his development.
Even while the transition from San Diego to Phoenix grew messy, Ayton kept his head down and continued working. He was the No. 1-rated player in his class for most of his high school career.
Commuting between Nassau and Phoenix the last few years, Alvin Ayton noticed the focus again in his stepson.
"What I realized he was always doing, is that whatever it takes to get his mother to be comfortable, he worked toward it," Alvin said Thursday in Brooklyn, after Deandre went No. 1. "Like when he found himself in Phoenix, he worked so he could go to whatever college he wanted to. And it was like U of A."
Of course, the Wildcats — or anybody, really — would have jumped at the chance to line up Ayton even before his Hillcrest days, considering his size and skills. But the fact is that Ayton's drive helped him become even more productive at Arizona, allowing him to command a firm grip on the No. 1 pick, a selection that ensures the most financial comfort in his immediate future and probably beyond.
In his one season at Arizona, Ayton was named an All-American as well as the Pac-12 regular-season and tournament MVP, leading the Wildcats to the two league crowns.
"We all know he's incredibly talented, but he's also smart and a great teammate, and he put a lot of work in," UA coach Sean Miller said. "The combination of all those factors allowed him to experience (being the No. 1 pick). And his family as well — they've sacrificed since he was very small and lived in the Bahamas. I think a lot of their sacrifices really ended up coming true."
Now, Andrea says she and the family will likely split time between the Bahamas and Phoenix, keeping roots in their adopted desert home.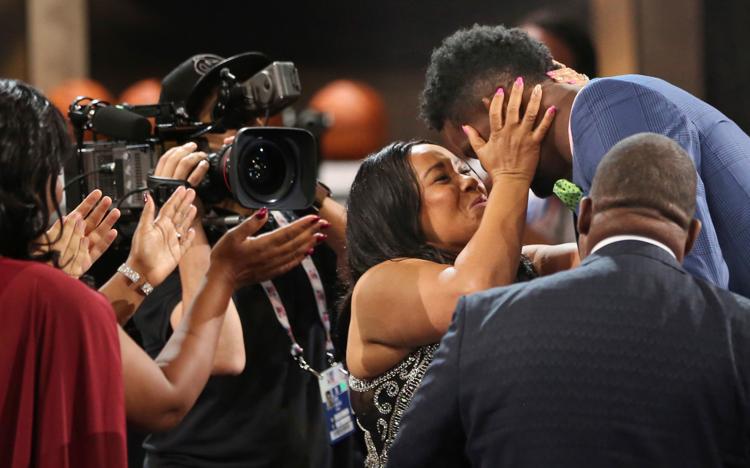 Even if there's no turquoise ocean water, no white beaches, no year-round balminess.
"Yes, it's different," Andrea said of Phoenix. "But it's sunshine. It's sunshine, and I love sunshine. I love blue skies. It's peaceful. It's not like New York. It's easy to live. And it's cheaper."
Well, the Aytons probably don't have to worry about that anymore. Deandre will be earning a guaranteed $18 million over his first two seasons in the NBA, and has signed a multimillion dollar endorsement deal with Puma, too.
Jokingly reminded of it all, Andrea smiled.
"Yes, life is good," she said. "It's a blessing."
Andrea will be comfortable. The entire Ayton family will be comfortable. They can live wherever they want, do whatever they want to do, and chances are they'll be around Phoenix for years to come.
"It's really worked out," Miller said. "Couldn't have worked out better for Deandre's family and I think because of that, too, it'll be that much sweeter of a pick for the Phoenix Suns because they're not only getting an incredibly talented basketball player — kind of a once-in-a-lifetime type of player — but they also have a family there that really loves Phoenix and is really excited to be there."