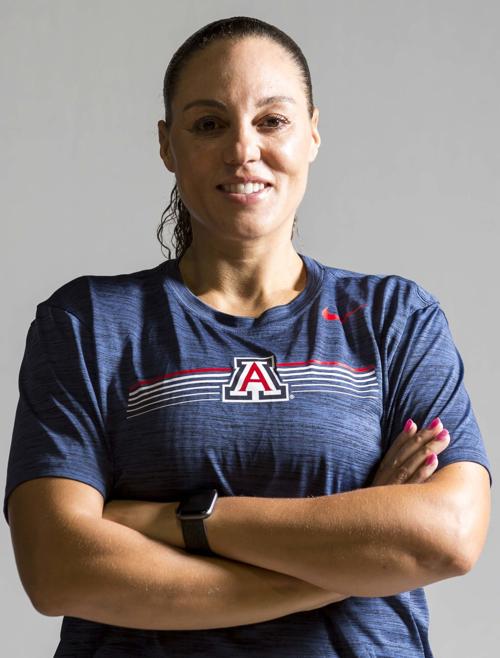 Sunday's opener is just around the corner for the seventh-ranked Arizona Wildcats. Yet on Wednesday, the first day teams could play games, Adia Barnes hadn't quite turned all her focus to NAU.
The Wildcats' coach is concerned about what lies ahead. COVID-19 cases are surging across the country and basketball games are already being canceled in bunches. Arizona and other Pac-12 schools received a 38-page document from the conference earlier this week, detailing all coronavirus protocols. It has since been updated twice.
"It doesn't even feel like game week," Barnes said.
One of Barnes' players was hit with a false positive Saturday. Everyone who had been near her was isolated, and eight Wildcats missed three-and-a-half days until the player's PCR test came back negative. Arizona has found the PCR tests to be more accurate, Barnes said. But it takes longer to get results.
UCLA knows. Wednesday's game between the Bruins and Cal State Fullerton was pushed from Wednesday to Friday because the Titans had yet to receive their PCR test results. The Bruins waited more than an hour for Wednesday's game to start, in uniform, before the date was moved.
While the Wildcats were out, Barnes scrapped her practice plan and switched to skill development for her younger players. She didn't know when the players who were sitting out could return.
So forgive Barnes for taking a more serious tone. It's been a stressful week already.
"I think that the different tone is because I just got my players back yesterday," Barnes said Wednesday. "(Tuesday), I'm in the mode, 'OK, what if we have these eight players going into the season and all that stuff?' I think that that made it a little bit more challenging. There is a surge. I think where I'm pessimistic a little bit is because of Thanksgiving and Christmas; I think it's real right now."
Half of the Barnes' players have family in town for Thanksgiving, and the coach said she's nervous about what the test results might show on Friday or Saturday. If anything happens, she said, her team would be "wiped out." Dr. Stephen Paul, the head of the Wildcats' Incident Command Team, spoke to Barnes' team about staying safe around family.
A rash of positive tests could wipe out more than just the opener. The Wildcats are scheduled to open Pac-12 play against No. 9 UCLA on Dec. 4.
"So (if) anything happens this week, we don't have our team in the opening weekend of Pac-12," Barnes said. "I'm extremely nervous. I'm not all that confident right now. Because I'm looking all around the country and everybody's canceling left and right. I just need to educate this week a lot — and I have been about being safe — or else how are we going to start?"
Arizona's players and coaches have been wearing masks in practice, even though it's no longer mandated by the league. During games, the Wildcats will wear masks on the bench. Barnes is going to wear a N95 mask as she stalks the sidelines.
Barnes is hoping for charter flights when the Wildcats hit the road starting Dec. 18 at Colorado. In a typical season, the Wildcats charter twice per year and fly commercially for all other away games.
"I don't think that we're going to be able to compete this year without that," Barnes said of charters. "I think it's way too dangerous to fly commercial, because on our flights, we travel nine hours. We don't go direct anywhere except for maybe Seattle. If we're going to Oregon, if we're going to a Washington State, we have layovers and we're highly, highly exposed in most situations. We have one of the top teams in the country. For us to be able to compete, I think we need to have that safe environment. …
"I also understand that that's a huge financial thing. I wish someone would just say, 'Adia, I'll pay for all your charters.' I'd be like, "Oh, you're a lifesaver!'"
Rim shots
The Wildcats appear close to adding a nonconference opponent for Dec. 22. Barnes wouldn't divulge the potential opponent because a contract hasn't been signed.
The Pac-12 is still working to set TV assignments and tipoff times for conference games. Any games that aren't aired on Pac-12 Networks will be streamed. The Wildcats could play a handful of times on ESPN, likely in January or February.
The Athletic's first power rankings came out Tuesday, with Arizona ranked No. 5 nationally. ESPN has listed Aari McDonald as No. 2 in its list of the country's top players, behind Rhyne Howard. ESPN's Graham Hays, in a separate piece, picked the Wildcats to go to the Final Four.
Forward Cate Reese has been wearing the gold jersey for four weeks in practice, believed to be a new record under Barnes. The jersey is given to the player who stands out the most.