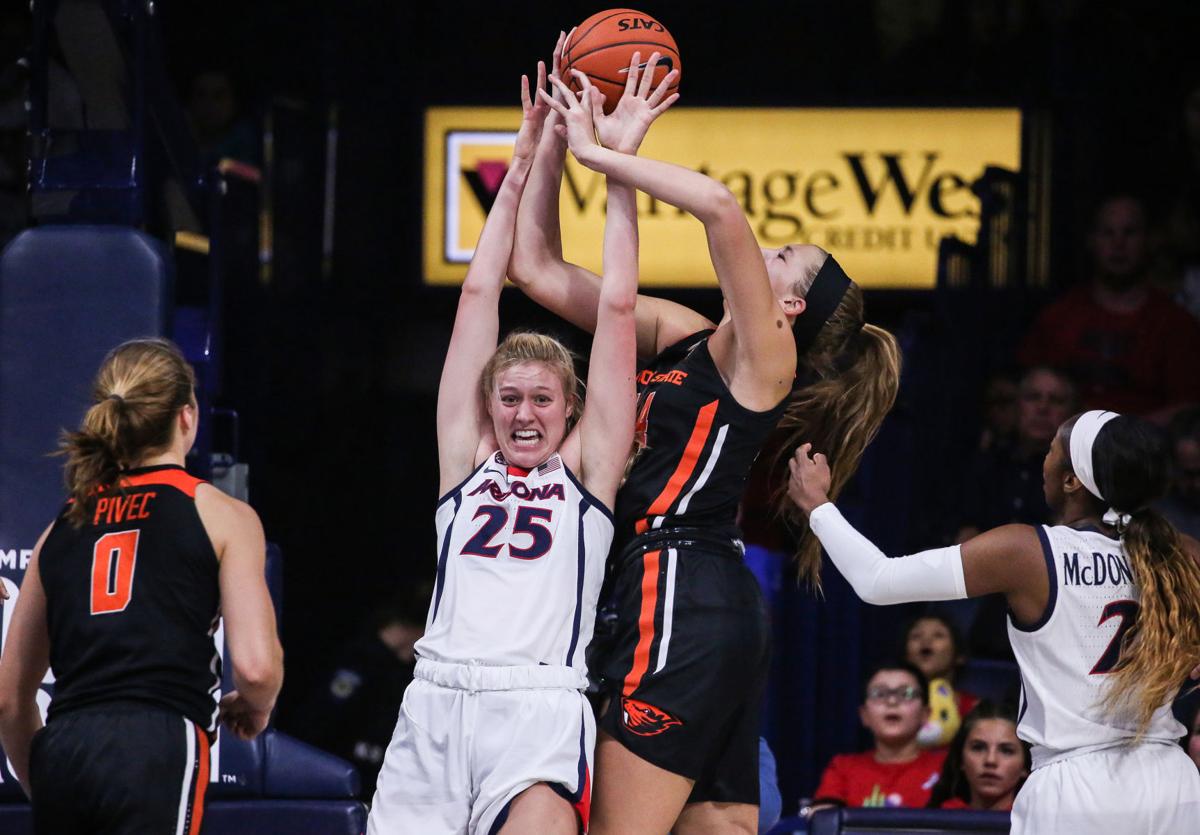 The stars came out in Tucson Friday night.
Some of the best players in the country — Mikayla Pivec, Destiny Slocum, Aari McDonald and Cate Reese — all played on the same court, as No. 3 Oregon State took on the 18th-ranked Arizona Wildcats in McKale Center.
They put on a show that fans will be talking about in the months and years to come.
And with the game on the line, one player shined brighter than the rest. 
Pivec hit an off-balance shot with 1.4 seconds left, and Oregon State held on to beat the Wildcats 63-61 in front of 5,694 fans. Arizona had a chance to win the game, but Slocum blocked McDonald's 3-point attempt at the buzzer.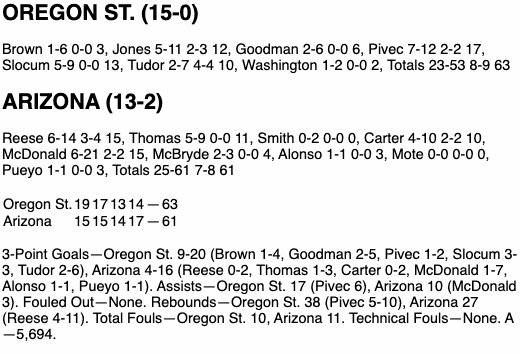 The loss was Arizona's first at McKale Center in more than 10 months. The last time the UA fell at home, Oregon State beat the Wildcats 65-60 in two overtimes last March 3. Oregon State improved to 15-0 overall and 3-0 in Pac-12 play. The Wildcats fell to 13-2 and 2-2. 
"I am not mad; I am proud of our fight. I am proud of our effort," UA coach Adia Barnes said.
"We're right there. We played within one basket. I'm proud of us."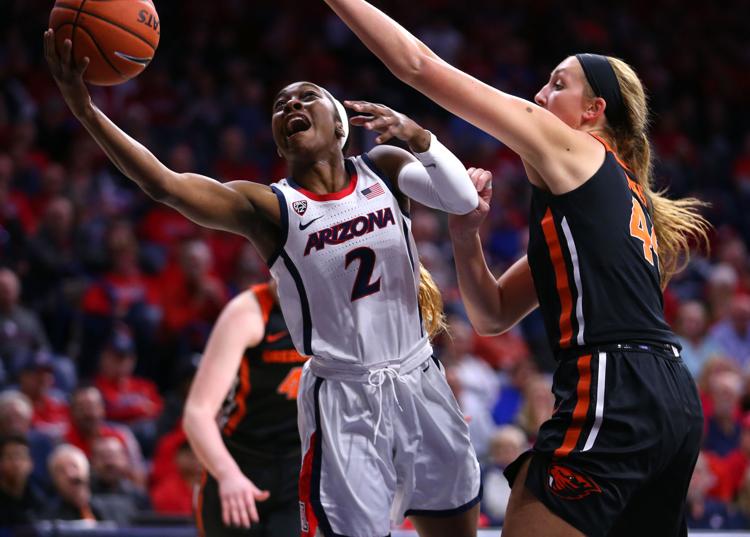 Friday's game had a March feel, with the packed crowd roaring just as loudly as the 8,000-plus fans that filled McKale during last season's WNIT title run. 
Oregon State coach Scott Rueck said he knew it would be close at the end.
"I expected that it would be knowing who they are, how much success they've had here," he said. "The way they're drawing now and the atmosphere I was excited to see that it was different than a year ago. … just a great battle I knew would be a fight. I mean, that's how they play so gritty and tough. It's the reason they've done what they've done. I thought we had a chance to get away from them. If we played perfectly, we didn't."
Pivec led all scorers with 17 points. Slocum finished with 13, Taylor Jones had 12 and Kat Tudor had 10 — including a four-point play at the end of the third quarter that increased the Beavers' lead to 49-44. 
Reese and McDonald led the Wildcats with 15 points apiece, and Reese added 11 rebounds for her seventh double-double of the season and the 14th of her career.
Reese, who is typically aggressive on the boards, showed her muscle in different ways. She played like a big guard on the defensive end, coming out of the paint to force errant passes or jump balls.
"I think she just wants to win,"  Barnes said. "She's a competitor. She's never someone doesn't compete whether she plays good or bad. She's she fights and I love that about her. Cate's a very good player. And she steps up big for big games. She's coming into her own and I'm proud of her because she's someone that's consistent, someone I can rely on. I know what I'm getting with Cate, and effort is never the question."
Arizona's swarming defense forced three shot clock violations.
Dominique McBryde entered into the game with 3:15 left in the first quarter, marking her her first action in six games, coming off an ankle injury. She didn't waste time on either end of the court, getting a big block and two offensive possessions later coming up with a inside basket to cut OSU's lead to three, 16-13. She finished 16 minutes, scoring four points and blocking a pair of shots.
OSU had a feeling McBryde would be back for this game. She played 50 minutes when the teams met in March, scoring 20 points on 8 for 16 shooting while grabbing eight rebounds.
"Based upon last year's game and her performance here, this will be the last game she'd miss," Rueck said. "I figured if she was limping out here, she'd be out here to try to recreate that. She was definitely on our scouting report. I just had a feeling she'd be there and what a special player she is … I'm happy for her that she got to play."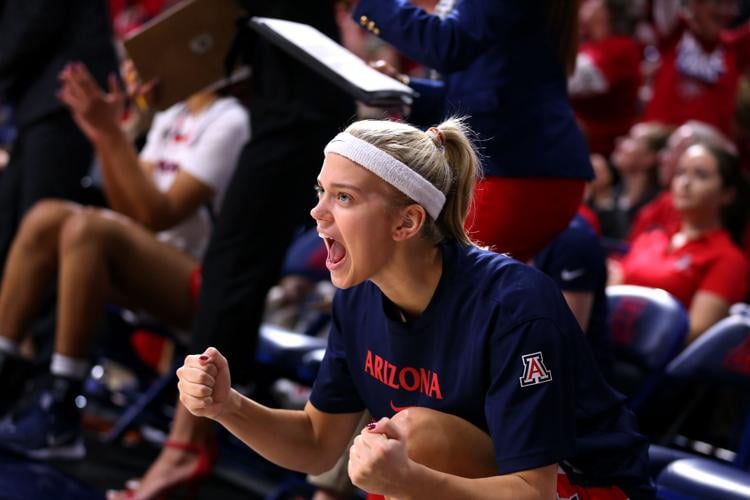 Oregon State took a 36-30 lead into halftime. The first quarter got rocking when Helena Pueyo came in with 5:34 left and hit a three from the top of the key. On the very next defensive possession she stole the ball and passed to Cate Reese for the lay up — cutting the lead to 10-9.
Pueyo was forced from the game in the second quarter after rolling an ankle. Barnes said she expects Pueyo to play Sunday, when the UA hosts No. 2 Oregon at noon. 
The Wildcats turned it up a notch both ends after Pueyo left. McDonald got run over going up the court, came back and hit a long three-pointer cutting the lead to 19-18. Sam Thomas then drew a charge on the defensive end and let out a scream. Then she drove to the basket to give UA a 20-19 lead, their first of the half.
Lucia Alonso and Thomas both hit 3-pointers, followed by threes from Slocum and  Pivec.
Both teams shot 40% in the first half.
Rim shots
• Before the game, Barnes presented  Amari Carter with  ball engraved with the words "1,000 points" on it. The Penn State grad transfer reached the 1,000-point plateau on Dec. 21.
• Arizona shot 41%, while Oregon State shot 43.4%.
---
Check out photos from Friday's game here: 
Arizona vs. Oregon State women's basketball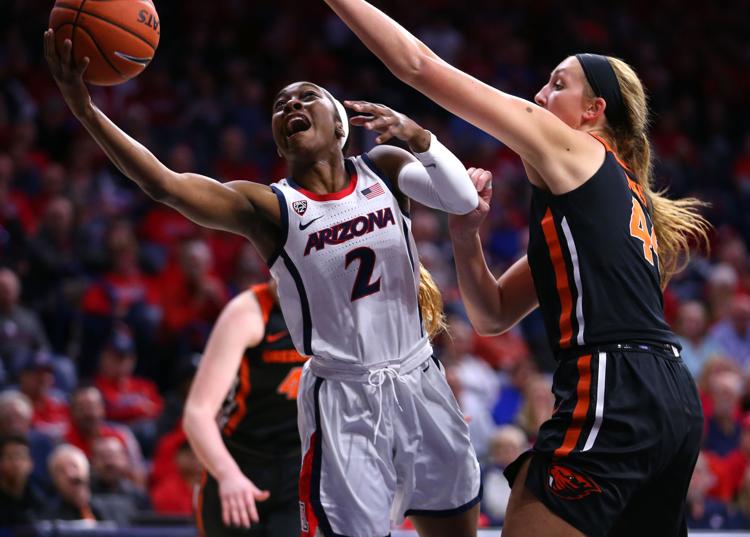 Arizona vs. Oregon State women's basketball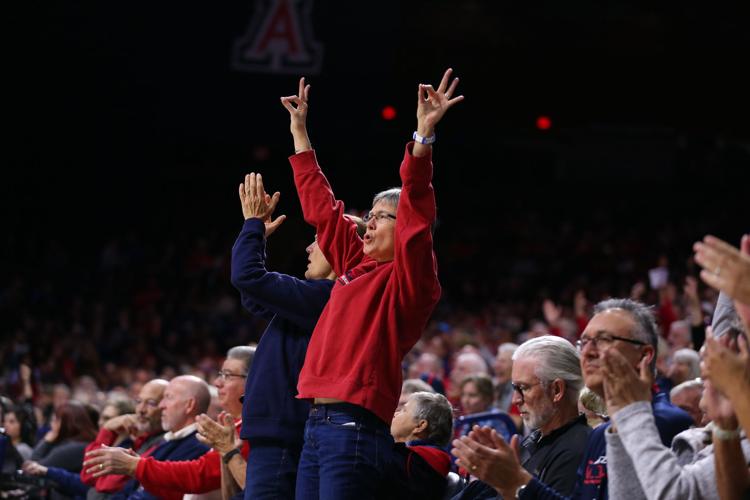 Arizona vs. Oregon State women's basketball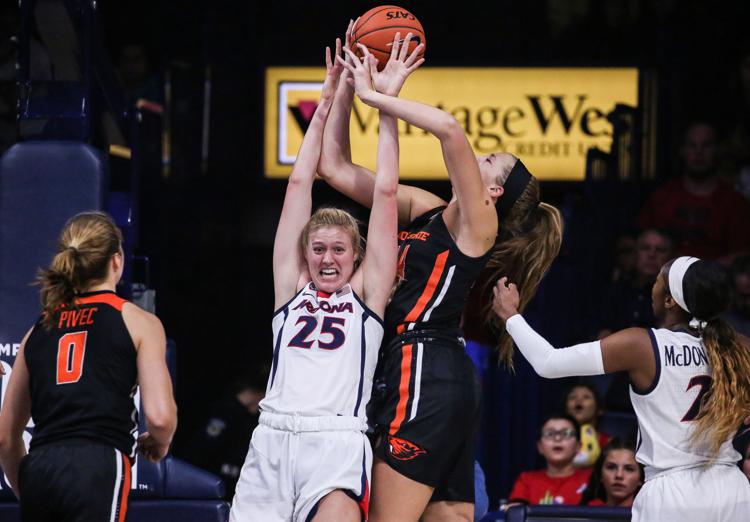 Arizona vs. Oregon State women's basketball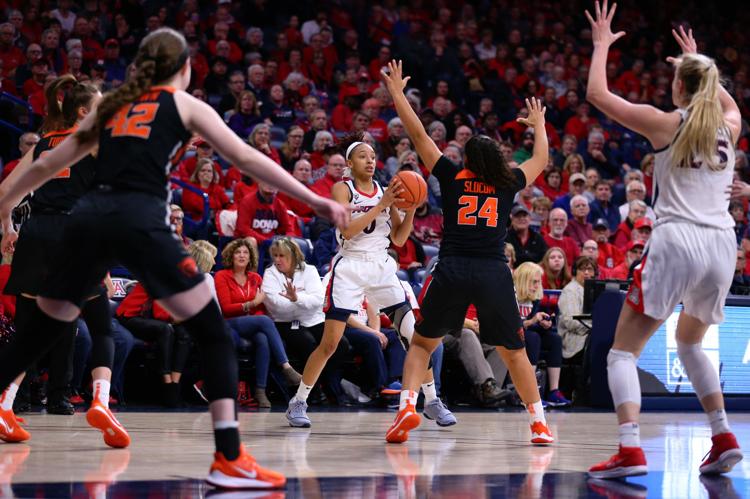 Arizona vs. Oregon State women's basketball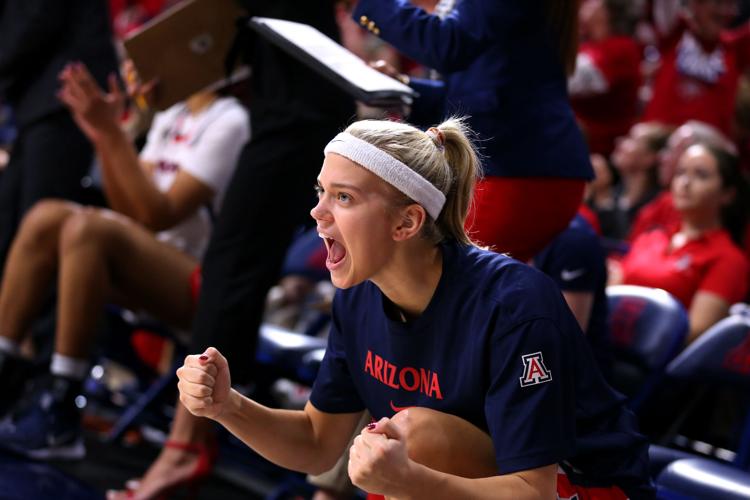 Arizona vs. Oregon State women's basketball
Arizona vs. Oregon State women's basketball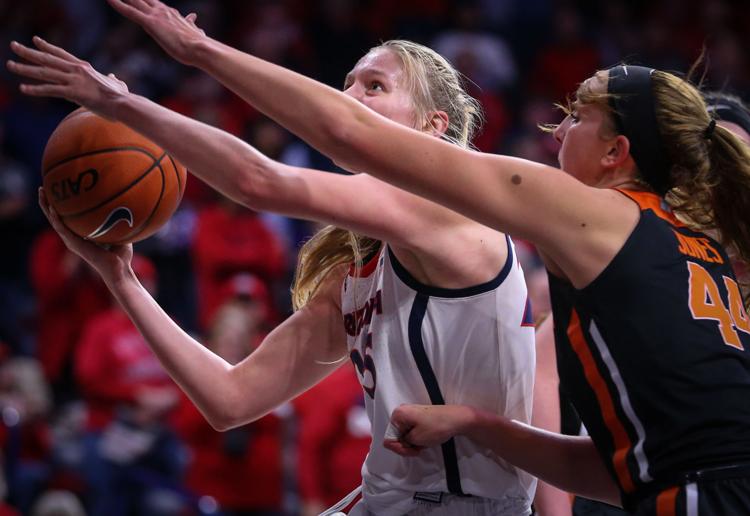 Arizona vs. Oregon State women's basketball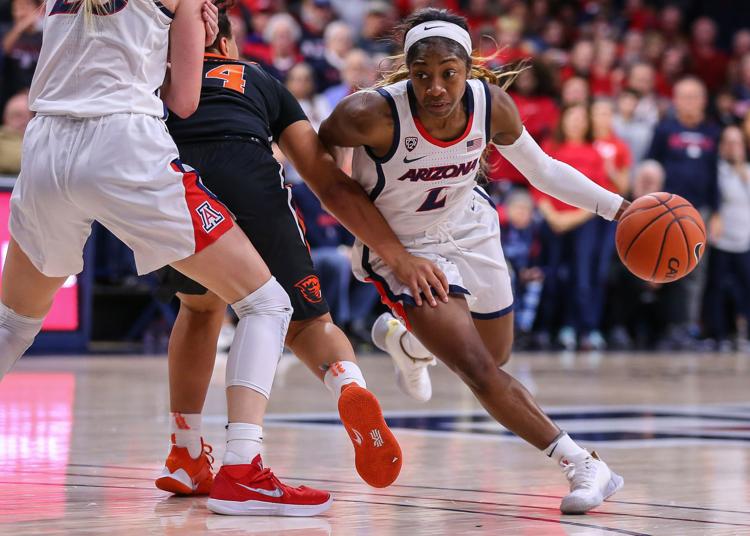 Arizona vs. Oregon State women's basketball
Arizona vs. Oregon State women's basketball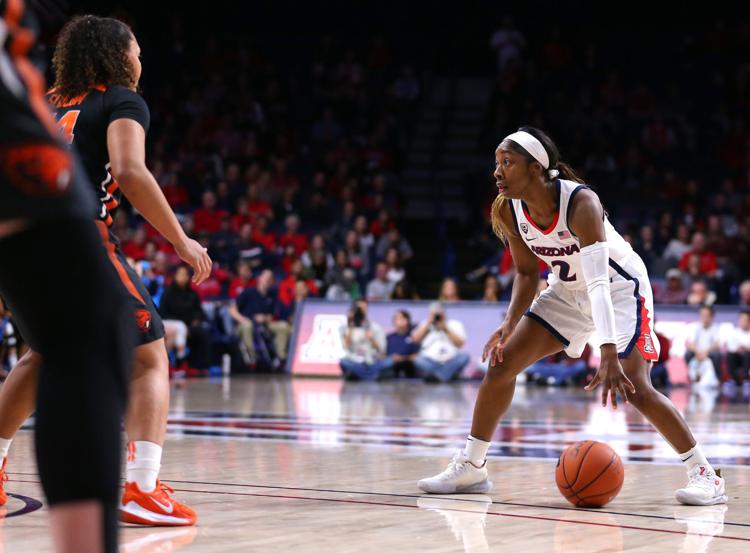 Arizona vs. Oregon State women's basketball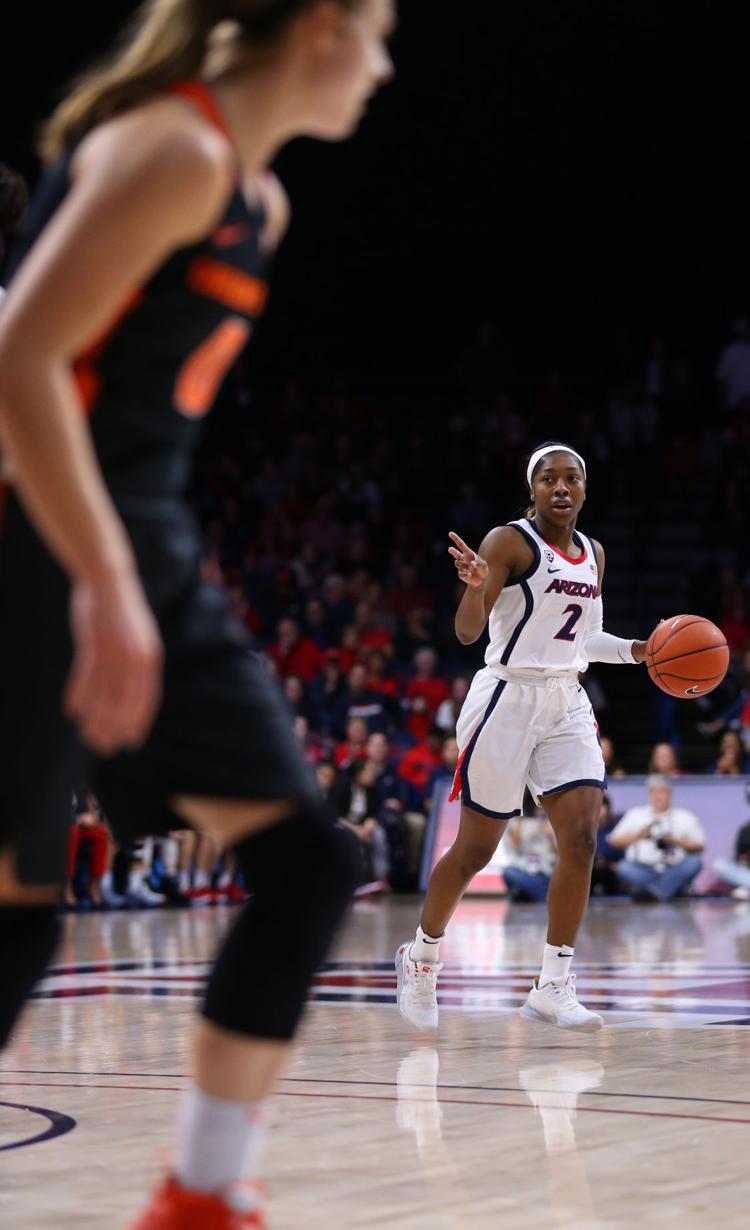 Arizona vs. Oregon State women's basketball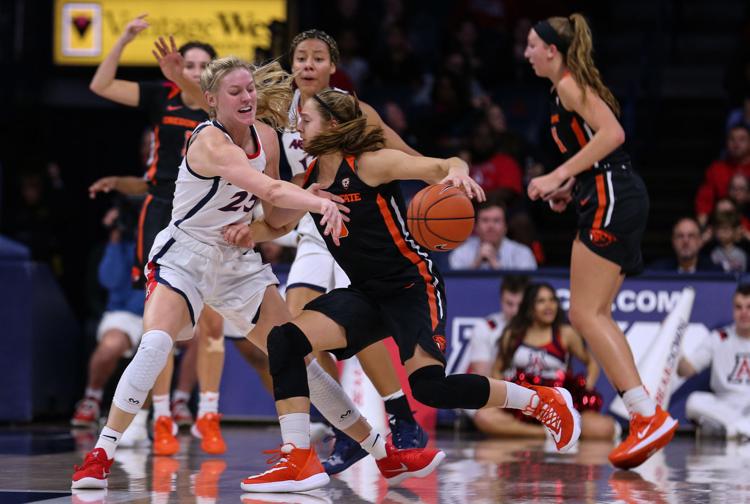 Oregon State v Arizona WBB
Oregon State v Arizona WBB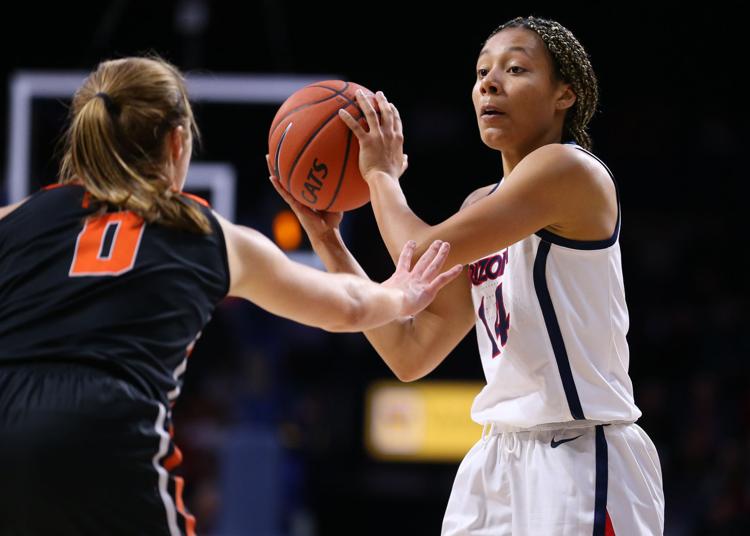 Oregon State v Arizona WBB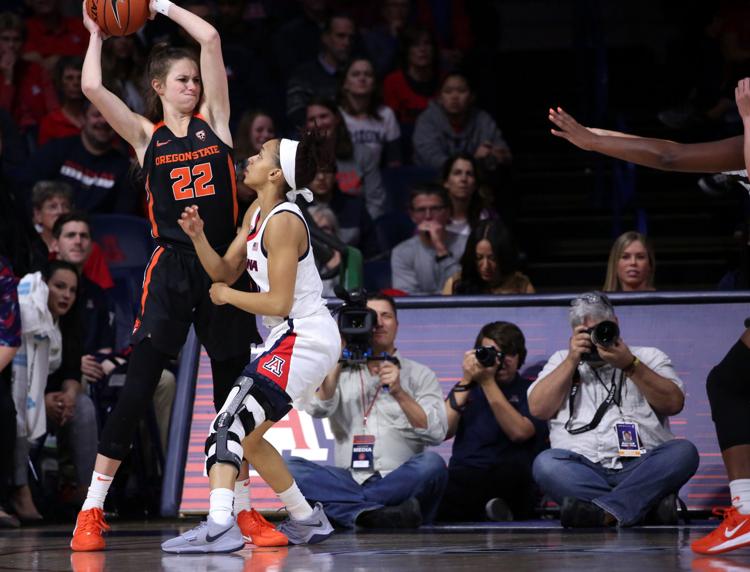 Oregon State v Arizona WBB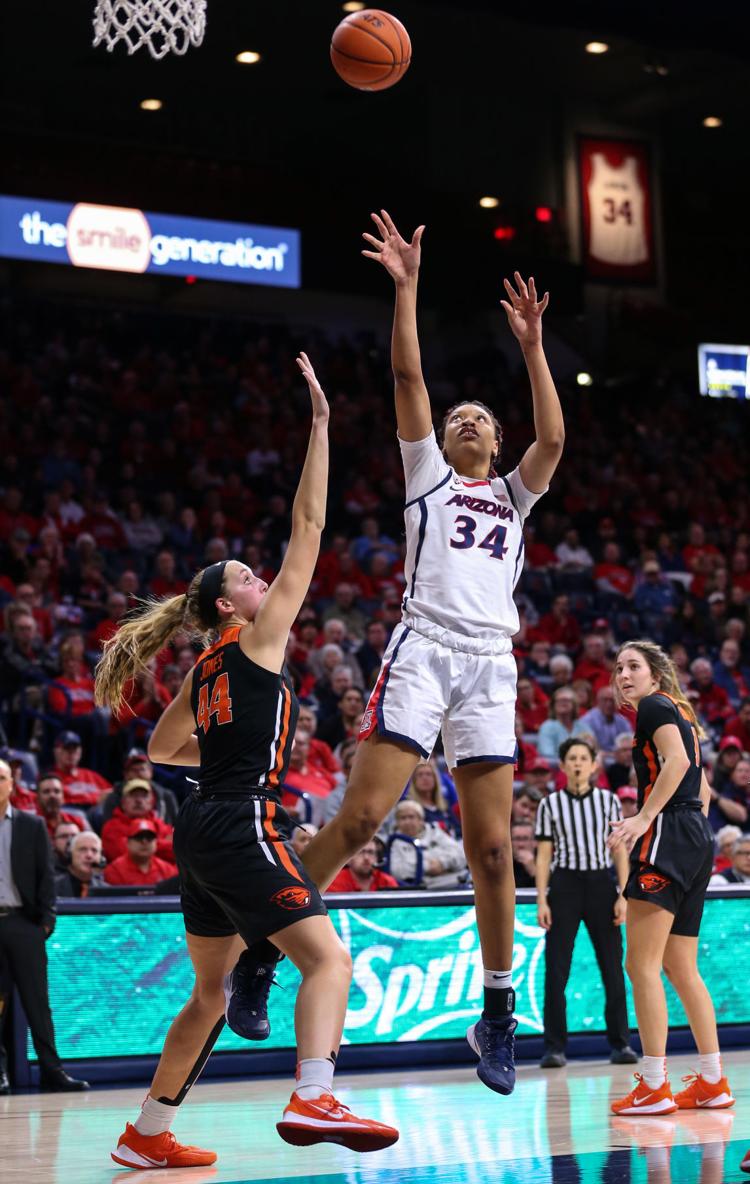 Oregon State v Arizona WBB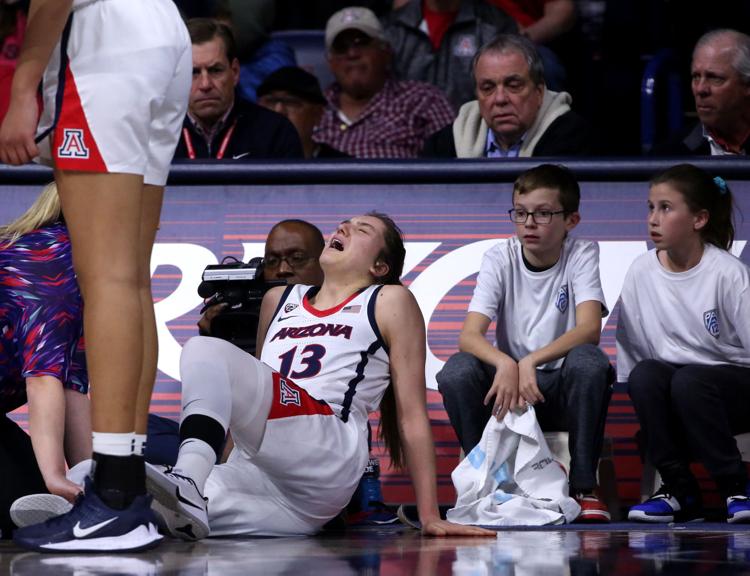 Oregon State v Arizona WBB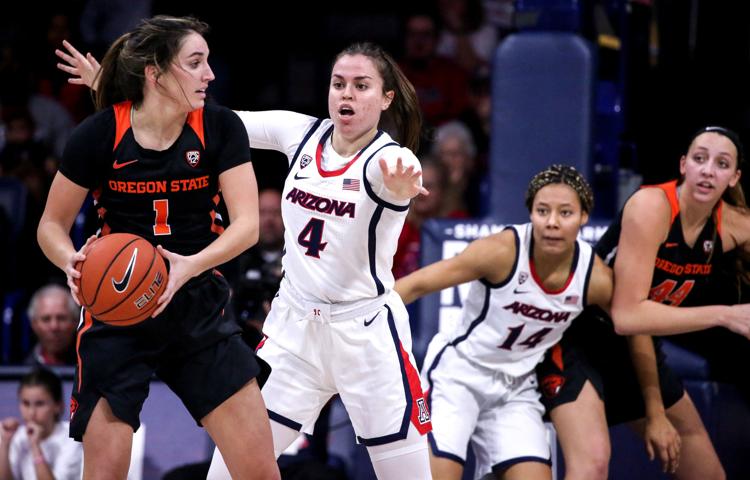 Oregon State v Arizona WBB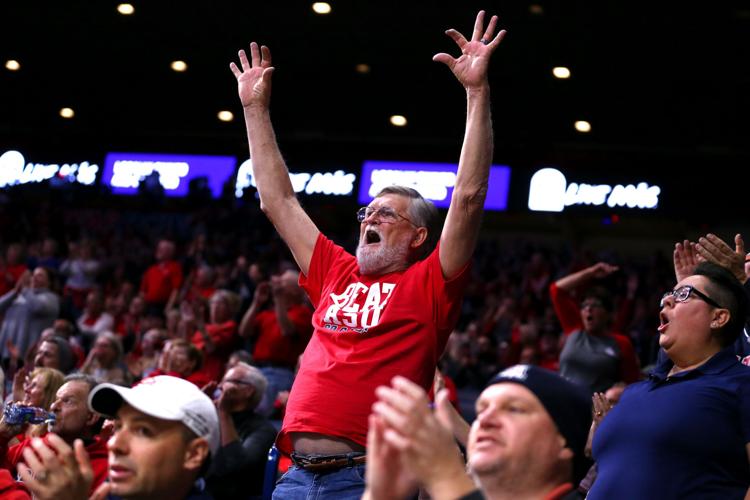 Oregon State v Arizona WBB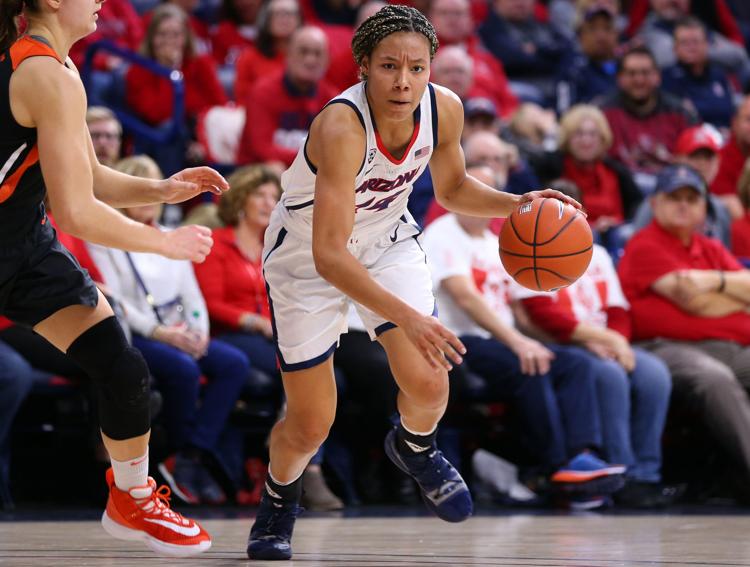 Oregon State v Arizona WBB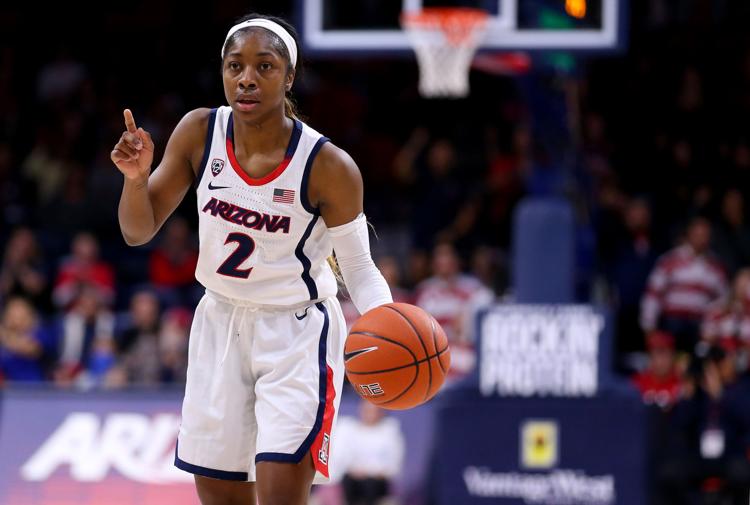 Oregon State v Arizona WBB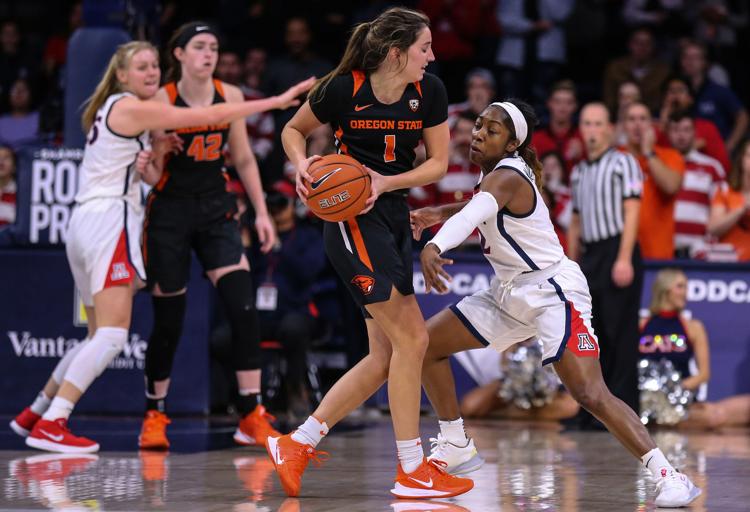 Oregon State v Arizona WBB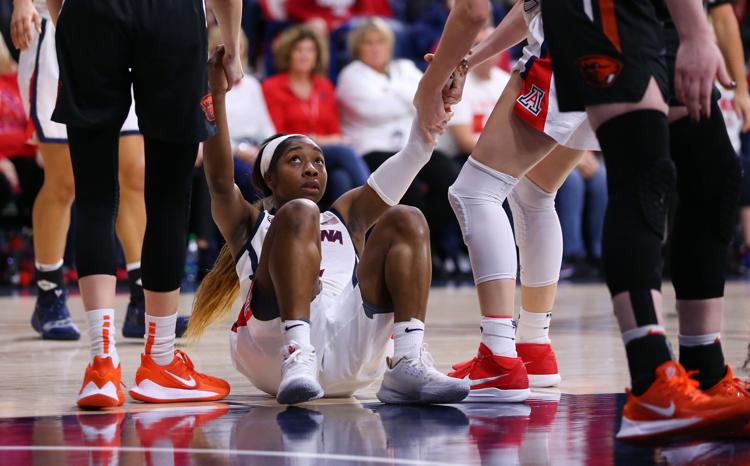 Oregon State v Arizona WBB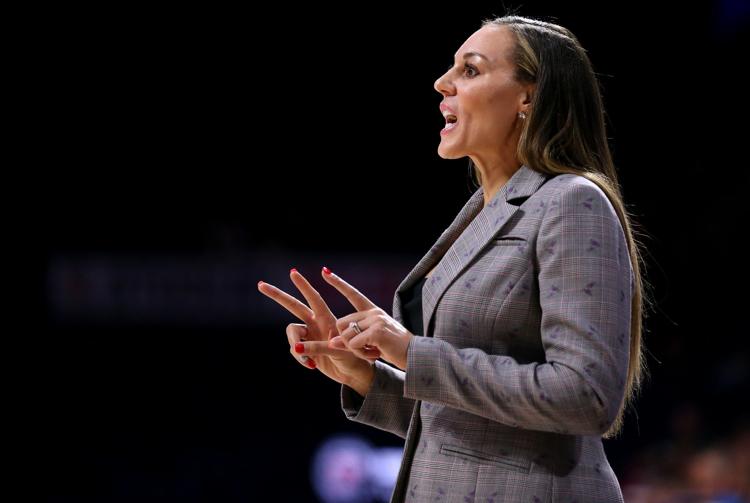 Oregon State v Arizona WBB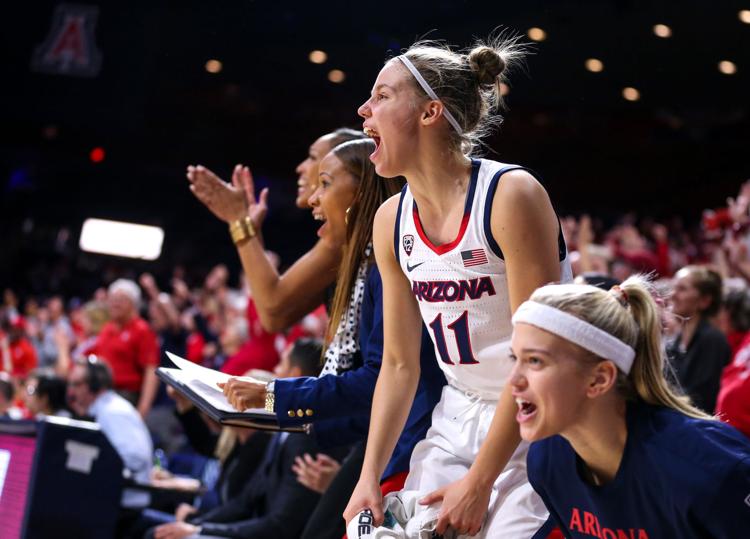 Oregon State v Arizona WBB
Oregon State v Arizona WBB