Ryan Luther's confidence was lacking after he hurt his finger in Maui. Emmanuel Akot's confidence was lacking, well, pretty much all season.
So Arizona coach Sean Miller swapped them in the starting lineup for the past two games and, while the results haven't been dramatically different, and the Wildcats have received a few subtle benefits.
Akot's productivity has jumped slightly after starting against Georgia Southern and UConn last week, giving the Wildcats extra versatility and ball-handling, while Luther has brought his scoring ability to a bench that sorely lacked it.
Miller says Luther's confidence is coming back, now, too, after he had 10 points and four rebounds in Arizona's 76-72 win against UConn on Sunday in Hartford, Connecticut.
"I think Ryan took a real step forward in the last game," Miller said. "He made some big plays and just seemed to be more sure of himself."
All of which means Miller now has a decision to make. He can go either way this week against Utah Valley (Thursday) and Alabama (Sunday) with Akot or Luther at power forward in the lineup.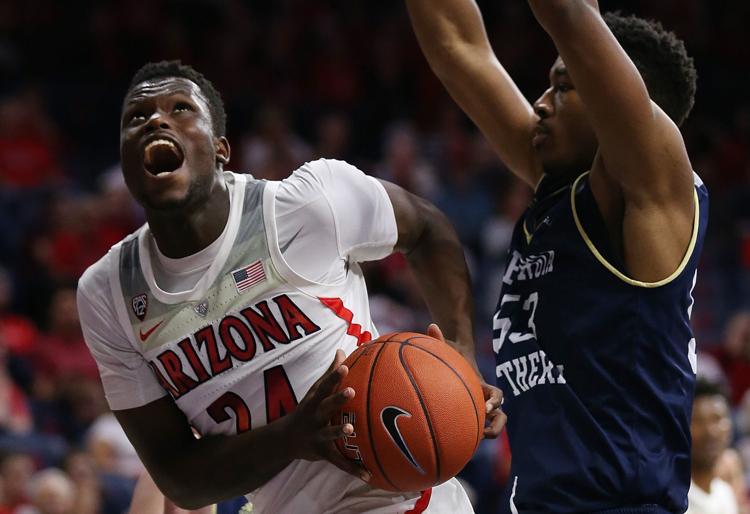 Akot might be a better fit defensively on Thursday against Utah Valley because he can use his ranginess against the 6-foot-5 and 6-foot-7 players the Wolverines typically play at power forward. But Luther also gives the Wildcats a stretch-four dimension that Utah Valley, or anyone, can have trouble with.
"The one difference between Emmanuel and Ryan is that Ryan is one of our team's best overall shooters, so when he doesn't start and comes in the game he gives us a different look," Miller said. "Really, ditto for Emmanuel. Him starting the game gives us a different look — we have another ball-handler on the court, we have almost another wing player to defend. I'm gonna say we're a little bit quicker, a little more fluid in terms of multiple ball-handlers."
Point guard Justin Coleman said the Wildcats have four or five different lineups they use in practice, and that both Luther and Akot are able to put the ball on the floor, shoot and pass as needed in whatever group they're in. But he agreed that both have their individual strong points.
"Those two guys are some really good players," Coleman said. "RyLu came from Pittsburgh, so he has a lot of experience. In the UConn game, he stepped up and made some big free throws, made some big plays for us and got some big rebounds.
"And Emmanuel Akot, he's a young guy who can be an NBA player. So he brings to the team a lot of versatility at the four. He can pick and pop. He can put the ball on the floor. He can guard quicker guards."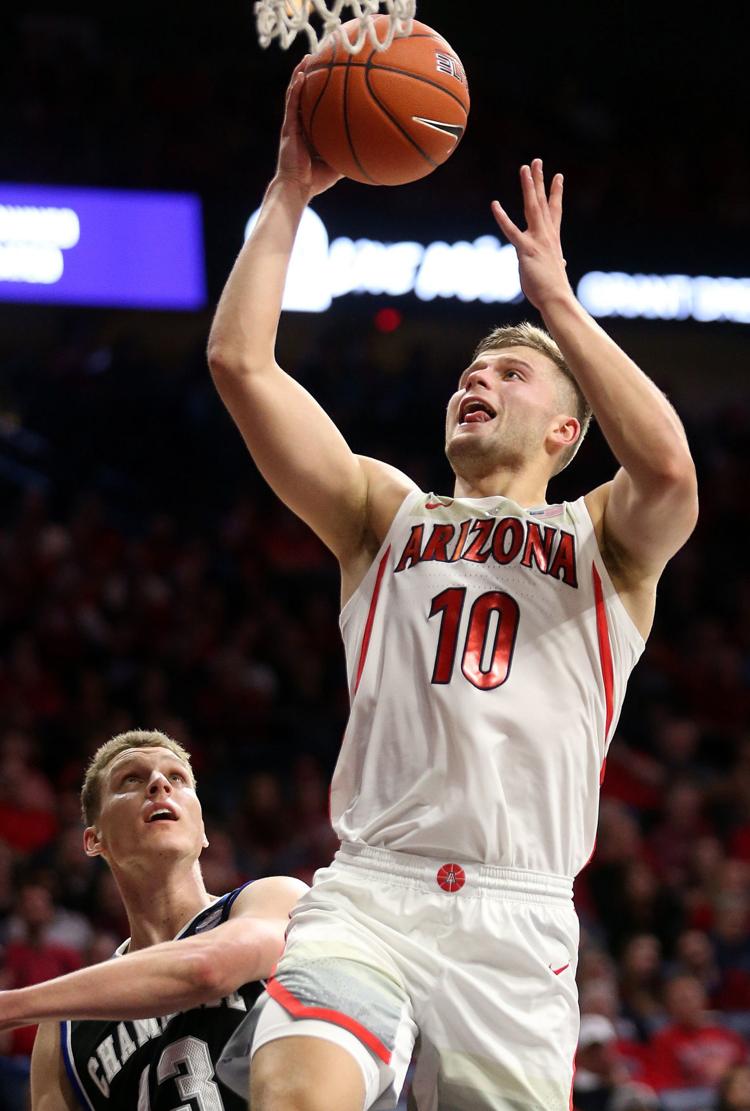 While Akot is averaging 4.0 points and 4.0 rebounds as a starter compared with 2.8 points and 2.7 rebounds off the bench, both players have made contributions during the first minutes of each half before the first media timeout.
Miller has viewed those blocks of roughly four minutes as important trend-setting moments. While Akot added a rebound in each early period against Georgia Southern, plus 1-of-2 shooting in the early first-half minutes against UConn, Luther shot 1-for-2 in the opening minutes of each half against Iowa State and pulled down three rebounds in the opening first-half minutes against Gonzaga.
But in flipping Luther's scoring to the bench, the Wildcats have seen the biggest difference.
UA totaled just 19 bench points over three Maui Invitational games, but had 47 (with eight from Luther) against Georgia Southern and 24 (with 10 from Luther) against UConn.
Akot had two points against Georgia Southern and six against UConn, so if Luther was starting and Akot was playing in reserve, the UA's bench scoring theoretically would have dropped to 41 against Georgia Southern and 20 against UConn.
Keeping Akot in the starting lineup is an experiment Miller could continue, at least through the nonconference season, since he normally settles on a fairly regular starting lineup for Pac-12 play. Or he could stick Luther back in at any point.
Whatever happens, one thing is clear: Both Akot and Luther will be among Arizona's top six or seven players, counted on for different skills the rest of the season, for about 18-23 minutes a game.
"I don't know if we've made our mind up with how the starting lineup is going to be moving forward," Miller said. "But those guys are going to play."
Rim shots
Center Chase Jeter averaged 16.0 points and 8.5 rebounds in UA's two wins last week, prompting the school to nominate him for the Pac-12 Player of the Week award (which ASU's Zylan Cheatham won after averaging 13.5 points, 12.5 rebounds and 9.5 assists in two Sun Devil wins). "He's gained confidence, for sure," Miller said of Jeter. "With opportunity comes confidence as well."
After the UA's ball movement resulted in 22 turnovers to six assists against Georgia Southern, the Wildcats had 12 assists to 14 turnovers on Sunday at UConn, a result Miller partly attributed to the Huskies' pressure defense. "In the first half against UConn, we were more of that same team — we had five turnovers at the half and against that type of pressure on the road, any coach would take that," Miller said. "In the second half, we turned the ball over (nine) times, which was a big reason why the game came down to the final moments. But UConn is able to do that. They're able to wear you down and they certainly did that to us."