If it wasn't for somebody overseeing his youth in Estonia, Kerr Kriisa might have always shot basketballs with his left hand.
That's why he's sort of OK with doing it now.
"I'm actually naturally lefty," Kriisa said last week after suffering a dislocated right shoulder in the Pac-12 Tournament. "I was a lefty when I was young and they told me to be righty in kindergarten or something."
After hitting a left-handed free-throw against Stanford in the Pac-12 quarterfinals last Thursday, Kriisa said he still plays soccer leading with his left leg and that "sometimes I prefer to go left but people don't understand that."
So maybe Kriisa can keep adjusting as the Wildcats open the NCAA Tournament Thursday against Princeton in a first-round game in Sacramento, California.
But center Oumar Ballo may have it even tougher going with his other side. A day after breaing his left hand in the Pac-12 semifinals Ballo went up only with his right arm when he batted away a missed shot off the glass in the final seconds against UCLA that led to a go-ahead 3-pointer from Courtney Ramey.
Ballo managed to collect 13 points and eight rebounds against the Bruins but had four turnovers and shot 5 of 9 from the free throw line.
"It's kind of hard," Ballo said. "We go through injuries and I didn't want to sit out for this game. I needed to come out and give my body for my team because it's not like every day you wake up and play this type of game."
That sort of fortitude isn't surprising from a guy who visited the hospital three times because of a bacterial infection over the first week of January and yet still averaged 30.5 minutes in games against Washington and Washington State that same week.
"I told Oumar, if you feel like you can help us out, help us out. If not, that's fine, too," UA coach Tommy Lloyd said Sunday, after the Wildcats were awarded the No. 2 seed in the South Region. "I understand how it goes, but Oumar is a warrior. He's a high character guy. He's tough and he always puts the team first."
For that reason, Lloyd said he thought Ballo would be "good to go" this week, while Ballo also insisted Saturday he would be fine for the NCAA Tournament after revealing he had broken his hand a day earlier against ASU. Against UCLA, Ballo wore a tight black wrap around his left hand, with his two middle fingers tied together in a splint so as to protect the fracture.
Also against UCLA, Kriisa's hand took a hit, making it three straight days of injuries in three Pac-12 Tournament games for the Wildcats, a stress test of sorts for their seven-player rotation.
That's why it was no surprise that, when asked about Ballo and Kriisa's injuries after the UCLA game Saturday, Lloyd responded by talking about the challenges of playing three consecutive games.
"It's really, really hard," Lloyd said. "I think all coaches if we had our druthers, we'd get together and find a way to lighten the load on our players in these tournaments. In college basketball at the highest level, it's hard to have great depth anymore, because there's so much parity. And to ask six or seven guys or eight guys, whatever it is, to go play high level basketball three straight nights is a lot."
But the Wildcats still have not had any of their seven rotation players miss a single game with health issues, even during their rough ride through the Pac-12 Tournament. Both Lloyd and UA athletic trainer Justin Kokoskie gave the UA medical staff an assist for that.
"What they did was absolutely miraculous," Kokoskie said. "The risk of advancing in this (Pac-12 Tournament), playing three games in three days, is injuries. Unbelievable that our team and doctors helped us get through it."
Lloyd said UA's medical team is providing "world-class stuff, so we're gonna just keep riding it out."
But how far can they do so? The Wildcats won't have to play more than two games in three days during the NCAA Tournament but their seven-player rotation is now compromised by injury, at least somewhat.
Lloyd has made it clear he prefers not to dig deeper into his bench, also. During Pac-12 play, he only occasionally threw out freshman centers Henri Veesaar and Dylan Anderson, or sophomore wing Adama Bal for key minutes.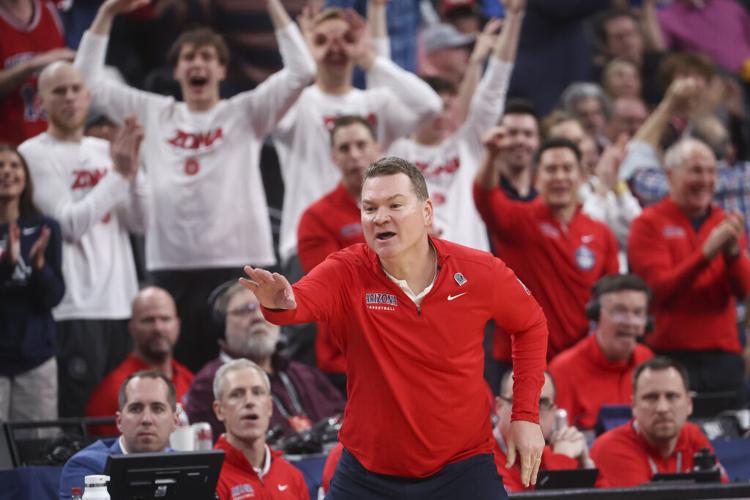 Lloyd did play Veesaar late in the first half against UCLA on Saturday but said it not because Ballo was limited (Ballo had only two points on 1 for 3 shooting to that point) but because Lloyd said he didn't want to risk a third.
"It was nothing more than that," Lloyd said.
Lloyd took Ballo out with 7:13 to go in the first half. He initially moved Azuolas Tubelis to center, with Cedric Henderson playing power forward, and then put in Veesaar for the final 3:04 of the half.
Veesaar did not return in the second half. The Wildcats rode it out instead with Ballo, Kriisa and their other top five guys.
Scoreless in the first half, Krissa hit both 3-pointers he took in the second half — "I'm just happy they went in, I don't know what to tell you," Kriisa said — while Ballo didn't need his left hand to bat that late offensive rebound over to Pelle Larsson, who sent it to Tubelis, who then sent it to Ramey for a go-ahead 3-pointer with 16.7 seconds left.
Seven guys found just enough to get it done, and that may be how it is the rest of the season.
Especially now, the Wildcats' seven-player rotation simply doesn't have much margin for error.
"There never is," Lloyd said. "This time of year college basketball ... you look at minutes and rosters across the country, and I bet there's a lot of teams that are playing a tighter rotation than you think. It's not just us. It's just kind of how college basketball is these days."
Rim shots
• Five-star 2024 Southern California forward Carter Bryant posted that Arizona and Louisville are his final two college choices. In an interview with On3, Bryant said cited the way Arizona produces pros and gives players freedom has interested him in the Wildcats.
• Arizona remained at No. 8 in the final Associated Press Top 25 poll of the season, one spot below UCLA. Arizona also carry a No. 10 ranking in the NET and Kenpom into the NCAA Tournament.