OAKLAND, Calif. — When Arizona's Justin Coleman drew a hard foul on his sore shoulder and didn't shoot the resulting free throws late in a tight game Wednesday at Stanford, NCAA rules allowed Cardinal coach Jerod Haase to pick the shooter from among the four remaining Wildcats on the floor.
Haase chose Ira Lee, and history wouldn't blame him for doing so.
Lee was shooting 81 percent from the line entering Wednesday's game, but had taken just 1.5 free throws a game this season and attempted only 46 over his first year and a half with the Wildcats.
That's the sort of inexperience that suggests nerves just might hit Lee with the game on the line.
"Probably," UA coach Sean Miller said, when asked if Haase figured it that way. "Just (because of) his career."
Yet Lee hit them both, giving the UA a five-point lead with 21 seconds left, and the Wildcats hung on for a 75-70 win.
That wasn't the only reason it was then clear that Lee has begun evolving into a different player than his stats suggest.
With starting center Chase Jeter fouling out and the UA leading by just a point entering the final minute Wednesday, Lee made a layup with 41 seconds left and pulled down the defensive rebound when Stanford's Daejon Davis missed a jumper with 24 seconds on the clock.
Then, at Haase's request, Lee shot the free throws.
"Ira's really improved from the foul line and not only did he make those two big free throws, but his basket there was the biggest made field goal of the game for us," Miller said Friday. "Ira was really poised at the finish.
"Over the last month, Ira has really started to pick it up and I think he's making more positive plays. He's more sure of himself and he's really giving us great minutes off the bench right now."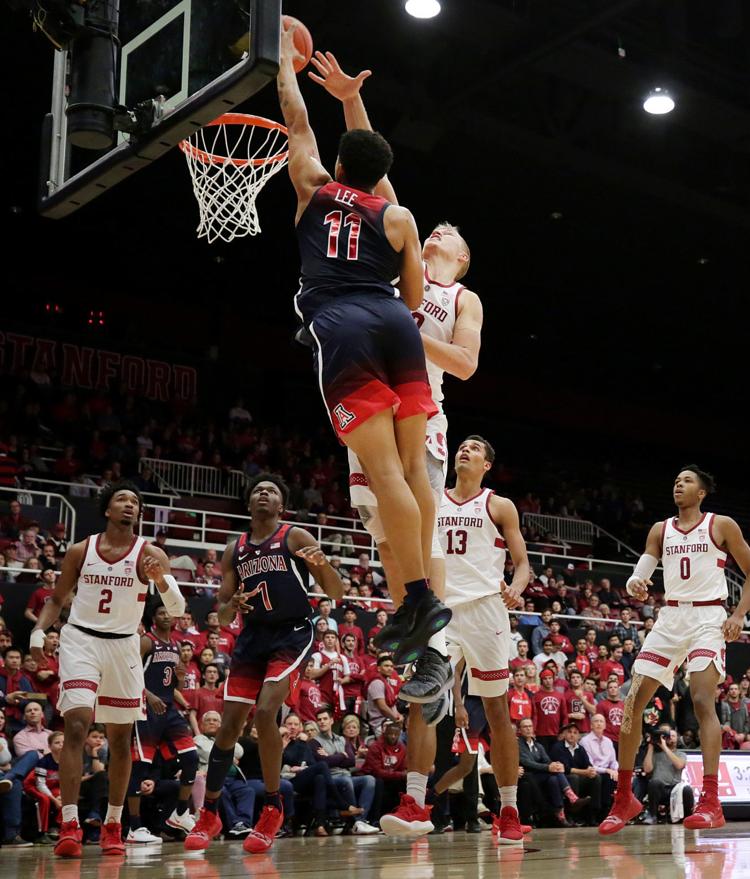 Lee actually has been trending upward for five straight games, so much so that Miller says he wants Lee and starting center Chase Jeter to play together more often, or at least to get Lee more playing time.
In five games dating to the UA's win over Montana on Dec. 19, Lee is shooting 65.2 percent while making eight of nine free throws, averaging 7.6 points and three rebounds.
But it's also his decrease in mistakes that stands out. Over those five games, Lee has only two turnovers and six fouls. Four of the fouls came at Stanford, which aggressively drew three or more fouls from four UA players.
What's more, Miller said, Lee has worn the team's gold jersey for total game and practice production for two straight weeks. With play like that, Miller said Lee can become a key reason why the Wildcats keep improving.
"Ira is a great story because he's only a sophomore," Miller said. "He has a bigger role this year, but you sense that maybe he's at a point of playing his best, and the other night (at Stanford) was the most meaningful game he's played for us because he made the game-winning plays.
"He plays with great effort. That's never been a problem, and he practices the same way. So it's great to see somebody like that battle through the different things and all of a sudden you see he's becoming a better player. He knows that, too, and I think he's maybe more confident now than he used to be."
Sure enough, Lee appeared as confident and excited as ever when he stood in the Maples Pavilion hallway and discussed his clutch play after the game.
"I wanted to win. We wanted to win," Lee said. "Coach Miller trusted me, put me in, obviously Chase fouled out and I had to step up. I'm just happy we got the road win."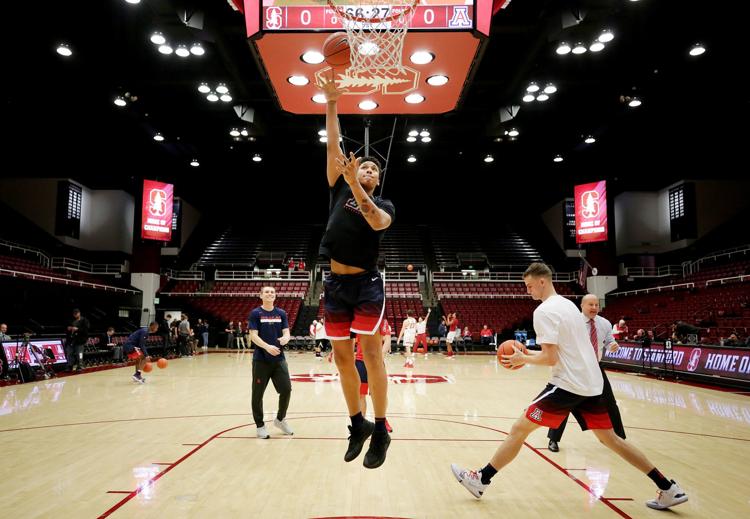 All this, of course, comes on top of what Lee has always brought the Wildcats: energy and rebounding, the latter in short supply this season.
The Wildcats on average have collected two rebounds fewer than their three Pac-12 opponents so far this season, are outrebounding all opponents by only 0.1 on average and rebound their own missed shots only 25.8 percent of the time, the 84th worst offensive rebounding percentage in Division 1.
That's a big reason why Miller is looking for a way to carve out more time for Lee, whose 14.1 average minutes are fourth among the UA's four post players. Jeter averages 26.2 minutes, Ryan Luther 26.1 and Emmanuel Akot 19.1, though Akot can also play small forward.
"The one thing that Ira gives us is rebounding, and it's the thing we need the most," Miller said. "He can get a second shot. And Ira may be our best bet in terms of defensive rebounding, so if we can ever get (Lee and Jeter) in there together for a little bit more time, maybe that's something that we can help improve our rebounding.
"Guys like Ira can really help make us a better team and my hope is that he can build on what he did Wednesday in Saturday's game."