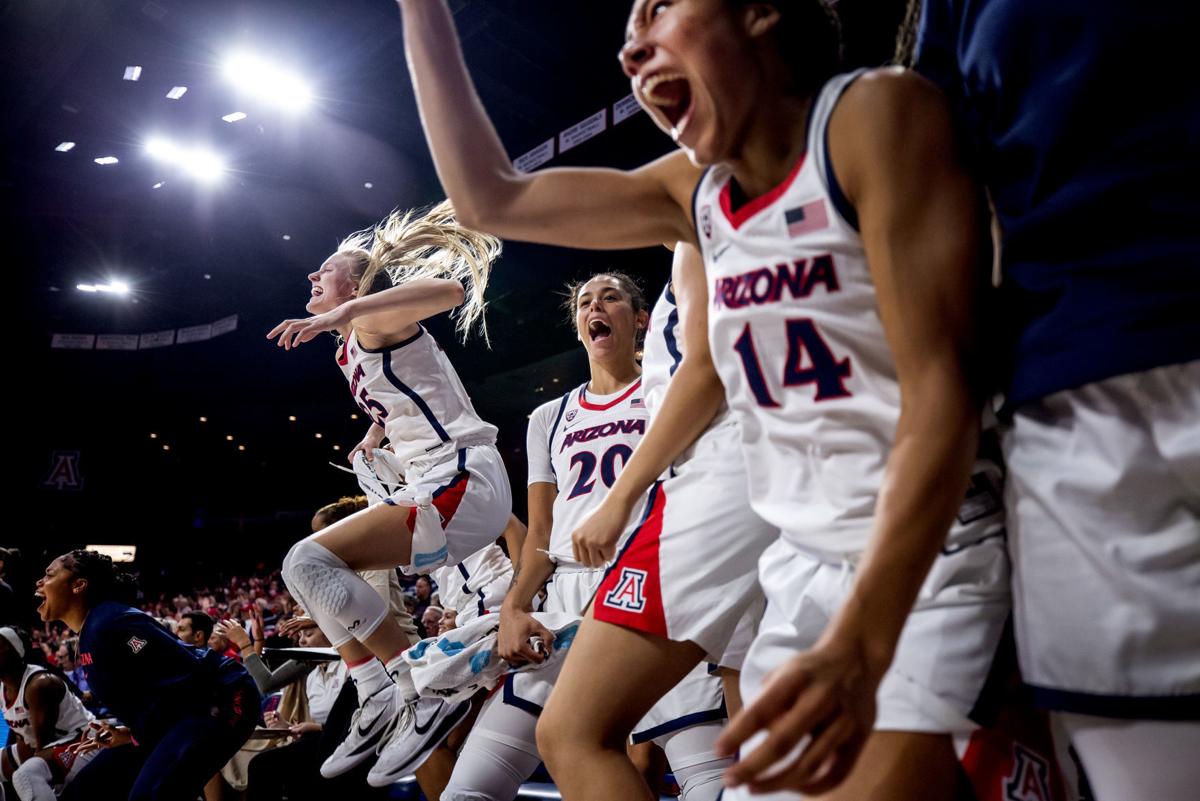 LOS ANGELES — After Friday night, 13 is Arizona's big number. That's 13 wins and no losses, the best start in program history.
And while the 18th-ranked Wildcats are accomplishing big things seemingly by the day, coach Adia Barnes knows this streak is special.
"It's them," Barnes said after Friday night's 65-57 win over USC, referring to her players. "It says that they have heart, it says they have a focus, they have a determination, and they're playing — finding a way to win. That's how I know we're a good team; we're finding a way."
"Now, we're not going to win every game this year. But we're finding a way to win tough games. And our first three games in this league are on the road. And we won two of them. I'm happy. I think it's a tribute to how hard they work, and how much confidence they have and to different people stepping up when we're short-handed.
"And these last five or six have been without a starter (Dominique McBryde) who is one of our best players who was averaging 35 minutes (per game) — our best post defender and our best post passer. So, when she comes back, we're going to be better."
UA has won back-to-back Pac-12 road games for the first time in nine years. The Wildcats have held 12 of their 13 opponents to under 40% shooting. Their opponents average just 45.4 points per game, the best mark in the nation. Arizona's limiting them to 30% shooting, which ranks tied for second nationally.
But Barnes and the Wildcats say they have to start faster, beginning with Sunday afternoon's game against undefeated and 10th-ranked UCLA at Pauley Pavilion.
The Wildcats have been outscored in the first quarter of both of their Pac-12 games this season — a win over ASU in Tempe and Friday night's victory against the Trojans. And while they closed out both games, both were too close for comfort. ASU came within one point late, while USC could get no closer than three.
Both times, free throws might have been the difference. Helena Pueyo and Aari McDonald calmly hit five free throws late Friday to put the Trojans away. Arizona finished 16 of 17 from the stripe.
"With two minutes left, we couldn't get stops. It was stressful," Barnes said Friday at Galen Center. "I saved the timeout because I thought the game could stretch even with 29 seconds. I wasn't comfortable … because 29 seconds in this conference is a long time."
The close nature of Friday's game forced Barnes to play her starters significant minutes. Thomas led the way with 38 of 40 possible minutes, with McDonald (37), Cate Reese (35) and Semaj Smith (35) close behind. Pueyo, a freshman, played 28.
The Wildcats are still waiting for McBryde, who injured her ankle against Monmouth on Dec. 2, to return to the starting lineup. She wore a boot courtside Friday night, and is listed as day-to-day.
Next!
The Wildcats didn't celebrate Friday's win for long.
On Saturday, the team turned its attention to UCLA, another 13-0 team that narrowly escaped with a two-point victory Friday night over ASU. The Bruins are off to the best start in their storied history.
Players from both teams have had Sunday's game circled for quite some time, in part because of what happened the last time they met.
UCLA outlasted the Wildcats 98-93 in triple overtime at McKale Center last January. For Arizona, it marked the first of five narrow Pac-12 losses. The Wildcats lost to Washington State by two points on Feb. 9, and fell to Stanford by two, Cal by six in overtime and Oregon State by five in double overtime.
UCLA coach Cori Close said earlier this week that Arizona "outperformed us" at times in last year's matchup.
"It's going to be a battle," Barnes said. "It's a very difficult matchup for us, especially without one of our starters. But we're not supposed to win that game. They're ranked higher, they're at home, they're supposed to win. We really just have to play our game and there's nothing to lose. I think those are great situations to be in. We go and we play, if you lose, they're ranked higher. If you win, it's a sweep in this conference and it's amazing. It's not going to happen. So maybe to Oregon, maybe Stanford — I think it's going to be hard to get sweeps in the conference. So, we just come and play there's no pressure."
And while Barnes isn't yet looking ahead to next weekend — No. 2 Oregon and No. 3 Oregon State come to Tucson — she knows it'll be good to be in front of the home crowd again.
"When I think about us, we have a tremendous opportunity, we go back home," Barnes said. "We have some of the best fans in the conference behind Oregon and Oregon State. And in nonconference we were averaging 5,000 (fans). I believe for conference we will average 8,000 to 10,000. It's going to be very hard to play us on our home court — we're very confident at home."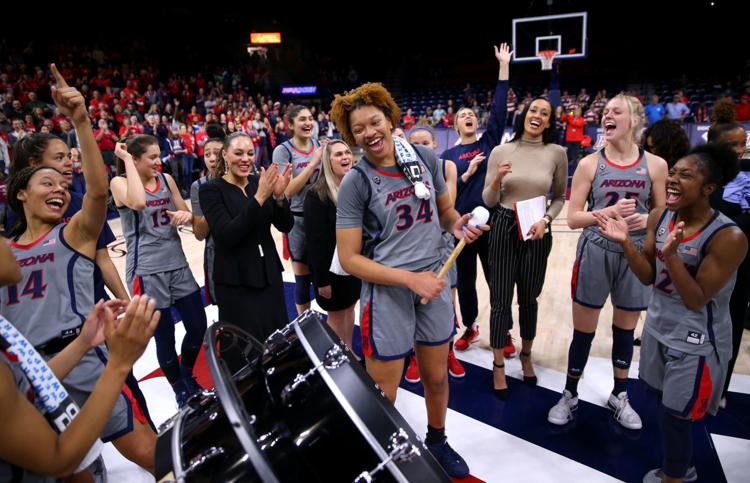 Smith was widely viewed as the team's most improved player heading into her sophomore season. She showed it on Friday, scoring eight points, grabbing a career-high 12 rebounds, swatting two blocks, dishing one assist and adding a steal.
In the third quarter, her teammates fed her the ball on consecutive possessions.
"We wanted to isolate the post down there and we knew that the girl guarding Semaj was kind of a mismatch," McDonald said. "We knew Semaj would have the advantage and kudos to Semaj — she believed in her shot we all believe in her — she scored four points in a row."
Both were jump-shots in the paint, which have not been typical attempts for Smith.
Barnes said that Smith and fellow post player Reese have made big leaps. Playing more minutes together on the court might have something to do with it.
"Semaj and Cate have great chemistry," Barnes said. "They're looking for each other. They're helping each other. They're switching in the right time they are supposed to switch. There is so much growth in those two players. And I love seeing it."
Smith and Reese combined for 23 of UA's 35 rebounds Friday night.
Reese, the reigning Pac-12 Player of the Week, put up her second consecutive double-double (17 points, 11 rebounds). She has five this season and 12 in her career.