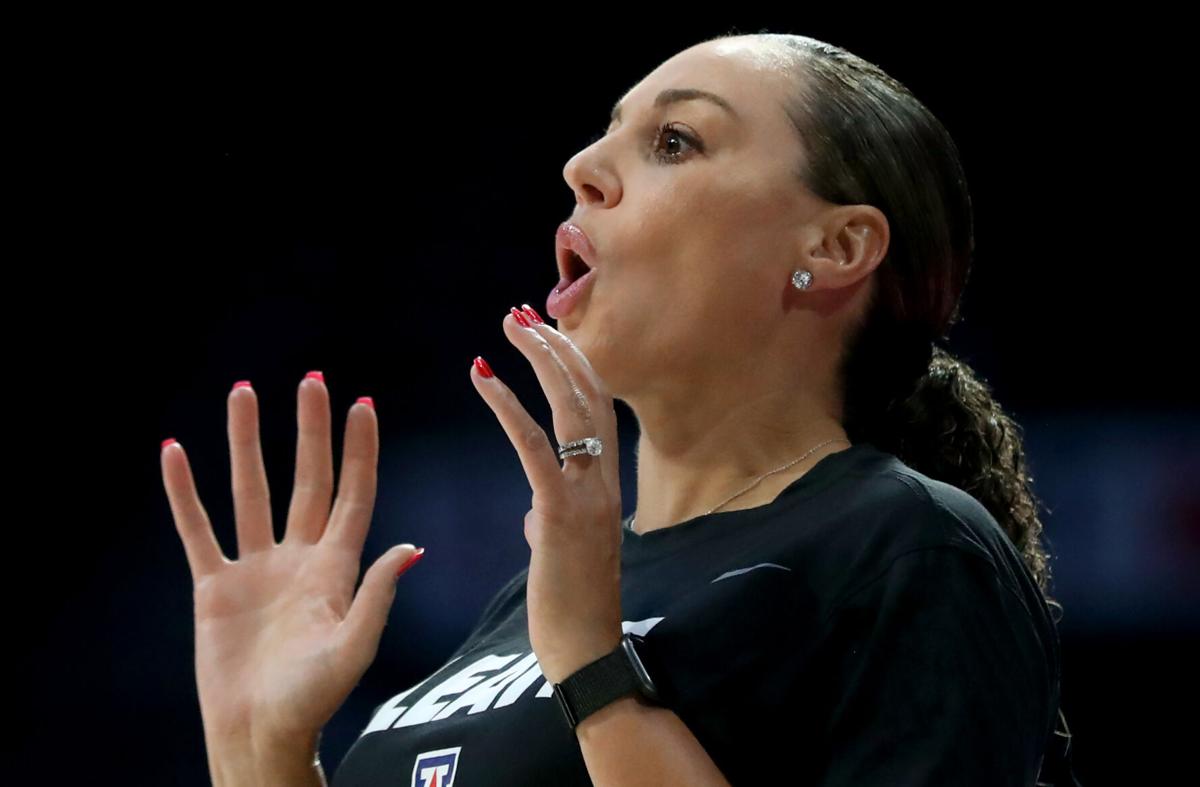 It was Adia Barnes' worst fear.
Right around Christmas, Barnes' 15-month-old daughter, Capri, contracted COVID-19. The baby's temperature soared to 104 degrees — so high that Barnes, the UA's women's basketball coach, was prepared to take her to the emergency room if needed.
Barnes and her husband, UA assistant coach Salvo Coppa, both tested positive for the virus after COVID-19 struck the Wildcats' program while on the road. So many UA players, coaches and support-staffers were affected that the program effectively shut down over the holidays.
The fourth-ranked Wildcats will return to action on Friday, when they take on Washington State in McKale Center. The game tips off at 6 p.m. On Sunday, they'll travel to Los Angeles for a rescheduled game with USC. The teams announced the matchup on Wednesday.
The program's COVID-19 outbreak affected Barnes' home life, too. Barnes' mother-in-law, Carmela Restuccia, contracted the virus while visiting Tucson from Italy. She stayed in the United States for three extra weeks because of her home country's restrictions.
Fortunately, Coppa was asymptomatic. And Barnes and Coppa's 6-year-old son, Matteo, was vaccinated and unaffected.
"It was scary," Barnes said on Wednesday in her first public comments since Dec. 17, when Arizona beat NAU in Flagstaff and one day before positive tests upended the program. "I think the hardest thing for me personally was the fact that I have a 1-year-old that doesn't have a vaccine and it affects her and I have to watch her for (the next) two to three months. It's not like it's over.
"I think that was more upsetting for me than getting COVID. I'm healthy, I'm young, so me getting it — I didn't really want it, but it wasn't devastating. It was just the family. I was like, 'Oh man.'"
Barnes said the experience of having COVID-19 "wasn't something I expected; it wasn't something anyone expected." Her first symptom was sinus issues.
"It was like a bad cold," she said. "It wasn't like I was down and out; if I had to return to work after four days, I could have. The unfortunate thing is I gave it to my daughter."
Barnes said Wednesday that she did not know exactly how many people in her program tested positive — only that it was so prevalent that the Wildcats needed to pause.
Members of the Wildcats' traveling party first experienced cold-like symptoms while in Flagstaff, but figured that the changes in weather and elevation were to blame. There were stuffy noses and coughs as UA boarded a bus late that night for Las Vegas, where they were going to face Texas.
The following morning, a few Wildcats players reported COVID-19 symptoms to the UA's medical staff, prompting program-wide testing. Barnes said their honesty kept the outbreak from getting worse.
"When we have any glimpse of anything; our players communicate that with our medical staff and we take care of it," she said. "Now if we didn't do that, we would not have ever even tested. I think that's one mature thing. I'm proud of my players."
The Wildcats pulled out of the Texas game, then returned to Tucson for Christmas break. They didn't see the court again for nearly 10 days.
By then, the virus had its grip on the conference.
USC postponed its Dec. 31 game with the UA because of the Trojans' own COVID-19 issues. The Wildcats' Jan. 2 game at UCLA was postponed weeks earlier because of the Bruins' protocols.
And Sunday's scheduled game against Washington in McKale will have to be rescheduled because of issues within the Huskies' program — though Arizona was able to replace UW with a game at USC.
Barnes called her infection inevitable, given her job and the spread of the Omicron variant. She said that there are "many situations where you are vulnerable," including travel and interactions with fans.
The Wildcats were fully vaccinated and been following COVID-19 protocols at the time of their outbreak.
"Everyone was on guard," Barnes said. "I feel like after they got vaccines and got boosted, no one knew how it was spreading. It's like uncharted territory. You don't know how stringent to be, because if I knew (the variant) was contagious as it is now, we probably would have all on my team been wearing masks in practice, like two weeks ago, but no one really knew, and it happened so fast. Now, of course, everyone has their guards up, but you don't feel like you need to until something like this happens. … But now it's a little bit different situation, but it's hard. You coach in games, you are talking to players sweating — you're just around your team, you're on buses or on planes. But I think once it goes through some of your team, it's hard not to hit 90% or 80, 70% of people, and that's just not how it is.
"You're seeing every team is going through it."

Stanford, UCLA and USC will play their next few games without fans in the stands. Barnes hopes it doesn't get to that point at McKale, which is why she is once again encouraging Wildcats fans to wear masks to games.
"I don't want to play without fans," Barnes said. "We have one of the best fan bases in the country."