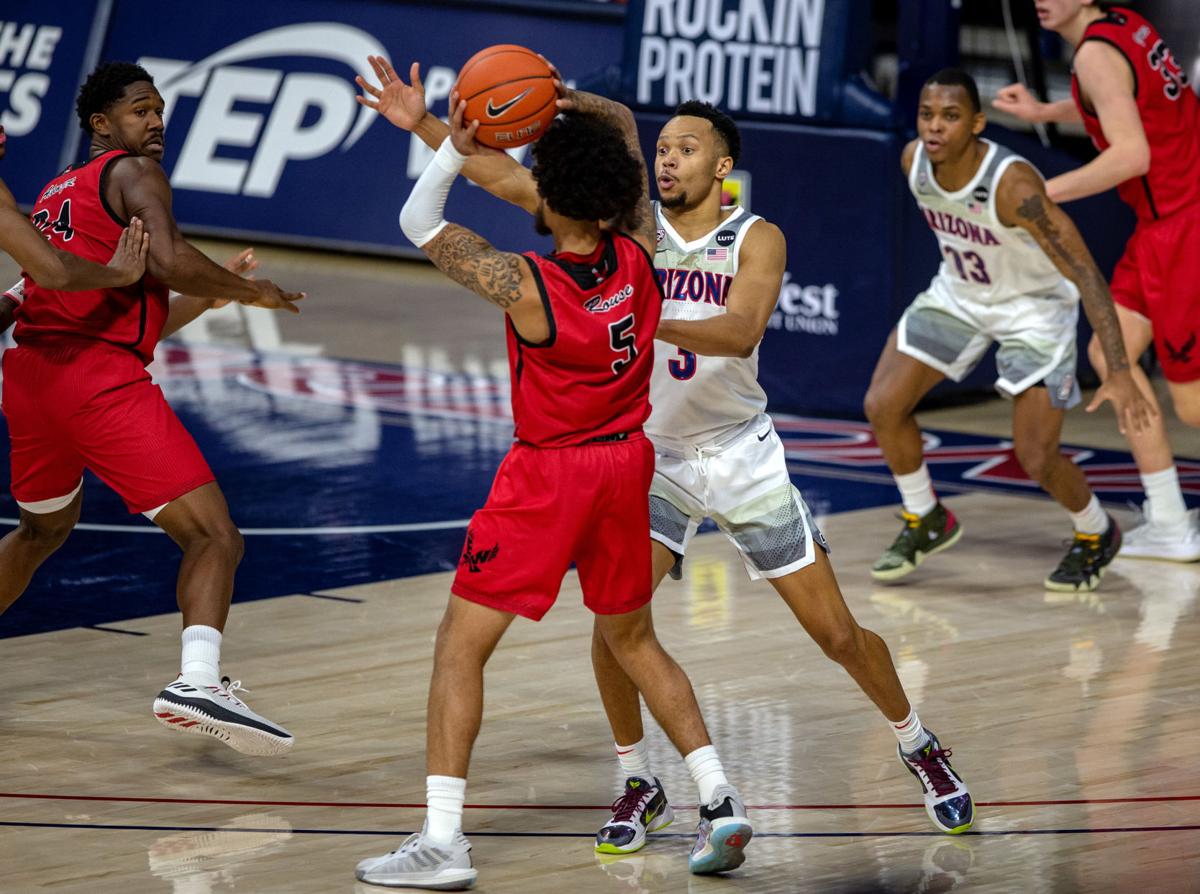 Still with a faint hope of playing at the end of Arizona's season, guard Jemarl Baker will undergo surgery Thursday to repair a broken bone in his wrist.
UA coach Sean Miller said Wednesday that Baker's timeline to return is estimated at about eight weeks, meaning he might have been able to play in the postseason had the school not decided to self-impose a postseason ban.
As it is, the eight-week window puts Baker's potential recovery within a week of when the Wildcats are scheduled to face ASU on March 6 in what will be their final game of the season, barring any COVID-19-related rescheduling issues.
"I think there's always an outside shot with healing that maybe we can welcome him back at the end of the year," Miller said. "But I think for his best interest and our planning, just based on the timing, we're moving on as if he's finished for the season. And if we get news otherwise, that will be very welcome."
Miller said Baker hurt a small bone in his wrist that affected his flexibility just two minutes into UA's loss to UCLA on Saturday, even though he wound up playing 23 minutes while unaware of the fracture.
The news was rough for the Wildcats not only because Baker was their second-leading scorer (12.0 points per game) and a significant 3-point threat but also because he's a well-liked, hard-working person.
"I don't know if there's been a player at Arizona who does things more the right way than Jemarl," Miller said. "He's first to practice, practices hard every day and even with COVID, he had a great summer. He was in the best shape of his life."
Baker's also had some rough luck with injuries. He spent two seasons at Kentucky with knee issues, and was not at full strength last season at Arizona.
"I'm just wishing Jemarl a good recovery because Jemarl is the last person you want to see something like that happen to," center Christian Koloko said. "He follows all the rules. He's always doing everything the right way and always working hard. It's not the first time he's been through something like this so I think he's going to come back stronger."
New-look lineup
During his weekly Zoom media conference Wednesday, Miller confirmed he would shift his starting lineup not only to put Terrell Brown in Baker's spot but also to move Bennedict Mathurin in front of Dalen Terry at small forward and Koloko in for Jordan Brown at center.
Terrell Brown has already been averaging starter's minutes, 23.8 per game, while he and Mathurin (21.1) have also been in at the end of games.
"Obviously, we believe a lot in Terrell and he's capable of playing more minutes," Miller said. "Benn is maybe giving us more scoring punch and inside … (and) to come back with Christian, it's not because of anything Jordan Brown has done wrong.
"But he's been in some foul trouble and sometimes what helps a player like Jordan is to allow those first couple minutes to where he can visualize it from the bench. Then he can bring more of a scoring punch off the bench than maybe Christian, who can give us some better overall defense and shot-blocking at the beginning of the game."
Koloko, who also started the first six games of the Wildcats' season before Miller moved freshman Azuolas Tubelis into the lineup, said he wasn't going to change his approach. He had played with energy off the bench much of the times in the six games he has played behind Brown at center.
"It's just the same thing — give the team a really good start and momentum," Koloko said. "Coming off the bench is a little bit different because you have to analyze the game an a little bit more. … I think I can do better and help this team more often. I think I can do better in every aspect of the game."
Gorener on deck
While Baker's absence gives the Wildcats essentially an eight-player rotation, Miller said he may lean a little on freshman forward Tibet Gorener in the ninth spot.
Listed at 6 feet 9 inches and 200 pounds, Gorener needs to gain strength, according to Miller, but has the potential to play small or power forward as needed. Gorener has only played a total of 14 minutes over four games, but hit 2 of 3 3-pointers against NAU on Dec. 7.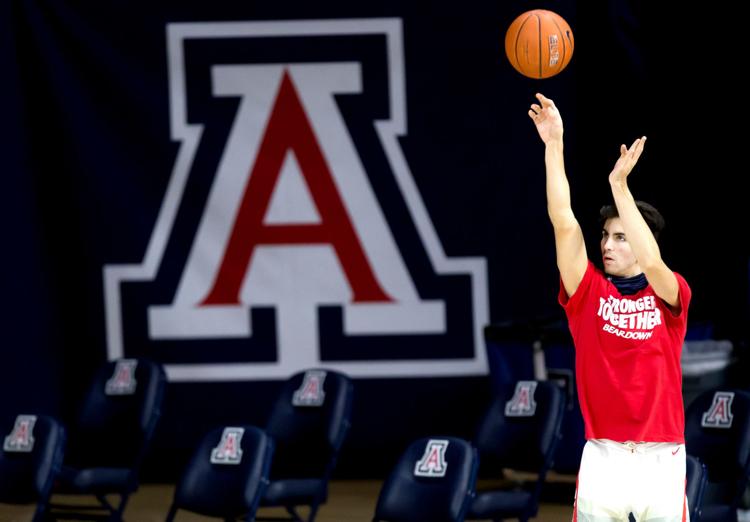 "I believe Tibet has really improved since the beginning of the year," Miller said. "If called on, he could both be a perimeter player or a post player for a window of time in any game moving forward."
Weekend date needed
With Oregon having backed out of Saturday's scheduled game with Arizona, the Wildcats are looking to fill their final nonconference opening — if they can find somebody willing to come to McKale Center on short notice between Saturday and Monday.
Miller said the Wildcats would like to play a final nonconference game this weekend if possible, since the opening was created when San Diego pulled out of a Dec. 21 game at the last minute.
"It's not as easy because other teams are pretty far into their conference schedules right now," Miller said. "A number of them don't have open dates or they filled their allotment of nonconference games. Then of those who have not, you're not going to get people to travel very far so it's more regional."
Miller also said he wasn't sure if, when or how the Oregon game would be rescheduled, but that he'd be willing to travel back to Oregon to play the Ducks if needed.
"We want to play Pac-12 games and we want to represent the Pac-12, college basketball, as best we can," Miller said.
Game times set
Arizona announced tipoff times for the remaining three games on its January schedule as of now.
The Wildcats will play at ASU on Jan. 21 at 7 p.m., with coverage on either ESPN or ESPN2. They'll then host Stanford on Jan. 28 at 9 p.m. on either ESPN2 or ESPNU and Cal on Jan. 30 at 3 p.m. The UA-Cal game will air on Pac-12 Arizona.