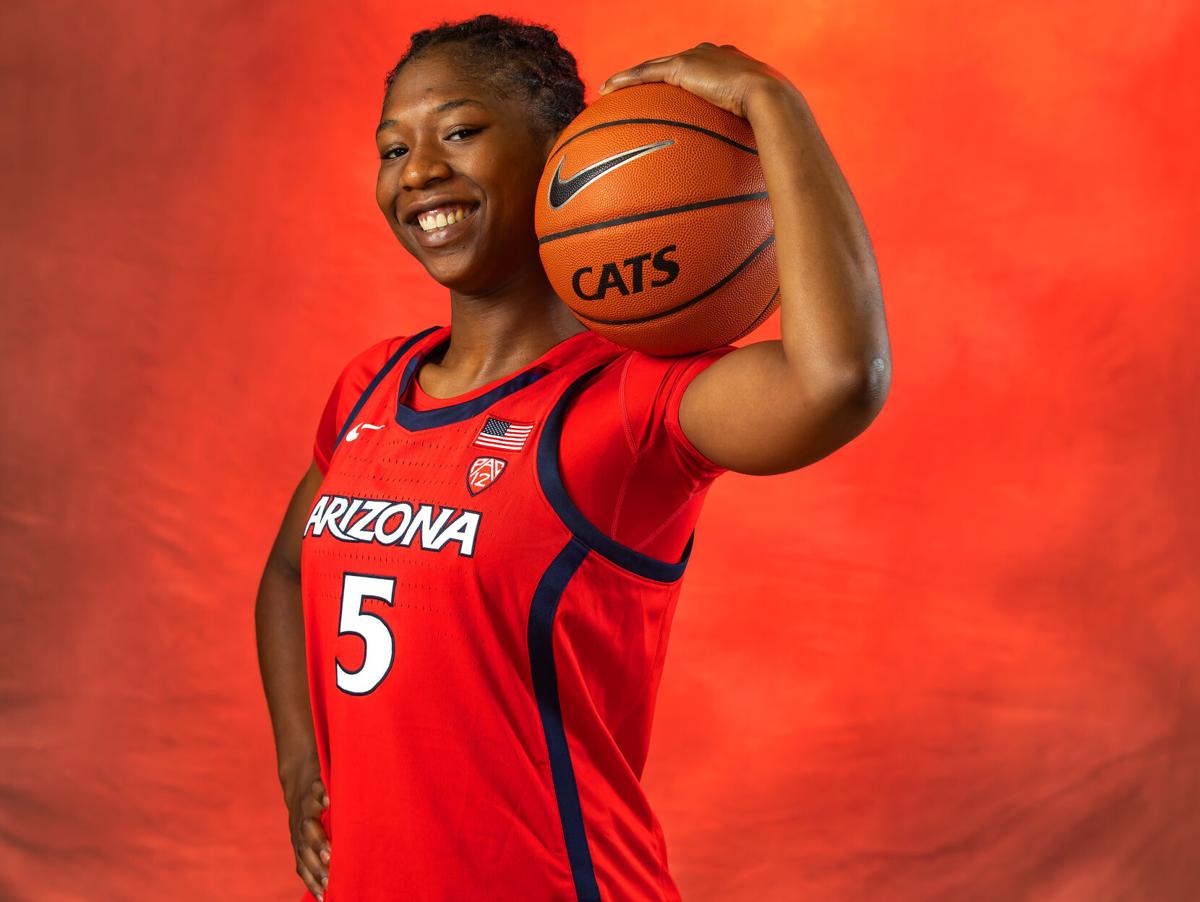 Koi Love is a student of basketball.
It was evident last spring, when she picked the Arizona Wildcats as the team to beat in her NCAA Tournament bracket. It was apparent a week after the national title game, when she decided to transfer to the UA from Vanderbilt.
And it's definitely showing up a month into the 2021-22 season, when she looks at what is unfolding nationally.
"I love watching basketball and when Top-25 teams match up or any team plays another team I think on any given night, any team could lose, any team could go down," she said. "It's basketball; shoot, people gotta come ready to play."
The ninth-ranked Wildcats are ready to play their next three opponents — Vanderbilt, DePaul and Rutgers — in the Paradise Jam, which begins Thursday in the U.S. Virgin Islands. Arizona will play at 1:15 p.m. on Thursday against Love's former team, with games coming at the same time Friday and Saturday. The Paradise Jam will be streamed on ESPN3.
The Wildcats are undefeated at 4-0. While it's still early in the season, Love likes what she's seeing.
"As good as we are and as talented of players that we have, I think we're in the really early stages of our development, which is kind of scary," Love said. "I just see us going so far. I feel like every single day we're just getting better, learning each other, learning the game even more, getting more acclimated to the system, especially me."
The Star talked to Love before the Wildcats headed to the Paradise Jam about her steals, her signature move and her thoughts on playing her former team:
You got hit in the mouth during the first exhibition game and got stitches the next day. What happened?
A: "The girl picked her dribble up and she was down. We had her trapped — she had nowhere to go. And she just kind of flung her head really hard, which ended up hitting my tooth and my lip and basically there was just a big hole in my lip. I had to go get stitches and it was just not fun … or pretty."
How hard was it to wear a protective mask while practicing and playing the next game?
A: "I decided to (wear the mask) because my lip was so big, it was so swollen, and I just didn't feel comfortable walking around with it. I wouldn't say it was that hard just making a couple of adjustments like that mouthguard. I wear that now and I don't know, I feel more protected, more safe. There's still a little bit of swelling and scar tissue, but it's going down. (UA coach) Adia (Barnes) was really understanding, and my teammates were really empathetic and sympathetic to the situation."
In last Monday's game against Texas Southern you had four steals in eight minutes. You followed that up Friday night with four more steals against Marist. What do you think is going into that? Are you reading things better?
A: "I just think it's just playing defense. Being proactive instead of reactive. Yeah, just being hungry."
Should we add steals to the list of things you do well?
A: "Absolutely. I think my anticipation and my timing when it comes to the basketball on both ends of the court is something I take pride in and something that I do just naturally. If the game allows it, I think that's a statline I should always fill."
On offense, you often slide into traffic and score in the paint. Has this always been part of your game?
A: "I know that a lot of guards aren't my size and even if they are my size, they don't have my strength. So instead of always running out to 3-point line and going to take a jumper, it's just easier to get layups sometimes."
A: "Honestly, my high school coach, Ochiel Swaby, (at Miami County Day High School), one of the greatest coaches to ever walk this earth, when I first got to school there — I went there in 11th and 12th grades — I was a super-shifty guard who always took jumpshots. He would tell you unless it was a fast break, I was never attacking the basket. Or I was never going to take layups or posting up because I just wanted to take jumpshots — that's just who I was. He used to yell at me all season long, my junior year, like, 'Go get a layup. She can't guard you. Why are you settling for jump shots? Go get a layup.' Then one day after hearing him just yell at me every single day, it just clicked. I think I got a layup and ended up tying the game and I was like, 'Oh, that was easy.' Ever since then I'm just like, 'Yeah, I'm just going to go get layups.'"
You play your former team, Vanderbilt, on Thursday, have you had a chance to let that sink in yet — what it's like to be on the other side?
A: "I've thought about it. I've just really thought about them as an opponent — just another team — but I'm sure when the game starts on Thursday, and I have time to sit and think about it. … I'll sit and just be like, 'Oh, wow, that's Vanderbilt and I used to go there and those are my former teammates.'"
What are you looking forward to during the trip to St. Thomas, on and off the court?
A: "Off the court, a lot, a lot, a lot of the beach and the sand and being by the pool. On the court winning. I am excited to go 3-0, hopefully."
Rim shot
Barnes' radio show returns starting Tuesday at 6 p.m. The show will air live from Flora's Market Run, 2513 E. Sixth St. Play-by-play voice Brody Dryden will interview Barnes and selected guests.