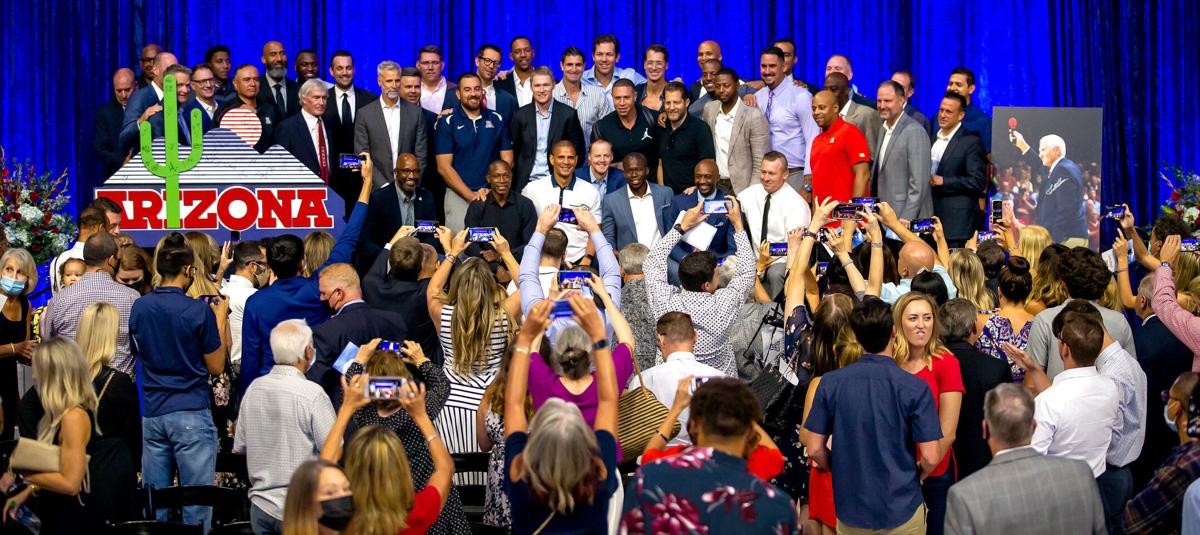 Of all the ways fans, community members and former players have come together to honor Lute Olson, 26-year-old Bishop Hardy wanted his remembrance of the legendary Arizona Wildcats coach to be both personal and unique.
Since Olson's passing last August, the Tucson native and Mountain View High School graduate has combined his passions of rapping and custom shoe artwork to honor the legacy of the Wildcats coach he grew up watching and loving.
In March, Bishop filmed a music video for his rap song titled "Lute Olson." The music video, which features scenes filmed in Arizona Stadium and McKale Center — plus a cameo from UA wide receiver Stanley Berryhill — has over 2,400 views on YouTube.
On Sunday, Hardy sat next to Mark Williams, the son of former Wildcat great Pete Williams, during a tribute to Olson, who died last August. Hardy and Williams became close friends during their junior college days where the pair played basketball at Citrus Community College in Glendora, California.
Williams invited Hardy to attend the ceremony as his guest. Hardy couldn't pass up the opportunity.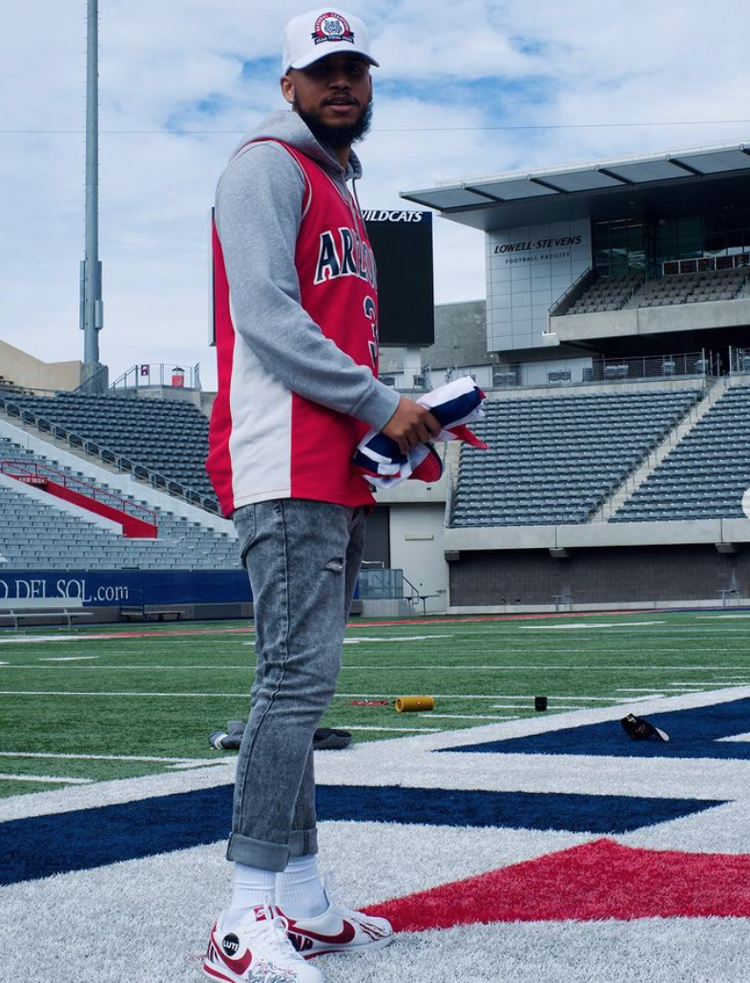 Hardy also puts custom artwork on shoes, which includes tributes to Olson.
"Making that song was really the inspiration for the shoes," Hardy said."I just started designing them in memory of Lute and people really like them. I've got about five more people asking for them."
The artwork, made from shoe leather paint, has "A-R-I-Z-O-N-A" on the heel of each shoe, the Lute Olson patch on the side and the Wildcat eye colored into the Nike swoosh. Hardy's personal touch on each design includes his small street art lettering towards the front with his signature.
"I like the Nike old-school tennis shoe look with the red and blue," Hardy said. "I just look for space to put the Arizona motifs. Just creating that street-art kind of calligraphy with Lute's name."
Another speech for Kerr
When former UA basketball star Steve Kerr took the podium for his speech, he started off with a playful dig at both himself and the Wildcats football team.
"Hopefully my remarks are more inspiring than the ones I gave to the football team last night," Kerr joked.
The comment, which drew some chuckles from the crowd, referenced Kerr's pregame speech to the Arizona football team Saturday. Kerr was an honorary captain for Arizona's home opener against San Diego State and gave a pregame speech to the team centered on understanding that building a winner takes time.
The Wildcats ended up losing 38-14. They've lost 14 straight games.
Final practice for Coach O
Jim Rosborough wrapped up his remarks with unusual request.
"I'd like all the former players to stand up," said Rosborough, the longtime UA assistant coach.
Rosborough got the 100-or-so players who played under Olson to stand up, then he started leading defensive drills. Players went into a defensive stance and started shuffling in their seats from right to left and left to right while Rosborough shouted, "Push, push push!"
They owed Olson one more practice together.
"(Lute) was probably the best practice coach that's ever been," Rosborough said. "That's why you guys were good. Every detail that could come up in a game was covered in practice."
Contact sports producer
Alec White at 573-4161 or
On Twitter: @alecwhite_UA