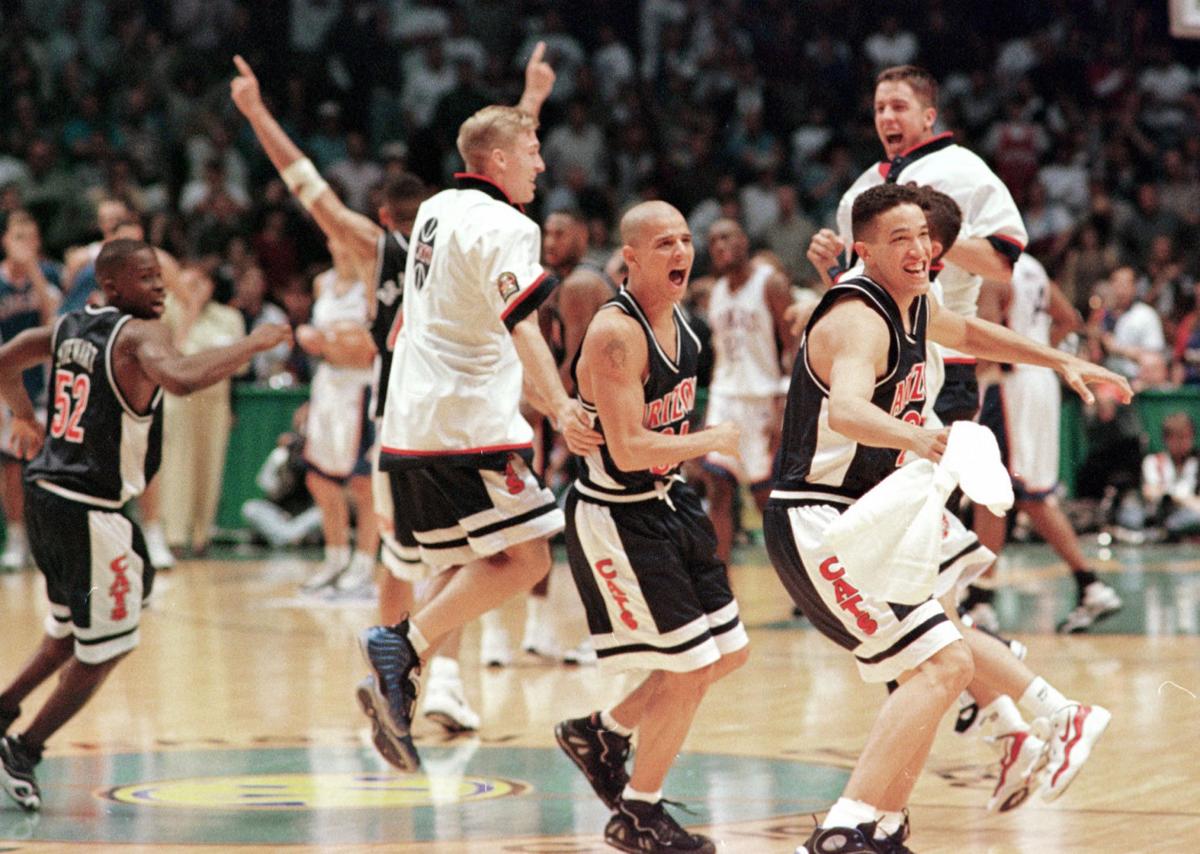 Picking the 25 greatest wins of Lute Olson's Hall of Fame coaching career was no easy task. There were almost 800 of them, after all. We're listing the top 25 wins belonging to Olson, who died Aug. 27 at age 85. We're limiting the selections to just Olson's tenure in Tucson. (Almost all of them, anyway).
10. Arizona heats up in the cold
The 1988 season would go down as Arizona's first magical ride, and the Wildcats knew early they were part of something special. The Great Alaska Shootout proved to be the launching point toward the team's first Final Four-ay, as wins over No. 9 Michigan and No. 1 Syracuse sent Arizona toward its first No. 1 ranking.
9. Cats fight the Illini
The 2001 Arizona basketball team was about as deep as the Mariana Trench, and the Wildcats proved that depth in their Elite 8 win over Illinois. While the Illini got 25 bench points from Robert Archibald and 22 points from Cory Bradford, Arizona had four players in double-figures in the 87-81 win, with Gilbert Arenas scoring 21 and Jason Gardner and Loren Woods each adding 18.
8. Dean and out
Arizona's first Final Four win in 1997 was a memorable one, a 66-58 win over North Carolina and its legendary coach, Dean Smith. Eight days after downing No. 1 overall seed Kansas in the Elite Eight, the Wildcats stifled the Tar Heels to the tune of 31% shooting.
7. The Cincinnati Kid
Even had Miles Simon's 65-foot desperation heave not given Olson his 500th career victory, Arizona's 1996 win over Cincinnati would've been on this list. But Simon sent Olson home smiling after No. 500, as the then-16th-ranked Wildcats pulled off a key upset at the Bearcats on Feb. 12, 1996.
6. Alabama Slamma'
Pitted against the No. 1 overall seed in the 1997 Sweet 16 in Birmingham, Arizona knew Kansas was their stiffest test to date. The loaded Jayhawks were led by Jacque Vaughn, Paul Pierce.
The Wildcats countered with perhaps the best backcourt in the country, and Mike Bibby and Simon ruled the day, combining for 38 points, while Michael Dickerson added 21. Two days later, No. 4-seeded Arizona would need overtime to beat Providence to advance to the Final Four.