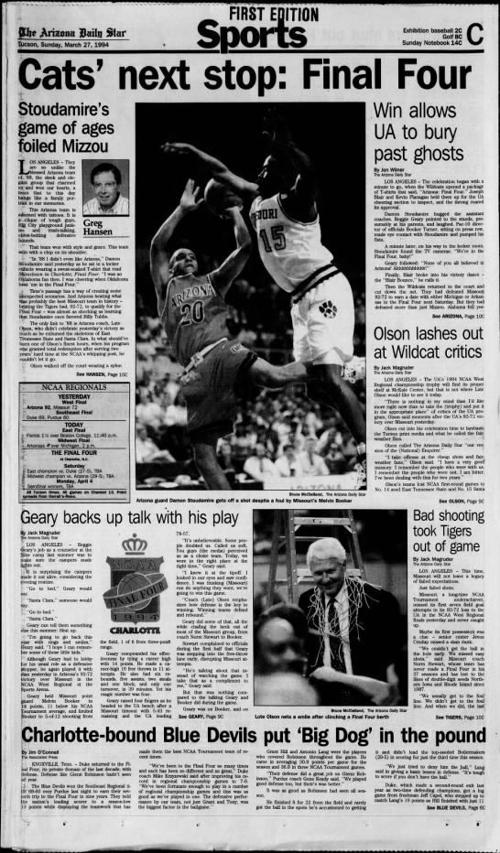 This is supposed to be the best week of the college basketball season, one where 16 teams are whittled down to a Final Four.
Arizona Wildcats fans know first-hand just how big those late-March games can be. On this date in 1994, the UA beat top-seeded Missouri in the Elite Eight, advancing to the Final Four for the second time in program history. Damon Stoudamire, Khalid Reeves and Reggie Geary proved that the Wildcats were for real.
March 26 has been a big day for other reasons, too. On this date in 2005, UA blew a late 15-point lead to Illinois in the Elite Eight. On this date in 2011, UConn's Kemba Walker kept Arizona from advancing through the West Regional and into the Final Four.
Rather than focus on those heartbreaking losses, here's a look at one the biggest win in program history.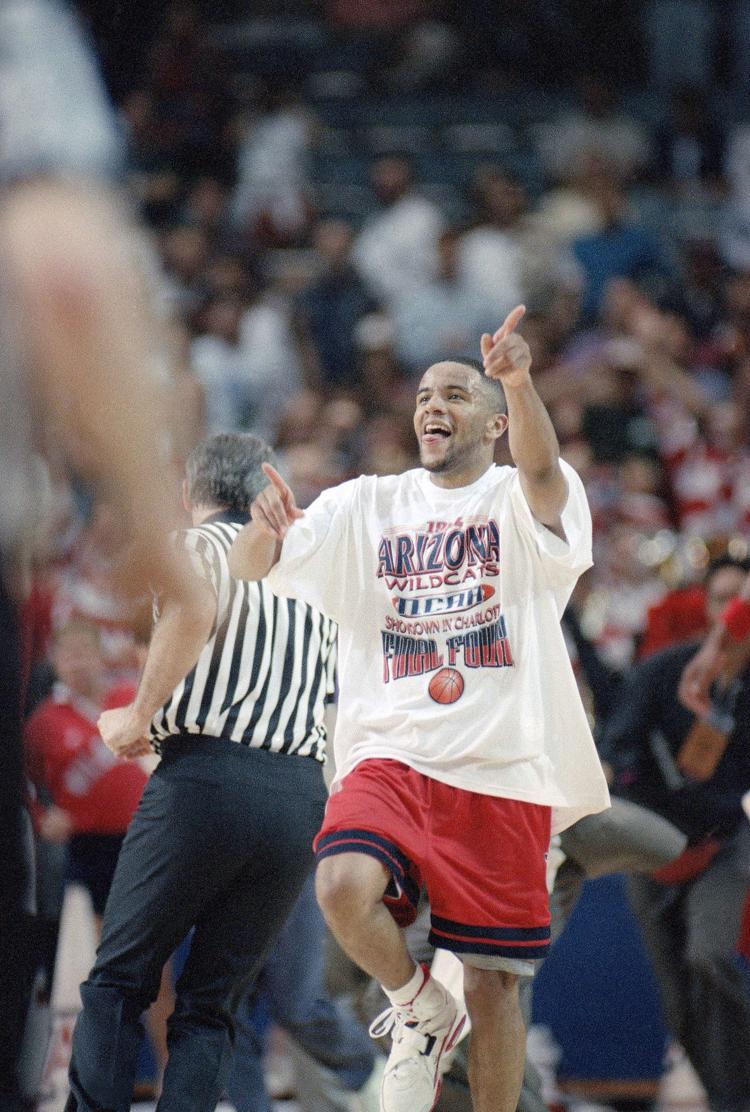 March 26, 1994
What: No. 3 seed Arizona vs. No. 1 seed Missouri in the Elite Eight
Where: Los Angeles Sports Arena
What went down: No. 2-seeded Arizona had earned a spot in the Elite Eight after handling Louisville 72-60 in the round of 16 two days earlier. Reeves scored a game-high 29 points in the Wildcats' win over the Cardinals.
Top-seeded Missouri came in 28-3 and had gone 14-0 in Big 8 Conference play. The Wildcats made quick work of Mizzou, winning 92-72 and earning a spot in the Final Four in Charlotte. UA took charge early and jumped to a 48-34 halftime lead.
How did they do it? The ball simply went into the hoop. Arizona and Missouri both had 43 rebounds as a team. They also tied in total assists (13), and Arizona had one more turnover. However, the Wildcats shot 45% from the field while Missouri was at just 35%. Missouri also chucked up 33 3-pointers pointers and made just seven. UA shot 5 of 15 from beyond the arc.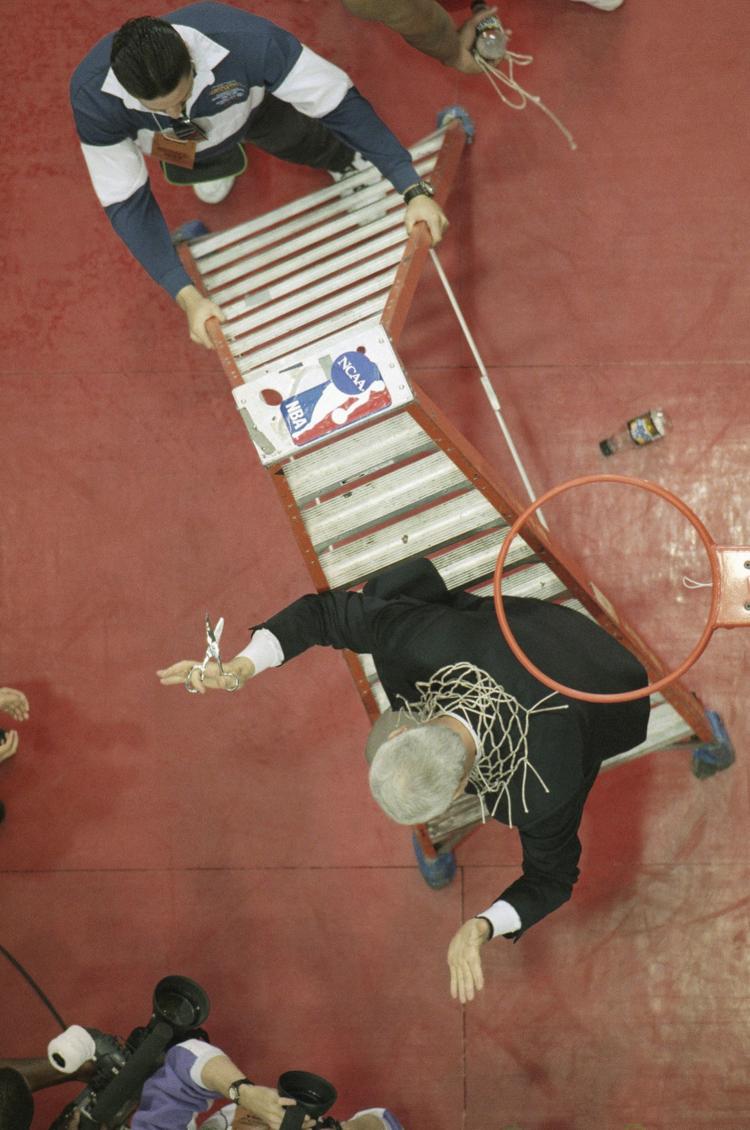 Reeves and fellow All-Pac-10 guard Stoudamire combined for 53 points. Stoudamire shot 4 of 6 from 3-point range while scoring 27 points. Reeves went 9 of 12 shooting 2-pointers and scored 26 points despite missing all five 3-pointers he took. Sophomore Geary recorded 14 points, six rebounds and five assists.
"I knew it at the tipoff," Geary said. "I looked in our eyes and saw confidence. I was thinking Missouri can do anything they want, we're going to win this game.
The Wildcats silenced the doubters after UA fell to East Tennessee State and Santa Clara in the first round of the 1992 and 1993 tournaments.
"I take offense at the cheap shots and fair-weather fans," coach Lute Olson said afterwards. "I have a very good memory. I remember the people who were with us. I remember the people who were not. I am bitter. I've been dealing with this for two years."
The Final Four was Olson's second of his four at Arizona. The Wildcats' first one came in 1988, with Sean Elliott and Steve Kerr leading the way. The UA was eliminated by Oklahoma in the national semifinals that year.
Stoudamire watched that game — and said he was happy to see the Wildcats lose.
"In '88, I didn't even like Arizona," Stoudamire said. "I was an Oklahoma fan then. I was cheering when Oklahoma beat 'em in the Final Four."
Six years later, thanks in part to Stoudamire, the Wildcats cut down the nets.
What happened next: Arizona lost 91-82 to eventual national champ Arkansas in the Final Four.
Be the first to know
Get local news delivered to your inbox!