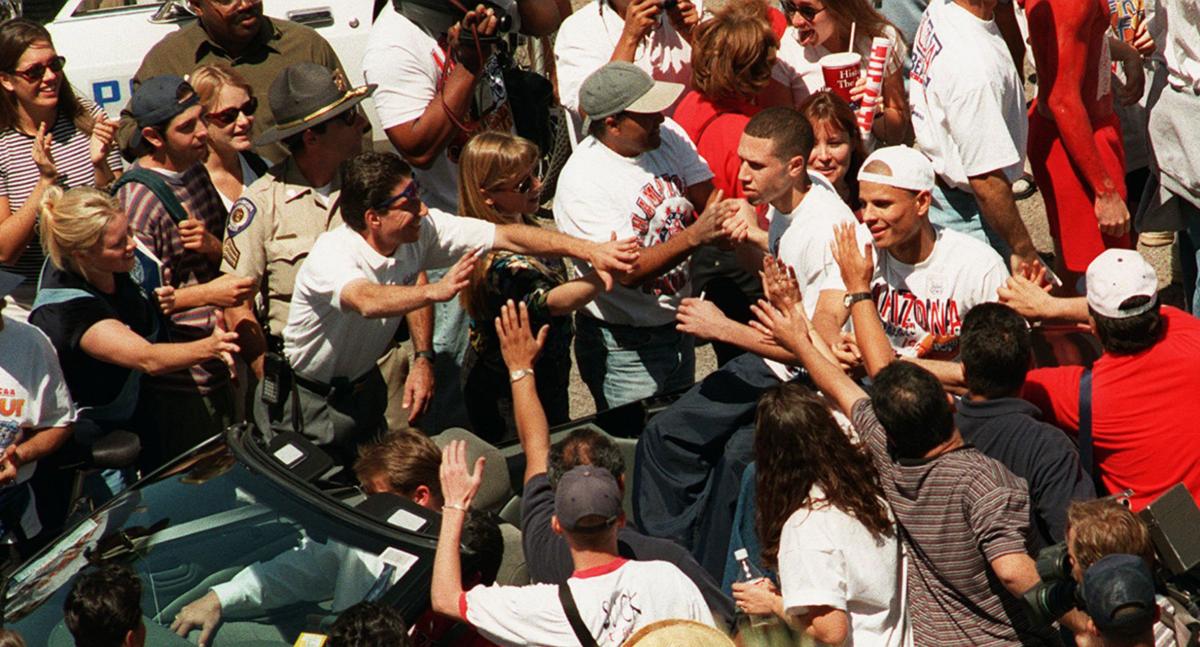 When the Arizona Wildcats squared off against Kentucky in the 1997 national championship game, it was close to impossible to find an open seat in Tucson's bars and restaurants.
Fans started gathering at noon, a full six hours before tipoff. They left hours later. Many, many hours later.
March 31, 1997 was — and still is — the most important day in UA basketball history. That's the day the Wildcats cut down nets as national champions, kicking off a Tucson celebration that lasted for days and memories that endure today.
The pandemonium began on Fourth Avenue and other neighboring streets around the UA campus. Fans flooded the streets, chanting "U of A!" Some even flipped over parked cars.
The next day, thousands of fans packed Arizona Stadium to welcome the national champions home. Here is a look at what happened on this date 23 years ago:
Thousands rejoice at Arizona Stadium
What: Celebration of Arizona winning the national championship
What went down: UA fans packed Arizona Stadium to celebrate the Wildcats, who beat three No. 1 seeds to win a national championship. Some fans — OK, a lot of them — called in sick to work.
"I told them I had morning sickness," UA fan Rosa Rhoades told the Star then. Never mind that Rhoades wasn't even pregnant.
Thousands of fans lined the north side of East Broadway from north Alvernon Way to north Campbell Avenue hoping to catch sight of the team's caravan as it traveled from Tucson International Airport to a rally planned at Arizona Stadium.
The dynamic backcourt of Miles Simon and Mike Bibby donned the white national championship shirts they received the night before.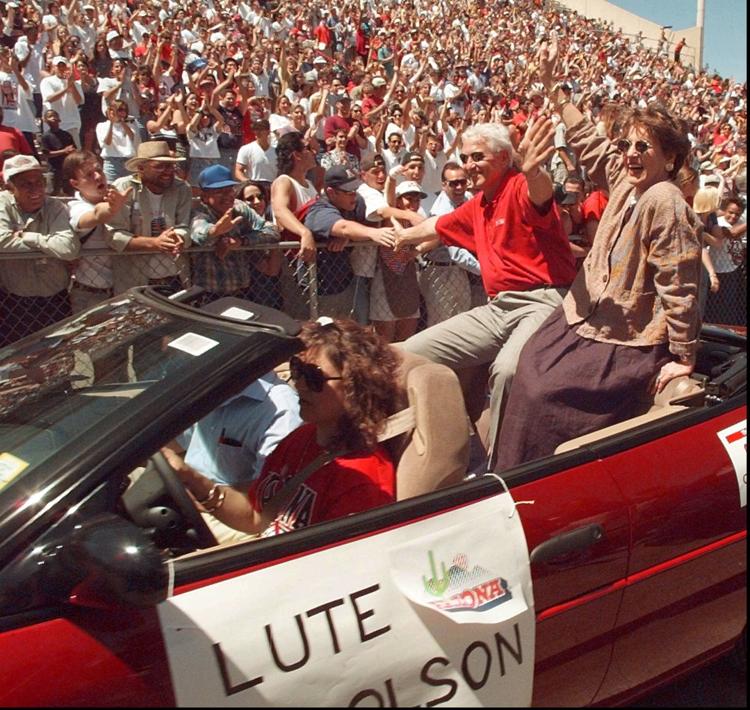 When the Wildcats arrived at Arizona Stadium, a sleep-deprived yet energetic Simon — who scored 30 points in the championship game and was named NCAA Tournament Most Outstanding Player — grabbed the microphone to address the 45,000 fans in attendance.
"I want to know where the party will be at," Simon said. "All night. Nothing's closing."
The biggest party in Tucson continued throughout the rest of the day and night.
The feeling was so surreal, so unusual, that UA coach Lute Olson and his wife, Bobbi, could hardly believe it.
"We're still not sure that we're not going to wake up and it's a dream," he said.
Arizona's win allowed governor Fife Symington to collect a bet from his Kentucky counterpart, Paul E. Patton. Symington received a smoked country ham.
What happened next: Olson flew to Los Angeles to appear on "The Tonight Show with Jay Leno" the following day.
The Wildcats were honored at the White House and presented a custom UA jersey to President Bill Clinton on Oct. 27, 1997.
Be the first to know
Get local news delivered to your inbox!