This week was supposed to be the Sweet 16 and Elite Eight rounds of the NCAA Tournament, but due to the COVID-19 pandemic, the NCAA — like other global sports leagues — canceled the men's and women's tournaments.
Fortunately, there are plenty of March memories to keep us occupied. 
Over the last three decades, the Wildcats have appeared in 19 Sweet 16s, 11 Elite Eights, four Final Fours and (in the best Lute Olson voice possible while flashing a title ring) one national championship.
March 24 marked a special date in UA basketball history. Here's a look at the greatest moments from this date in history: 
---
2004: Salim's buzzer-beater helps Wildcats top Oklahoma State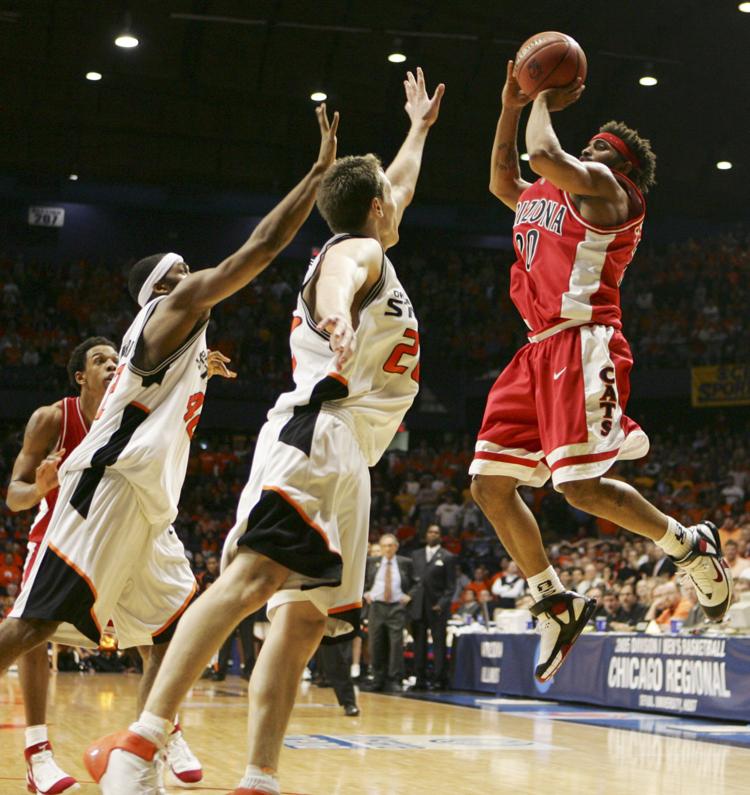 What: No. 3 Arizona vs. No. 2 Oklahoma State in the Sweet 16
Where: Allstate Arena, Rosemont, Illinois
What went down: Arizona senior guard Salim Stoudamire knocked down a go-ahead jumpshot with 2.8 seconds left to play, lifting the Wildcats to a 79-78 win over the Cowboys in the Sweet 16. 
After blazing through Utah State and UAB in the first two rounds, No. 3 Arizona faced an uphill battle against second-seeded Oklahoma State. 
The All-Pac-10 Stoudamire was the star player on an Arizona team that also included Channing Frye, Hassan Adams and Mustafa Shakur. Adams and Stoudamire each finished with 19 points, while Adams grabbed 10 rebounds.
"Hassan did pick up the slack for the majority of the second half," Stoudamire said.
Oklahoma State guard Joey Graham scored 26 points, including a go-ahead basket with 18.8 seconds left.  Then, with the game on the line, Stoudamire's played the hero. He had already delivered a game-winner against rival Arizona State in Tempe, which gave Arizona the Pac-10 championship, and the Wildcats needed him again.
Coming out of a timeout, Stoudamire nearly fumbled the ball away near halfcourt, but picked up his dribble and went to the left when Frye flashed a screen. Stoudamire pulled up from about 15 feet and hit the go-ahead shot from in front of Arizona's bench. 
The Cowboys had time for another shot, but their baseline 3-pointer was short. Arizona won the ball game to set up a highly-anticipated matchup with Illinois, a juggernaut No. 1 seed.
What happened next: Arizona suffered a 90-89 overtime loss to Illinois two days later. 
---
2011: D-Will, Wildcats dunk on Duke in Sweet 16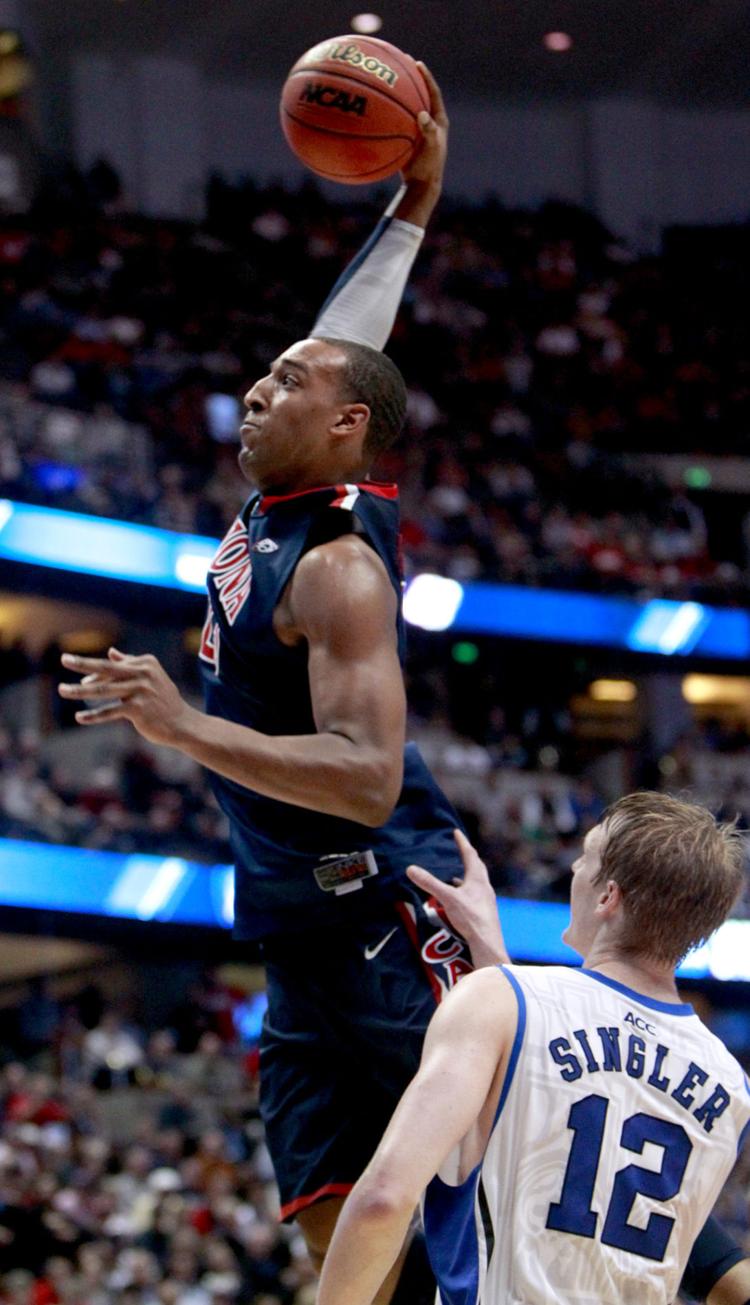 What: No. 5 Arizona vs. No. 1 Duke in the Sweet 16
Where: Honda Center, Anaheim
What went down: Arizona star forward Derrick Williams outplayed Duke point guard Kyrie Irving in a battle between the two top picks in the upcoming NBA draft, and the Wildcats smashed Duke 93-77 in the Sweet 16. 
The matchup was the first between the schools since the 2001 national championship game, which Duke won handily. 
"We felt like we had more to give our fans," said sophomore wing Kevin Parrom. "I know guys were saying they wanted payback from 2001. That's all I've been hearing. That's all I've been getting; messages on Facebook, messages on my phone."
Duke jumped out to a nine-point lead in the first half, the Wildcats rallied back and only went into the halftime break down six points after a Williams 3-pointer.
Arizona went on a 24-6 run in the second half thanks in part to Williams, who finished with 32 points and 13 rebounds. With just over eight minutes left, Williams pump-faked at the top of the key to bait Miles Plumlee, then soared through the air for a highlight dunk. One minute later, Jamelle Horne picked up Jordin Mayes' missed shot and dunked over Kyle Singler.
The title-favorite Duke ran into the best version of that 2011 Arizona team.
"They were good, in fact, they were better than I thought they'd be," Horne said. "But so were we. Way better."
What happened next: Arizona lost 65-63 to UConn two days later. 
---
1994: Arizona leaps past Louisville in Sweet 16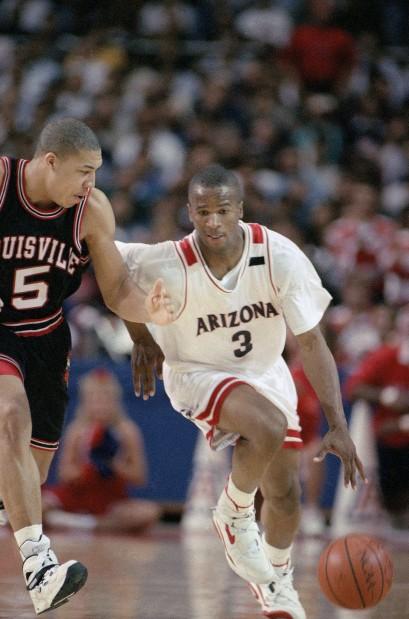 What: No. 2 Arizona vs. No. 3 Louisville in the Sweet 16
Where: Los Angeles Sports Arena
What went down: Arizona entered the 1994 NCAA Tournament with a reputation for losing early. After all, its previous two seasons included first-round losses to East Tennessee State and Santa Clara. 
But Arizona, boasting a new three-guard lineup of Damon Stoudamire, Khalid Reeves and Reggie Geary, quickly put that rep to rest. The Wildcats went 29-6 and cruised to a Pac-10 championship. They beat Loyola (Marylan) and Virginia in the first two rounds of the NCAA Tournament, setting up a showdown with third-seeded Louisville in the round of 16. Reeves erupted for 29 points and the Wildcats went on to win 82-70. 
Reeves scored the most points (137) out of any player in the NCAA Tournament in 1994.
What happened next: Arizona beat Missouri two days later to advance to its third Final Four, where it lost to Arkansas. 
Contact sports content producer Justin Spears at 573-4312 or jspears@tucson.com. On Twitter @justinesports
Be the first to know
Get local news delivered to your inbox!