Fearing his days as what he called "the worst player ever in professional basketball" could end at any moment, former Washington and Kentucky big man Mark Pope took pre-med courses in several NBA cities where he played.
Then, before his last season with the Denver Nuggets in 2004-05, he took the MCAT entrance exam. The timing worked out well: The Nuggets cut him during the 2005-06 training camp, so Pope began applying to medical schools.
Columbia University's well-regarded College of Physicians and Surgeons, which admits roughly 4.5 percent of applicants, said yes.
So Pope finished two years of classroom work at the prestigious New York med school, initially figuring he would become an orthopedic surgeon but finding himself drawn to mental health specialties.
Either way, he would be Dr. Pope before long.
Then, one day as a third-year student, Pope was making rounds in a psychiatric ward, sort of like the way a coach might walk through a victorious locker room.
"I got to know several of them, and when two of them came out, I was a little bit too engaging, giving them high-fives and everything," Pope said. "My attending (physician) was just like, 'You know, you have to be careful.'"
Pope let it sink in. He had already noticed how many of his med school colleagues woke up excited to practice medicine every day, but that sort of passion wasn't quite there for him.
"I was like, 'I just don't know if this was the right fit for me,'" Pope said. "I just didn't know."
Pope said he started to doubt whether he could be a doctor for the next 30 years. He also couldn't pull away fully from the camaraderie he found while playing four years in college and a decade between NBA, CBA and European stops.
"There were times I missed yelling, screaming and crying and doing things that are more acceptable" in basketball, Pope said.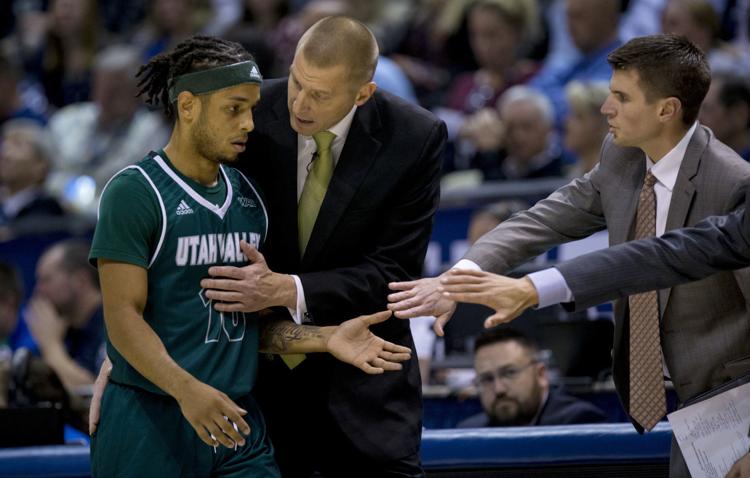 At the same time, in April 2009, Georgia hired Mark Fox, who was a graduate assistant coach at Washington when Pope played for the Huskies in the early 1990s. Fox offered him a starting point as Georgia's director of basketball operations.
Pope called a meeting with the dean of Columbia's med school.
"I said, 'I'm gonna actually leave and go to Georgia,'" Pope said.
A few minutes after hitting the floor at a Georgia summer camp, Pope said he knew he was born to coach.
He could be himself: at Georgia, during assistant coaching jobs at Wake Forest and BYU, and now, while building up Utah Valley's program as the head coach.
The Wolverines won just 11 games in 2014-15, stopping at McKale Center for an 87-56 loss that season, and finished the season No. 321 in KenPom.com rankings before Pope was hired. UVU has won 12, 17 and 23 games in the three seasons that followed under Pope, and finished 92 in KenPom.com rankings last season — a jump of 229 spots over three years.
"We're incredibly proud of that," Pope said.
Still, the Wolverines will appear at McKale Center on Thursday in a little bit of a transition. They lost three starters from last season and have three Division I transfers sitting out, limiting both their experience and depth. Pope has given significant minutes to Mountain View High School product Drew Cotton, a walk-on guard who joined the program late last summer.
UVU lost three straight road games, at BYU, Saint Mary's and Utah State, but has manage to win five straight since then, including a 98-75 win over Denver last Saturday that extended its home-court winning streak to 18 games. It's the fourth-longest such streak in Division I.
"I feel way better about us than I did five games ago," Pope said. "I'm getting to know my team better. We have three transfers sitting out, which will make us better, but when you do that you pay for it with no depth."
But while Pope says he relies on just eight players most of the time, he still has a way of making things difficult for opponents with an offense that emphasizes ball movement, cutting and passing.
Maybe the same intellectual heft that helped Pope earn all-academic honors in the SEC and get him into Columbia's med school are also on display with UVU.
"You can sense from an offensive perspective he has a great basketball mind," UA coach Sean Miller said of Pope. "They move the ball on offense, they have a number of players who can shoot and they know what they're doing."
And, just in case injury or illness threatens their shallow roster even further, the Wolverines also have an extra doctor on hand.
Well, not really. Their self-deprecating coach wouldn't think of putting that label on himself.
"No, due to the liability issue," Pope said. "I know just enough to be dangerous."