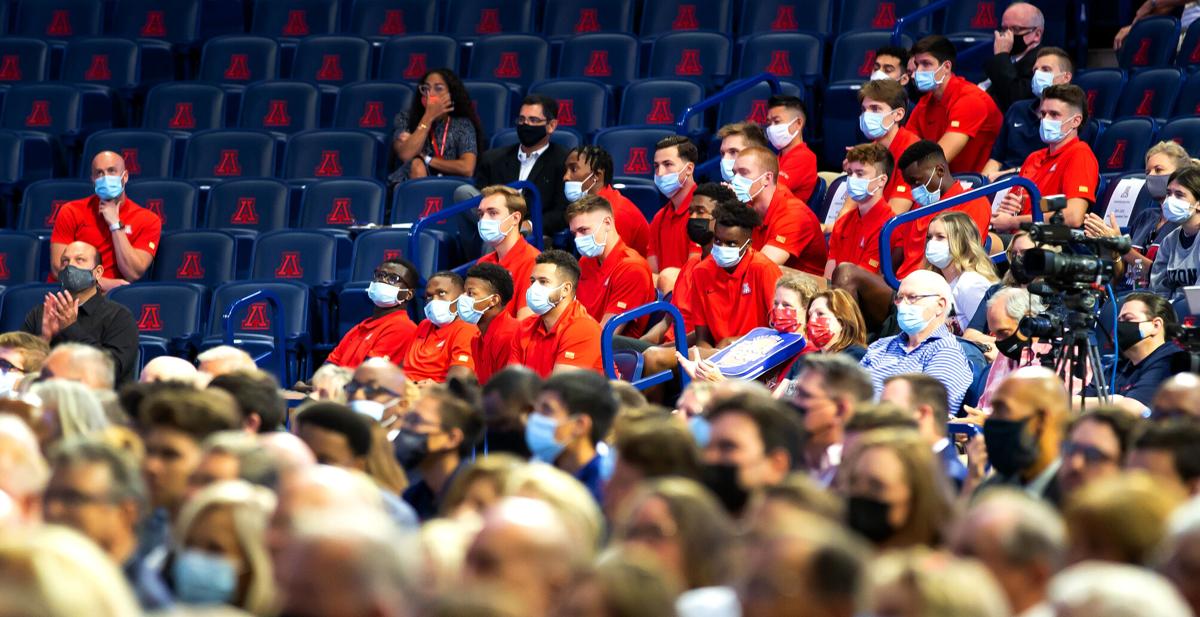 "I just kept my mouth shut and just listened."
Arizona guard Justin Kier sat in the McKale Center stands Sept. 12, when former players, colleagues and fans honored Lute Olson with a memorial service. The Hall of Fame coach died in August 2020. The UA, in coordination with Olson's family, waited until COVID-19 restrictions were lessened before honoring the man who evolved the program from pedestrian to one of the premier destinations in college basketball.
The September event allowed the current Wildcats to listen to the stories told by former players and staffers, including Golden State Warriors coach Steve Kerr and longtime NBA player Andre Iguodala. Kier sat with first-year coach Tommy Lloyd and the rest of the Wildcats in one corner of the arena; the current Cats wore matching red polo shirts.
The memorial "reinforced all the reasons why I came down here. It's fuel to my fire to continue to build on (Sean Miller's) and Lute's legacies that they left here," Lloyd said. "This place has an amazing tradition, and just seeing the impact Coach Olson had on the community and former players, it lets me know that I have a great responsibility placed on my shoulders. It gave me motivation to follow through and make sure I'm doing all the right things and make sure this program goes into the direction that we want it go."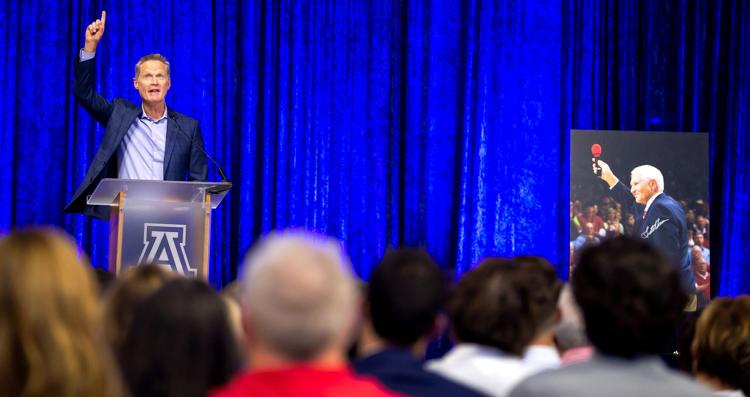 The Star talked to UA players about Olson's life and what talking to ex-Wildcats meant to them:
Dalen Terry, guard/forward: "It was great to see the brotherhood come back and show what Lute really meant to this program. Last year with (the COVID-19 pandemic), we really didn't get to talk to fans or anything once he passed. I heard about him, but I didn't really know a lot. Me sitting there and listening to everyone talk about how much he meant to them, it educated me on who he was and I'll forever be proud to wear this jersey."
Justin Kier, guard: "I never heard of Lute, which was crazy. Now, that's one of the best things I've gotten to learn about since coming to Arizona, is how much he impacted the community. As a coach, it's a very big accomplishment to have the shoes that he had; like, the entire community and the stars that he put into the (NBA), who came back to tell stories (about Olson). Those guys respected him, those guys loved him on and off the court. You don't get a lot of guys in this business that you can go to off the court and have a very good relationship with him, and I think those guys did. Those guys had a great relationship with him and you could tell he cared about them beyond this game. That's something I'll always remember from being at Arizona, is the alumni and the community that he built. Arizona basketball wouldn't be Arizona basketball without him."
Bennedict Mathurin, guard/forward: "We had alumni come to the event and it felt great to meet people and see what Arizona is about. Arizona is more of a family than most programs, so I feel like it was great. … I feel like (Andre Iguodala) is taller than he looks, and he's also bigger. He's just a great person and is really humble. He taught me a lot in the short time that we had."
Oumar Ballo, center: "It just showed me how important this school is to this community and the alumni who left 30 years ago. When something like that happens, all the alumni show up and show support to us, and it's a great legacy for us. … (Former Wildcat Mo Tangara) is like a big brother to me and he played with my brother on the (Mali) national team. I talked to him a couple of days ago and he's just such a great guy. Honestly, he told me how much Lute made this program so successful and how he left such a great legacy behind him."
Contact sports producer Justin Spears at 573-4312 or jspears@tucson.com. On Twitter: @JustinESports