With no real March Madness this year, the Star is using whatifsports.com to simulate what may have happened if the hoops world hadn't been shut down to the coronavirus.
If you're just catching up, we have two double-digit seeds that reached the Sweet 16 — No. 10 Utah State and No. 13 North Texas. Three No. 1 seeds — Baylor, Gonzaga, Kansas — still remain after Dayton fell to Florida in the round of 32.
As for the Arizona Wildcats, a blowout loss to San Diego State in the round of 32 ended their season. However, there's more still games to simulate and madness to witness:
Midwest Region
No. 1 Kansas 79, No. 13 North Texas 66: Upset-minded North Texas was oh-so-close to continuing its Cinderella run. The Mean Green scored the first eight points of the game behind junior guard Javion Hamlet, and continued to lead for much of the first half.
Down 24-20 nearing halftime, the Jayhawks went on a 15-6 run to go into the break up five. From there, dynamic KU point guard Devon Dotson took over. The sophomore scored 18 of his 29 points in the second half, including sinking three 3s as the Jayhawks didn't give back the lead.
North Texas kept it competitive throughout and was down by only 64-61 with four minutes to play after a 3 from Umoja Gibson, but Kansas went on another run — this time a 7-0 stint behind a Dotson 3 and two layups from big man Udoka Azubuike to ice the game.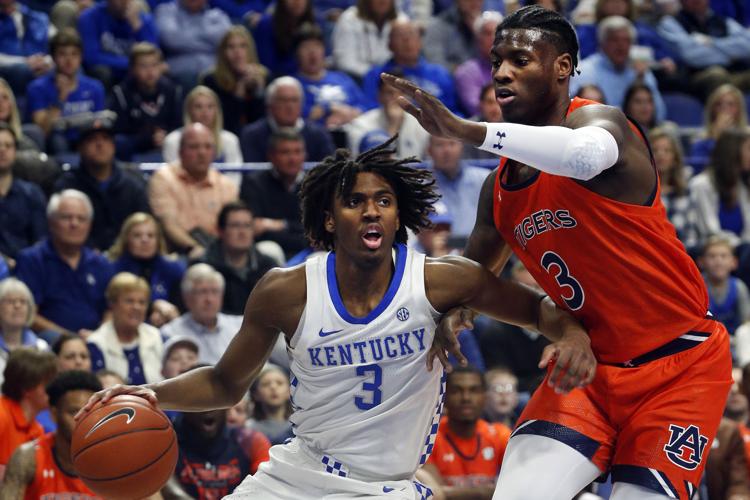 No. 2 Kentucky 79, No. 3 Duke 75: When Duke and Kentucky go head-to-head in the tournament, odds are you'll witness a classic. In the virtual world, we certainly got another one of those as UK star Tyrese Maxey captivated the nation once again late in the game.
With the Wildcats up just 64-63 with five minutes to play, the freshman went on a 5-0 run to put his mark on the blue-blood showdown. Maxey led the Cats with 24 points on the night and outdueled Duke's Tre Jones, who finished with just 4 points on 1-of-9 shooting.
Neither team had a lead of more than seven until UK went up by eight in the final minute of regulation. Duke's Vernon Carey Jr. put his team up 63-62 with a layup at 5:37 left in the game but the Blue Devils went scoreless over the next two minutes during the UK run.
Kentucky controlled the game late with free-throw execution, making 17 of 21 from the line.
East Region
No. 4 Maryland 73, No. 9 Florida 67: Knotted at 38-38 at halftime, this game had an overtime feel to it until the Terps pulled away midway through the second half. Up 50-48 with just over seven minutes to play, Maryland went on an 11-4 run over the next 3 minutes including 3s from guards Darryl Morsell and Serrel Smith Jr.
Florida cut it to 66-63 at the 1:47 mark, but made just 1 of 4 field goals the rest of the way and turned the ball over another time for its 13th of the game.
Maryland's Jalen Smith put up a team-high 24 points on 8 of 12 from the field while Morsell cleaned up with 12 points, two blocks and two steals. The Terps knocked down eight 3-pointers en route to an Elite Eight berth as the Gators struggled by only hitting 4 of 13.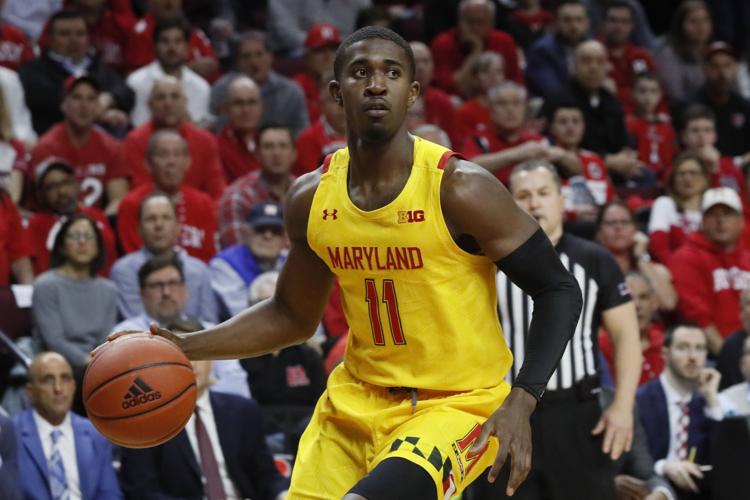 No. 3 Villanova 83, No. 10 Utah State 75: Utah State's dream season ended at the hands of Villanova in another down-to-the-wire Sweet 16 finish. Down by three with under two minutes to play, Sam Merrill and Neemias Queta both missed game-tying 3-pointers for the Aggies. 'Nova responded with a dagger 3 of its own from Justin Moore to go up 78-72 with 50 seconds remaining.
Merrill hit a 3 with 35 seconds to bring it back to a 3-point deficit but the Wildcats hit free throws to seal the victory.
All five Nova starters scored in double figures; Moore, a two-way guard, led with 15 points and Jeremiah Robinson-Earl recorded a double-double with 10 points and a staggering 14 rebounds.
South Region
No. 5 Ohio State 80, No. 1 Baylor 75: Freshman guard D.J. Carton drilled a long-range 3 with 4:17 to play to put Ohio State up 64-63 and it didn't relinquish the lead from there.
The Buckeyes' top scorer during the season, Kaleb Wesson, scored six of his 21 points in the last two minutes and helped put the game out of reach from the top-seeded Bears.
Baylor's backcourt, which has been recognized as one of the most dynamic in the country, couldn't find its rhythm and only made 8 of 26 (30.8%) from beyond the arc. Guards MaCio Teague and Davion Mitchell went a combined 10 of 28 from the field.
No. 3 Michigan State 76, No. 7 Illinois 62: The Spartans dispatched their Big Ten foe with ease behind a heroic effort by senior point guard Cassius Winston, who scored 25 points on 10-of-23 shooting. Winston's buzzer-beater 3 going into halftime put the Spartans up 39-34 and that was all the momentum the green and white needed.
MSU shot an impressive 50% (18 of 36) from the field in the second half, bolstered by an 11-0 run after the under-8 timeout to go up 65-48. Its defense was equally as important in the win, forcing 14 Illinois turnovers.
Illini big man Kofi Cockburn outdueled Xavier Tillman with 14 points and 12 rebounds, though Tillman's presence was still felt with four steals and two blocks — both blocks coming against Cockburn.
Next up for the Spartans is another Big Ten rival in Ohio State.
West Region
No. 4 Oregon 74, No. 1 Gonzaga 65: Another one seed falls, this time it's the Zags. Payton Pritchard and Chris Duarte combined for 38 points for the Ducks and they pulled away in the second half.
Oregon was up just 35-33 at the break, and the game stayed tight for the first bit of the second half until Pritchard's 3 at the 8:19 mark put the Ducks up by six. A couple minutes later, Gonzaga fell behind by 10 and Oregon controlled the game until the finish.
Oregon limited the Zags' explosive 3-point shooting by limiting them to just 4 of 11. The Ducks were efficient offensively by going 29 of 60 (48.3%) from the field and Pritchard scored 12 of his 20 points in the final 20 minutes.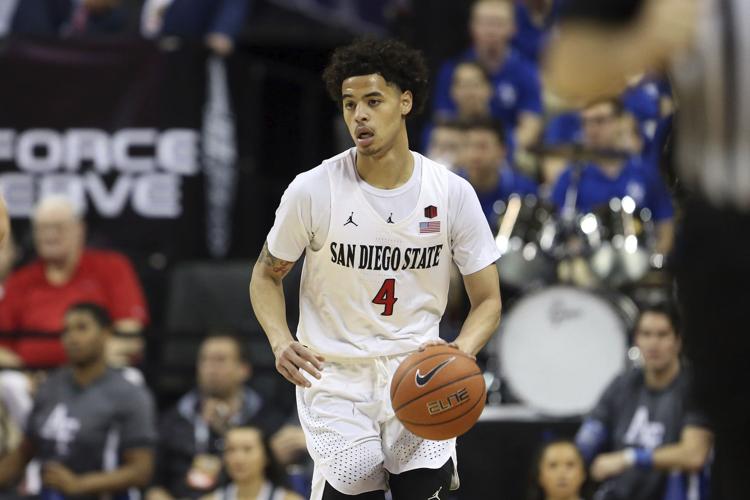 No. 2 San Diego State 75, No. 3 Seton Hall 70: Myles Powell struggled to shoot all night for the Pirates and that meant trouble. One of the nation's best all-around scorers went just 5 of 14 from the field and 2 of 6 from the free-throw line, allowing SDSU to take advantage.
The Aztecs trailed 66-62 with under three minutes to play but a missed 3 from Powell opened up a chance and they responded. Guard Jordan Schakel kissed a layup off the glass with 1:11 to go to put SDSU up 68-66. Seton Hall missed a game-tying jumper on the next possession and Trey Pulliam sunk the Pirates' ship by hitting a 3-pointer on the other end.
Despite 15 turnovers, the Aztecs hit 25 of 56 (44.6%) from the field and 18 of 21 (85.7%) from the free-throw line.
Check back Tuesday for results of the Elite Eight.
Be the first to know
Get local news delivered to your inbox!