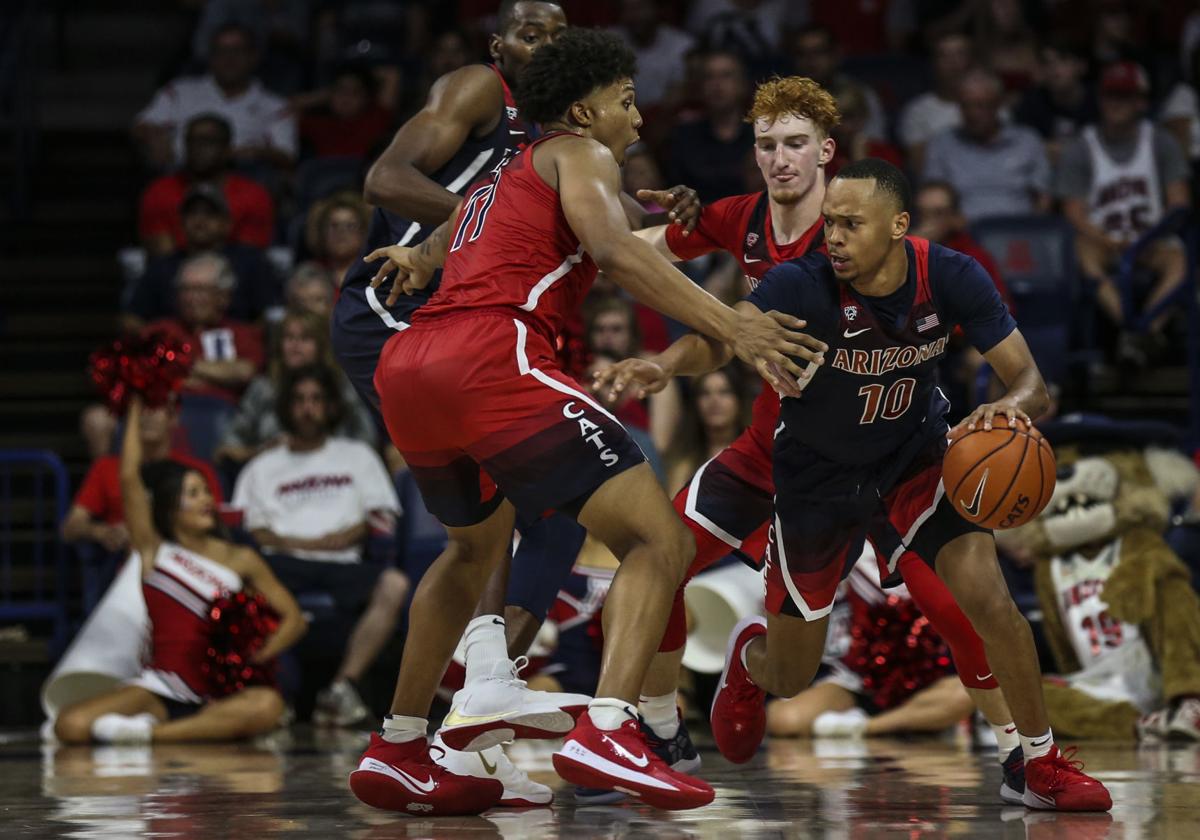 The NCAA has ruled Arizona sophomore Jemarl Baker can play immediately for Arizona this season, giving the Wildcats some much-needed quality depth in the backcourt.
Baker, a 6-foot-4-inch guard from Southern California, initially was expected to sit out this season after he transferred from Kentucky last summer. He decided to appeal based on injuries and other issues in Lexington. He redshirted in 2017-18 and played 28 games last season.
In a statement on Twitter, UA said it wanted to thank the NCAA for considering "Jemarl's unique situation," and Kentucky coach John Calipari indicated he supported Baker's appeal when responding to the Star through a Kentucky spokesman.
"I'm happy for Jemarl and Arizona," Calipari said. "We want Jemarl to do great, and I'm happy he gets a chance to get back on the court after battling an injury while he was with us. We want what's best for Jemarl and Arizona is a great program for him.
UA coach Sean Miller was not available for comment Thursday; he declined to detail specifics of Baker's request during the team's preseason media day last month.
"Jemarl and his family are working towards the possibility of (playing immediately), and that's really all I can comment on regarding that," Miller said then. "But if you'd say is there a possibility that he might be able to play, I would say yes. And I think I'll stop there."
The NCAA approved Baker's request just before the Wildcats' exhibition game with Chico State on Friday. Although Baker sat out an intrasquad scrimmage last Sunday with a pulled hip muscle, he is expected to be able to play Friday.
Arizona's loss in August of sophomore Brandon Williams for the season due to continuing knee issues made Baker's availability much more critical this season. Williams played a combo guard role last season, starting off the ball and backing up Justin Coleman at the point.
With Baker's status up in the air, Arizona had been experimenting with grad transfer Max Hazzard and sophomore Devonaire Doutrive as backup point guards — but both are more natural wing players, and Hazzard was recruited specifically for his 3-point shooting.
Now, Baker will likely become UA's backup point guard behind Nico Mannion, while he might also play on the wing along with Dylan Smith, Hazzard, Doutrive and Josh Green.
Baker played in 28 of 37 games last season, averaging 2.3 points and 31% 3-point shooting in nine minutes a game, but he had a career-high eight points with a strong defensive effort in UK's second-round NCAA Tournament win over Wofford.
"His injury in his first year and even the early part of this year set him back a little bit, but I still believe he's an impact player who can score and defend," Calipari said in a statement upon Baker's departure.
"He's a better defender than people give him credit for, and we knew we could play him this season in any situation because we knew he was always going to defend."
During UA's media day, Baker said it felt "great" to be fully healthy this season but otherwise declined to detail his waiver request and his Kentucky experience.
"I just think it made me stronger mentally," Baker said. "But other than that, I'm not really here to talk about my experience there. I'm here to talk about being here in Arizona and the players we have here, the coaching staff we have and just working every day to get better."
Calipari indicated Baker will do just that.
"Sean Miller does a hell of a job with guards," Calipari said. "I'm looking forward to watching Jemarl continue to grow."
Rim shots
Ziaire Williams of California's Sierra Canyon School is taking an official visit to Arizona this weekend, according to a Sierra Canyon spokesman and reports by 247Sports.com and Stockrisers.
, who had drawn some recruiting interest from the Wildcats, committed to USC. Hornery plays for the West Coast Elite program where Baker, Mannion, Green and