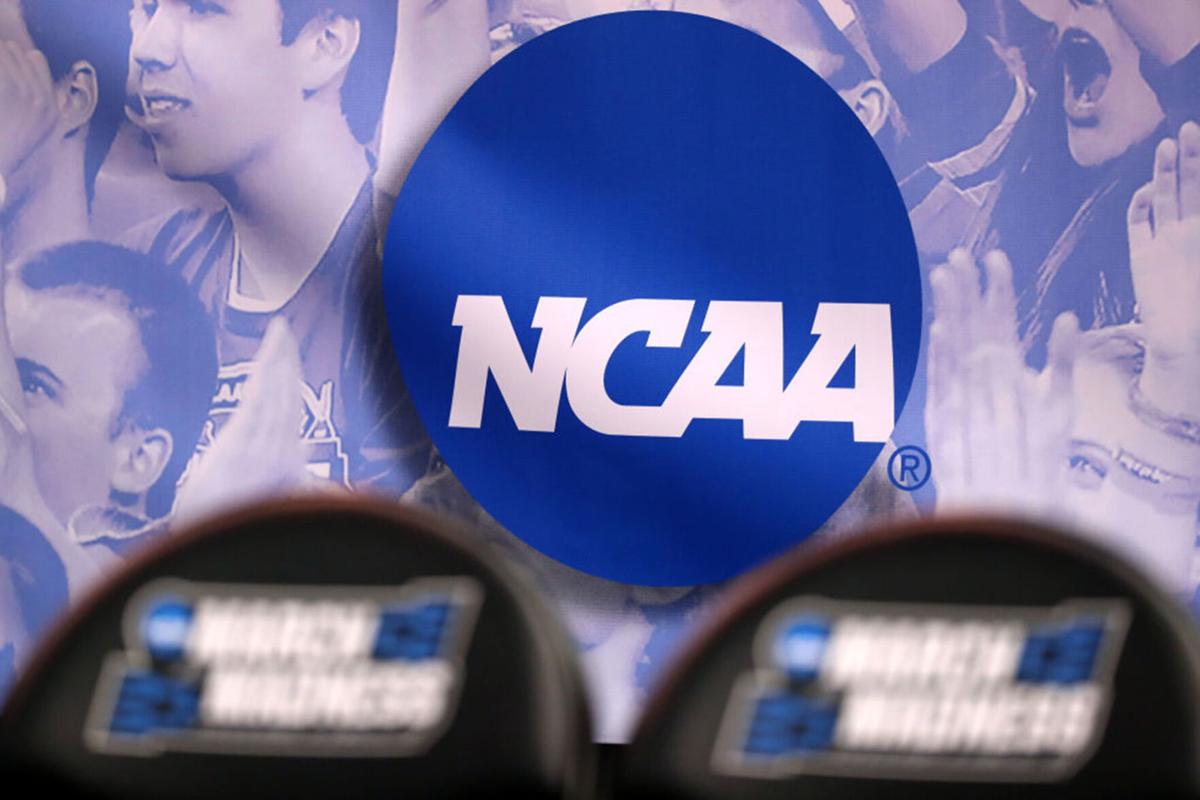 Arizona coach Sean Miller faces a Level I charge for failing to monitor two assistant coaches accused of academic misconduct and improper recruiting inducements, while the school received four other Level I violations in the NCAA's Notice of Allegations that Arizona released on Friday evening.
Miller, who is contracted to lose $1 million in retention bonus money if found guilty of a Level I charge, was not otherwise directly named in any of the violations and the NCAA enforcement staff did not list a show-cause penalty as a possibility.
However, four of the five Level I charges were connected with his program, and the NCAA's Notice of Allegations sharply reprimanded him for disregarding head coach responsibility rules.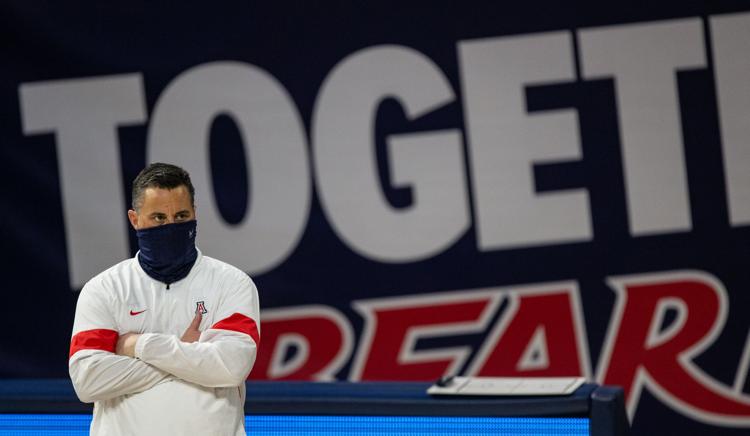 "Two of Miller's three assistant coaches committed intentional violations involving fraudulent academic transcripts, receipt of cash bribes, facilitating a meeting with an aspiring agent, impermissible inducements and recruiting violations all within an 18-month period," the NCAA wrote. "The ultimate responsibility for the integrity of the men's basketball program rested with Miller and his staff's actions reflect on Miller as the head coach."
The NCAA also handed the UA swimming and diving program two Level II charges and, in a list of potential aggravating factors by the school, said the conduct of UA president Robert C. Robbins and athletic director Dave Heeke was among factors that "compromised the integrity of the investigation."
Arizona initially refused to release the NOA after it was delivered to the school in October 2020 despite multiple public-records requests from the Star and other outlets, but was ordered to this week after ESPN won a lawsuit in Arizona Superior Court.
Level I charges are considered the NCAA's most serious and can result in multiple postseason bans. Arizona has already self-imposed a one-year ban this season.
The five Level I charges detailed in the Notice of Allegation are:
1. Unethical recruiting conduct involving academic misconduct by former UA assistant coaches Book Richardson and Mark Phelps.
The NCAA said the two coaches "engaged in pre-enrollment academic misconduct and/or provided an impermissible recruiting inducement when they knowingly arranged for false academic transcripts" for two recruits, one of whom went on to play for the Wildcats (that player, as indicated below, appeared to be Rawle Alkins).
Richardson was accused of paying $40,000 to obtain fraudulent academic credit and/or transcripts for the player, an activity that began in March 2016. The fraudulent information was then given to UA and forwarded to the NCAA Eligibility Center to certify the player's academic eligibility.
In September 2019, citing an FBI recording that was not presented as evidence in the federal basketball trials, Yahoo reported that Richardson discussed paying $40,000 to a "high school coach" to help ensure Alkins' eligibility.
ESPN reported that it obtained a federal recording of a June 2017 conversation in which Richardson told agents that Alkins needed one more class to become eligible at UA, and that an unidentified coach wanted $40,000 to put the class to his official transcript.
The coach "said, 'Book, I need $40,000 to get this on his transcript. If he does not get this class, he's gonna be a partial qualifier. He's not gonna have 16 credits to graduate,' " Richardson said in the recording, according to ESPN.
"So long story short, I said OK. You need 40 grand for that class. He said, 'Yes, Book, because it's not just me doing it. I gotta take care of some people.' I said, '(Expletive) you I'm not doing it.' Tried to play poker and one week turned into a month, and I said, 'Oh s---.'"
As a result of the violation, the NCAA said the involved player "competed while ineligible." Alkins played for the Wildcats from 2016-18. If he's ultimately found retroactively ineligible, UA's four NCAA Tournament games and 50 regular-season wins that he played in could be vacated. Alkins played in all 32 of UA's wins during the 2016-17 season, and in its three NCAA Tournament games, though foot injuries kept him from playing in nine UA wins during the 2017-18 season.
If forced to vacate wins with Alkins, the Wildcats' record would change to 0-5 in 2016-17 and 9-5 in 2017-18.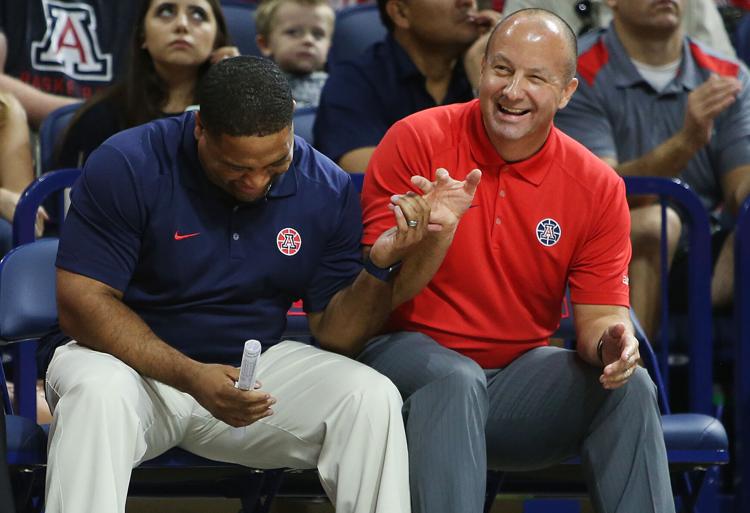 The NCAA also said that in August or September 2017, Phelps arranged for a "false or inaccurate academic record" for a recruiting target. The player's name was redacted in the Notice of Allegations, but ESPN reported in February 2019 that Phelps was accused of a violation regarding former Arizona recruit Shareef O'Neal's academic transcripts. Stadium's Jeff Goodman tweeted that it specifically involved a fraudulent online course.
O'Neal committed to Arizona in November 2017 but decommitted in the wake of ESPN's February 2018 report that Miller discussed a pay-for-play scheme with an agent. O'Neal subsequently enrolled at UCLA and now plays for LSU.
The NCAA said its enforcement staff believed a hearing panel could enter a show-cause penalty against both assistant coaches.
2. Unethical conduct by Richardson for accepting $20,000 in bribes from an agency in exchange for his agreement to steer UA players toward that agency for professional representation, a charge Richardson admitted to before serving a three-month prison sentence.
The NCAA said Richardson's unethical conduct stemmed from at least March to September 2016, the exact same timeline that surfaced from the federal investigation. Richardson was found to have accepted $5,000 in June 2017, and $15,000 a month later.
NCAA enforcement also said a show-cause penalty could be issued to Richardson for the violation.
3. Unethical conduct by Phelps for asking a UA player to delete a text message thread related to an impermissible $500 loan he had provided to help a player purchase a plane ticket and lying to investigators about the allegedly fraudulent academic transcript.
The NCAA said Phelps gave the loan on June 29, 2017 but then asked the player on July 10 to delete the text message thread "evidencing the $500 cash loan," which was repaid on July 11.
The alleged cover-up brought a Level I charge, while Phelps received a Level II charge for the $500 loan itself. 
In addition, during a Jan. 15, 2019 interview, Phelps "knowingly provided false or misleading information to the institution and enforcement staff when he denied knowledge of or involvement in arranging for a false or inaccurate academic record" for a UA recruit. The NCAA said the factual information it had supported Phelps being involved in a scheme to create a fraudulent transcript.
4. Head coach responsibility for Miller for not demonstrating he promoted compliance, including not monitoring Richardson for his relationship with agent Christian Dawkins.
The NCAA said that Miller is presumed responsible for the violations between March 2016 and September 2019, failing to monitor Phelps for his academic misconduct and Richardson for taking bribes, and that he did not rebut the presumption of responsibility.
Of the alleged academic misconduct, the NCAA said "while Miller knew both prospects had significant academic deficiencies to overcome in order to be academically eligible, Miller failed to ask his staff pointed questions and did not actively look for red flags regarding the circumstances and timing of the prospective student-athletes' academic eligibility."
The NCAA also said Miller failed to monitor Richardson's relationship with Dawkins, whose agency provided him bribes.
As recently as September 2019, Miller said that he will "continue as hard as I can to promote and reinforce a culture of compliance just as I have done for the last 10 years."
5. Institutional lack of control for Arizona because of the men's basketball charges and two Level II charges involving swimming.
Arizona "failed to provide effective oversight and/or support of its compliance program," the NCAA wrote. "During the time period of (five allegations), the compliance staff experienced significant turnover, personality conflicts and a lack of resources that limited its ability to identify and monitor compliance risks."
Phelps also received a Level III charge for asking a current player to help him recruit two Arizona targets who were playing an Adidas Nation club ball tournament in July 2016.
The other two Level II charges involved the UA swimming and diving program, one for arranging improper tryouts and the other for a lack of head coach responsibility by Augie Busch.
Specifically, the NCAA said from October 2018 through September 2019, assistant swimming and diving coach Dwight Dumais made arrangements resulting in $1,207 in preferential treatment benefits and 240 impermissible tryouts.
There are a number of aggravating and mitigating factors listed in the full Notice of Allegations, which is attached as a PDF file. It was released to the Star in response to another public records request by the Star on Wednesday in the wake of the Arizona Superior Court ruling.
If a school is found to have committed a standard Level I violation, the NCAA's penalty matrix calls for one or two years of a postseason ban. But an aggravated Level 1 carries a band of two to four years.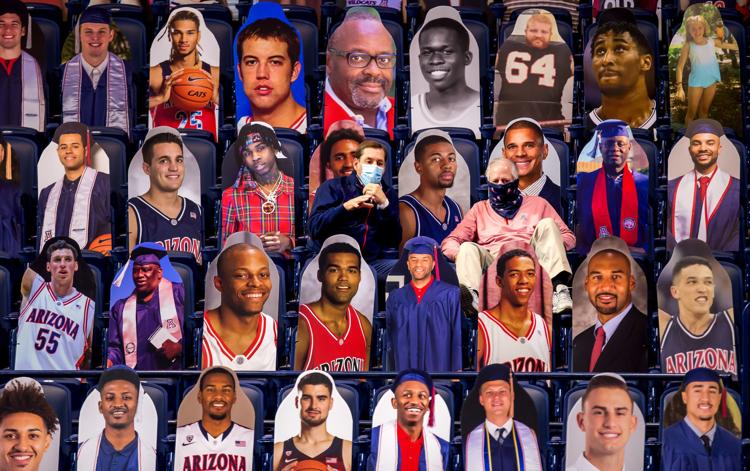 Arizona announced on Dec. 29 it was self-imposing a postseason ban, indicating it might have believed a standard Level 1 conviction was the floor of what it might be facing. However, the lists of aggravating factors are much longer than the mitigating factors, indicating the case could be processed as aggravated Level I.
Among the aggravating factors listed against the institution as a whole included having "compromised the integrity of the investigation" and failing to cooperate.
The NCAA said UA refused to share the findings of its external investigation into men's basketball. The report said Arizona athletic director Dave Heeke and his compliance officer in October 2017 "drafted talking points ... that demonstrated from the outset a lack of commitment to cooperation and the acceptance of responsibility."
The NCAA also said in May 2019 that UA's head of compliance and outside counsel, at the direction of Robbins, interviewed Richardson without first notifying the NCAA enforcement staff "despite knowing that Richardson was a key individual the enforcement staff wanted to interview."
The New York Daily News reported in October 2020 that Richardson met with NCAA investigators in January 2020 but "had no interest" in meeting with them again last June for a Notice of Allegations interview even though there was a show-cause order involved.
In addition, the NCAA listed as an aggravating factor that UA failed to notify the enforcement staff when it discovered potential significant violations in the swimming and diving program despite being instructed to do so.
The NCAA also said that Richardson and Phelps "abused their positions of trust as ... coaches and teachers of young people," and that their actions were an aggravating factor.
Other aggravating factors included:
• Multiple Level I and Level II violations.
• A history of major violations by Arizona (among all sports) in 2019, 2010, 1984, 1983, 1974 and 1961.
• Lack of institutional control.
The only mitigating factor for the school that was listed was UA's history of self-reporting Level III (secondary violations.)
Individually, aggravating factors against Miller were that he "negligently disregarded" violations and that his program showed a pattern of noncompliance. The absence of prior major violations was listed as a mitigating factor for him.
After the school received the Notice of Allegations in October, it requested its infractions case be moved to the NCAA's new Independent Accountability Resolution Process. The case was accepted into the IARP in December but it has no timeline for resolution, and four other still-unresolved cases were in its system before Arizona's.
Contact sports reporter Bruce Pascoe at 573-4146 or bpascoe@tucson.com. On Twitter @brucepascoe