Despite the federal investigation into college basketball and two ensuing trials, it's still unclear if the recruiting game will change significantly.
But one thing is for sure: The recruiting calendar has.
College coaches will be navigating a different summertime recruiting landscape starting this week, when high school team events break out in Arizona and other states.
The NCAA's Commission on College Basketball, the Condoleezza Rice-led group formed after the federal investigation became public in the fall of 2017, effectively moved to push college coaches away from shoe-company sponsored club events to high school team tournaments, individual skills camps and USA basketball-related showcases instead.
Friday, for example, the Arizona Basketball Coaches Association will host 144 boys teams and eight girls teams in the Section 7 Basketball Team Camp headquartered at Phoenix Brophy Prep. The event will feature teams from Arizona and those from states that aren't sponsoring team camps — such as California, Nevada and Utah.
"The response from coaches has been unbelievable, and the response from college coaches has been great," said Matt King, director of the Section 7 event and executive director of the ABCA. "Giving players another chance to play within their high school programs is a good thing. It gives them more opportunities."
The NCAA calendar allows three-day weekend windows for college coaches to watch the team camps over the final two weekends of June.
It also kept one "shoe" weekend. Between July 11-14, Nike's well-regarded Peach Jam will be played in South Carolina featuring club teams, an Adidas event will take place in Birmingham, Alabama, and an Under Armour event will be held in Atlanta. The final weekend of July will feature four NCAA-sponsored regional individual camps and a USA Basketball camp featuring the Top 100 players in the country.
The idea is that keeping college coaches away from more club tournaments could lessen the influence club coaches have over players. Theresia D. Wynns, director of sports and officials at the National Federation of State High School Associations, said her organization is looking forward to changing how college coaches interact with high school players.
"Involving high school coaches in these camps and clinics affords them the opportunities to meet and converse with collegiate coaches about the high school athletes which does not happen in other situations," she said.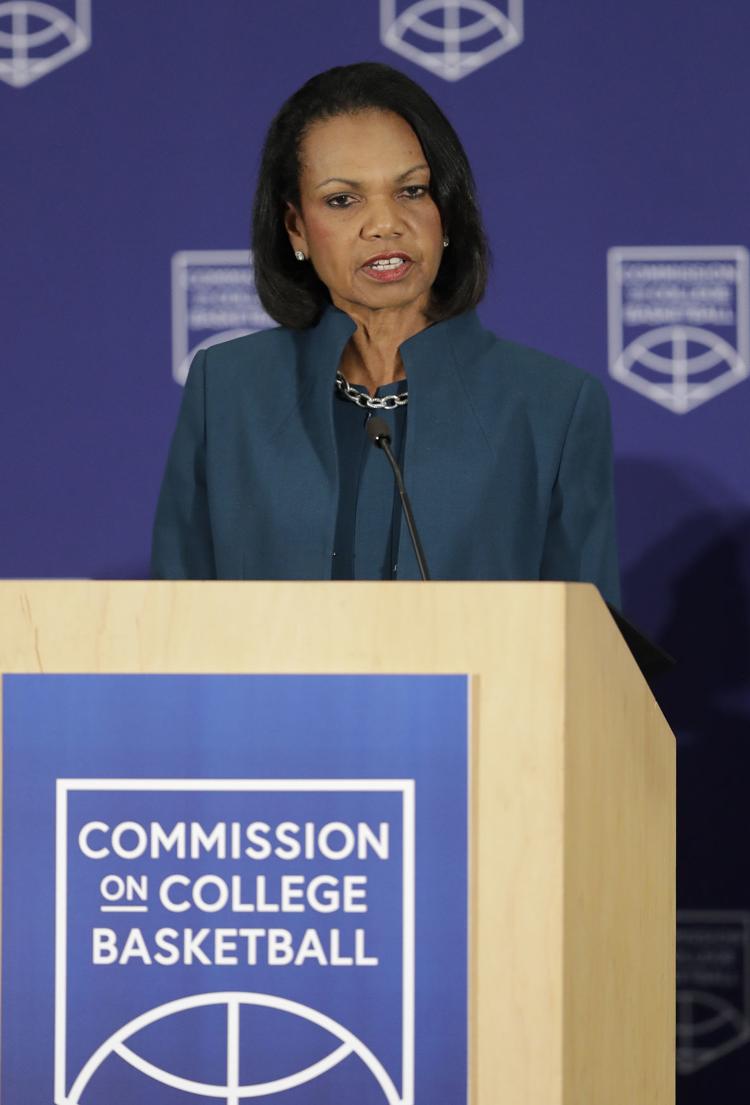 The NCAA's overall plan has met with some resistance from club tournament organizers and recruiting analysts alike, who argue that club tournaments provide the best evaluation setting for college coaches. The level of play is higher, with many top clubs composed entirely of Division I prospects.
"If you're watching high school teams and only one or two prospects is on the team, it can be difficult to evaluate," said Josh Gershon, a national analyst for 247Sports.com. "You need both a team setting and a competitive situation."
Gershon said the team camps such as the Section 7 event, and another in Seattle the following weekend, could be valuable if enough teams with college prospects pay their way to be there. Gershon was also particularly skeptical of the four NCAA-run individual camps scheduled for the end of July. Grand Canyon is scheduled to host one of them, with the others at the UConn, Illinois and the University of Houston.
"It's a camp basketball setting and we don't know what that's going to look like," Gershon said. "Camp basketball is notoriously difficult to evaluate in. We have no idea what the nomination process is going to be and it's going to be kids playing with players they don't know, with a lack of emphasis on winning. Defense is also not common in team camps. It's very frustrating."
Some club tournament are still vowing to on, even though college coaches are now limited to watching only two weekends of club tournaments — one in April and the other in July. The massive Las Vegas Classic, in fact, says it will stream all 15U-17U games during the last week of July so coaches can watch the games. Dinos Trigonis, organizer of the similarly prestigious Fab 48 Las Vegas that was played in the last week of July, said his event instead will morph into the Fantastic 40 during the first week of August.
However it all plays out, King said the NFHS events have the potential to force more structure to club teams, which can feature constantly changing rosters.
"The narrative (from club coaches) was 'Listen to me, because I know (college) coaches,' " King said. "The problem with club basketball has been is that it was the wild, wild West. Club coaches could gather a team of 10 players in a week. You can't do that with high school programs.
"Now there's some competition."
Rim shots
UA is adding a third non-coaching role to its staff, having posted a job entitled "Director, on-campus recruiting and basketball analytics," a role likely suited for a younger prospective coach. The Wildcats currently have three on-court assistants working under head coach Sean Miller, plus basketball operations director Ryan Reynolds and assistant basketball operations director Austin Carroll.
Incoming UA freshman forward Zeke Nnaji was one of 32 players in USA Basketball's U19 team camp, which began Saturday in Colorado Springs, Colorado. Twelve players will be chosen for the team that will compete in the U19 World Cup in Greece from June 29 to July 7. Finalists are expected to be announced on the final day of camp on Tuesday, with the final roster named before the team leaves on June 24.