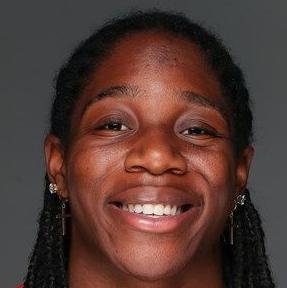 Bendu Yeaney was told to call UA coach Adia Barnes one day after practice last week.
Barnes told her she had bad news and good news.
Yeaney told her she was ready to hear it, even though the transfer from Indiana thought the bad news was she couldn't play this year and the good news was she could still practice with her teammates.
Barnes, at home on maternity leave, had a little fun with it.
"She was like, 'Well, the bad news is I'm still not at practice.' And then she's like, 'The good news is, you're playing,'" Yeaney said.
The NCAA's decision to grant Yeaney a waiver to play this season was just the beginning. The Big Ten Conference also granted Yeaney her junior year of eligibility after she played just six games last season because of an Achilles injury. As a result, Yeaney has two years of eligibility at the UA.
Yeaney grew up in Portland, Oregon, attending St. Mary's Academy before signing with the Hoosiers of the Big Ten Conference. The Pacific Northwest and Bloomington, Indiana, often felt like world away. Yeaney's petition to the NCAA highlighted the struggles she had being so far from home. In 69 games at Indiana, she averaged 8.5 points and 4.3 rebounds per game.
But she wasn't happy. The Yeaney family — Bendu and siblings Chris, Adam and Mbete and parents Joseph and Maima — is close, and the distance was too much.
"Flights from Indiana to Portland took almost a day, if not two days to fly," she said. "I just want to have my family be able to see me a lot more. And then with my Achilles I just needed to be around my support system because it was really hard for me mentally and I just never got out of that mental state when I was there.
"I knew I needed to change."
Barnes encouraged Yeaney to apply for the waiver rather than sit out a year.
"I'm just happy she gave me her support during this whole process," Yeaney said. "It means everything because coach Adia and I have a great relationship. She's known me for a long time now. It's great to know that she's going to have my back, regardless if it's basketball or just everyday life. That's something I really needed when transferring. I knew I needed somebody that already knew me as a person.
"And obviously I'm excited for her to coach me, because she's been a player, now she's been a coach. She's done everything that I want to do in the future. And now I get to learn from somebody who's done it before."
Yeaney didn't know the NCAA's timeline for a decision, and said she didn't stress out about it despite her teammate, Aari McDonald, asking her every day "Did you find out yet?"
The reason? "I want to make everybody better, no matter if I play or not," she said. "Because that's really what I came here to do is to try to make everybody better and eventually we want to win a national championship. That's the only way we can do it is if we're making each other better. That's really what my focus was — I wasn't really worried about playing or if I don't play, but now knowing that I'm for sure that playing, it just makes everything 10 times better."
Yeaney should be able to contribute right away to a UA team that's expected to be among the best in the West. Yeaney's Achilles, which was injured in a 2019 NCAA Tournament game, is slowly healing.
When she arrived in Tucson, the injury was about 65% healed. In just a few months of working with the UA training staff on ankle mobility stretches with bands, walking on her toes and other movements, she's around 90% to 95% back. Yeaney is confident that she'll be 100% when the Wildcats start playing in November.
"My explosiveness is back. I still have some tightness in my ankle, but that's normal. I feel like I am back to normal — before the injury," Yeaney said. "Getting here they wanted my calves strong … and getting more mobility. Because the tighter it is, the harder it is to do certain things. The more we can get it loose and feeling more free, it's easier."
Yeaney is practicing with her teammates and working on her form and consistency with her shots. She knows this year's Wildcats could be special, saying they're "top three" in the country.
"We have scorers, we have defenders, we have people who do the dirty work — we have everything," she said. "We have people who hustle, we have shooters, we have everything that you need to win a national championship."