Arizona junior forward Ira Lee was getting lunch Thursday when the text in his group chat jumped out at him.
Sophomore Jemarl Baker, UA's transfer from Kentucky, had been ruled eligible to play.
On Friday, in UA's 74-65 exhibition win over Chico State and in every regular season game from here on.
"That means a lot," said Lee, a former club teammate of Baker's on the Earl Watson Elite (now West Coast Elite). "That's one of my best friends. Even when he was at Kentucky we talked about every day. And when he finally came here, I was happy. The team's happy. We all know how hard he works and he's just a great addition to the team."
Center Chase Jeter said everybody was excited for Baker and, as Lee indicated, not just because they like him: Baker could also wind up filling an invaluable spot as a backup at point guard who can take pressure off Nico Mannion, and also help out off the ball in UA's mix of wing players.
Until Thursday, the Wildcats weren't sure they'd have that luxury. But Baker appealed to skip the redshirt season required of conventional transfers based on his history of injuries and other issues at Kentucky, where he sat out the 2017-18 season and played 28 games last season.
Baker's appeal was likely helped by an endorsement of Kentucky coach John Calipari, who told the Star through a Kentucky spokesman that "we want what's best for Jemarl and Arizona is a great program for him." Baker has been unavailable for comment since the waiver request was approved, and UA coach Sean Miller declined to offer specifics.
"Of course, I'm not able to disclose that," Miller said. "I mean that's very, very personal. It's injury related and different things like that.
"We're thrilled to have him. He's a fantastic kid and Kentucky felt the same way. We're grateful to have him on our team and to be able to play. I think he's somebody that will really take advantage of it and make a big impact. He did some really good things tonight and that's a sign of many good moments ahead."
Baker was a bit rusty on Friday. Miller said he has missed about half of the Wildcats' practice time this season, including an intrasquad scrimmage on Oct. 27 because of a pulled hip muscle, and Baker was thrown into action Friday with only a day's notice that he would be allowed to play.
Still, Baker played 20 minutes against Chico at both guard spots, scoring seven points on 2-for-7 shooting with four assists with no turnovers.
Miller said that was just a "small percentage" of what Baker will do this season once he gets more comfortable and his teammates become more comfortable with him.
Jeter was already anticipating a lot.
He can play "point guard, shooting guard, he can knock down the 3, he can take you off the dribble drive, (shoot from) mid range," Jeter said. "I mean, Jemarl's got a little bit of everything in his game and, defensively, too. So you know we're going to be counting on him a lot this year and we're really excited to have him."
Nnaji expected to play in opener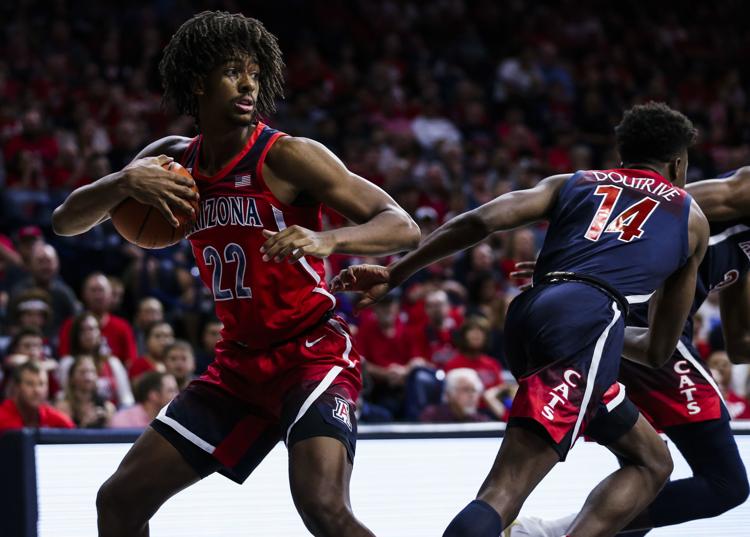 While sophomore Devonaire Doutrive's status remains uncertain after he was suspended indefinitely, freshman forward Zeke Nnaji (sprained ankle) appears likely to play in Arizona's season opener Wednesday against NAU.
"I don't think it's very serious," Miller said Friday. "We're working really, really hard with him, but tonight's game made no sense for him to play. (After) sitting tonight out and having the weekend, we expect him to play next week."
Nnaji had been arguably the Wildcats' best post player through preseason practices, while he and Doutrive had each won the gold practice jersey for two weeks. Miller referred to Nnaji and Doutrive both as "starters" who were missing Friday, and the absence of the physical Nnaji notably hurt the UA defense.
Chico State shot 44.6% and hit 10 of 25 3-pointers — even though Division II teams won't use the newly expanded 3-point arc until next season — while helping force nine UA turnovers in the first half.
Lee's performance inside helped offset Nnaji's absence. Lee had 10 points, 14 rebounds — and no turnovers.
"He's a guy that you want to have on your team because he brings it every day with great effort," Miller said. "Sometimes that great effort and energy works against him as an offensive player. It's almost like 'just slow down' on offense and tonight he really did that.
"I thought he did that as well in tonight's game as maybe he ever has. Even a couple of the shots he missed, a strong drive and a jump hook around the rim, they were really good shots, and he made good decisions.
"He had some of these moments last year. They would come and go. We want him to be more consistent. ... I fully expect him to be more consistent."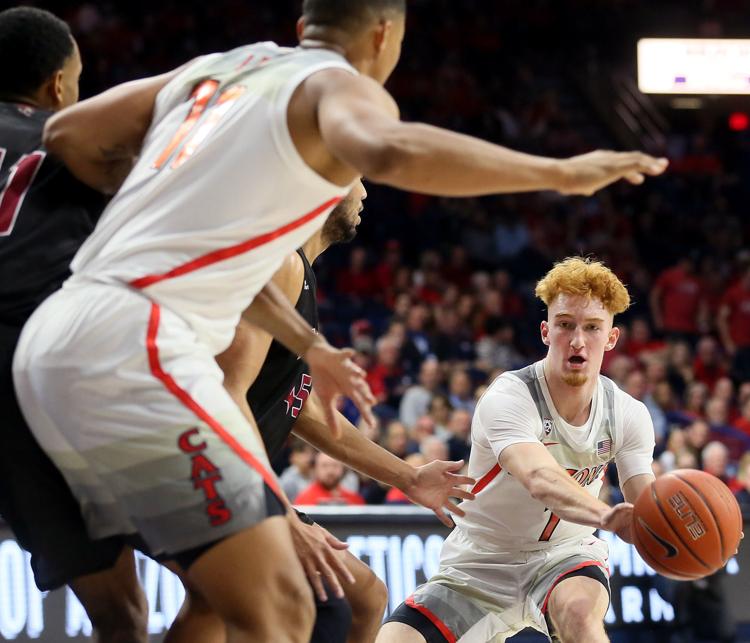 Nico Mannion and Josh Green were both up and down Friday, and Miller indicated that was hardly a surprise even though they entered UA as five-star recruits.
Mannion was 3 for 11 from the field and 3 of 6 from the free-throw line, scoring 10 points while having six assists but also five turnovers. Green was 3 for 7 from the field, missing both 3s he took, while getting three steals but also turning the ball over three times.
"It's going to take them a little bit of time to learn," Miller said. "They had their really good moments and they probably had a few freshmen moments, which is to be expected. All of us, especially myself, have to be patient with those guys and teach them, and make sure that they're growing and learning because they're going to keep getting better.
"They're hard workers, and they're very talented players, but they just showed up here and it's never quite as easy as just snap your fingers and (it's) man, you're good."
Miller said Green's two shoulder surgeries since the summer of 2018 have also hampered his development.
"You miss eight months in the last 15, that's a lot. So, some of it is just him getting into his rhythm," Miller said. "He's healthy now, and he's really come on strong the last two weeks. If I grade him on maybe a month ago where he was as a player, and then today, he's really improved."