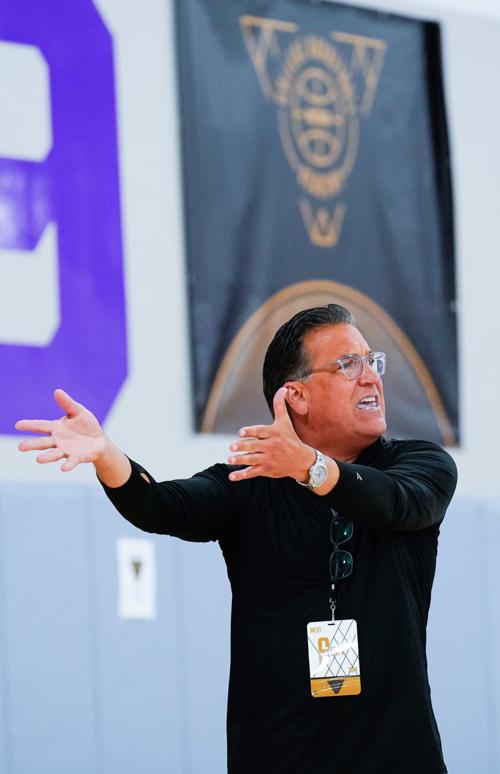 While the NCAA was running some 1,200 college basketball prospects through highly structured camps in Phoenix and three other regional sites last month, some supporters, scouts and coaches of club-ball events didn't hold back.
There were social-media posts of crowded gyms, LeBron James' layup-line dunks and other fan-pleasing moments at competing Las Vegas club tournaments, along with some pretty blunt words.
Such as: "Removed a live (evaluation) period for a scammer session." … "The NCAA is screwing all unsigned seniors and the 2020 class." …. "The NCAA set out to take away power from AAU coaches with the new recruiting calendar and failed big time!"
Dan Gavitt, the NCAA's vice president of men's basketball, says he'll be seeking feedback this month on what was the first newly structured summer recruiting calendar created after recommendations from the Commission on College Basketball.
But despite opposition from the club-ball side — and some quiet grumbling from college coaches — Gavitt said the NCAA won't add back more weekends that coaches can watch club events.
"I don't think it'll be dramatically different next year," Gavitt said. "A year ago there were going to be none at all. We got one weekend (in July) back, so to do more than that, I don't think that's going to happen."
Formed in the wake of the federal investigation into college basketball, the Condoleezza Rice-led commission pushed to deemphasize the influence of club coaches as one method to reduce corruption in the sport.
As a result, the new calendar allowed only two weekends of club ball that college coaches could watch — one in April and one in July — leaving club coaches to hold others such as last month's Las Vegas events without coaches or to cancel them.
The NCAA also worked with high school state federations to offer high school team tournaments in June and with USA Basketball to hold a Junior Team minicamp in late July — and allowed college coaches to watch all of those events.
But Sporting News college basketball columnist Mike DeCourcy was among those skeptical if the changes ultimately would help reach the commission's objectives.
"It's not going to slow down whatever nefarious activity one believes or perceives or knows exists," DeCourcy said last month at the Nike-sponsored Peach Jam, considered the crown jewel of summer club events. "If the scale was 100 in 2016 and 2017, it's still 100 now.
"They wanted to do something that looked good, and they did something that appeased some of the people who said, 'Well, if you just didn't have the AAU involved, then you wouldn't have these problems.' It's a fantasy."
The Star attended the Section 7 high school camp in Phoenix in June, the early July club tournaments in the South and the NCAA's West Regional camp at GCU late last month, and picked up mixed reviews over all the changes.
Here's what coaches, prospects and experts had to say about each event:
Section 7 Scholastic Team Camp
What: One of several tournaments run by state high school associations that invited regional high school teams with Division I prospects on them.
Where: Phoenix high schools
Buzz: Better than expected, with many of the West's top players arriving via their regular high school teams, though the "prep" schools outside of state federations were not invited.
What they said …
• Jim Reynolds, Salpointe Catholic coach: "All of the high school coaches are really excited be able to have college coaches actually watch their guys because there's no other time (during the summer) that they can. And I think they're seeing a different type of basketball – they see something more similar to what maybe a college team is like, because we practice and play all the time together."
• Evan Nelson, Salpointe 2020 guard: "It's the same (as club ball) as far as atmosphere, a lot of teams being here, a lot of coaches being here. But I think it's more fun just to be with the local guys you go to high school with. You see them every day."
• Gary McKnight, coach of Mater Dei High School, a perennial Southern California power: "Everything was handled really well. So for the inaugural (event), I think we couldn't find a better group to do it."
• Devin Askew, five-star 2021 Mater Dei point guard: "You see a lot more zone out here and slow down. The (club) circuit is a lot of man and NBA rules, too. It's fun to play both."
• Jaden Hardy, five-star 2020 Henderson, Nevada Coronado High School guard: "It's a good atmosphere, actually. I didn't know it was going to be like this."
• Richard "Pop Pop" Isaacs, highly regarded 2022 Coronado guard: "It was almost like AAU, where the coaches are just sitting, like, in front of your face. It was definitely a different atmosphere for sure."
Peach Jam and other 'shoe' tournaments
What: Club ball tournaments spread throughout the Southeast, serving as finals of the respective shoe-sponsored circuits.
Where: North Augusta, South Carolina (Nike EYBL Peach Jam), Emerson, Georgia (Under Armour Finals) and Hoover, Alabama (Adidas Summer Championships)
Buzz: The best chance for college coaches to evaluate, since teams are typically much deeper in talent than high school teams, but directed by people the NCAA is leery of.
What they said …
• Lorenzo Romar, Pepperdine head coach and former UA associate head coach, at Peach Jam: "I loved that (Section 7 tournament). I can't think of one coach that doesn't share the same sentiment. And you get a contrast by seeing them playing with their high school teams and (now) a few weeks later, you get to see them with a different team. So you get a pretty good feel for what they're really about."
• Wayne Tinkle, Oregon State coach, at Peach Jam: "(The new recruiting calendar) is an ever-evolving process and obviously, we're right in the middle of it. But we enjoyed some of the high school events in June, and it's going to be interesting to see how the rest of this plays out."
• Askew, the Mater Dei guard who played for Team Why Not in Peach Jam: "This is the greatest tournament of the summer. It's where everyone wants to play and not everyone makes it, either. It's the best teams in the Nike circuit and the Nike circuit is the best one, that's for sure. You get a great game, every game."
• Hal Pastner, former club-ball tournament organizer and father of Georgia Tech coach Josh Pastner, the ex-UA player and coach: "The EYBL and Peach Jam is similar to the NBA and NCAA. It's a league. It's only for the elite athlete at the highest level, paralleling the NCAA and the NBA. That's what makes it so unique. There's nothing like it. It's a genius idea by Nike. Genius."
• DJ Steward, five-star Chicago guard who played for MeanStreets at Peach Jam: "Lot of competition. You have to go out there and play hard every single game or you will get exposed."
• Josh Christopher, five-star 2020 guard who played for Vegas Elite in the Peach Jam: "This is it right here, Peach Jam. I think it speaks for itself as the best teams in the best league, and it's the last one (of the summer) The stakes are high with the championship game on ESPN, and the coaches are here. It's a lot at stake. You want to be at your best."
• Quincy Pondexter, Spurs forward who coached Vegas Elite at Peach Jam: "(Cutting college coach evaluation at club events) definitely affects us. It's more pressure on the kids. It's the last weekend that they get to be seen in front of college coaches. They've got to go out there and leave it all on the line."
• Nelson, the Salpointe guard who played for Powerhouse Hoops in the Under Armour Finals: "It's the best, you know, playing in front of all these coaches from, shoot, everywhere, probably. Hundreds of games and you've got a good environment, good competition. You can't really ask for more. … (The recruiting calendar changes) might hurt a couple guys, because they don't have another opportunity to be seen. But I think it benefited some and hurt others, just depending on what you were doing for the Section 7 camp in June."
• Osasere Ighodaro, 2020 forward from Phoenix Desert Vista who played for Powerhouse in the Under Armour Finals: "These tournaments, we're trying to win. It's not like showcase games where you trying to play for the coaches."
• Dalen Terry, four-star 2020 guard from Phoenix Hillcrest Prep who played for the Compton Magic in the Adidas Summer Championships (and later committed to the UA): "As it keeps going, it's more competitive. It's just like, I know this is getting me better and this is just a grind every night."
NCAA Basketball Academy
What: NCAA-run skill sessions, lectures and games over two sessions of three days each.
Where: GCU (Other regional camps were held at UConn, Houston and Illinois)
Buzz: Well organized but with only a sprinkle of high-major prospects, due possibly to conflicts in the nomination process, lack of information and/or club coaches who steered players elsewhere.
What they said …
• Frank Burlison, Southern California-based scout: "There were about 25-30 coaches watching that first set of games and the second set, there were seven when it ended. And this (late) one, there were (two). I don't know. Maybe they just get up and leave?'"
• Dinos Trigonis, club tournament organizer and coach of the Belmont Shore club team: "I think this is a good concept but at the end of the day, how could you be so incompetent on player selection? If you don't know, then find people who do know. They don't have to (deal with us). They can call Frank Burlison or (fellow scout) Van Coleman, form a committee of people who watch the game. This is either one of two things: It's intentionally made to be bad, or it's incompetence."
• Zaire Wade, three-star 2020 guard from Miami who is the son of former NBA star Dwyane Wade: "Everybody here has a schedule and I like it. It's getting us prepared for the real world. … We had some life skills talks and they had some good things to say, just teaching us how to use social media and not mess up your career. Academics, how important that is, and they told us the rules of recruiting, things of that nature."
• Ben Gregg, four-star 2021 forward from Oregon: "I didn't know what to expect. But in our first game, the competition was really good. High energy and everyone was getting after it, which is good to see. It was fun to play in.
• Luke Haupt, 2021 forward from San Diego St. Augustine who had played for Team Why Not in Peach Jam: "This is awesome, having all the college coaches here watching the games and then they also have us work on our skills. It's different than Peach Jam. Those are just games. Here, they help you become better basketball players."