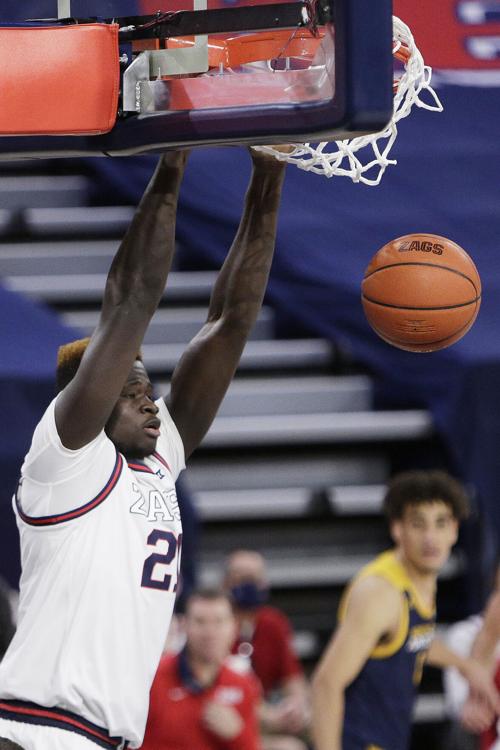 Before playing at Washington State in recent seasons, the Arizona Wildcats have typically stayed at a historic hotel in Spokane, prepared at Gonzaga and then made the 90-minute bus ride down to Pullman at the latest hour possible.
They didn't know it at the time, but the Wildcats picked up another player during their Washington swing last season.
Oumar Ballo, the 7-foot native of Mali who announced last week he is transferring from Gonzaga to Arizona, met up with his old NBA Academy Latin America teammate, Bennedict Mathurin, and UA center Christian Koloko.
Just three tall guys walking around, speaking a language not often heard in the Inland Northwest, during a snowy New Year's Day weekend.
"Since we all speak French, we had a good chemistry," said Ballo, a native of Mali. "They used our facilities, so we saw each other."
Ballo had already been talking on a near-daily basis with Mathurin, his Mexico City roommate in 2018-19, in part because both of them were French speakers in a Spanish-speaking country. Ballo said he's also had a chance to know UA guard Kerr Kriisa.
So when Tommy Lloyd left his longtime post as a Gonzaga assistant to take over the Wildcats on April 14, Ballo didn't need much time to figure out what was next. Already, he had considered Arizona out of the NBA Academy, along with Gonzaga and Baylor.
A developing prospect at Gonzaga who averaged 6.3 minutes last season, Ballo entered the transfer portal on April 11 after it had become clear Lloyd would get the UA job. He then committed to the Wildcats on April 19, five days after Lloyd had been officially hired.
"It was tough. Gonzaga is a great program," Ballo said. "Tommy Lloyd was a big part of Gonzaga's success. He did so much for the program. Also, he's the one who brought me here. He's the one who supported me every day.
"(After he left) to go to Arizona, it wasn't really a hard choice for me to make. I just decided to put my name on the portal to see what other offers I would get, but in my mind I knew where I was going already."
Ballo said Lloyd had long been recruiting him since his early success playing for Mali in FIBA youth tournaments and said he had no doubt about Lloyd's ability to transition into a head coaching role at UA.
"Trust me. Trust me," Ballo said. "I play with him, and I've known him for so long. Not having a experience of being a head coach is just something that was not in his control but he's more than ready to make those decisions, and be the guy to lead the program. I have no doubt in his ability to lead the program."
Anderson discusses joining staff
After buying a home in Tucson last month, former Wildcats forward Ryan Anderson said he's discussed the possibility of joining Lloyd's staff as a graduate assistant or in some form.
Anderson said he's still recovering after tearing his ACL, MCL and meniscus just 25 seconds into an October game for BC Siauliai, a team in Lithuania.
While he said he can play again, Anderson said he hasn't decided yet whether to transition into coaching.
"Tucson will always be a second home to me," Anderson said via text message. "I have been in discussions with coach Lloyd. It would be an honor to be a part of the staff for sure."
A transfer from Boston College in 2014, Anderson sat out the 2014-15 season while also recovering from a shoulder surgery, then became a first-team all-Pac-12 pick in 2015-16 for the Wildcats.
Since leaving UA, Anderson has played professionally in Belgium, Germany, Lithuania, Luxembourg and Ukraine in addition to spending 2018-19 in the G League.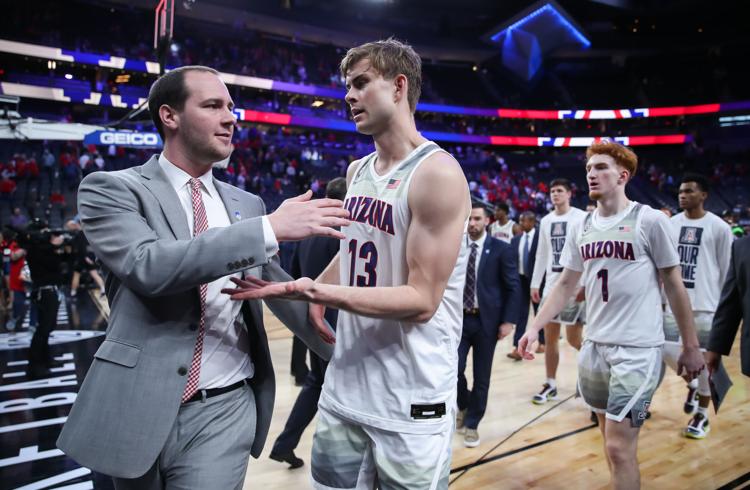 Ex-UA aide to SJSU
Former analytics director David Miller will be named an assistant to new head coach Tim Miles at San Jose State, according to a report confirmed by the Star.
One of the non-basketball staffers officially moved out Wednesday by UA's announcement that Lloyd added TJ Benson, Ken Nakagawa and Rem Bakamus to his staff, Miller has already changed his Twitter profile to reflect a location of "San Jose, CA"
No relation to former UA coach Sean Miller, David Miller was UA's director of on-campus recruiting and basketball analytics for the past two seasons. He had previously been a manager for the Wildcats, then served as director of basketball operations at UC Santa Barbara during the 2017-18 and 2018-19 seasons before returning to Arizona two years ago.
Section 7 adds finals
The Section 7 high school team recruiting showcase scheduled for June 18-20 at State Farm Stadium announced it will also hold the "Section 7 Finals" from June 25-27 at Brophy Prep in Phoenix.
In order for high school teams to reach the second weekend, they will have had to have won an elite division the previous weekend and have multiple Division I prospects, potentially making for a big recruiting weekend.
The Section 7 event was one of the scholastic events created out of recommendations from the Rice commission intended to de-emphasize the influence of shoe/club basketball events.
Contact sports reporter Bruce Pascoe at 573-4146 or bpascoe@tucson.com. On Twitter @brucepascoe