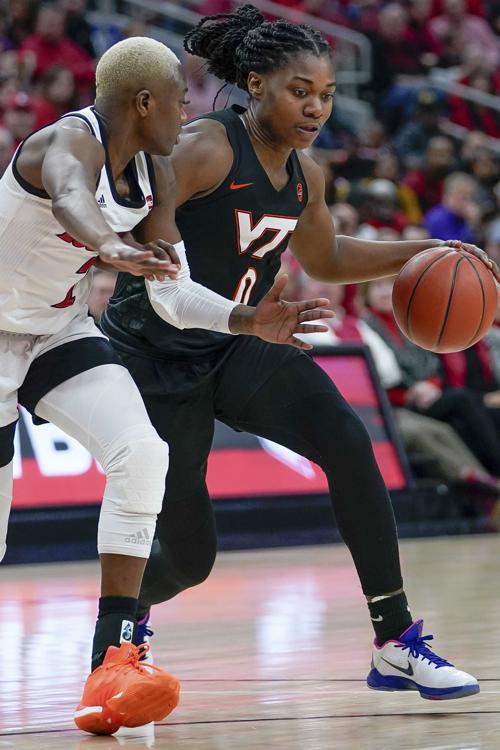 Trinity Baptiste got a strong first impression from Arizona coach Adia Barnes. It didn't take long before Baptiste decided to join her.
The graduate transfer from Virginia Tech officially signed with UA on Wednesday morning — the opening of spring signing period for women's basketball — after verbally committing a day earlier.
Baptiste's name wasn't in the transfer portal long before she heard from Barnes. The 6-foot forward was named the ACC's sixth player of the year after averaging 9.5 points and 6.4 rebounds per game.
Baptiste described herself as "dominant — someone who can score on the perimeter and inside. Strong and explosive."
If it sounds like the description of Barnes as a player, well …
"She was in my position — playing the 'four' position and being undersized. She's played as a professional in the WNBA and overseas. I feel like she understands I want to accomplish that," Baptiste said. "Coach Adia is so easy to talk to. We already have a great relationship. I can ask her anything about life and basketball."
Barnes called the newest Wildcat a "versatile post."
"She is a tremendous rebounder, is strong mentally and brings toughness and is a competitor," Barnes said. "She has drive and ambition and wants to be great and part of something special. She came off the bench and averaged seven rebounds. She is athletic and strong and will make us better. She is driven and I like that.
"We clicked right away. I love her excitement — she would come here now if she could. Most kids aren't like that. We aren't rebuilding now: we are in the climb, and it will take special people to get us over the hump like Trinity. She can play with anyone — with Cate (Reese), Semaj (Smith), Sevval (Gul) and Lauren (Ware) — with different combinations. We have a lot more depth in the post (position) and with good veterans, the younger kids can learn from them. With Trinity, who is good in the weight room, it'll be contagious. It'll be really good for freshmen to learn from her. All those things are important. On and off the court, she helps us."
Baptiste originally wanted to play closer to Florida, where her mom, Debbie Lindo, lives. However, after talking to nearly 30 schools and narrowing it down to three, she picked the Wildcats.
"Those who know me know my mom was a key factor in making my decision," Baptiste said. "I want to make this sacrifice for her; she's everything to me. She was an athlete and unfortunately with her health situation she isn't able to fulfill her dreams. She's disabled. I am working hard to make her proud."
Baptiste, an All-ACC academic pick, plans to work in strength and conditioning after her playing career is over. She became a workout warrior while rehabbing knee injuries, loves doing sit-ups and push-ups and gets an adrenaline rush from lifting. Her Instagram account is filled with photos about lifting and her workouts.
Baptiste was involved in the community in Blacksburg and the university. She helped with a program to give food to kids in a local school and was involved with Hokies Thrive, a committee to bring student-athletes together to talk about dealing with pressures from society and coaches and other mental health issues.
Baptiste spent the past week watching last season's games to see how she fits at Arizona.
"I want to be a part of it and help them win," Baptiste said. "I bring a lot of emotion to the game coming off the bench or starting— I don't care. I love playing inside-out, coming in and being a dominant force is what they are missing. I love how they get out on defense — the press, the rotation and just take pride on defense.
"On the court, you can expect me to give 100% no matter who we are playing or whether I am starting or coming off the bench — whatever Coach Adia needs me to do to help the team win. I am someone who will do anything to win. I am excited to play with everyone."
Baptiste said she's looking forward to playing in a packed McKale Center next season.
"I'm super-excited — I've always dreamt of playing in front of big crowds," Baptiste said. "More important, it's exciting for women's basketball. I'm ready."
Rim shots
Indiana transfer Bendy Yeaney and Spain's Marta Garcia also signed with the Wildcats on Wednesday.
Garcia, who is a 6-3 power forward from Seville, joins a freshman class that includes Lauren Ware and Derin Erdogan. Garcia averaged 6.7 points and 3.3 rebounds per game in the 2019 FIBA U18 European Championships last summer. She and current UA player Helena Pueyo were teammates on that team.
"Marta helps us with her presence inside and can step out and shoot the 3," Barnes said. "She is a good passer."
Yeaney, who sat out all but six games last season with an Achilles' tendon injury, is a 5-10 junior guard who averaged 9.7 points, 4.1 rebounds, 1.5 steals and 2.4 assists as a sophomore. She will sit out next year, unless NCAA transfer rules are changed to allow athletes to play right away.
"Bendu is a great kid, and I've known her a long time. The first time around I wanted her to come and build with us," Barnes said. "She is another good culture kid. She is a hard worker, a phenomenal athlete — all her qualities add to what we are doing. I am excited Bendu decided to come here and help us in so many ways."
Former Wildcat Bryce Nixon signed with Santa Clara on Wednesday. The former Phoenix high school star entered the transfer portal a few weeks ago.