ATLANTA — With a screen allowing just enough separation from his defender, Nico Mannion rose up and let the ball go as he drove to the left of the basket during the second half of Wednesday's McDonald's All-American Game.
There was no doubt where the ball would fly, and it wasn't to the hoop.
Not when Josh Green was cutting down the baseline.
In a play Mannion and Green can probably run in their sleep by now, Mannion lofted the ball straight into Green's hands as the Australian wing drove in for a reverse layup finish.
"I know where he's going to be at," Mannion said. "I jumped before I even threw the ball. His guy jumped, and I knew he was going to go back door. Me and him just have a feel for each other. Everything we do is together."
Although the layup allowed the West team to cut within 10 points of the East with 13:40 left in Wednesday's McDonald's game, the East won 115-100 behind Cole Anthony's MVP performance of 14 points, five rebounds, seven assists and no turnovers — plus a block of Mannion's first shot.
But the score, of course, meant little. It was an all-star game.
It was that Mannion-Green moment, that visible bond between the two UA signees that was forged years ago, that meant much more for Arizona's future.
"It's just a connection, I guess, me and Nico," Green said. "This is kind of hard for us to play in an all-star type of environment. But that was definitely just a little something from what we're going to do next year at Arizona."
Mannion and Green had eight points each, with Mannion shooting 3 for 8 from the field, with two assists and one turnover, and Green going 4 for 9.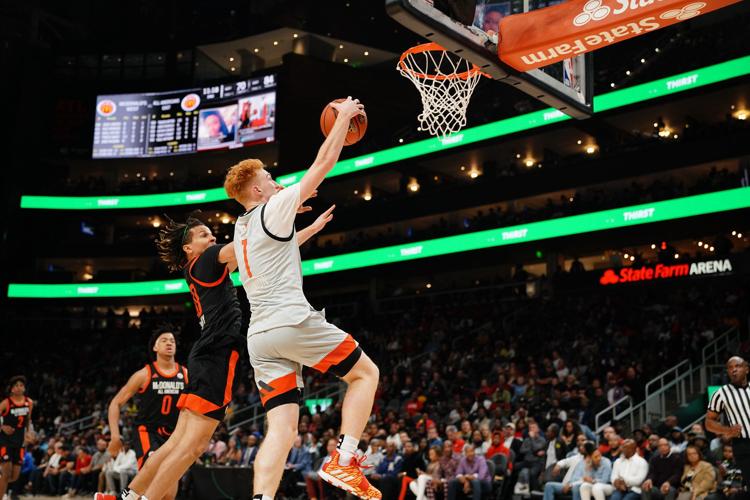 Five players scored in double figures for the West, with Memphis-bound James Wiseman collecting 13 points and six rebounds, and seven guys had double-figures on the East squad.
Undecided big man Precious Achiuwa of the East led all players in scoring with 22 points while lugging his 6-foot-9-inch frame up and down the court for 17 minutes of what he described as a surprisingly fast-paced game.
"To be honest, I didn't think we were gonna run that much," Achiuwa said. "I thought I was going to come over here and have a chill couple of days. But it wasn't that."
Hearing that comment during the postgame press conference, East coach Ed Fritz leaned over and smiled.
Fatigue was only one of the obstacles Wednesday. A point guard like Mannion, especially, had to somehow try to manufacture cohesion while subbing in and out every four minutes or so, often with different mixes of players to work with.
"It's just hard to get in the flow," Mannion said. "There's no rhythm, you couldn't really stop guys. Everyone kind of wants to get theirs, and if you're not having the ball in your hands and you're not getting shots, you're not going to get a feel for the game."
With Green, though, Mannion had an exception, thanks to years of bonding on and off the court. The two met while playing in Avondale club tournaments when Mannion was in middle school, then played together for West Coast Elite club teams during high school summers.
"We're roommates, and travel with each other all summer so we have a really good relationship," Green said. "We're both easygoing people. We're cool to talk to, and we both have cool stories with our background and everything like that."
They also are comfortable talking with each other about things that sometimes aren't so easy to talk about.
"We know each other so well, that he can get on me, and I can get on him with us knowing it's coming from a place of love, that we're not mad at each other," Mannion said. "We can yell at each other and tell each other what to do, or sometimes when we see something we can get on each other.
"Not a lot of people will do that because they don't have the relationship. When we're on the floor, we're obviously close, but we're gonna let each other know if we've got to fix something or do something different. When that time comes, we can handle it. And then after that happens, we're still best friends."
Their connection produced only that one moment of visible togetherness on the court Wednesday, when Mannion dished to Green for the second-half layup.
But it's the sort of thing that might occur over and over again at McKale Center next season.
"That's the one play you saw, but there's going to be a lot more of that for sure," Mannion said. "Just because we'll actually be able to actually get a feel for the game when we get to Arizona. We'll be a lot better."