TEMPE — In three games against Chaparral High School this season, including his game-winning efforts in the 6A boys state title game Tuesday, Nico Mannion averaged 39.6 points while shooting 54.8 percent from the field.
The Pinnacle High School star and Arizona signee also added a little flair to the Pioneers' 83-64 win at ASU's Wells Fargo Arena, elevating high and long for a third-quarter dunk that sparked his team in turning a close game into a rout.
He'd finish with 34 points, eight rebounds, six assists and seven steals.
But none of that is why Chaparral assistant coach Mohamed Tangara walked off the floor with some quiet respect and maybe a hint of resignation.
"He's got court vision and leadership, especially leadership," said Tangara, a former UA forward from Mali. "That's what hurt us. We played them three times and his leadership pretty much destroyed us."
Just about everything Mannion did destroyed Chaparral on Tuesday. Mannion's shot wasn't perfect — he was 2 for 7 from 3-point territory and 8 of 14 from the free-throw line — but he plowed his way inside against defenses stacked against him, turned nearly every one of his seven steals into a bucket for his team and grabbed eight rebounds.
Mannion even took a charge under the Chaparral basket with his team leading by 13 points in the final minutes.
"That's all part of the team deal, and he's done that," Pinnacle coach Charlie Wilde said. "He's led our team in charges and usually it's on the ball handler — he jumps it and the guy pushes him. But taking a charge like that in a game like this? Absolutely."
Then there was the dunk. Mannion started to describe it by saying that Wilde had been emphasizing getting to the rim, but everyone knew it was more than that.
Asked about it again, Mannion indicated it was.
"I think once I got the edge, I kind of knew I was gonna dunk it," Mannion said. "I wanted some energy. I hadn't been making my shot so that was kind of like a little energy boost for me and my guys."
That was probably an understatement, too. The dunk gave Pinnacle a 45-44 lead in the third quarter and the Pioneers soon after went on a 14-2 run that gave them a commanding 71-57 lead.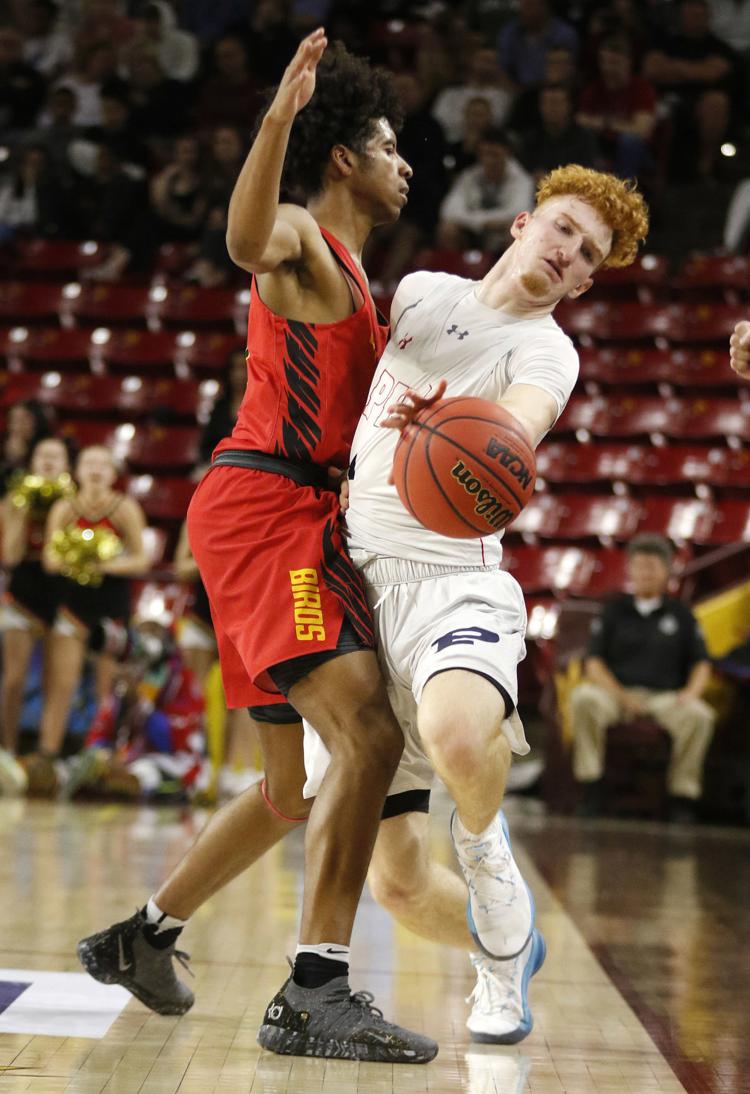 More than anything, though, what Mannion did with the Pioneers was pull them together with his skills, grit and leadership. Pinnacle has a proud basketball program with other talented players but even one of them gushed about how much better Mannion made them.
"He's great. He's great. He coaches us and he's made me such a better player," junior Marcus Libman said. "Everything changes. He teaches us how to go about everything and how to improve our game, our skill level."
Mannion has done the same with himself over a compressed timeline. Born six weeks early in 2001, Mannion was still so small as an eighth-grader that his parents held him back to repeat the grade. He wasn't expected to finish high school until 2020.
But things changed last summer after Pinnacle won the 6A title last season. Mannion opted to skip his senior season, and his game made a similar jump.
"He's probably progressed better than I thought he would," Wilde said. "I thought he just really improved himself throughout. He's just a coachable kid. He works hard, follows the game plans and he's just a tremendous player. I'm just proud to have coached him."
Mannion didn't have to be that way. After all, part of the reason he skipped his junior season was that he was ready to move on from high school ball. He was too good.
Yet there was also something about high school ball Mannion wasn't quite ready to part with even after Tuesday's game ended.
Mannion said the atmosphere in Wells Fargo Arena, with students from each school packing one corner of the court, exceeded that of a high-level travel-ball tournament game — even if the competition didn't.
Words weren't the only way you could tell he felt that way. After the game, Mannion grinned, posed with teammates all over the court, snipped the net and soaked up every last moment.
"It's been great," Mannion said. "I'm very happy. I'm happy for college. But I'm sad to leave high school."
The transition ahead will involve some rest. Mannion said he plans to take some time off but will play in the McDonald's All-American Game next month and said he'll be getting ready to play for Arizona, expecting to arrive in July. He said he remains "100 percent committed" and unconcerned with UA's off-court issues.
"Got a lot to do," Mannion said. "Gotta get bigger, quicker, faster, stronger — all that stuff. Got to put on a little weight before I go out there. Try to hit the ground running."
Based on what Tangara described from this season, Mannion's adjustment won't take long.
Then Tangara, for a change, will be able to start rooting for Mannion as a fellow Wildcat, instead of coaching against him.
"I think he's going to be really, really good for the U of A. Honestly."