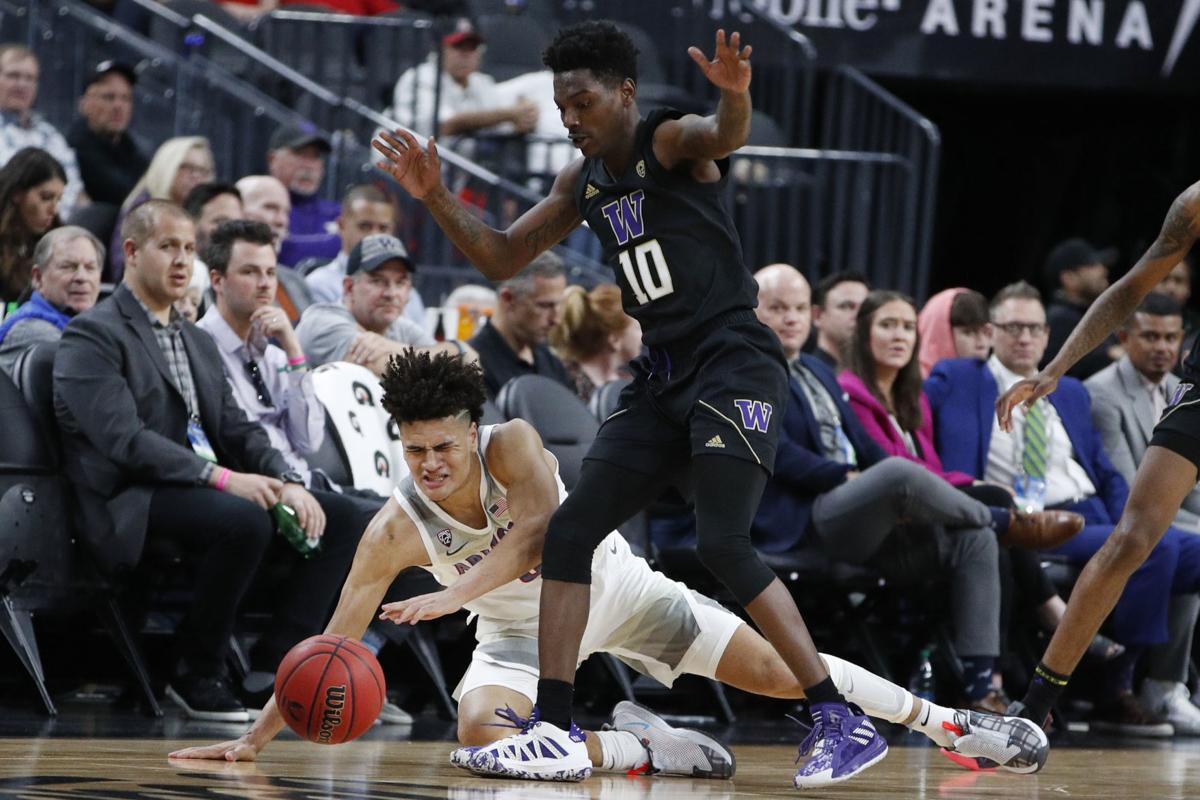 LAS VEGAS — As Arizona tipped off against Washington Wednesday afternoon, most of the fans inside T-Mobile Arena were dressed in red and blue. Just like always.
Outside, however, things were changing. The NCAA announced Wednesday that it was banning fans from its men's and women's basketball tournaments starting next week. The Big Ten Conference later announced that it would be closing league tournament games to fans starting on Thursday.
And just before 6 p.m., the Pac-12 followed suit, announcing that "only essential staff, TV network partners, credentialed media, and limited friends and family in attendance" will be able to attend games starting Thursday. The ruling applies to all sports and is indefinite.
The Pac-12's decision caused frustration among some Arizona fans. Wednesday's game drew an announced crowd of 8,048 fans, most of whom were rooting for the UA. It's unclear how many stayed home because of coronavirus concerns.
"I wish they would have made a decision about this before we got here and all the games started," said Jason Rueben, who attended Wednesday's game with three of his friends. "This really sucks because we all had tickets to the entire tournament, so, like, do we get a refund?"
Rueben and his group of friends sat 15 rows behind the basket. They contemplated their next move while watching Wednesday's game between Cal and Stanford.
"We have no clue what we're going to do now," he said.
Some of the confusion stemmed from the way the news was spread — and wasn't. There was no immediate formal announcement over the PA system alerting fans to the sudden change.
Well-known Arizona fan Ben Berger didn't even get to see the Wildcats play. His Wednesday morning flight was delayed. He and had plans to meet friends at the arena and watch the rest of the tournament together.
"I'm (ticked)," he said. "We are already here and have paid for this. I'm gonna stay and support Zona as best I can."
The Pac-12 Tournament was different before Wednesday night's decision, too, if you looked close enough. The conference posted hand sanitizer stations throughout the arena as play began. Restrooms were scheduled for frequent cleanings. The Pac-12's annual Hall of Honor dinner was postponed.
Friends Tony Valenzuela Jr. and Adrian Casanova traveled from Tucson to watch the games. They said they were not concerned with potential coronavirus threats.
"There's always illness around and we're both in good health, so we felt comfortable going," Valenzuela said. "If (getting sick) happens, it happens, but we want to live life to the fullest here."
UA grad Peter Lawson and his son, Matt, said they were considering a trip to the NCAA Tournament. Wednesday afternoon's deicsion scuttled it, and neither were happy.
"I think people should have the freedom to do what they want. As long as you're in good health, practice good hygiene and don't pose a risk to others, you should be llowed to travel and go to the games," Matt Lawson said.
UA fan Jane Eiss said "the thought about not coming never occurred to us." Eiss and her husband drove to Las Vegas on Tuesday knowing the risks. Wednesday, they were rewarded: Arizona beat Washington 77-70, advancing to the Pac-12 Tournament quarterfinals. The Wildcats will play USC at Thursday afternoon in an all-but-empty arena. In addition to the ban on this weekend's games, the Pac-12 also said that "similar limited fan policies" will be in place for other spring sporting events on each of the campuses.
Eiss and her husband have been coming to the Pac-12 Tournament over the last few years. They meet up with friends from out of state, and all cheer for their respective teams. There's a celebratory atmosphere, regardless of who wins.
"Vegas this week is like a New Year's party, but for basketball fans," Eiss said.
Concerned about COVID-19?
Sign up now to get the most recent coronavirus headlines and other important local and national news sent to your email inbox daily.