When Aari McDonald steps onto the court, people pay attention — and not just in Tucson.
Fans and opponents across the country have been watching to see what she's going to do next.
With each game that she plays, the UA sophomore guard smashes another milestone, snakes through three players to score on a fast break or steals the ball in the blink of an eye.
McDonald will lead her teammates into the WNIT championship game against Northwestern (21-14). The game at McKale Center tips off at noon Saturday.
Arizona (23-13) is playing in April for the first time in program history. And McDonald is one key reason the Wildcats are in this historic moment. She is the third-leading scorer in the country, averaging 24.2 points per game. Of the three top scorers — the other two are seniors — McDonald is the only one still playing.
She busted Adia Barnes' single-season scoring record well before the postseason started. And now, she's the UA's single-season scoring leader — male or female. McDonald's 871 points entering the title game are 23 more than Khalid Reeves' mark of 848, set 25 years ago.
McDonald is the fourth player in Pac-12 history to score 800 points in one season, joining Washington's Kelsey Plum and Stanford's Chiney Ogwumike and Nnemkadi Ogwumike. McDonald is the only player since 2000 to score 800 points, grab 200 rebounds, dish 150 assists and register 90 steals in one season. McDonald and UConn's Maya Moore are the only players since 2000 to have 800 points, 200 rebounds and 150 assists in one season.
McDonald, who was recently named an honorable mention All-American by The Associated Press and WBCA, said the accomplishments mean less than what's at stake Saturday.
"It's so much fun just to be one of the teams in the country still playing," she said. "I'm just having fun. I love my teammates, I love my coaches. I wouldn't want to play for any other program."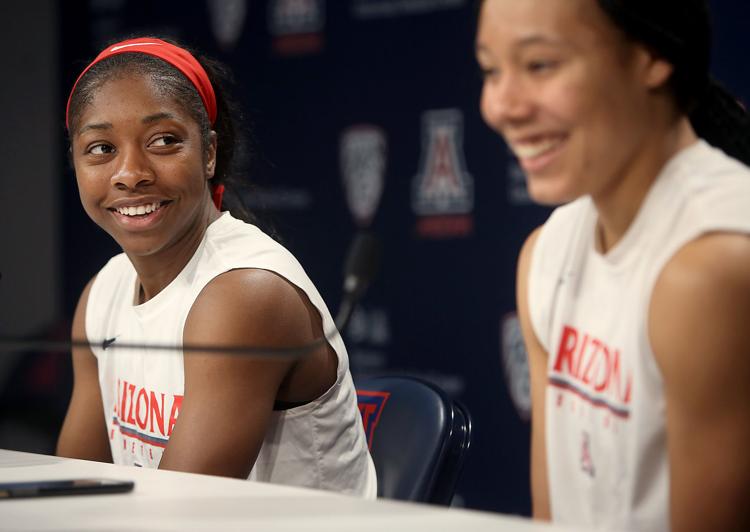 There are many times during a game — like Wednesday night in a semifinal matchup — when Barnes stops and wonders how McDonald does it.
"Some of those are like tough shots and she'll just make a play. Like that play she made against TCU was huge. She missed a layup and it was kind of a tough shot and then she got a steal, but she scored over three big players," Barnes said. "The crowd went crazy. It was a shift in the momentum for the game. I thought it was a big play. …
"Sometimes I think, 'How would I even guard her?' It's funny that people adjust what they do to guard her. They are sending sometimes like five people back. She's just good. And the thing is she is only a sophomore. That's what's even better."
McDonald has been asked to do it all this season. She scored at least 30 points in eight games, a UA record. Her three consecutive games in January with at least 30 points were a Pac-12 record. She leads the Wildcats with 169 assists and 90 steals, and ranks second in rebounding behind Cate Reese — but just barely. Reese, a 6-foot-2 freshman forward, is averaging 6.7 boards per game; McDonald is averaging 6.4.
"Here at Arizona, we're asking her, 'Oh, guard a really good guard, play 40 minutes, score all the points, be a point guard,'" Barnes said. "We're asking her to wear a lot of hats."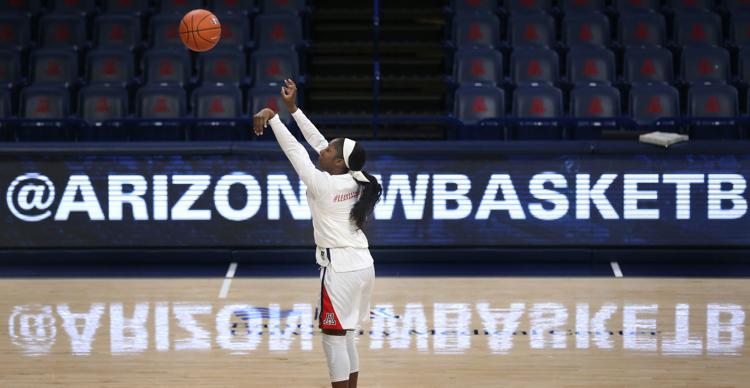 Yet during the WNIT run, her teammates are sharing the workload. McDonald hasn't scored more than 25 points in any postseason game so far.
That's the point, Barnes said.
"As we get better her efficiency will go up, her numbers probably won't as we will be more balanced," Barnes said. "Her efficiency will because she is going to get easier shots. She's not going to have to dribble six times against people and weave in and out to get shots. … I can't wait to see her as a senior. She's just going to be killing everybody and I'm going to love watching it."
Hoops evolution
McDonald is listed at 5 feet 5 inches. In the past, she'd be considered too short to make an impact. Now, she's viewed as quick enough and skilled enough to play professionally.
"Our game has evolved. ... It's changing," Barnes said.
Waves of support
The Wildcats have received videos of support in recent days from just about anybody who's ever worn the red and blue.
Many of Arizona's current coaches, former coach Joan Bonvicini, athletic director Dave Heeke, former players Dee-Dee Wheeler, Miles Simon, Tedy Bruschi, Jenny Finch, Andre Iguodala, Channing Frye, Jason Terry and Lance Briggs and others have all chimed in. It's been quite a boost for Barnes and her players.
"I think it just shows the culture we have at UA and we all back each other," Reese said. "I know if any other team out there was going to a National Championship we would back them, too. I think it's great to have all the support, not only from the community, but from the teams. It means a lot for us to have that."
Breaking another record
The UA had sold more than 12,600 tickets for the championship game as of Friday night, boosting Arizona's WNIT attendance to 42,000 fans and counting. According to the UA, the postseason total is more than 303 Division I schools drew at home all season.
The Wildcats set their single-game attendance record on Wednesday, and will smash it on Saturday. Barnes said she still can't believe it.
"If you would have told me, 'Adia, in your third year you guys are going to go to the WNIT finals and draw 14,000 people,' I would have laughed and thought it was a funny joke," Barnes said.
"To see everyone support women's basketball — to see all the teams, to see the football team, the players at games, to see the whole community rally, and have so much excitement … it's special."