Forget the weirdness that has been Pac-12 basketball lately, dial the calendar back to October, and maybe this all makes sense.
Picked to win the league this season — and having beaten Arizona four of the six previous times — Oregon beat the Wildcats again Thursday, 59-54, this time handing UA its first Pac-12 loss of the season.
And as in many of the Ducks' previous successes, they succeeded by stifling the Wildcats with a mix of defensive schemes, often pressing and running a matchup zone that held Arizona to its second-worst shooting effort of the season, just 36.5 percent.
The Ducks forced 14 UA turnovers, nine of which slipped away in the first half.
"We wanted to change the pace up. We wanted them to react off us," said Oregon's Victor Bailey, who had 13 points while hitting 3 of 5 3-pointers.
The Wildcats did react, and not in a good way. Having made an effort to cut down on rushed 3-point shots in Pac-12 play, and making 40.3 percent of them in four previous conference games, the Wildcats hit just 6 of 22 3-pointers this time.
In the first half alone, Arizona was 2 of 11 from the 3-point line, throwing up shots against the zone that Miller wasn't too happy about.
"I would say at halftime we didn't have nine turnovers," Miller said. "We really had 14, because we took five just horrible, challenged, selfish shots. When you take long 3s early in the clock that are contested and you have nine turnovers, you're really playing with a team that's going to be difficult to win on that particular night."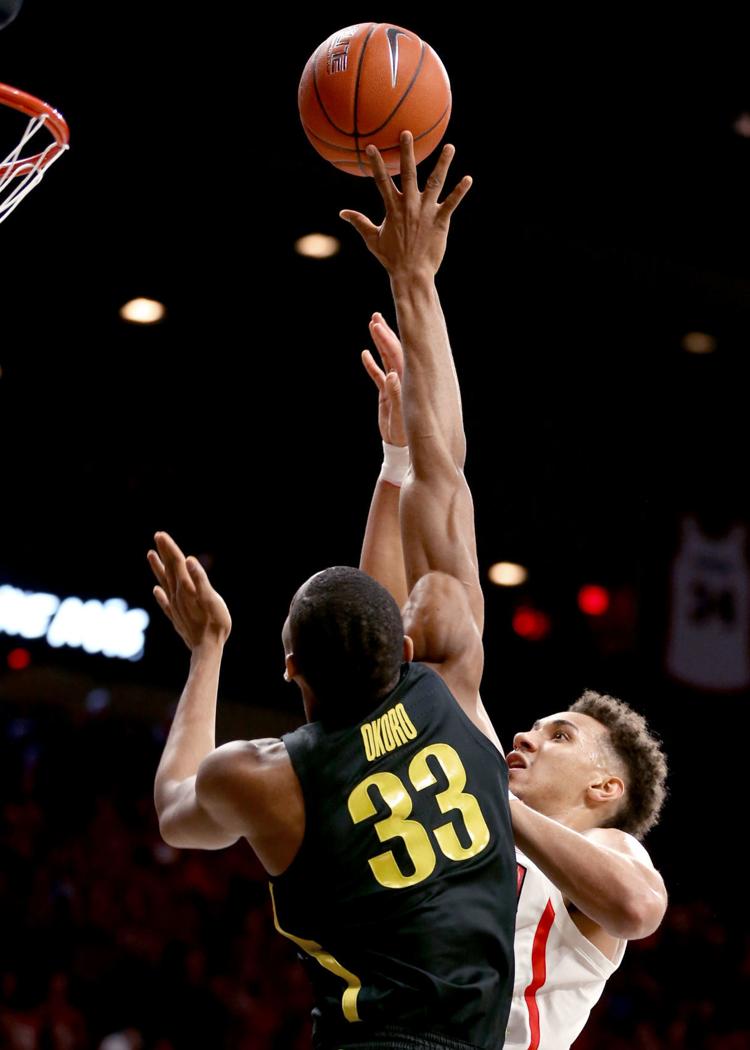 It was difficult, as much as the Wildcats made a late second-half surge to try to recover. UA trailed 31-23 at halftime and by up to 13 points early in the second half before later cutting it to within three points.
They hurt themselves down the stretch when Justin Coleman and Chase Jeter both missed the front ends of one-and-one free throw opportunities, but still had a chance in the final minute.
Bailey Jr. and Dylan Smith traded 3-pointers, and Oregon carried a 55-51 lead into the final minute but the Wildcats defended Oregon's next possession well enough that Payton Pritchard had to fire off a rushed shot that missed.
However, UA's Brandon Williams then missed a 3 with 18 seconds left and, even though a 3 from Smith later cut Oregon's lead to three points with four seconds, Pritchard took an inbounds pass, was fouled as he raced up court and hit two free throws with two seconds left for the final score.
The loss dropped UA to 13-5 overall and 4-1 in the Pac-12 heading into a 5 p.m. Saturday game against Oregon State. The Ducks improved to 11-6 and 2-2.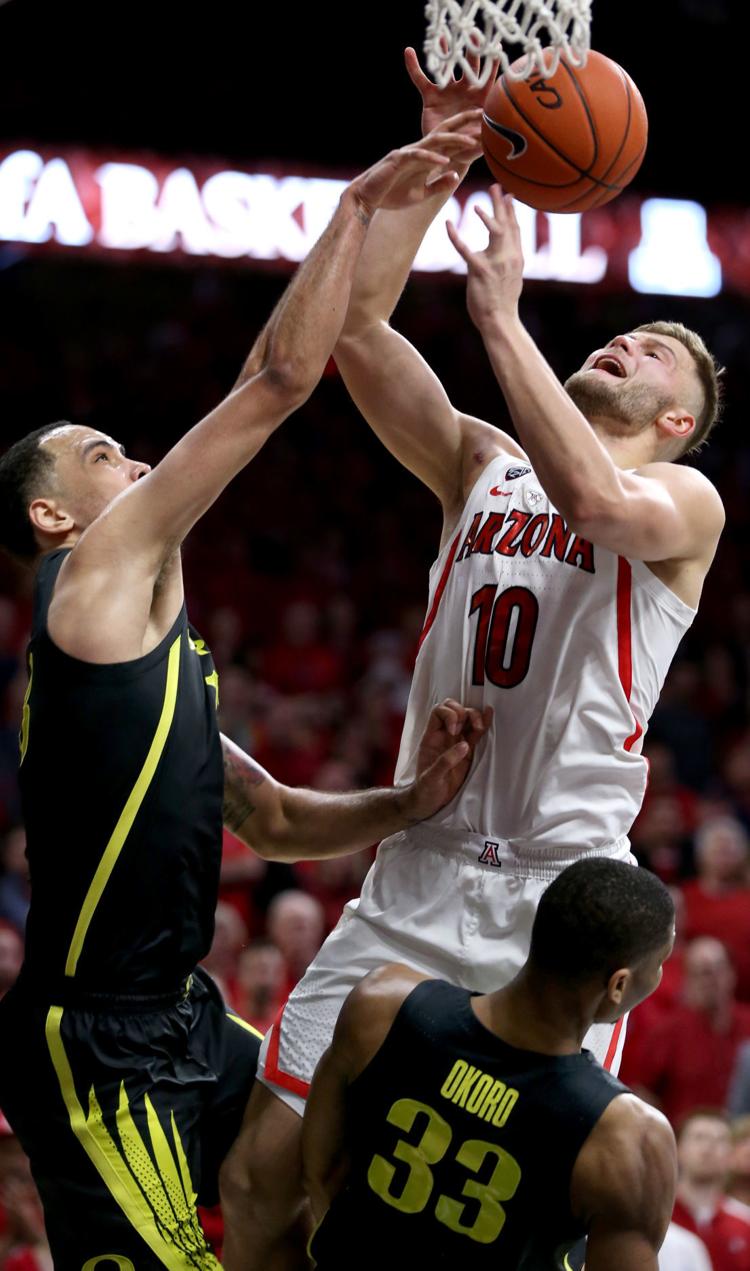 Since Oregon snapped their 49-game home-court winning streak in 2015-16, the Wildcats had only lost two other Pac-12 home games, both to UCLA over the past two seasons.
Jeter led Arizona with 12 points and 10 rebounds while Williams had 10 points and seven rebounds.
Oregon wasn't much better shooting, hitting 38.6 percent, but the Ducks committed just nine turnovers while their defense was especially disruptive early, keeping UA to just 29.6 percent shooting before halftime.
In a sense, Miller found the whole thing similar to how Baylor beat UA 58-49 on Dec. 15, having outrebounded the Wildcats by 31.
"It reminds me of Baylor's dominance in rebounding, but replacing that with Oregon's ability to disrupt us and turn us over," Miller said.
The Wildcats finished the first half missing 12 of their final 14 shots from the field while Pritchard stole the ball from Coleman and raced in for a layup before time expired to give Oregon its eight-point lead. The Ducks scored seven points off UA's nine first-half turnovers.
Maybe the Ducks' furious early effort could be attributed to a team trying to regain its reputation after an embarrassing start to Pac-12 play. Oregon lost to Oregon State at home in its conference opener, then kicked away a nine-point lead to UCLA in the final minute and lost in overtime.
But Oregon came back to beat USC soundly on Sunday and then came out relentlessly on Thursday.
"I think they obviously didn't get off to the start they wanted and they've learned some things and they played really hard tonight," Jeter said. "We were blown back by that and after a while our effort just wasn't good enough to win tonight. We owe them a lot of credit."