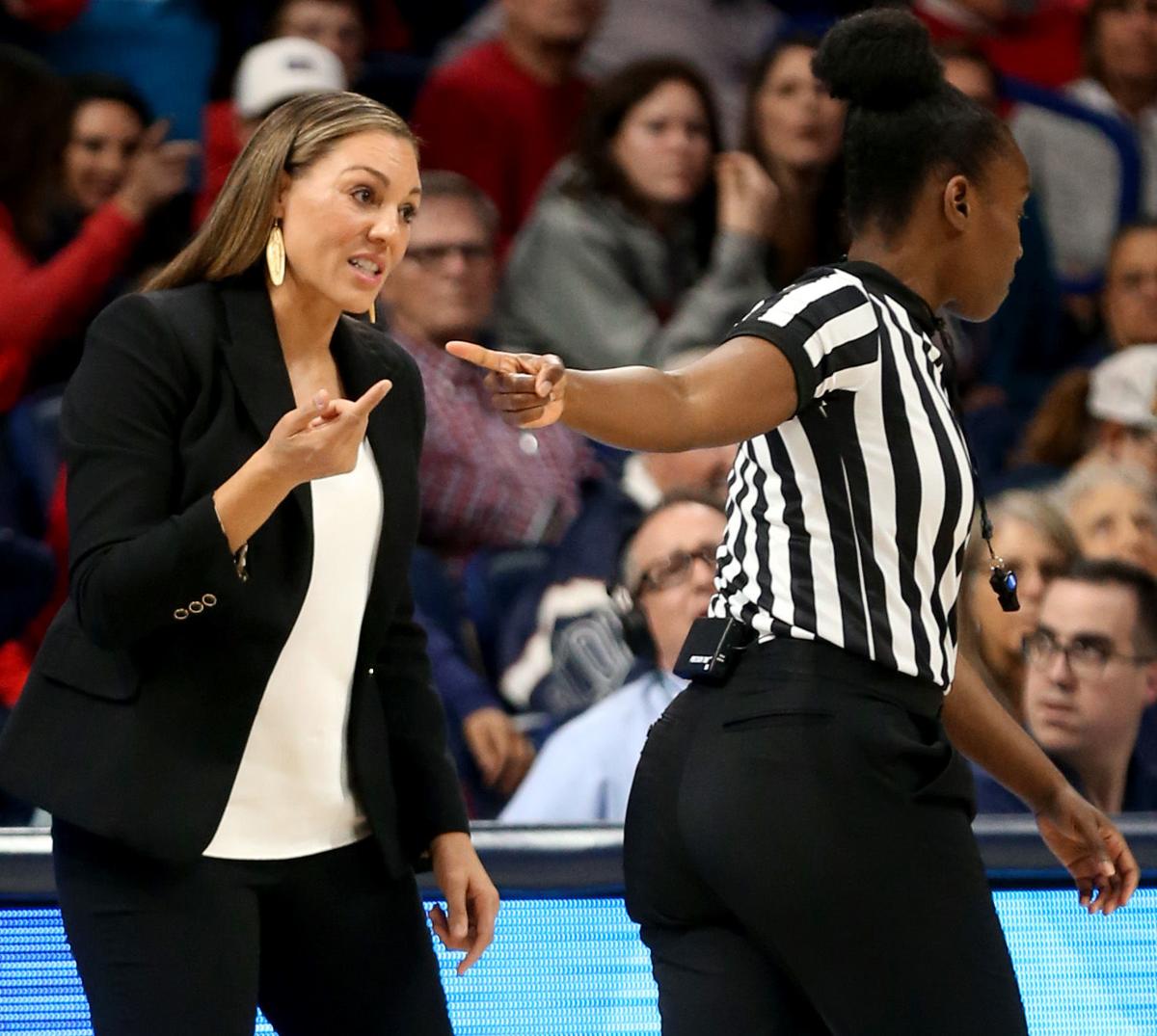 Two weekends in the Pac-12 sometimes means four games against ranked teams; in Arizona's case, two of which are in the top 10 nationally.
That's the schedule the Wildcats are up against. The slate is enough to make someone hesitant to get on the plane for this weekend's road trip, which includes games against No. 10 Oregon State and fifth-ranked Oregon.
But the Wildcats are hungry to fight again after splitting last weekend's series against the Bay Area teams. Arizona upset No. 24 Cal 60-55 at McKale Center, then lost by 30 points to No. 6 Stanford.
The Star talked to UA coach Adia Barnes about last weekend's series, and what this weekend means for the Wildcats:
Heading into last weekend, some people were expecting your team to win both games and be ranked in the polls. Did you feel any added pressure?
A: "No, I didn't know the expectations were so high. We don't hear things like that. Thank God I didn't know. We don't pay attention to those things (polls); we just try to get better every game. For us we need to work. Where we are right now I'm not sure. If we win more games we're in a really good position, but I don't talk about that stuff."
After beating Cal, how did you turn around and get ready to play Stanford less than 48 hours later?
A: "In the Pac-12, you can't get too high on a win or too low on a loss. It's a quick turnaround and it's so competitive. We're playing No. 21, then No. 6, then No. 10, and then No. 5. It's a tough two weeks to show what we're made of. I keep it all in perspective and tell them it's great and then we take it one practice at a time. I told them, 'Now, you are feeling good. Let's focus on Stanford.'
"If you can turn around and sweep, you don't go in and say, 'I want a split.' But if do get a split, it's a pretty good weekend. I said today in film, 'We don't want to split, we want to sweep the Oregon schools. Being in this situation, you control your own destiny.' You don't walk into Sunday not wanting to win."
In Sunday's game, the team didn't come out with the same intensity. Why do you think this happened? Was it a hangover from the win?
A: "I was trying to figure out why. They were shell-shocked. They said it's when they get behind early, then they are on their heels. On Saturday we went through a walk-through instead of a practice. They looked so tired to me. I thought they were dead, their legs were tired. They said no, they wanted more intensity, which I like. That was good feedback.
"You know they played so well Friday and so bad on Sunday. Sometimes with teams that are so different like Cal and Stanford it's difficult to prepare. Cal is very athletic and Stanford is more of complete team. We just didn't hit shots Sunday. We couldn't get stops."
How much did you miss Tee Tee Starks, your defensive specialist who hit her head on the court during the Cal game and is out with a concussion?
A: "Yeah, we did miss Tee Tee. She comes and brings energy. Her experience, her defense and energy. It changes the rotation."
Everything Stanford did worked in all aspects. Did this game show just how elite Stanford really is this year?
A: "You don't know how good a team is until you play them. A team may not look that good and you don't know what to expect. Then Alanna Smith comes out and shoots, inside and outside. They are a really good team. Usually you have one or two shooters who don't shoot. When all of them shoot at a high percentage, that's hard.
"The hardest thing when you play a top team is that if you go under a pick and roll, you should go over because they hit the three. They make you pay for every mistake. Good teams make shots, but we have to make them work for those shots and limit their strength."
The last few weeks, you've won on Friday and lost on Sunday. How difficult is playing two games in a three-day period?
A: "It's hard because you just had a really good win, but that's how the Pac-12 is. It's like that every weekend. We beat Colorado and got killed at Utah. Then we beat Cal and got blown out by Stanford. It's hard when you don't get a break. You play one good team, then play another good one right away. Then you go to Oregon and it's different. This year Oregon has 10,000 fans at their games."
It's one thing to have 5,000 fans in McKale all cheering for you. How do you go into Matthew Knight Arena with 10,000 fans cheering against you?
A: "You try to prepare for it. You don't make any one game bigger than another. We treat everything the same."
What overall positives did you take from the weekend?
A: "When we're playing good basketball, we are hard to defend. We need to fix and clean up some things. We can play at a really high level when we are playing defense and sharing the ball. We have the potential to upset more teams — and we will."