Pac-12's problems start with the Oregon Ducks, who may be ready to take off
The Star's Bruce Pascoe says there's reason to believe the Oregon Ducks, even with a 1-2 start, can still make a run at the Pac-12 championship.
Oregon could be ready to make its move in Pac-12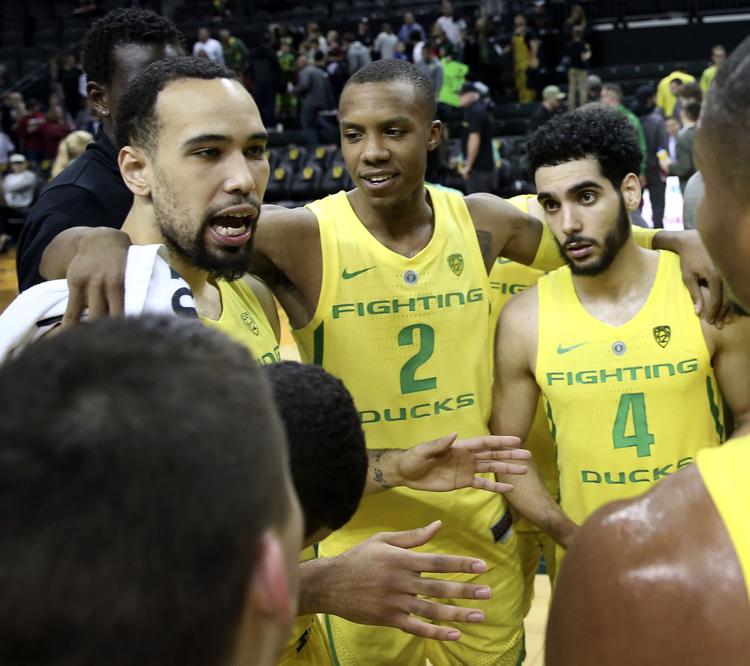 Wondering how Pac-12 men's basketball went sideways this season?
Oregon might be Exhibit A.
Picked to win the conference, the Ducks have been without key players all season, including the potential Pac-12 Player of the Year: Superbly skilled freshman center Bol Bol was lost with what became a season-ending foot injury last month.
They have only one win over a top 100 NET team (Syracuse in New York), a really bad home loss (Texas Southern) and a complete meltdown (blowing a nine-point lead in the final minute against UCLA, then losing in overtime).
Oregon also lost its home Pac-12 opener to Oregon State, which had won only twice in 25 previous games at Eugene, and along the way, lost a transfer (Abu Kigab) to Boise State.
But there's also reason to believe the Ducks, even with a 1-2 start, can still make a run for the title and help bring respectability back to the conference.
"They've really been hit as hard as a team can get hit with injuries, so it's hard to judge them," UA coach Sean Miller said. "But what I will say is that (Oregon's) Dana Altman is one of college basketball's best coaches and I could see it last weekend. I know they dropped one against UCLA but they played a great game against USC.
"He has his team playing as hard as any team in our conference."
Altman told reporters in Eugene on Tuesday that the Ducks simply need to go to Arizona and "swing away," needing to get better before they can even think about the big picture.
Here are three reasons why they might do just that:
1. Louis King is finally Louis King.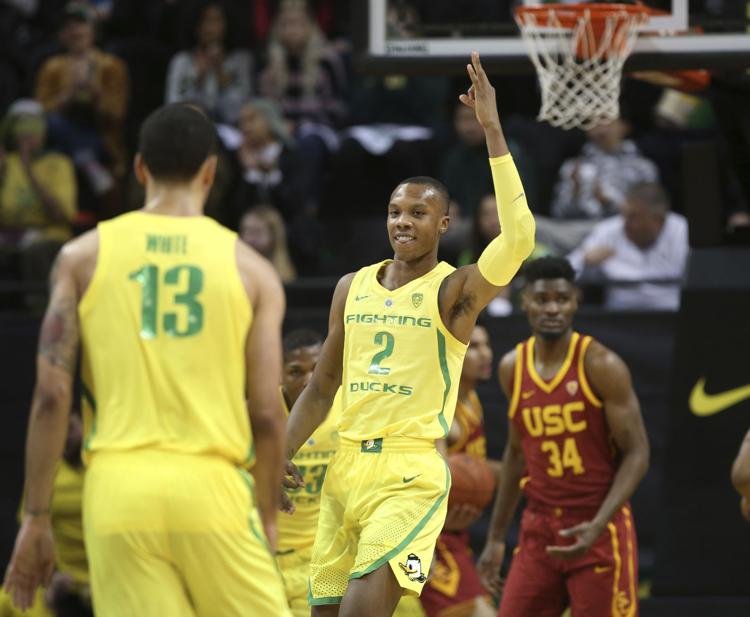 The versatile five-star forward from New Jersey picked the Ducks over Kansas, North Carolina State, Purdue and Seton Hall, but arrived as damaged goods. He suffered a knee injury during his senior season of high school, and while it hasn't been made clear exactly what sort of injury it was, the fact was that King missed nearly 11 months of action.
And when he returned early last month, King still took a while to find himself.
"I don't think people realize how hard it is," Altman said. "You don't play for nine months and we only got him (to practice for) two or three weeks before he played on the eighth of December, and there were a lot of minute restrictions for the first three weeks. He was rusty."
But King is off to a monster start in Pac-12 play, averaging 19.3 points and 9.3 rebounds, surprising even Altman. He had a key role in Oregon's 81-60 win over USC on Sunday, helping the Ducks shake off the UCLA loss by scoring 19 points on 8-for-13 shooting while collecting eight rebounds and six assists.
"I'm shocked really how quickly he's come back," Altman said. "Obviously, we needed it. He's got good basketball savvy and he's given us rebounding. He's gotten in better shape and as he's gotten in better shape, his rebounding has really picked up."
What's more: King could be even better. Altman said he wants King to put the ball on the floor more often and get to the line, and King is aiming for the same.
"I'm still not 100 percent," King said in Eugene on Tuesday. "I'm close to being there. Getting to the rim and getting free throws up is a big part of my game."
2. Kenny Wooten just might be back.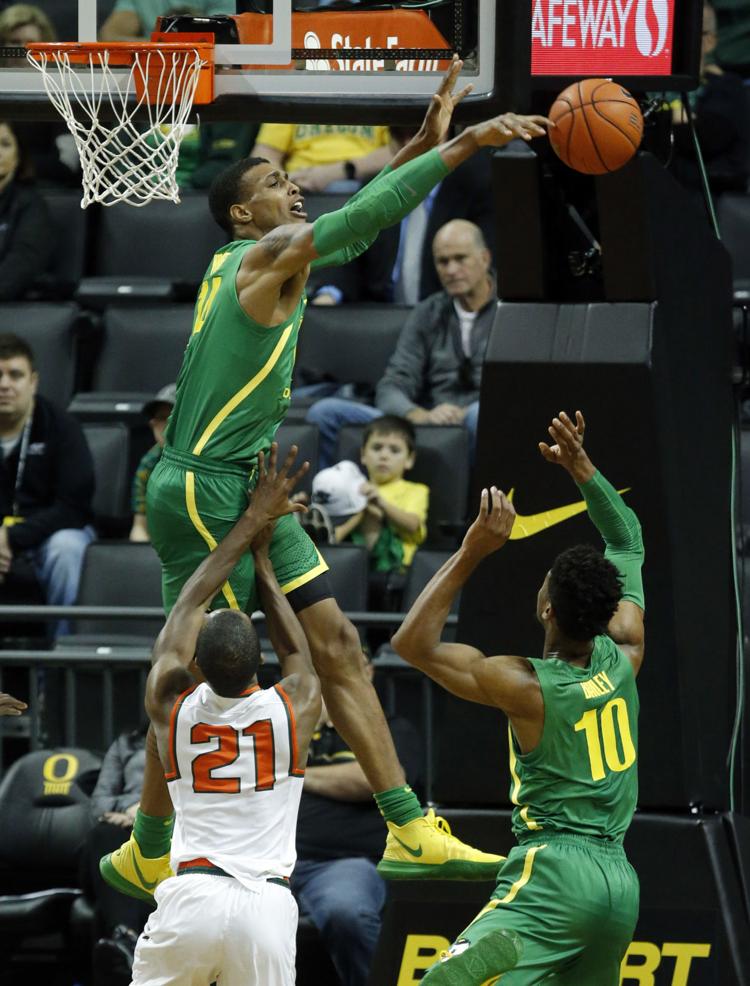 The Ducks' starting forward has sat out the past four games with a broken jaw, but he returned to practice this week wearing a face mask.
"He looks like Rip Hamilton out there," King said.
King said the Ducks need Wooten back, and UA coach Sean Miller was bracing for that possibility.
"I hope he plays because he's another outstanding player," Miller said. "He's a great shot blocker and when he's a part of their team he adds to their press because of his defense and he adds to their rebounding because of how quick he is. I'm assuming he's trying to get back and if he does they'll be an even better team."
However, it wasn't clear what Wooten's status actually is. Altman said Tuesday that Wooten wasn't taking part in contact yet and that he would have a better idea if he can play this week after consulting with doctors later Tuesday. When the Eugene Register-Guard asked about Wooten's status following that meeting, a spokesman said it was "still to be determined."
3. McKale might not intimidate them.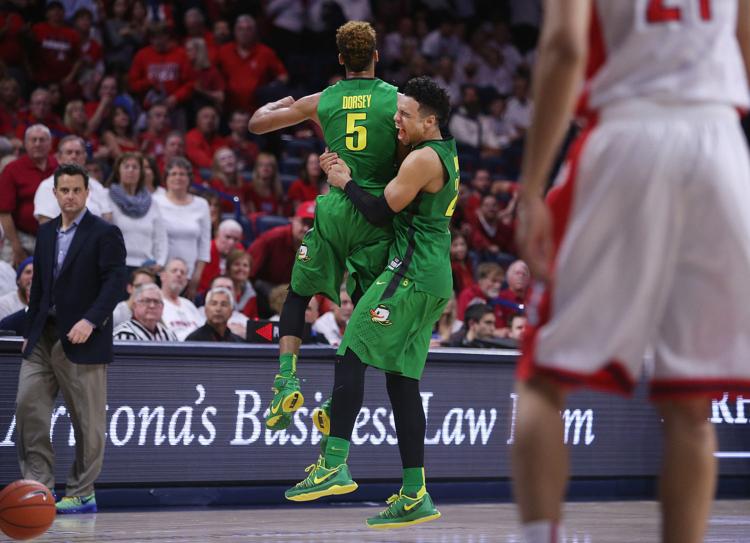 The Ducks don't have anybody left from the team that snapped Arizona's 49-game homecourt winning streak in 2015-16, but they have four players back from the team that beat UA 98-93 in Eugene last season and took part in a foulfest at McKale Center last season. Arizona hung on to win that 90-83 game at the line, making 34 of 37 free throws while the Ducks converted 21 of 24 chances.
While the Ducks have more active newcomers (four freshmen and grad transfer Ehab Amin) than returnees this season, they are already road-tested. Oregon played two neutral games in New York City, then went to Houston, Baylor and Boise State for true road games. They lost to Houston 65-61 and Baylor 57-47 but beat Boise 62-50 in Idaho.
"We respect them a great deal," Miller said. "They play us always very tough — I should say we play them tough — the games when they've been the favorite, it's a hard-fought game and vice versa.
"They play with outstanding effort and they have a couple of players that are hitting their stride. Now that they've had some practices and game experience without Bol, they'll continue to settle in and be the best they can be without him."