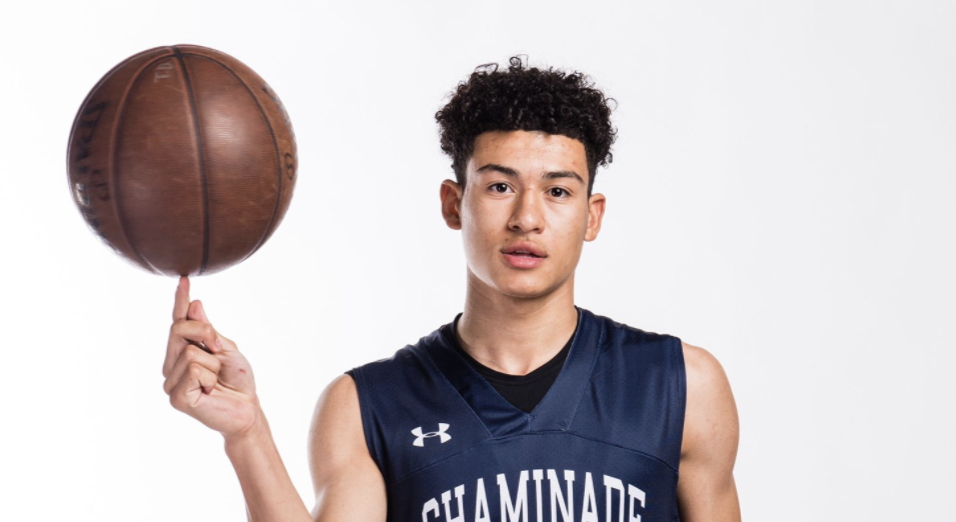 Arizona moved quickly toward replacing Sean Miller on Thursday, posting the opening it created by firing him a day earlier. As it did, the Wildcats were already in danger of losing their fall recruiting class.
The director of K.J. Simpson's club program, Ryan Silver, tweeted that the Los Angeles guard is "expected to get his release soon" from Arizona, while the high school coach of guard Shane Nowell indicated the Seattle-area prospect has put his future plans on hold.
Both signed letters-of-intent last November to play for Arizona in 2021-22, joining guard Shane Dezonie of New Hampshire's Brewster Academy.
Messages sent to Dezonie and Brewster coach Jason Smith were not returned Thursday. Nowell's coach at Eastside High School in Sammamish, Washington, replied via email.
"He's waiting to see if anything is decided in the next week or two," Merritt said. "Hasn't decided yet."
Bryan Cantwell, who coaches Simpson at Chaminade High School in the San Fernando Valley, said Thursday afternoon that Simpson had not heard from any Arizona coaches and was trying to gather information about his situation if he stays with the Wildcats.
"He was looking forward to playing for Coach Miller and (assistant coach) Danny Peters, so it's disappointing," Cantwell said. "But we have to let it settle in. We've been talking all day and just discussing and I've called other people just to get information on what are the pros and cons of decommitting or staying."
Cantwell said he's had a lot of players sign with colleges during his long coaching career. He's never had a player's prospective coach get fired, making it trickier to advise Simpson.
"There's so much information to get," Cantwell said. "Is decommitting the right thing to do? Because usually with you commit to a school these days, you're committing because you like the coaches. He came to play for Sean Miller and Danny Peters, and now Sean Miller and Danny Peters are gone.
"Will he have a relationship when the new coach comes? Will they like each other? Who knows? Right now it's all premature, so that's why it's gonna take a few days to process this."
Simpson's situation is also significant for the Wildcats because he played for Silver's West Coast Elite program, which had been a strong pipeline for Miller's staff. Half of the Wildcats' active players in 2019-20 were alums of West Coast Elite, including Nico Mannion, Josh Green, Stone Gettings, Jemarl Baker and Ira Lee. Baker and Lee both also played for the Wildcats in 2020-21, but have since entered the transfer portal.
However, Silver said he thought highly of and had a great relationships with both Gonzaga assistant coach Tommy Lloyd and Pacific coach Damon Stoudamire, the two most strongly speculated names to replace Miller. Silver said Lloyd's son also attended some of his camps.
"I think Tommy's fantastic," Silver said by phone Thursday.
Meanwhile, the current UA players who have not already elected to transfer will need re-recruiting.
No current UA player has responded to messages from the Star seeking comment, though several of them showed support for Miller on social media. Guard James Akinjo has already announced he is testing the NBA Draft waters, and while he was expected to return under Miller, it's unknown if a new coach would change his thinking.
Freshman forward Benn Mathurin has already generated NBA Draft buzz, while European freshmen Kerr Kriisa and Azuolas Tubelis are marketable to pro teams in or around their countries.
Coaching experience not required, per UA
UA's official job post to replace Miller took the words of Arizona athletic director Dave Heeke a step further.
While Heeke said a candidate wouldn't necessarily need head coaching experience, the job posting said only that "playing and/or coaching" at a competitive level is a minimum qualification. Under its "preferred" qualifications, however, UA listed college coaching and also Division I coaching.
A bachelor's degree, knowledge of NCAA rules and ability to work a "flexible schedule" were also listed as minimum requirements.
Along with coaching, recruiting and scouting, the duties listed included following all NCAA, Pac-12 and UA procedures, being a "public relations contact," and ensuring "academic assistance and monitoring."
One of the NCAA Level I charges against Arizona included multiple allegations of academic misconduct by former staffers Mark Phelps and Book Richardson.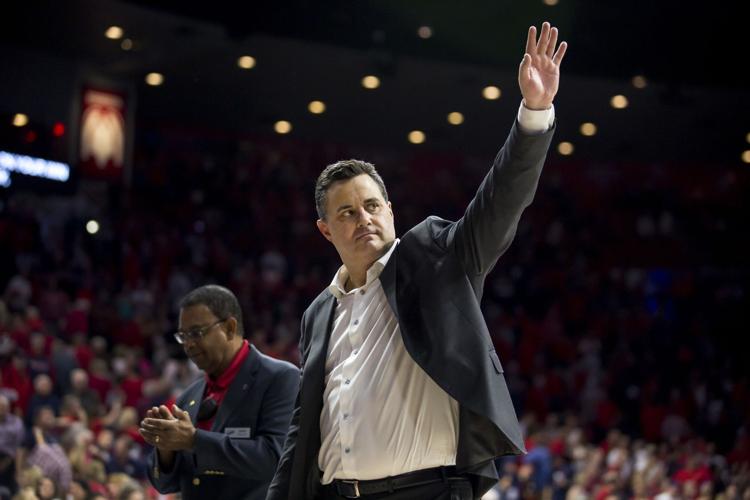 Miller says he'll miss McKale 'magic'
Saying it was an honor to be Arizona's head men's basketball coach for the past 12 seasons, Miller thanked fans, UA staffers and family in a statement his former program posted to Twitter on Thursday.
Miller said coaching games at McKale Center will be one of the things he misses the most.
"The pageantry and magic of the crowd and pep band is unlike any arena I've been in," Miller said. "Wildcat fans are unique. They are passionate, loyal, knowledgeable and fair, and that's why they are the best fan base in college basketball."
In conclusion, Miller said: "I wish Arizona the very best as they move forward with their new head coach. My hope is that they can capture that elusive fifth Final Four and second national championship."
Stevens also has Gonzaga ties
Boosters Jeff and Sharon Stevens have their names on UA's Lowell-Stevens Football Facility, but — as the Spokane Spokesman-Review noted in a story about Lloyd on Thursday — they also have a strong connection to Gonzaga.
They were major supporters of the Stevens Center, a state-of-the-art indoor tennis and golf facility on Gonzaga's campus. Their son, Colin, was a three-year manager for the Zags before graduating in 2013.
As of Thursday afternoon, the Spokesman-Review's story, headlined "Gonzaga assistant Tommy Lloyd considered one of top candidates for Arizona coaching job" was listed at the top of its most-read stories list.
In the story, the Spokesman-Review also quoted Gonzaga AD Mike Roth saying of Lloyd that "we'll continue to do our best to let him know this is where we want him to be a head coach someday when the time comes and we want him between now and then to help us be one of, if not the best, basketball programs in the country."
Hollis-Jefferson's uncle hired
Erik Hood, the uncle of former Wildcat standout Rondae Hollis-Jefferson and director of the Team RHJ club, has been hired to coach the second national team at AZ Compass Prep. The first team finished with a No. 2 national ranking by MaxPreps.com.
Hood said he is also conducting tryouts Friday for TeamRHJ as part of his efforts to expand that club from its Phoenix base.