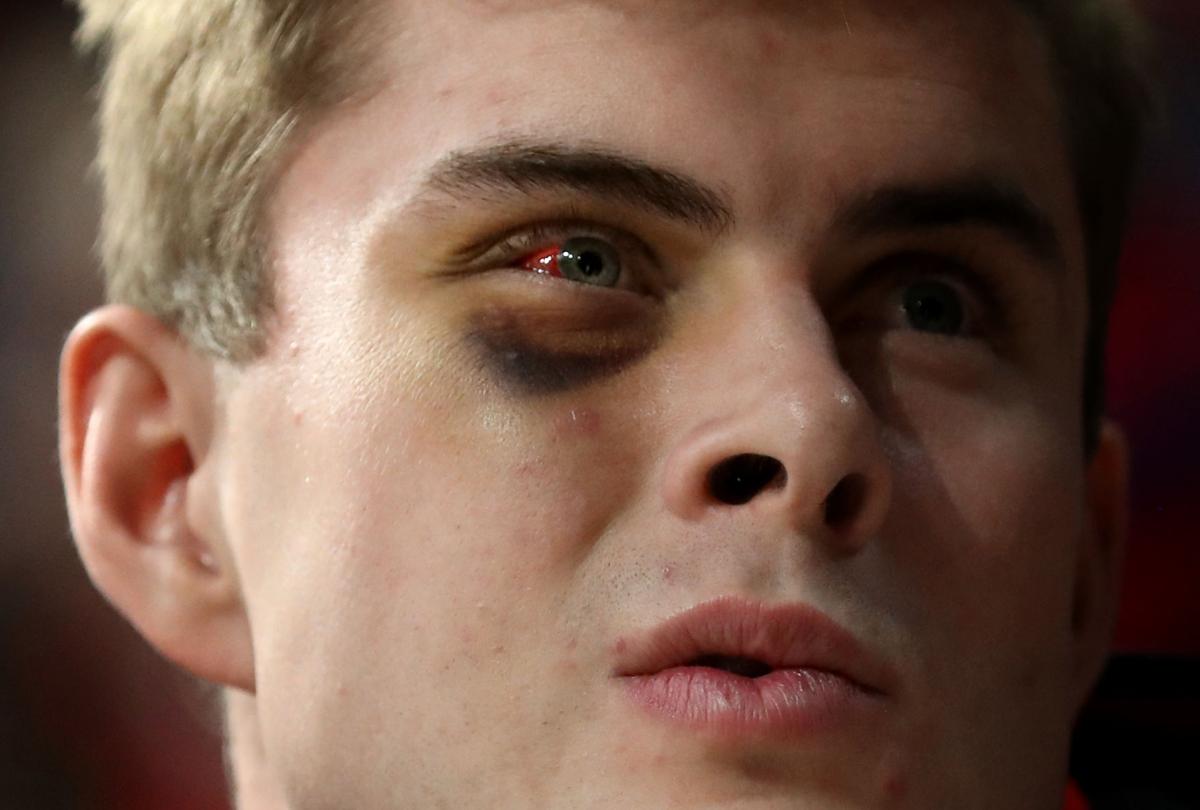 Because Arizona shot poorly, didn't move the ball well and struggled inside at Baylor, its 63-58 loss to the Bears might have been the sort of game that can lead to a downward spiral, or at least lead to internal issues that may need to be cleared up.
But after the Wildcats blew out Omaha 99-49 on Wednesday, UA coach Sean Miller said that sort of thing was never really necessary.
The Wildcats just had two hard practices on Monday and Tuesday, then toyed with their low-major opponent by shooting 57.6%, scoring 21 points off 14 Omaha turnovers and (despite Miller's concerns about rebounding) outrebounded the Mavericks 47-33.
"I thought the response of our guys was tremendous," Miller said. "Not just tonight in our game but leading into the game, we didn't point fingers and have to have multiple team meetings to pick up everybody's spirit. We just got to work.
"Guys watched the film and we had two really good days of practice. I thought today with all the academic responsibility that they have, they showed up here ready to compete and we took care of took care of what we will we needed to."
---
Arizona had 25 assists for its 38 made field-goals on Wednesday after posting seven on 14 makes Saturday at Baylor, when Miller complained of a lack of ball movement.
Nico Mannion, naturally, led the way with a season-high-tying 11 assists and just two turnovers.
"If we can get a quick shot, we want it to be a good shot," Mannion said. "I think we had a couple against Baylor that weren't good shots, and that's a big emphasis for us. We want to play fast and if we have a quick shot, we're going to take it but if we don't, we want to get it touching two or three sides of the floor, get it inside out and play from there."
---
Miller noted that Omaha was playing without leading scorer JT Gibson, who reportedly hurt his back during the Mavericks' game with NAU on Sunday. But the win, however it happened, was a needed confidence booster for Arizona.
Shooting just 26.7% at Baylor, Arizona shot 57.6% on Wednesday while also making 12 of 26 (46.2%) from 3-point range.
"We'll take it," Miller said. "We were able to do a number of things that we're trying to be better at. And, obviously, we have a big test on Saturday and that's where we're at now."
---
That test, of course, is Gonzaga. The Zags are also 10-1 but have beaten Oregon and Washington, two of the teams picked to finish among the top four in the Pac-12.
Fortified with a rotating stream of talented big men, the Zags are shooting 55.7% from two-point range and are fifth nationally in defensive rebounding percentage, allowing opponents to pick up their missed shots just 20.8% of the time.
"I'm familiar with their program," Chase Jeter said. "We just have to play hard."
The way Miller described it, they have to do so especially on the glass. UA allowed Omaha to collect 14 offensive rebounds, and even though that actually represented a mediocre 29.8% offensive rebounding percentage because of their 47 misses, Miller wanted more.
Especially with Gonzaga expected to do much better.
"I believe this: Our Achilles heels is rebounding," Miller said. "We're not good enough at defensive rebounding. We're not a team that gets a lot of second shots. We've been at this for a while, but we have to block out. That's up to us as a coaching staff to get our team; everybody who plays basketball can block out. Our guards have to rebound better, but so do our bigs. Our starters as a group have to do a better job. So does our bench.
"It doesn't fall the blame on anybody. It's the weakness of our team. And when you play a team like Gonzaga who's very good at getting second shots, they can really win the game and break your back when they can get those big second shots.
"Because when you get a second shot, it's going to either be a high-percentage three or a two. A lot of times you're going to get fouled, and then the team who gets the most good shots wins. That's a big advantage.
"So how many second shots teams get against us, I hope we can point towards less and less and less, but there's no bigger key for our team on Saturday than to keep those guys off the offensive glass. I don't think they get enough credit in that area."
---
But one reason again emerged Wednesday on why Miller might feel a little better about his team's ability on the glass: The 10 rebounds that Christian Koloko pulled down against Omaha.
Koloko is at least four inches taller than all but one of Omaha's players but the 10 rebounds was still an eye-opener because he didn't play at all in four games this season, only had as many as six against NAU, and he collected the 10 rebounds in less than 13 minutes on Wednesday.
"He's somebody that really we notice," Miller said. "Not only did he have 10 rebounds, but he only played 12 minutes and 50 seconds. He had (two) blocks in 12 minutes at Baylor, and then he followed that up with 10 rebounds here and he got to the foul line four times. He had four second shots, two of those he got fouled on which is my point.
"Christian is getting better. He's improving. We've seen it before at Baylor, and it's nice that we can sprinkle him in. I think the role that he's in right now is a big one. He gives us a shot-blocker. He gives us another guy that can commit fouls. And Christian has good hands. He'll catch it and score as well. So it's nice to see him doing well, it really is. He's worked very, very hard since he came on our campus in June."
---
Basically, Koloko has taken advantage of the opportunity he received when Stone Gettings suffered a concussion and facial fracture against Penn on Nov. 28.
Gettings returned to the team bench Wednesday with a black eye and bloodshot eyeball still clearly visible on the right side of his face. But the fact that he was there, after having to stay away from previous games and practices to avoid light and noise, was something Miller acknowledged was a good sign.
Still, Miller said Gettings was probably more likely to return on Dec. 21 against St. John's than on Saturday against Gonzaga.
"We've just got our fingers crossed," Miller said. "Stone continues to make progress. He's not symptom-free. He might be before Saturday, but it's too early to tell whether he'd be eligible or able to play on Saturday. I think maybe the more likely game would be the following Saturday, but he is making a lot of progress so I wouldn't rule anything out for this weekend."