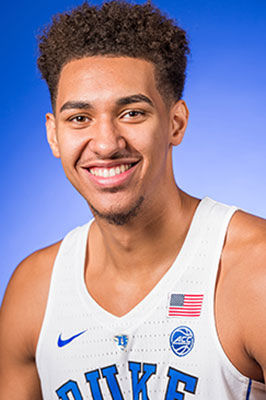 Former Duke big man Chase Jeter announced Wednesday on Twitter he will transfer to Arizona, choosing the Wildcats over a number of Western programs including UNLV, Oregon, Gonzaga, Cal and UCLA.
As a freshman in 2015-16, Jeter averaged 1.9 points and 1.9 rebounds and played just 7.9 minutes a game.
"Chase has been an outstanding young man in our program for the last two years," Duke head coach Mike Krzyzewski said in a statement. "He has been one of our top academic performers since he arrived on campus. Unfortunately, he was held back this season due to injury. We wish nothing but the absolute best for Chase and his family."
Jeter will be eligible to play for the Wildcats in 2018-19 after sitting out the required redshirt season for traditional transfers, and have up to two seasons to play.
Jeter made his decision after visiting UA along with Pitt transfer Cam Johnson during the weekend of May 5, and has a previous connection with UA coach Sean Miller: Not only did the Wildcats recruit him out of Las Vegas Bishop Gorman High School, but Jeter also played for USA Basketball's U18 team in 2014 -- a team on which Miller served as an assistant coach to head coach Billy Donovan.
Jeter is the latest of a string of four-year transfers Miller has brought in, allowing them to absorb his system before contributing the following season.
Recent four-year transfers at Arizona have included T.J. McConnell (from Duquesne in 2012), Ryan Anderson (from Boston College in 2014) and Dylan Smith (from UNC Asheville in 2016). As with Anderson, who suffered a shoulder injury in 2013, Jeter will also be able to fully rehab his disk injury.
By 2018-19, Jeter will have a chance to make an impact in a frontcourt that will lose Dusan Ristic and DeAndre Ayton after next season. Ristic will be a senior and Ayton says he will play one season for UA before turning pro.
Arizona now has one scholarship remaining for 2017-18 and two if wing Rawle Alkins stays in the NBA Draft pool. Alkins has until May 24 to decide if he wants to return to Arizona.