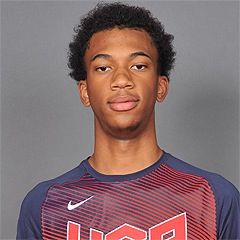 At this point, it isn't about whether Marvin Bagley III picks Arizona during his announcement Monday night on ESPN (8 p.m. SportsCenter).
It's about whether the Wildcats will have to face him this season at USC or UCLA, if he does not pick Duke as many expect. Bagley's arrival at USC would likely make the Trojans the Pac-12 favorites over UA, while UCLA would be at least considered a serious contender if it picks him up.
Then again, a case could be made for Arizona that it's better to have Bagley in the Pac-12 no matter what because of the exposure and RPI boost he could give everybody in the conference. (And just imagine the hype if he goes to Duke instead). Plus, UA only has to face USC and UCLA at McKale Center this season because of the Pac-12's unbalanced schedule.
Bagley appears unlikely to pick UA, especially if he reclassifies to the 2017 class and enrolls in school right away this fall.
He did not take an official visit to Arizona last week as it was initially believed he would (not that the former Tempe Corona Del Sol star needs to see the place, but the expectation would be that he might want to visit in order to sew up a few things if he were serious about joining the Wildcats this season -- and the Wildcats would also have to clear a scholarship spot for him somehow).
In any case, a bunch of folks are talking about it: Here are stories about Bagley's decision from Sports Illustrated, CBS and NBC.
---
---
---
---
ICYMI, we attached a box score of the UA-Combinado Valenciano game to this post. The Wildcats have since moved to Barcelona and will play the "Mataro All-Stars" on Wednesday at 10:10 a.m.