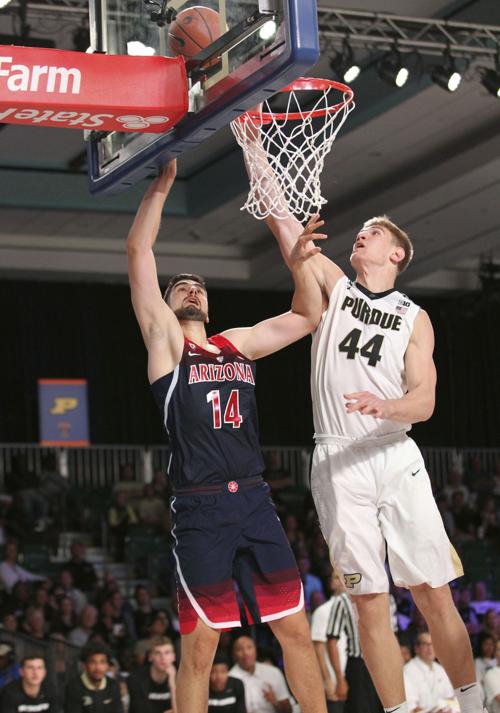 Arizona became the first team in 31 years to drop from No. 2 all the way out of the Associated Press Top 25 poll the next week after a disastrous trip to the Bahamas, breaking a string of 100 straight appearances.
The Wildcats had been ranked in every AP Top 25 poll, counting preseason and weekly polls, since the beginning of the 2012-13 season. The AP poll does not rank during or after the NCAA Tournament, so it has 19 or 20 polls per season counting the preseason.
Arizona also fell out of the USA Today coaches Top 25 poll, after the Wildcats were ranked No. 4 in that one last week. They had been ranked in 105 straight coaches polls, which do release postseason rankings, also dating back to the 2012-13 preseason.
But this week, Arizona (3-3) was bounced after losing a trio of stunners, to North Carolina State, SMU and Purdue to finish last in the Battle 4 Atlantis tournament.  Purdue also fell out of the poll after the Boilermakers, ranked No. 18 going into the Battle 4 Atlantis, lost twice before beating Arizona.
Arizona's drop from No. 2 out of the poll is the first such drop since Louisville fell out in 1986-87 following three straight losses. The 11 first-place votes the Wildcats received last week all went to Duke, making the Blue Devils a unanimous No. 1 pick.
The Wildcats still picked up 34 votes overall, the 30th most among college basketball teams.
ASU (6-0), meanwhile, jumped into the polls at No 20 after beating Xavier to win the Las Vegas Invitational. The Sun Devils and USC (No. 14) are the only Pac-12 teams in the Top 25 poll.